As a travel influencer and writer, nearly all my time and income revolves around traveling. And while I always have to add the obligatory, "It's not always as glamorous as it seems! Yada yada…" disclaimer – it is one helluva way to earn a living.
Most of my travel primarily centers around the United States and outdoor destinations like our incredible National Park System — and I have been lucky enough to travel to all 50 states solo as an adult, nearly every major and mid-sized city, and 59 of the 63 Major National Parks. I've driven on all the major highways and probably have a cafe recommendation in any small American town you can throw at me.
That being said, it's rare that I go on a trip and am truly surprised. Small things, sure, but generally, I have a pretty good idea of what I might find when exploring a new place. So when I traveled to the theme park-heavy Wisconsin Dells recently, to be honest, I thought I knew what to expect. The perennial Midwestern family vacation destination (it is literally the waterpark capital of the world) didn't quite seem like… my vibe.
Well, plot twist. What I found in the off-season, when most of the over 20 theme parks had closed, was a hidden, adults-only oasis. Here is how you can experience it for yourself this fall:
STAY:
SUNDARA INN & SPA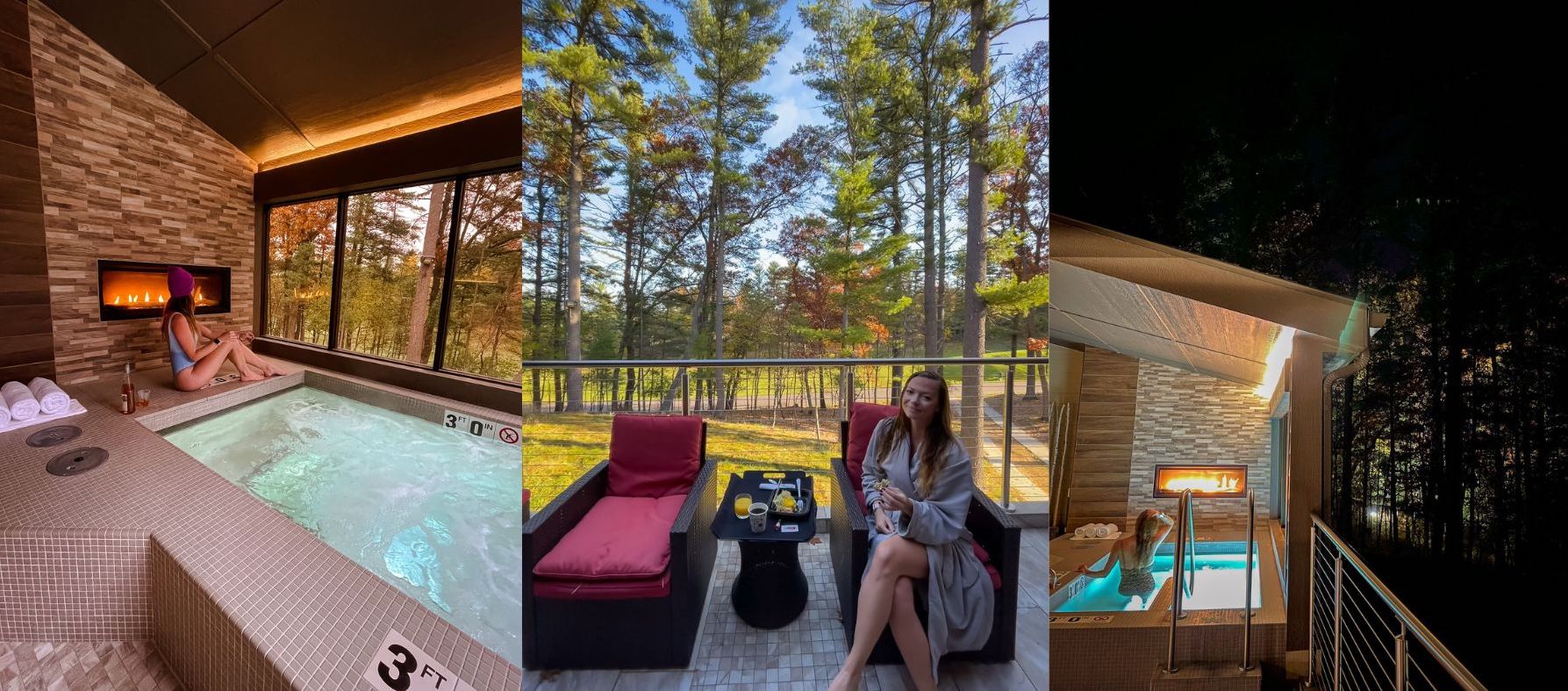 The highlight of my trip – and maybe my year – was my stay at Sundara Inn & Spa. Tucked away in a pine forest, the adults-only destination spa is one of the first in the Midwest. The 26-room property is luxe and calming, with a full-service luxury spa with a purifying bath ritual, salt treatment room, energy therapies, and traditional body treatments. Sundara includes three pools – one with a swim-up bar – an outdoor hot soak, relaxation and reflection spaces, hammocks, bicycles, a silent room, a meditation room, hiking trails, and a host of daily wellness activities. The public areas are all phone-free (and the entire property is adults-only), making the relaxation… genuinely relaxing.
Many of the rooms and suites – including mine – feature private outdoor hot soaks. I spent excessive time on my sizable private balcony relaxing in the hot soak (with fireplace), enjoying room service, and watching the stars and regular wildlife that passed by. It felt like a true retreat.
EAT & DRINK:
BALANCED ROCK WINERY
There are a surprising number of wineries in the Wisconsin Dells area, one of my favorites being Balanced Rock Winery, outside Devil's Lake State Park (and its namesake trail) in Baraboo. The winery – with a facility and tasting room overlooking a gorgeous bluff – specializes in wine made from cold, hardy grapes that survive the frigid winters of the Midwest. They offer tastings, glasses, and a surprisingly extensive food menu, including flatbreads and street tacos. I recommend grabbing a flight and sitting by a firepit overlooking the vibrant fall colors.
WOLLERSHEIM WINERY & DISTILLERY
Another winery I was impressed with is Wollersheim Winery and Distillery, about 30 minutes south of Wisconsin Dells. Interestingly, the property originally served as a vineyard in the 1840s when a Hungarian nobleman, later called the "Father of California wine," Agoston Haraszthy, planted and made wine and brandy there until prohibition.
In 1972, the Wollersheim family purchased what was now being used as a dairy farm to return it to a vineyard. The family winemakers experimented with wines made using cold-hardy grapes and have achieved fantastic success and accolades for their wine in the decades since. The property is divine and feels very far from Wisconsin (and I say that as someone who loves Wisconsin). A National Historic Site, the winery grounds alone are worth the trip.
TUMBLED ROCK BREWERY
After hiking at Devil's Lake State Park for a day, I stumbled upon Tumbled Rock Brewery and was immediately glad I did. The open-concept kitchen and tap room offer a wide selection of beer, wood-fired pizzas, and an elevated pub fair.
I especially love that the head brewer is a woman – and that every pour on my flight was on point.
BELLA GOOSE COFFEE
Locally-owned Bella Goose Coffee is a local community pillar with two locations in Wisconsin Dells. I love the Cafe on the River location for a perfectly balanced latte and house-made pastry with an incredible view of the Wisconsin River. The rustic modern decor is inviting, and the community vibe is evident when you walk through the door.
NAVA RESTAURANT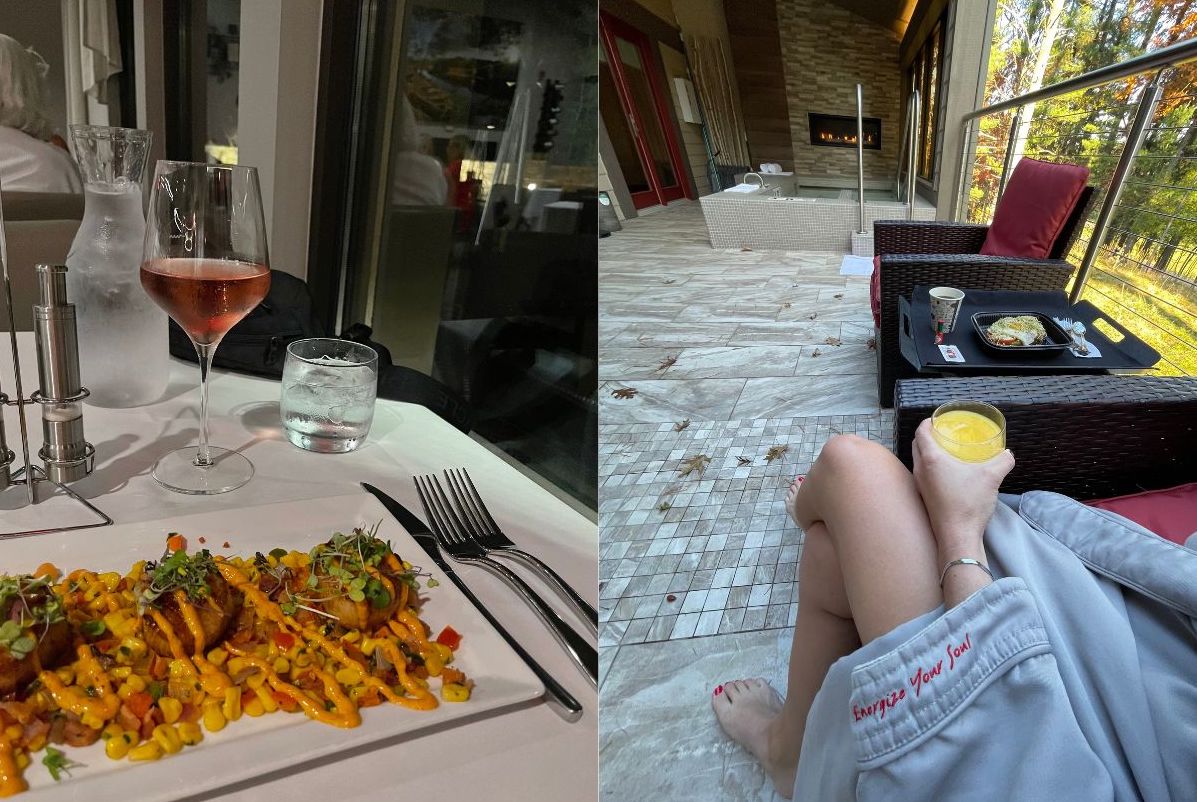 Nava, Sanskrit for "fresh," is the Sundara Inn & Spa on-site restaurant, but I'd dine there even if it weren't convenient for my stay. The dining room is beautiful and feels upscale while staying down to earth – don't be surprised if diners are robe-clad here – much like the entire property. I loved enjoying a glass of wine with perfectly prepared Pan Seared Scallops with maque choux and remoulade sauce for dinner and was impressed again with my avocado toast in-room for breakfast.
The wine list is extensive and the service is top-notch.
WISCONSIN SUPPER CLUBS:
Wisconsin Supper Clubs aren't just a kitschy roadside attraction – they're genuinely a part of the culture. With over 250 supper clubs in the state, the dimly lit dining experience is a must when visiting. Known for socializing, generous portions, Old Fashioneds (the unofficial drink of Wisconsin), and traditional Fish Fry Fridays – walking into one of these establishments feels like stepping back into a simpler time. A time I'd love to visit more often.
Two great options in Wisconsin Dells are:
THE DEL-BAR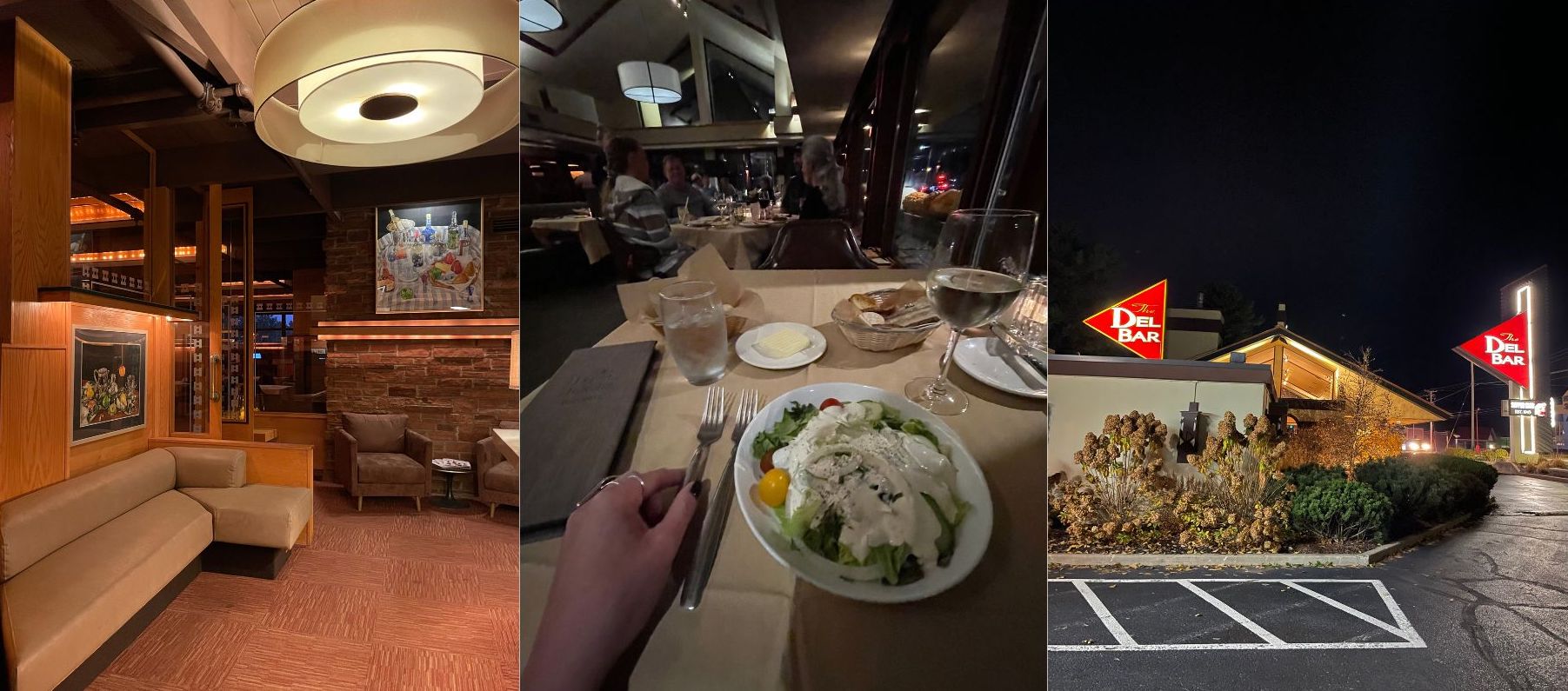 Visiting The Del-Bar was a treat during my visit to Wisconsin Dells. The supper club, established in 1943, immediately transported me to the middle of the century. The decor is straight out of Mad Men with a Frank Lloyd Wright twist (the architect was his protege), with dim lighting and excellent exemplary dining service. There is no rush here – that's the whole point of a supper club, with groups around me spending hours laughing, enjoying craft cocktails and the prime-aged steaks and pan-fried walleyes The Del-Bar is known for. It's decidedly less "restaurant" and more "experience" when dining here, and I can't wait to experience it again.
ISHNALA SUPPER CLUB
So… I didn't actually dine at the famed Ishnala Supper Club, as the seasonally operating establishment closed down for the year just days before my visit – but it's number one on my list for next time. Located in the middle of Mirror Lake State Park, the legendary supper club has historic cabin vibes and a reputation that precedes it. The dinner wait is notoriously lengthy, so be sure to grab a drink and explore the grounds and multiple bars until your table is ready for a genuinely unique dining experience.
EXPLORE:
DEVIL'S LAKE STATE PARK
Wisconsin always makes the shortlist whenever I'm asked my opinion on an underrated outdoor destination. With 66 State Park units, the state is chock-full of natural beauty and impressive hiking, biking, waterways, and climbing routes. One park that offers it all is Devil's Lake State Park, just south of Baraboo and around 20 miles from Wisconsin Dells. The state's most popular park, it offers 29 miles of hiking trails (including a portion of the nearly 1,200-mile Ice Age National Scenic Trail), mountain biking trails, beaches, opportunities for kayaking, canoeing, and SUP, as well as rock climbing and bouldering. It's also a great spot to catch the vibrant fall foliage on a drive or a picnic.
MIRROR LAKE STATE PARK
The impressive Mirror Lake State Park lies just 3 miles south of Wisconsin Dells. It boasts a pristine lake surrounded by wooded trails, sandstone bluffs, and the Ishnala Supper Club. Camp in the park, hike, boat, bike, or canoe, all under a canopy of striking fall foliage.
SKI-HI FRUIT FARM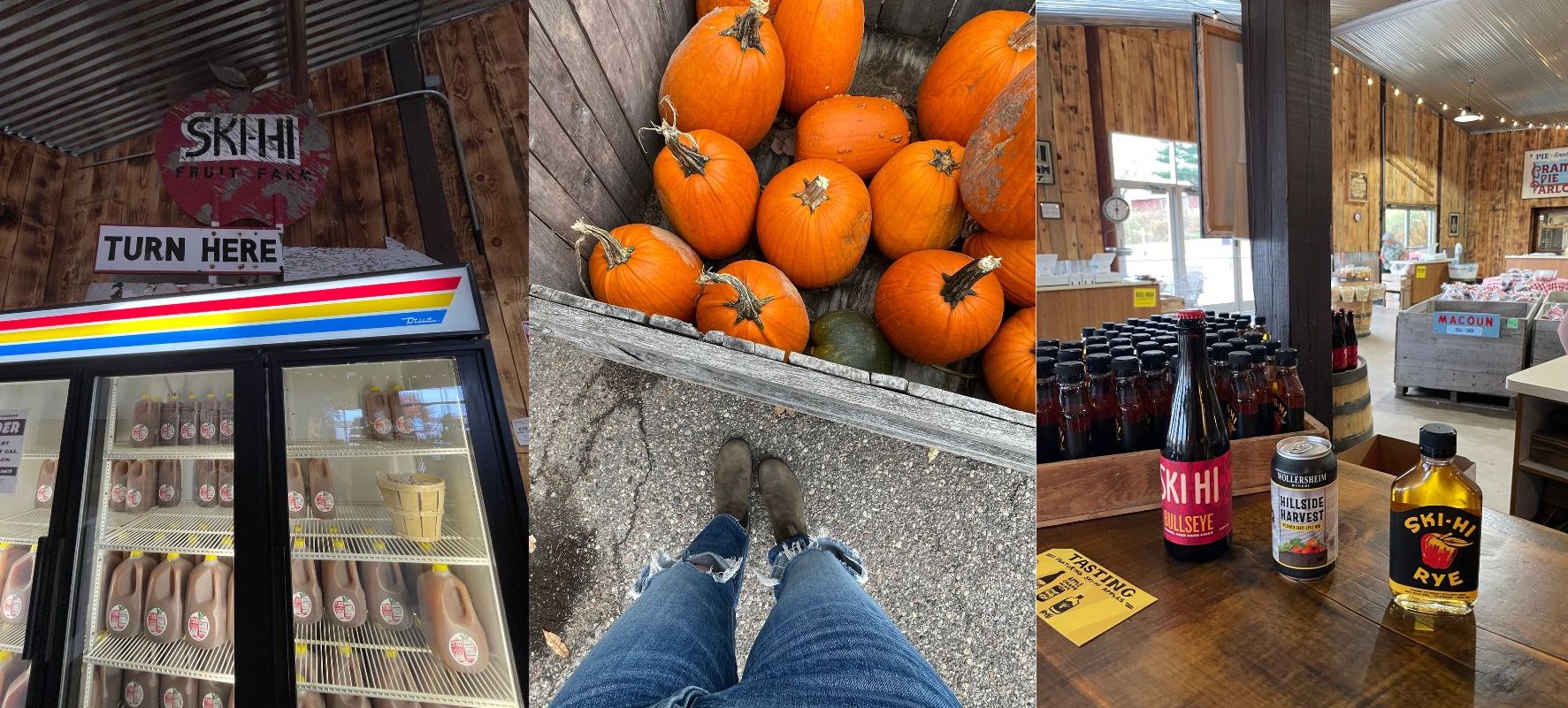 A third-generation family-owned apple farm, Ski-Hi first planted apples on the property in 1907. On a fully working farm, visitors can pick apples, visit the farm store (don't miss the cider donuts), hang out "on the green," enjoy a wagon ride, and sample ciders and apple wines at the tasting bar. Super conveniently located outside Devil's Lake State Park, this stop feels nostalgic and fresh all at once – with sleek retro branding, a beautiful location, and all the fall vibes.