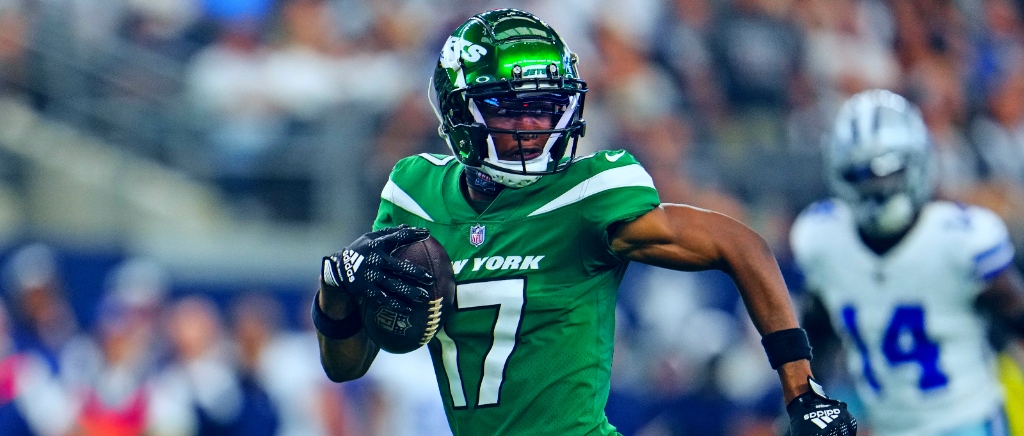 After winning Offensive Rookie of the Year in 2022, New York Jets receiver Garrett Wilson entered the 2023 season with sky-high expectations, due in part to the fact that he'd be playing with a future Hall of Famer under center after the team traded for Aaron Rodgers.
Given Wilson put up more than 1,000 yards in his rookie year with a rotation of quarterbacks, he figured to benefit as much as anyone from Rodgers being the Jets new quarterback. That excitement unfortunately lasted just four plays until Rodgers suffered a season-ending Achilles injury, thrusting the Jets season into chaos and Zach Wilson back into the starting role. For Wilson, that's required quite the adjustment, as he spent this summer in OTAs and training camp figuring out how to play receiver the way Rodgers wants a receiver to play and now has to regain chemistry with his old quarterback.
Through three games this season, Wilson has 12 catches for 165 yards and a pair of touchdowns, including a 68 yarder in Week 2 and a spectacular grab on a fade in their Week 1 win over Buffalo. Still, there's some understandable frustration in New York, both in the locker room and from fans, about an offense that's not firing on all cylinders and plenty of talk about the quarterback position.
On Tuesday, Wilson sat down with Uproxx Sports from the Ultimate Jets Fan Room as part of his partnership with Courtyard by Marriott, promoting their new suite Jets fans can book at the Courtyard Secaucus Meadowlands. We talked about the pressure he feels to deliver something for Jets fans to root for, his eye-opening camp with Aaron Rodgers and how he learned to see the game differently, the art of finding space against different coverages as a receiver, adjusting back to playing with Zach Wilson and more.
I can see you're in the Jets Fan Room by everything around you right now. How did this partnership with Courtyard come about and what do y'all have for Jets fans?
Basically I'm giving the first look at the ultimate New York Jets fan room, and it's built exactly for that. It's perfect for anyone that even takes this Jet football fandom really serious, man. It's a perfect segue into what you do the next day as far as going to a game or you're going to a bar to watch the game, maybe going to tailgate. It's super cool, man. I got to see my jersey on the wall. I mean, everything that a Jets fan would want is in here as far as their attire, you get to drink out of a Jets mug, you know, everything. So it's super cool to be here.
You're in your second year now, what has the experience been going into a franchise like the Jets and with a fan base that is so passionate about the team, and what has the experience been like for you coming into the NFL to such a unique atmosphere in New York?
Yeah, man, it is unique. The passion that comes along with the city for their sports teams and with the expectation that comes along, with that passion, is something that I can get behind and I embrace. I truly love that and them holding us to that standard, and the reality of it is, they haven't had a lot to root for over the past however long it may have been. And every day that we get to go in and put in work, I'm trying to carry that chip on my shoulder just to remind myself that there hasn't been much to root for here and they deserve it. And yeah, man, there's no better place to win than in this city.
You come from a place at Ohio State that has put out so many great NFL receivers in recent years. What is it from Brian Hartline and that staff that you think has allowed so many Ohio State receivers to come through there and have success in the NFL? Because it seems like they teach you foundational skills that aren't just specific to that system, but allow you to kind of succeed wherever you go.
Coach Hartline does a great job and once we get there — I mean, he's been at this level before, he's played at this level and he's done it at a high level. He was a really good player in the league. So you know, there's that aspect to it that makes it easy for him to talk about ball and give us the verbiage or just the way they word it at this level, you're hearing it 2-3 years early from when you're a freshman in college.
But also, I think it all starts with the people that they recruit. The guys that Coach Hartline will go after as far as the receiver room and the guys he likes to bring in. You know, they're great players, but also, when it comes down to it, they're not scared of competition. They're going to a receiver room that they know is loaded, that they know they can find themselves being a really good player, but not getting the playing time that usually comes along with it like you would if you were anywhere else in the country. And I think when you have that aspect to it, you get a certain type of recruit that is hungry to get better and is going to embrace the competition level being high in the room, and it's going to be a sponge for the older guys to learn all those things. And I think it's just, that's kind of how it all works together to seeing these good people come out and be ready to play at that NFL level.
You mentioned that competition and something I talked to Sauce Gardner about right before the season is what you two have been able to do for each other. He said this year something he picked up from Aaron was to help your teammates get better. Don't just see it as a straight competition, but what you can also kind of tell each other. What's that like, having an elite corner across from you in practice and the things that he's able to say to you? He said you're able to say like, "Hey, your pad level's tipping that you're doing this" or something like that, and he's able to clean things up. What does it do for you as a receiver having somebody who can kind of give you those pointers from that perspective?
Yeah, I get to hear stuff like that that Sauce has given back to me and apply it right there on the field instead of waiting until film to see that or just the next day, whatever it may be. But when you're getting that info live right there on the field, you're able to apply it to the next rep and that's what us players hope to do. Where we hope we're able to put the things we hear and put them right into that next rep and apply it and maybe not perfect it that first rep, but get a rep at it to where you're eventually working towards perfection. And it just accelerates that learning process that you usually have to wait until three hours after practice or whatever it may be, but if you can get it right on the field, that's really valuable especially from a great player that sees the game the way he does. Like Sauce, he definitely sees it in a way that not everyone does. So for me, anytime I can get a route against him or get a rep and then hear some feedback on the back end, I know that it's really vital and really important for me to take that knowledge and apply it to the game.
And then also going through a camp with Aaron, obviously he's seen so much and he knows so much about offense. What are the things that you were able to kind of pick up from him in this offseason to come into the season understanding a little bit better about how offense works, and the way that you can maximize your skills, and take that next step into seeing things on the field the way that he does?
He sees the game in such a unique way. And on the offensive side of the ball, for me, like it really seemed like the natural way to see the game. You know, I feel like a lot of times in football you get people that over complicate it and maybe make it more cerebral when it's, you know, this thing is just common sense. It's just like yeah, he's over there so I'm gonna go over here. And he sees it that way too, man. And for me, I know that's always been like a struggle with me is, okay, I see it this way but this is what coach wants, and I got to do it this way.
But when Aaron was in there man, it was really like you were just — you're just playing ball, you know? If they send a blitz and you saw the blitzer, just look back at the quarterback because they just voided the zone. Just things like that that seem so simple and so easy, but you haven't done them since you've been playing in the backyard growing up. And being around that, for me was really, really valuable. Because I got to realize that people do still see it that way.
And then there's so many things that he brought to the table that I had never even thought of. He's truly, like, a historian for the game. He knew plays from the 80s, like could say what play was about to happen when coach would put it up on the film. I mean, it was ridiculous, man. He really wanted to know the West Coast offense and the history of it when he first got into it, so we'd watch a lot of Chiefs from the 80s, 90s with Joe Montana towards the end of his career and, yeah, just the fact that he could recite what play was about to happen, who was about to get the ball, what concept it was. Just things like that, man, and really just being a true junkie for the game is something that I got to be around and be like okay, yeah, there's value in going back 30 years and seeing why this was installed in the first place and how it got open back then, because you never know what look you might see that next week or whatever it may be. But Aaron knows, he's just always hungry to learn something and I feel like that's the main thing I picked up was just how hungry he was to always learn and to really give that knowledge back. He was really always being around us young guys giving us a lot of knowledge.
I thought that was interesting what you talked about, kind of seeing the game and that simplistic way because I think, especially for a lot of folks, you think about how routes work and would think, like, a 10 yard dig is always gonna look the same. But on the field as a receiver, a lot of it's about just finding the space, right? And what the coverage is giving to you and a route against one coverage, that same route might look different against something else. Can you explain how you get to understand that and how important it is to understand spacing and coverage and where the holes are in what you're seeing to being able to be a successful receiver?
Yeah. I mean, understanding coverage and seeing it the same way your quarterback does is the best way to be his favorite target. If you see it to the point where y'all are on the same page all the time, I mean, even to the point where you stop reacting and you start anticipating what look you're gonna get because that safety rolled a little bit early, or because he lined up here and you saw that on film when he lined up here he ended up actually ended up [going over there], or whatever it may be. But if your quarterback's seen it the same way and you're seeing it that way, man, it's only gonna help yourself.
But yeah, it's hard though. It's not easy, man. These defensive coordinators do a great job of mixing up looks, these players disguise their looks. I mean, they do a great job and they get paid, too, is how we put it. But yeah, man, any upper hand you can get, and just being able to find the soft spots in zones, like you said, every route has an adjustment, but just being able to see that earlier so that you're on the same page with your quarterback is super valuable man. As football has progressed over the last 30-40 years, I would say every single route has an adjustment now based on the coverage, which, it definitely has not always been that way. And yeah man, it's really cool at this level to see. You know we did a little bit that in college, but it's even another level of it at this level and it's because of all those different looks you get and it's really cool.
And with that, I feel like that has to be one of the tricky parts of a process like you're going through right now, where you spend camp going through, getting used to one quarterback, and now you're trying to get back in tune with another with Zach. What are the adjustments for you in terms of trying to trying to get back on on the same page and seeing the field in the same way? Because like you said, Aaron does see the see the game in such a unique way and you spent months practicing that, and now you're you're trying to adjust back to getting on the same page and knowing where Zach wants you in certain looks.
Yeah, it's something that we got delayed because we didn't have that camp time, we didn't have that OTAs and stuff like that, like we did the previous season to build some chemistry. But yeah, man, I feel like we're in a good spot and and Zach sees the game very well. And for me, it's just changing how I see it a little bit to match that. There's no right or wrong way, it's kind of just how they see it and how I can get on the same page with that being a receiver. For me, it's my job to make the quarterback's job easy and you know, that's what I'm on the chase of right now all the time. And yeah, man, that's definitely an adjustment that us as an offense we've all had to deal with, but personally, I can speak on it as well just being a receiver.