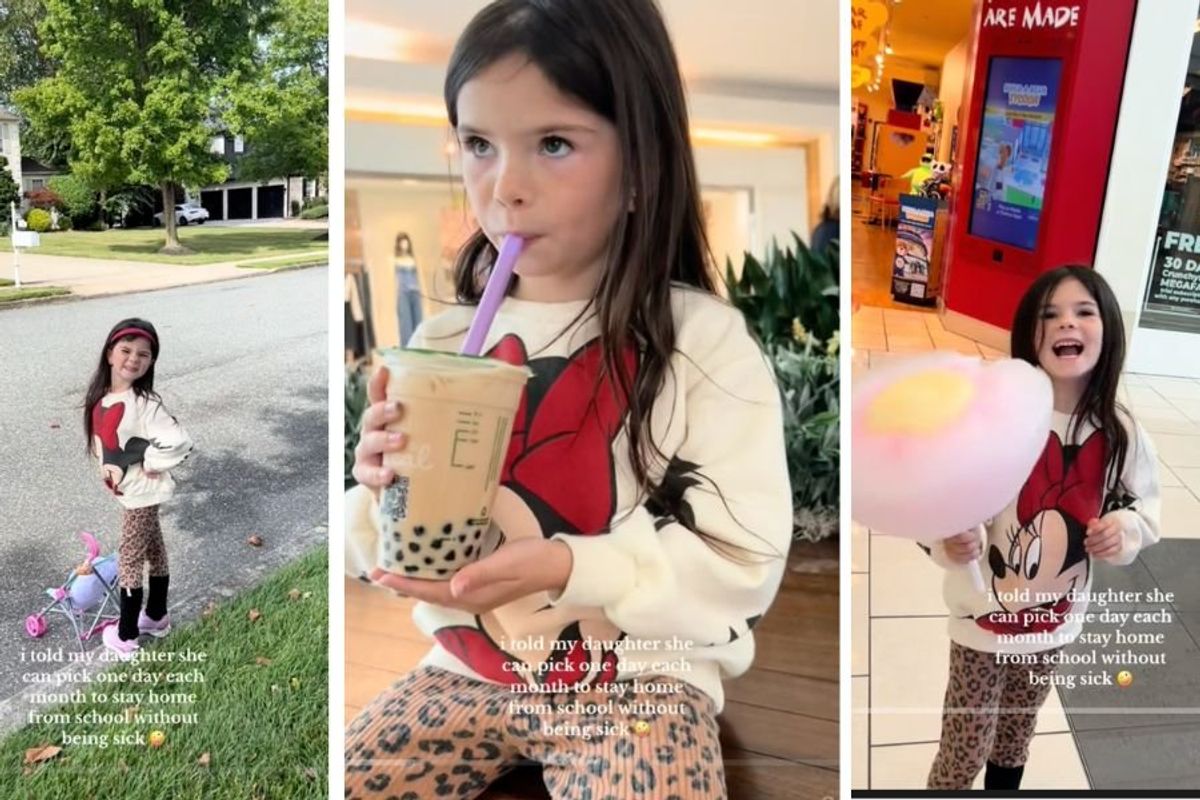 We know how important it is for adults to take a mental health day once in a while. But allowing kids the same privilege isn't quite as mainstream. It's easy to forget that, while maybe not the exact same as clocking in for a job, going to school everyday for upwards of 6-7+ hours a day can be physically and emotionally draining.
That said, parents who do allow their kids to skip school once in a while have noticed how beneficial it can be for their wellbeing.
Recently a mom named Noel LaPalomento shared in a TikTok video her 6-year-old daughter Giada enjoying a day off from school at the mall—something she now gets to do every month, "without being sick."
---
LaPalomento told "Good Morning America" she had noticed a dip in her daughter's energy levels and mental health since taking on private school full time, depleting her motivation to keep going back.
"Last year, there [were] times she would literally come home from school, she'd be sleeping on the step before I could get her off, then she'd be sleeping in the hallway. It was like, the kid was a zombie," she told GMA. "And then she comes home, and I don't even have time to spend with my kid. I'm making dinner, trying to do homework [with her], and then it's time for bed."
One morning, LaPalomento wasn't really feeling great either. And certainly wasn't eager to make the 30-40 minute drive to Giada's school. So, she offered a trip to the mall instead, and Giada was thrilled.
In the clip, Giada can be seen sipping boba, playing arcade games, eating cotton candy, and, perhaps most important of all, smiling from ear to ear.
And now, playing hooky is a monthly tradition—a choice most viewers wholeheartedly support…even envy.
"A mental health day off would have done so much good for my hurting brain and heart when I was growing up. This is amazing!" wrote mom blogger Elyse Myers.
"This should be normalized! So happy to see this!" wrote another.
Of course, others were critical of the decision, arguing that weekends offered the needed amount of relaxation time and the Giada could be missing out on important education days.
But according to LaPalomento, Giada's grades haven't been compromised at all. In fact, the days off have even boosted her with a little more motivation.
"It only accounts for 9 days out of an 181-day school year. I don't see the problem if the student is doing well in school, which in that case she is doing great!," she reasoned with the New York Post.
Actual educators even weighed in, most in favor of Giada taking a monthly mini break.
"I'm a teacher and I'm not mad about it. Mental health days are super important and let kids be kids!" one person wrote on TikTok.
Meanwhile, psychologists also noted the benefits.
Amy Morin, LCSW, argued that it could help offset anxiety—a serious issue in today's pressure-inducing, performance-oriented world. And Dr. Kimberly Alexander of the Child Mind Institute in New York City remarked days off as "very restorative when done strategically." (Insider, GMA)
The key to this strategy is being clear on exactly why a kid might want to skip school. There is of course a difference between needing to prioritize self care avoiding facing fears, which can make mental health issues worse.
It also helps if parents plan for rejuvenating activities rather than allowing bad habits such as excessively playing video games or sleeping all day to form. But the common denominator between all these things is open communication. Checking in, asking questions, and validating a child's experience.
Not every parent might be able to pull off a monthly day off like LaPalomento, but it helps to at least recognize the value in letting kids have the autonomy to actually voice when they need a break. Just think of how different our world might be if it were full of adults who didn't think the world would end if we sat back and enjoyed life once in a while.