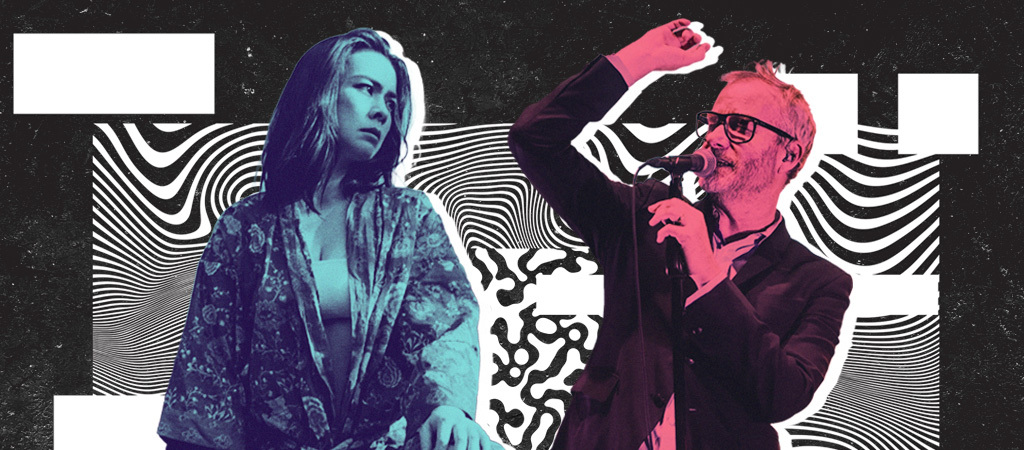 Every month, Uproxx cultural critic Steven Hyden makes an unranked list of his favorite music-related items released during this period — songs, albums, books, films, you name it.
1. Mitski, The Land Is Inhospitable And So Are We
Recorded in Nashville and Los Angeles, with a cast of supporting musicians that include country scene stalwarts like pedal-steel guitarist Fats Kaplin and keyboardist Brooke Waggoner, The Land Is Inhospitable And So Are We is as still and insular as Mitski's previous record, 2022's Laurel Hell, was upwardly mobile and extroverted. The music is stately, dreamy, and extremely pretty, with Mitski's voice buffeted by a pocket symphony of soft-focus Americana instrumentation, a stirringly cinematic string section, and a ghostly 17-person choir. But the key difference — and, in my mind, improvement — relates to how Mitski is back to playing to her strengths as a maker of songs that build a world in the listener's mind. The Land Is Inhospitable And So Are We is not the kind of record you make in anticipation of playing stadiums with Harry Styles, as Laurel Hell was. Rather, it is situated in a strange, shadowy environment that exists strictly in the singer's imagination, and only during the album's 32-minute duration.
2. The National, Frankenstein Laughs
This album technically doesn't exist. But it's one of my favorite records of the year. Let me explain: Earlier this month, The National dropped a surprise new album. It's called Laugh Track, and it arrived just five months after their previous LP released in 2023, First Two Pages Of Frankenstein. Since both records essentially draw from the same sessions, it makes sense that they have received similarly mixed reviews. To my ears, Laugh Track is somewhat more consistent, and the inclusion of "Smoke Detector" — easily the rawest and most rocking song on either record — automatically makes it feel relatively looser and jammier. But in the end Laugh Track has the same weaknesses as Frankenstein — too many celebrity guest stars, too many same-y sounding ballads, too much bloat. So I decided to some emergency A&R and make my own 12-track National album out of the pile material they put out in 2023. It's called Frankenstein Laughs, and I think it's a great!
3. The Replacements, Tim (Let It Bleed Edition)
Tim is my favorite Replacements album. Which means that I came to love it — to paraphrase another songwriter who once wrote about losers hanging out in a bar — just the way it is. I even constructed a critical argument that justified the album's famously washed-out sound: The tinny guitars and clanking, '80s-sounding drums evoke the headspace of a hungover 25-year-old having a nervous breakdown at the height of the Reagan era. The music feels distant because our unreliable narrator is alienated from his own sense of self. All of that said: The new remix is obviously fantastic. The refurbished "Little Mascara" will bring tears to your eyes! And the box set packaging outtakes and live cuts is essential for anyone who has spent their lives aspiring to Paul Westerberg's nonchalant genius.
4. Stop Making Sense in IMAX
What a picture! Stop Making Sense is obviously one of the best concert films ever, but seeing it again in glorious IMAX reminded me that it's also one of the best hangout movies. I can't think of another concert film where you feel like you get to spend quality time with each person on stage. Jonathan Demme treats whoever is on screen like a star. A small moment: When Bernie Worrell comes out for "Burning Down The House" Demme stays with him for a few extra beats after the band comes in. I feel like most directors would've cut immediately to a wide shot of the band but I think Demme just liked hanging with Bernie! But Demme gives every musician a hero's welcome. When Chris Frantz comes out for "Thank You For Sending Me An Angel," he does this incredible spin on Frantz from behind all while David Byrne is singing the first verse. It's like a big bear hug! Of course, the whole movie feels like that.
5. Slow Pulp, Yard
This Chicago-by-way-of-Madison indie band made some waves with their 2020 debut Moveys, though their progress was blunted somewhat by the pandemic. Therefore, the just-released Yard (due Friday) seems doubly consequential, especially since it shows off their impressive range, which veers from darkly beautiful alt-country to introspective folk to zippy guitar pop numbers. It's the kind of big-tent indie rock record that used to be a lot more common 20 years ago, and still has the potential to win over scores of fans. Expect to hear a lot more about this band in the months ahead.
6. Wilco, Cousin
With their last record Cruel Country, Wilco reverted to a more overtly rootsy sound and inserted some pleasingly jammy Grateful Dead accents. It was the most summery music they had made in years, though anyone expecting them to stay in that lane will be surprised by the new Cousin. Working with an outside producer for the first time in years, the avant-pop singer-songwriter Cate Le Bon, Wilco has delved back into the uncertain sonic soundscapes of their recent work, in which woozy and unpredictable instrumentation set a disorienting backdrop for Jeff Tweedy's ruminations on the state of the human heart. "I love to take my meds," he sings in one of the best tracks, "Levee." "But I worry that I shouldn't instead." This album exists at that same spiritual and psychological nexus point.
7. Slaughter Beach, Dog, Crying, Laughing, Waving, Smiling
Speaking of Wilco: If you wish Tweedy was still making records that sound like Summerteeth, I have the album for you. A project fronted by ex-Modern Baseball guitarist Jake Ewald, Slaughter Beach, Dog make candy-coated heartland rock songs that occasionally drift into spaced-out Cosmic Country jams. On Crying, Laughing, Waving, Smiling, Ewald steps up with his most solid set of songs, and the chummy backing of his band makes the album feel like a comfy hang with old pals.
8. Jerry David DeCicca, New Shadows
Like DeCicca, I have a lot of affection for the work of boomer-era rockers in the 1980s, a time when the great singer-songwriters of the 1960s entered a new world synths and drum machines and attempted to infuse the new technology with a little poetry. DeCicca's new album nods to once-maligned masterworks like Neil Young's Trans, Leonard Cohen's I'm Your Man, Bob Dylan's Empire Burlesque, and Bruce Springsteen's Tunnel Of Love, and successfully achieves the same debauched lushness that those records have. While others have already dipped into this aesthetic — notable predecessors include Destroyer's Kaputt and John Mayer's Sob Rock — DeCicca has an ear for the perversity of those old albums, and gives New Shadows a similarly offbeat vibe.