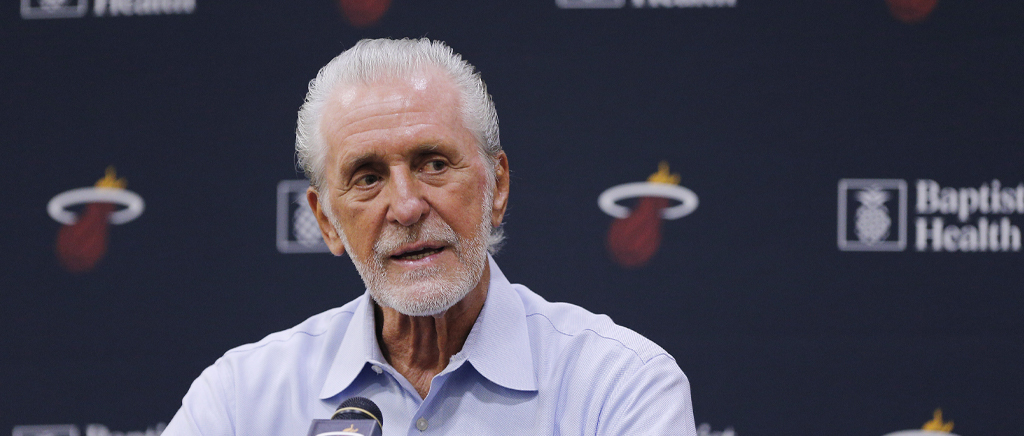 One thing got lost in the Miami Heat's high-profile pursuit of Damian Lillard: The team did not have an especially great offseason. While it was by no means a disaster, a pair of starters during their run to the NBA Finals last year — Max Strus and Gabe Vincent — are both gone, as are a pair of veterans in Victor Oladipo (who, in fairness, probably won't play much this season after an injury he suffered in the playoffs) and Cody Zeller. Udonis Haslem also retired, and while he wasn't exactly playing 40 minutes a night, his presence was such a constant in South Beach that it feels weird to not mention him.
Miami was able to do some stuff this summer, bringing in an old friend in Josh Richardson via free agency alongside reserve big man Thomas Bryant, while first-round pick Jaime Jaquez is a potential plug-and-play wing. But so much of what this summer was supposed to be for the Heat, one that came on the heels of an improbable appearance in the Finals, revolved around the Portland Trail Blazers honoring Lillard's request to go to Miami. That, of course, is no longer possible, as the Blazers struck a deal with the Milwaukee Bucks, instead.
We'll forget about the potential long-term ramifications of that, namely that there is a (and this is a guess) 10,000,000 percent chance Miami would have tried to trade for Giannis Antetokounmpo if things went belly up in Milwaukee. For now, the Heat find themselves in a tricky spot, as they project to be a good but flawed basketball team, one that doesn't seem to be quite on the same level as the Bucks or the Boston Celtics at the top of the Eastern Conference.
To get the obvious out of the way: This is the Miami Heat we're talking about here. No team in the league is better at finding themselves in this exact spot, MacGyvering a solution during the regular season, and next thing you know, there's Miami in the Conference Finals again. They still have a rock solid 1-2 punch of Jimmy Butler and Bam Adebayo, while they have a battle tested roster of guys who will play hard during those sleepy December and January games that end up being crucial in the playoff race. Mix that with internal development for some of their younger guys (Tyler Herro, Nikola Jovic, etc.) and their ability to just find diamonds in the rough (I am mentally preparing for Heat fans to send this piece to me in December because Haywood Highsmith is averaging 14 and 5 on 43 percent shooting from three or something), and expecting the Heat to miss the playoffs or anything like that is obviously foolish.
But the team wanted Lillard for a reason. His would have been a perfect cultural fit as a member of a franchise that really values that, while his ability to stretch a defense, take some of the load off of Butler in the postseason, and form a pick-and-roll duo with Adebayo legitimately would have been a nightmare for teams to deal with. Whether it was due to the Blazers' desire to send him elsewhere or Miami just not having a good enough package is a debate for another day, the fact of the matter is that they now need to figure out what comes next.
The good news is that the Heat are usually excellent at finding an answer to that question. Maybe it really is as simple as banking on another step forward for Herro, while Jovic is able to carry over his legitimately impressive performance at the FIBA Basketball World Cup. Maybe Kyle Lowry is able to turn back the clock and has one more run left in him, or the postseason performances Caleb Martin and Duncan Robinson threw down last year are sustainable.
Or maybe the answer is to turn to the trade market, where there are guards they can acquire and immediately plug into their starting rotation. Ironically enough, calling up the Blazers and seeing what they could get for the biggest name they acquired in the Lillard trade, Jrue Holiday, makes a ton of sense. The market for Holiday is going to be incredibly competitive, as every single team with championship aspirations could use his skill set as a two-way guard, along with his well-documented history of being one of the best teammates in the league and someone who is willing to exist in harmony alongside other stars.
Would the Heat — who clearly had some frustrations with how the Lillard situation went down — want to sit down with the Blazers and work on a Holiday deal? How much would they be willing to give up, and if Portland wants a more pick-heavy return for him, would a team with a ton of draft capital (say, the New York Knicks) be able to immediately muscle Miami out of the picture? At the bare minimum, it's worth kicking the tires on what it would cost, because Holiday is such a perfect fit here.
On the topic of guards who requested a trade at the start of the offseason, what about James Harden? Perhaps it's hard to see a path forward here due to Daryl Morey's explicit statement that the team would need a major haul back and neither of the Heat's two stars would be on the table here, but for his flaws, Harden would be able to do some of the things that made Lillard such an appealing target — imagine him running a pick-and-roll with Adebayo, for example.
Perhaps his contract situation (he's a free agent after this season) and the trickiness of figuring out a deal that makes sense for the Philadelphia 76ers makes this a non-starter, and Miami would prefer to wait for a bigger name to become available before it wants to part ways with stuff. But from a purely basketball perspective, a Harden-Butler-Adebayo trio could go toe-to-toe with just about anyone in the league. Butler's postseason brilliance is the exact sort of thing that can help mitigate Harden's struggles that time of year, while Adebayo's destructive enough defensively that he could help mitigate Harden's struggles on that end of the floor.
Not getting Lillard is a big deal. Is it going to single-handedly derail Miami's season? Of course not — if there is one team that you'd assume can get through this situation and figure out a solution, it's the Heat. They're quite good at pivoting in these situations, and it's worth mentioning that even before this happened, it was made abundantly clear that they wouldn't go all-in on acquiring Lillard.
That is not what a desperate team does, and the good news for Miami is that they don't need to be desperate here. But still, there are paths forward for them if they choose to take one of them … unless they decide to wait for the next disgruntled star to hit the trade market, and then we'll find ourselves back in this exact same spot.