Pursuing happiness is humanity's universal aspirations and, many argue, a fundamental piece of a fulfilling life. While the very definition of happiness is, of course, subjective, one thing many of us (especially if you are reading this list) have in common is that travel plays a significant part in our pursuit. Because while we may not all be able to live in a place with incredible quality of life and recreation opportunities – we sure can visit them.
A destination that might not yet be on your radar for "happiness travel" is Utah, but according to WalletHub's 2023 ranking of "Happiest States in America", it's number 1. Considering several factors such as economic, social, emotional, and physical health, this ranking might be surprising to those who haven't spent much time in the Beehive State. But as a frequent traveler to Utah – I totally get it.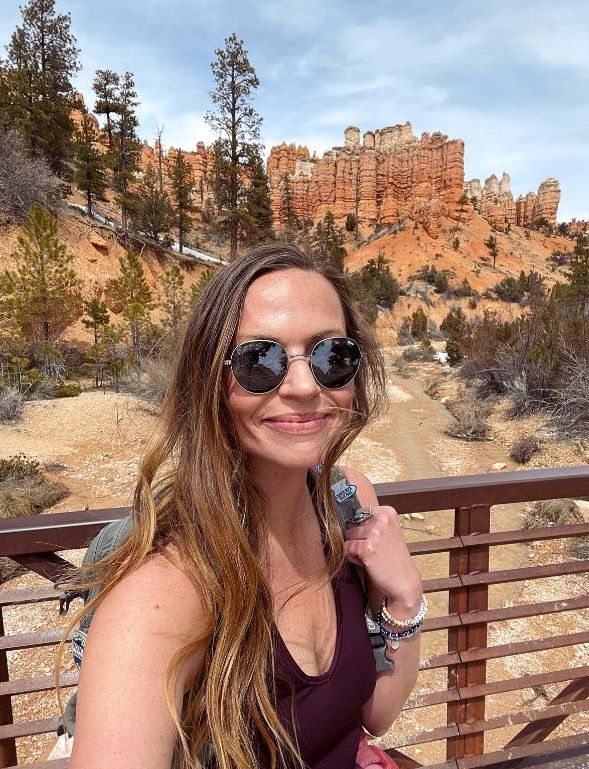 The recreation opportunities alone are enough to put Utah at the top of any "top ____" list in my book. The large state is geographically diverse, with options for adventure and awe around every corner. Unsurprisingly, it has more national parks than almost any other state (save for California and Alaska), 43 state parks, over 15 ski resorts, and even a lake nicknamed the "Caribbean of the Rockies."
If you aren't yet convinced to book a flight to SLC and hit the road, here are my top 10 outdoor adventure destinations in Utah to change your mind:
Canyonlands National Park — Near Moab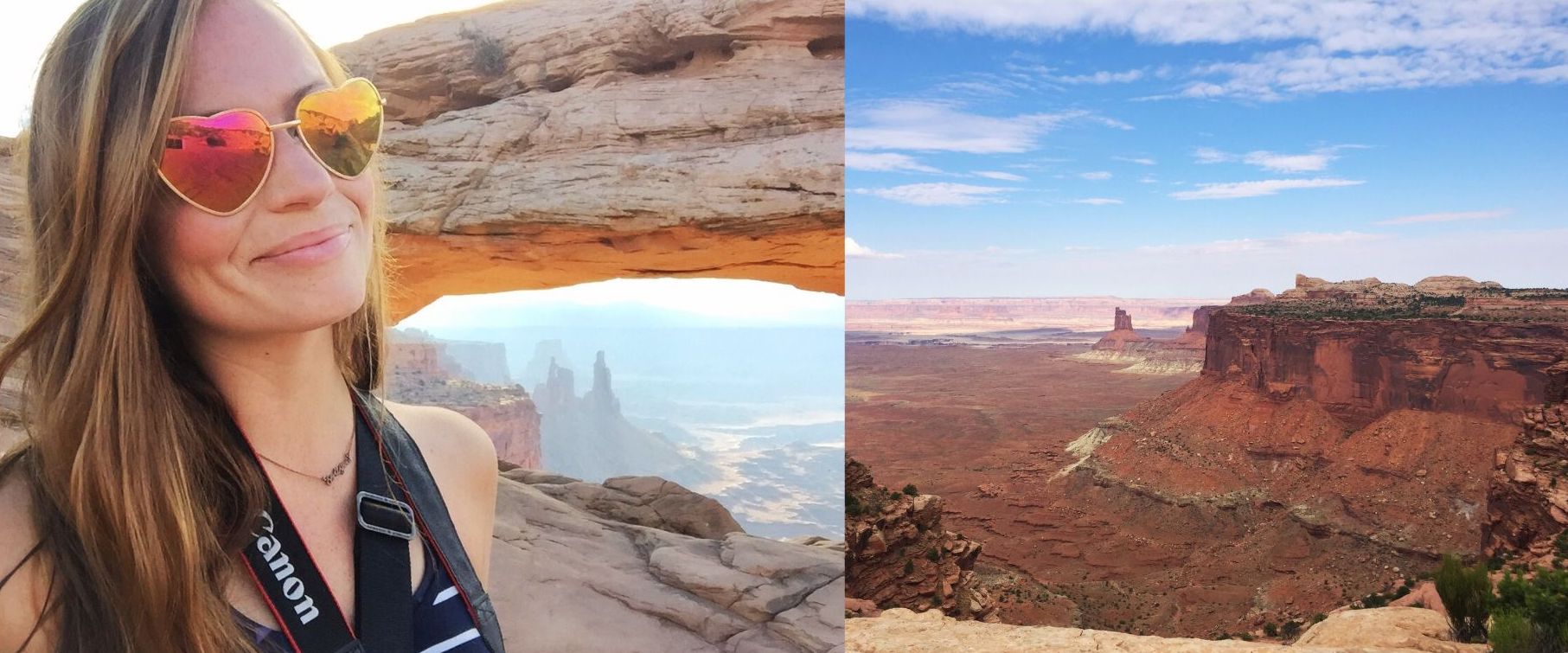 Canyonlands National Park, in my opinion, doesn't get as much due as some of the other parks in Utah – and that's part of what makes it so great. The massive National Park – with four distinct districts spread over 300-thousand acres – is rugged and unique. Most visitors experience Canyonlands via The Island In The Sky District, the most accessible just ten miles north of the outdoor mecca Moab. Here, you can hike the Shafer Trail and famous Mesa Arch, drive White Rim Road (with a 4×4 only), camp, head into the backcountry, or admire the massive panoramic views from the multiple viewing areas.
Where to stay nearby:

Head into Moab to stay at the newly opened Field Station Moab, a hotel centered around adventure stocked with outdoor equipment and professional outdoor guides.
Where to grab a drink nearby:
I love to grab a brew at Moab Brewery whenever I'm in town.
Arches National Park — Moab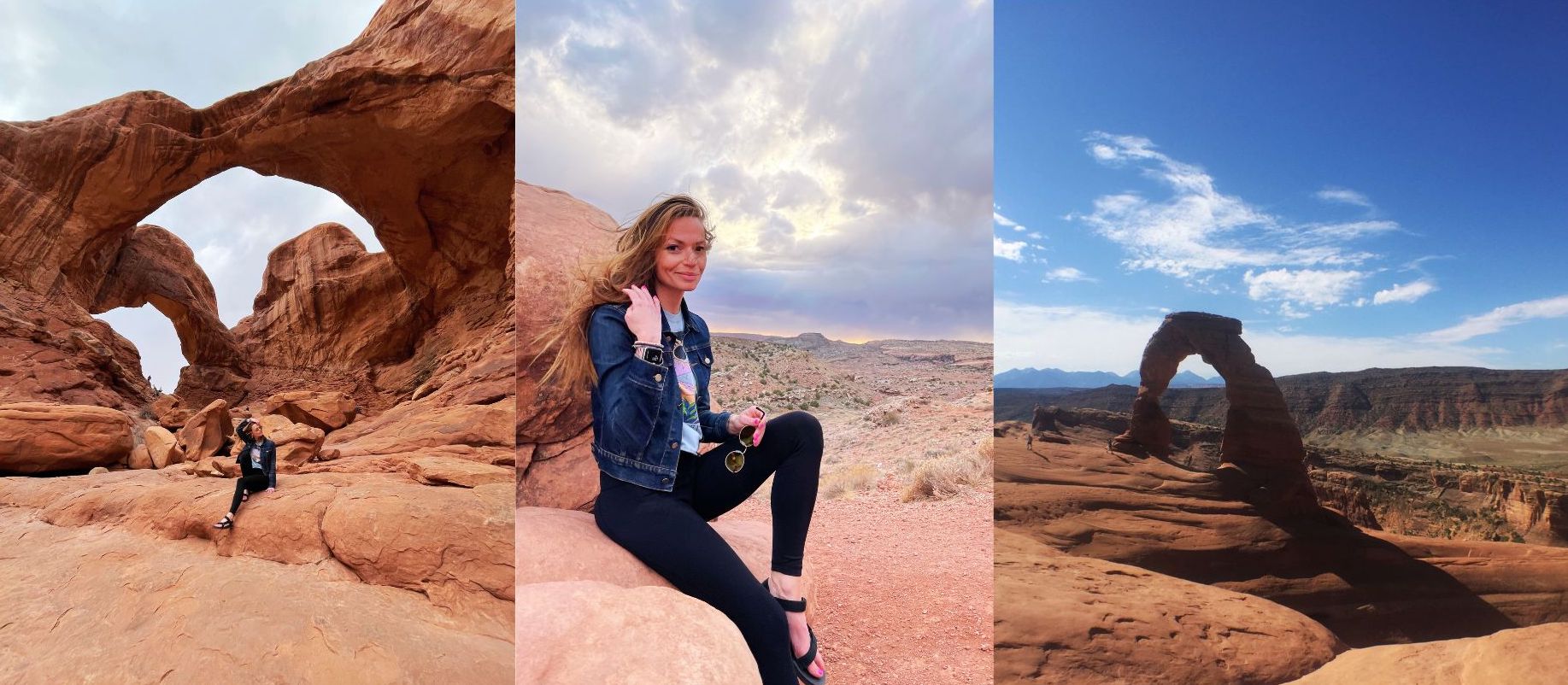 Just 5 miles north of Moab is one of the nation's most unique and memorable National Parks – Arches. With over 2,000 documented natural stone arches (the largest concentration in the world) in just 119 square miles – there is something remarkable everywhere you turn here.
Hike the surprisingly challenging Delicate Arch trail or to the more mellow Double Arch before entering Devils Garden. The park road is stunning on its own – just be sure to secure a timed entry vehicle reservation before your visit. Reservations are released on a rolling basis three months in advance, with a limited number available the day before entry at 6 p.m. MDT on recreation.gov.
Where to stay nearby:
On my next visit, I'd love to stay at Red Cliffs Lodge on the gorgeous Highway 128 Colorado River Scenic Byway. The lodge offers suites and cabins with rustic Western decor framed by striking red cliffs and impressive amenities.
Where to grab a drink nearby:
Grab a drink at The Bar at Red Cliffs Lodge.
Dead Horse Point State Park — Moab
Less than 10 miles from Canyonlands, you'll find another geological wonder (they are everywhere here y'all) – Dead Horse Point State Park. One of 43 state parks in Utah, Dead Horse Point is consistently one of the most visited. The Dead Horse Point overlook is legendary, with panoramic views of the Colorado River and nearby Canyonlands National Park — the kind of place that makes you feel small in all the right ways.
Hike Rim Loop and Big Horn Overlook Trail during your visit.
Where to stay nearby:

Renting a yurt in Dead Horse Point State Park is next on my Utah bucket list. With a two-night minimum stay, the yurts are spacious and convenient for all the action in the park.
Where to grab a drink nearby:
Head into Moab for a brew and maybe a bite at Proper Brewing Co.
Capitol Reef National Park — South-Central Utah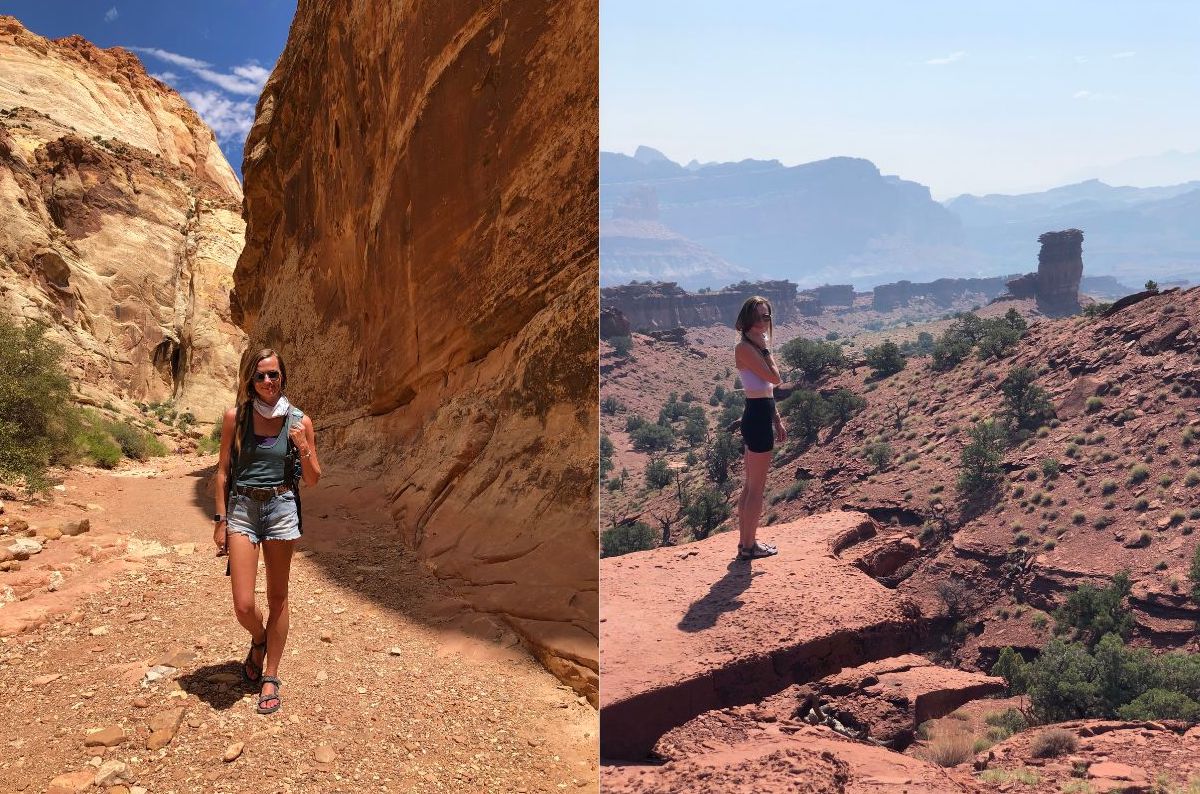 I've had many conversations with fellow travelers and friends who said they took a trip to "all the Utah National Parks," – but when I ask them what they thought of Capitol Reef, they realize they missed one. While not the "least visited Utah National Park" – that title goes to Canyonlands, it's not as easy to get here; you likely won't just "be in the area" – you have to want it. And I always do.
Home to part of the "Waterpocket Fold" – a geological feature described as a "wrinkle" in the earth's crust that extends for 100 miles; enjoy scenic drives, hiking, and uniquely historic pick-your-own fruit orchards and famous fruit pies available at the Gifford Homestead during your visit.
Where to stay nearby:
Stay in Torrey for convenient access to the park at a short-term rental or one of the many standard hotels. I'd love to spend some nights at the elevated and modern Skyview Hotel on my next visit.
Where to grab a drink nearby:
Head south on the breathtaking Scenic byway 12 to Boulder and the only Utah restaurant ever selected as an outstanding restaurant finalist in the James Beard Awards – Hell's Backbone Grill & Farm.
Bryce Canyon National Park — Southern Utah
Ask any seasoned National Park traveler what their favorite park in Utah is, and you'll likely hear Bryce Canyon. It may not get as much fanfare as the enormously popular (and nearby) Zion National Park – but it is unique among any park in the NPS system. The vibrant geological formations and hoodoos – the park's signature feature – are otherworldly and awe-inspiring to walk above, around, or below. And with elevations averaging between 8,000 and 9,000 ft, winter here might be even more spectacular with the juxtaposition of snow on the rocks.
Hike Rim Trail, Sunset to Sunrise Point, Navajo Loop, and Queens Garden or Mossy Cave to be transported into another dimension entirely.
Where to stay nearby:
Rent a vintage Airstream modern cabin, or bring your RV/van to the nearby Yonder Escalante. Enjoy nightly movies on the big screen in vintage cars, the pool and hot tub with a view, and the tasty food and drinks available onsite.
Where to grab a drink nearby:
Enjoy a drink at Yonder or in the park at The Lodge at Bryce Canyon Restaurant.
Zion National Park — Southwest Utah
Zion National Park is one of the top-visited National Parks in the United States, and for good reason. The park in Southwestern Utah is home to the famed Angel's Landing hike (don't forget your permit), The Narrows, and Observation Point. Zion Canyon is one of the most awe-inducing places one can visit in the United States, hands down, stretching for 15 miles at depths up to 2,640 ft.
Where to stay nearby:
Snag a room at the only "in-park" lodging at Zion Lodge. The lodge offers cabins, hotel rooms, and suites.
Where to grab a drink nearby:
If you're in the mood for a cocktail, head to Cowboys and Angels Cocktail Parlor in Springdale.
Kodachrome Basin State Park — Cannonville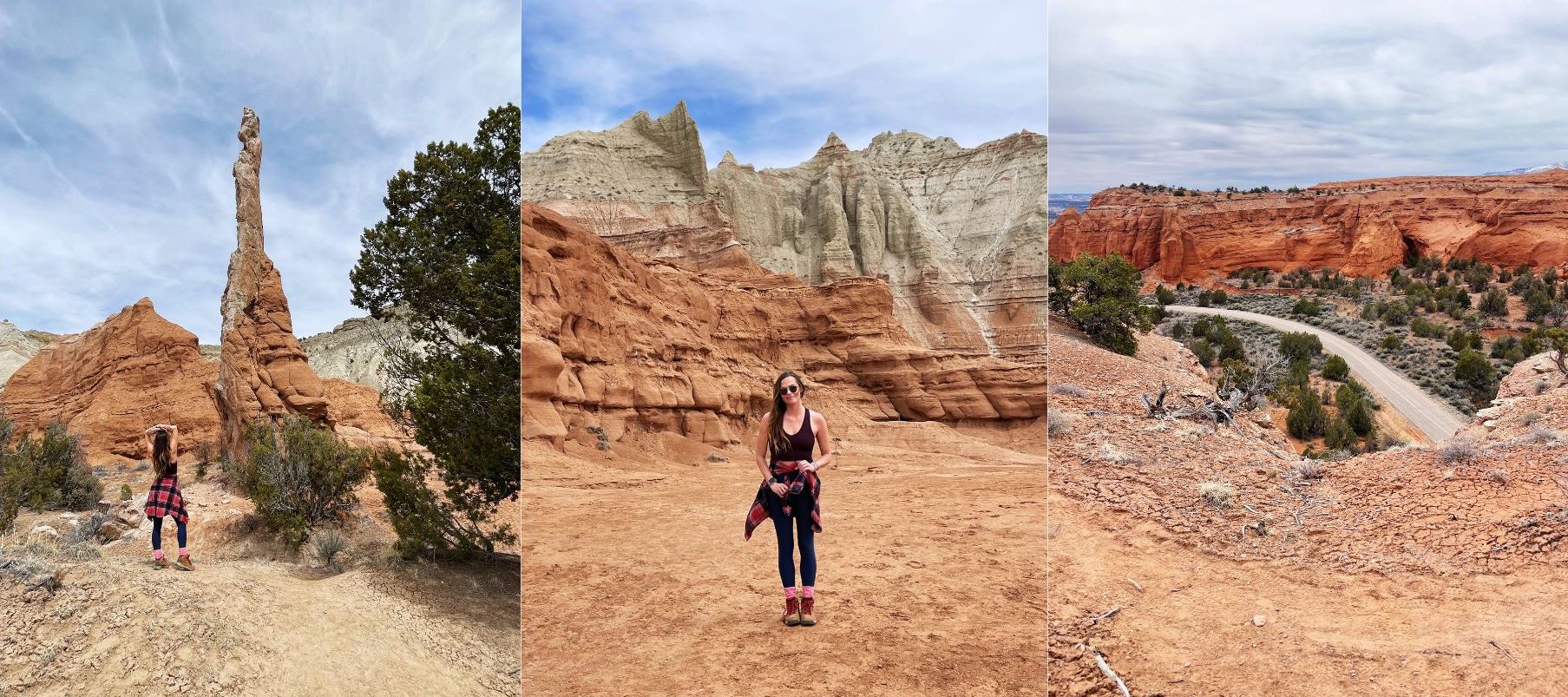 This Utah State Park is close to the perennially crowded Bryce Canyon but with a fraction of the crowds and all of the beauty. Named after Kodak Kodachrome Film after a 1949 National Geographic Society expedition that photographed it using the film – this park is jaw-dropping. I felt like the only person left on earth hiking Angel's Palace Trail, photographing the sandstone spires and chimneys, and watching for wildlife.
Where to stay nearby:
Rent a cottage, treehouse, or larger home – some with private hot tubs – at the luxurious Stone Canyon Inn in nearby Tropic.
Where to grab a drink nearby:
The Stone Hearth Grille at Stone Canyon Inn is a favorite, with fresh dishes, a great atmosphere, a lively crowd, and an extensive wine list.
Park City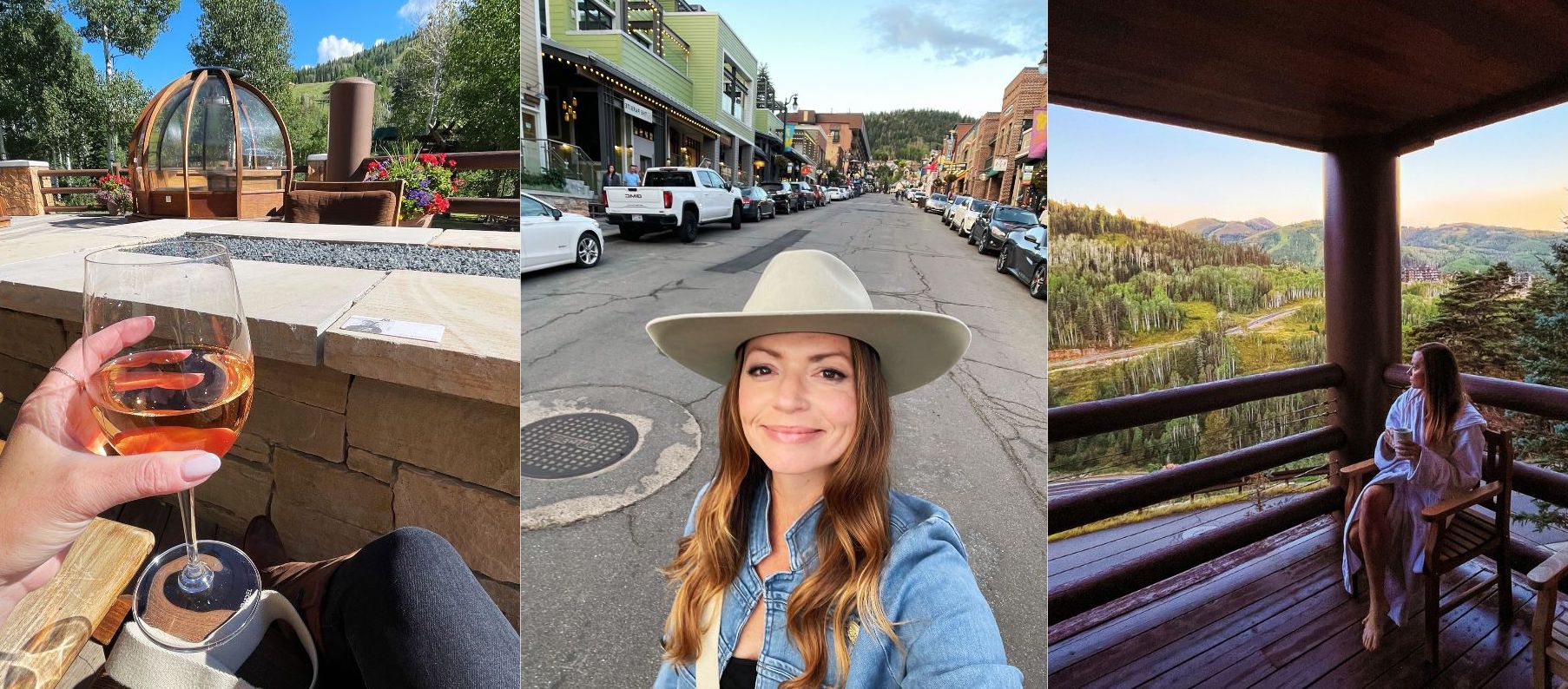 I have spent years traveling all around Utah, but until recently, I had never spent much time in Park City. Known for its world-class skiing and upscale vibes, I wasn't sure what it would offer a non-skier like me. But after a recent trip during the shoulder season, I regret spending so much time not in Park City. The views are immaculate, the town is charming, the lodgings are upscale, and most importantly – the access to outdoor recreation is unparalleled. Hike, mountain bike, or stand-up paddleboard during the off-season, then head to Main St. for shopping and fine dining.
Where to stay:
I loved my stay at the Stein Eriksen Lodge in Park City. The historic Norweigian-inspired luxury ski hotel has excellent restaurants, impeccable service, a sumptuous spa, and views from every vantage point.
Where to grab a drink:
Head to Park City Main St. and go underground at Alpine Distilling's Social Aid & Pleasure Club for craft cocktails made with their award-winning spirits.
Bear Lake State Park — Garden City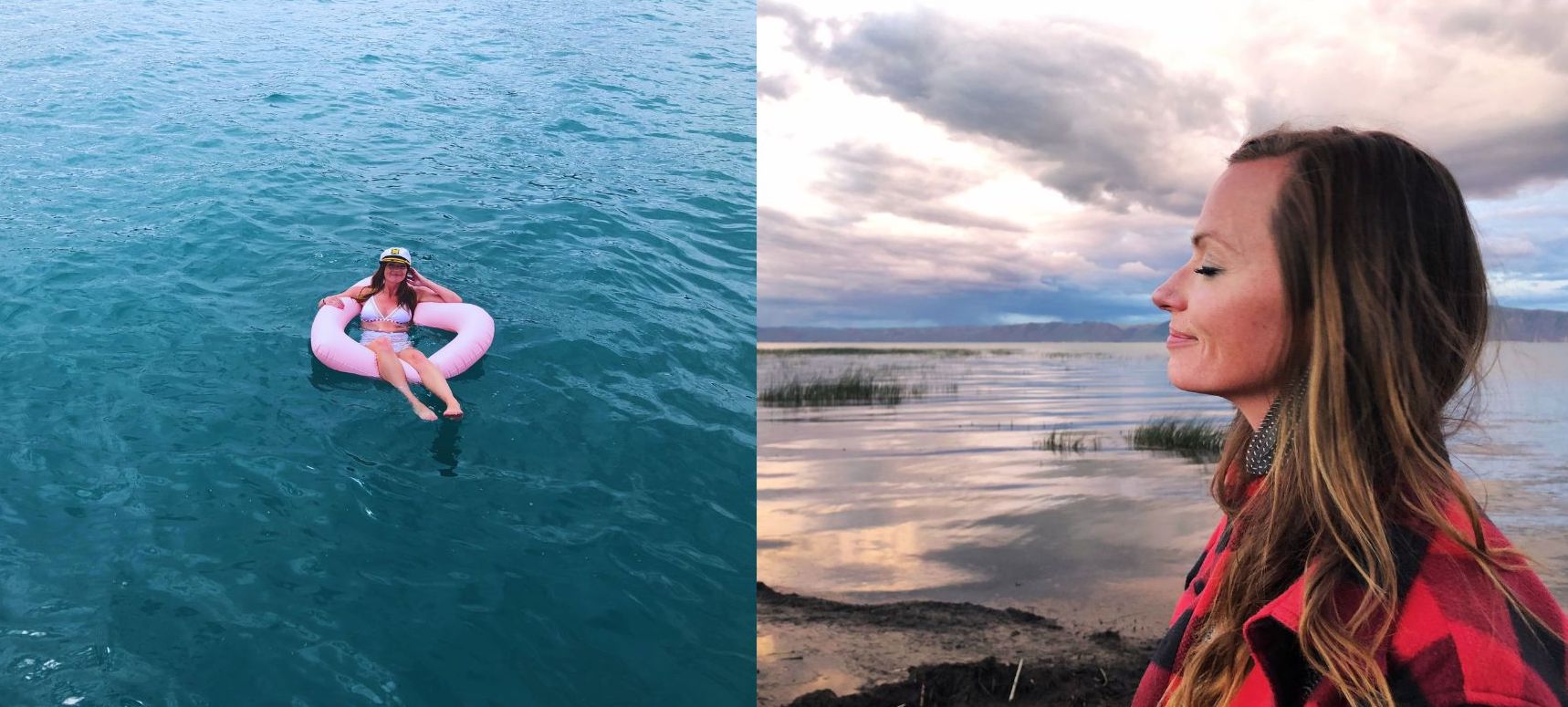 Known as the "Caribbean of the Rockies," the palatial Bear Lake, on the border of Utah and Idaho, is a year-round destination – but shines in the summer months. Spend days boating, beach lounging, hiking, and jet skiing on deep turquoise waters that will seem to transport you far out of Utah.
Where to stay nearby:
Glamp at the upscale Conestoga Ranch in luxury tents or wagons. All have plush mattresses, rustic elegant furnishing, ample amenities, and some with en suite bathrooms.
Where to grab a drink nearby:
Stay on property at Conestoga Ranch for drinks at The Campfire Grill. The timber-framed, open-air space offers lake views, and the beer and wine lists are carefully curated.
Bonneville Salt Flats — Western Utah
You've undoubtedly seen photos of the Bonneville Salt Flats in Northwestern Utah. The otherworldly landscape created as a result of the evaporation of Lake Bonneville is a legendary image in the American West. The vast salt pan is the perfect backdrop for photography and stargazing, but what it's really known for is speed.
The Bonneville Speedway, on the National Register of Historic Places, is an area of the salt flats predetermined for motorsports. Several land speed records have been made here, as the flat and smooth surface creates the perfect conditions.
Where to stay nearby:
There isn't a ton nearby, as this is a remote area, often a stopping point between two other destinations or made as a day trip from Salt Lake City. The best nearby option is to head to Wendover in Nevada and try the KOA or Best Western.
Where to grab a drink nearby:
Your best bet is to bring your brews to enjoy while visiting this pristine landscape, likely unlike anything you have ever experienced before.