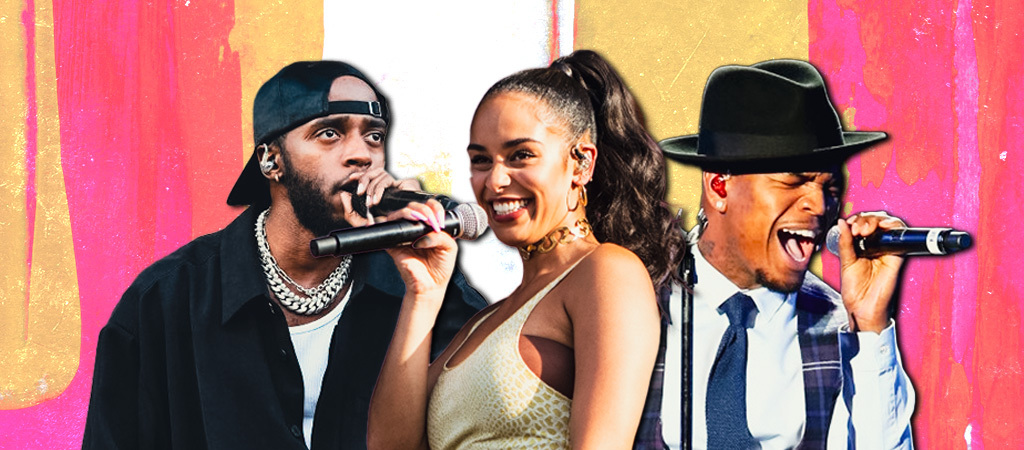 Sometimes the best new R&B can be hard to find, but there are plenty of great rhythm-and-blues tunes to get into if you have the time to sift through the hundreds of newly released songs every week. So that R&B heads can focus on listening to what they really love in its true form, we'll be offering a digest of the best new R&B songs that fans of the genre should hear every Friday.
Since the last update of this weekly R&B column, we've received plenty of music and news from the genre's artists.
Usher was announced as the performing act for the 2024 Super Bowl Halftime Show and announced his album Coming Home. Raphael Saadiq announced that a Tony! Toni! Toné! album is in the works while Chloe Bailey revealed her celebrity crush. Elsewhere, Kali Uchis launched the second leg of her Red Moon In Venus Tour, Burna Boy announced his I Told Them… Tour, and Afro Nation Nigeria announced Burna Boy, J Hus, and Black Sherif as headliners for its 2023 festival.
Here are some more releases on the new music front that you should check out:
Jorja Smith — Falling Or Flying
It's been five years since we received a full-length Jorja Smith album, but the British has ended the drought with her sophomore release Falling Or Flying. With 16 songs in her arsenal and features from J Hus and Lila Iké, Smith said the music on the album marks the "first time I'm putting stuff out there that I can connect with right now."
6lack — "Mean It" & "Homicide" Feat. Jessie Reyez
With his Since I Have A Lover Tour set to kick off next week, 6lack returns with a treat for fans before he hits the road. He reconnects with Jessie Reyez for their third collaboration, "Homicide," and offers another solo record with "Mean It." As he's known to do throughout his discography, 6lack showcases his duality through his latest double-single.
Ne-Yo — "Link Up"
While the summer weather is a thing of the past for most people, Ne-Yo is still relishing in it thanks to his new single "Link Up." It's the finish official release since Ne-Yo released his eighth album Self Explanatory and the song strikes as a smooth and seductive record meant for that special someone in your life.
Cleo Sol — Gold
As if one album wasn't more than an acceptable treat for her fans this year, Cleo Sol returns with her second project in three weeks. Gold arrives with ten join her previous release this month, Heaven, which dropped off nine songs for her first record since 2021's Mother.
Kenyon Dixon — The R&B You Love
Kenyon Dixon is making The R&B You Love with his new album. Its 17 songs present sultry records and uptempo & groovy selections that showcase Dixon's versatility. The R&B You Love also details the story of winning the heart of a new love interest which is precisely what The R&B You Love is supposed to help you do.
Ryan Trey — "30 Floors Up"
St. Louis singer Ryan Trey is moments away from dropping a new project, which he said is titled Streets Say You Miss Me. As the wait continues for that, he returns with "30 Floors," a record he uses to detail his desire for a lavish life and it includes a sexual encounter with his partner and a penthouse-like view.
Marzz — "Switching Sides" Feat. Dee Gatti
Louisville's own Marzz checks in with her second single of the year "Switching Sides" alongside Dee Gatti. It's a sweet collaboration between the two that Marzz says "is the acknowledgment of a person not really being who I thought they were." She adds, "Especially when discovered through cycled habits. The song makes you understand it's ok to be direct in your feelings."
Samaria — "Wish You Hell"
For her latest release of the year, singer Samaria steps out of her comfort with her new record "Wish You Hell." Samaria says of the song, "I've never said goodbye without a chip on my shoulder or without the comfort of knowing I would someday be doing better than the person in my rearview."
Felix Ames — "Don't Be Alarmed"
Def Jam singer Felix Ames is back with his fifth release of the year with "Don't Be Alarmed." The new release is another example of his old school spirit thriving in new times, something that was previously detailed through his double-sided releases "Bend, Don't Break/Shoestring" and "Taxi Driver/7711" this past summer.
Allyn — Lover Girl
Nearly a year after she delivered her After Hours, Pt. 2 EP, Bay Area singer Allyn has returned with another project. Lover Gurl arrives with five songs that put her softer side on display as sultry and romantic records help to showcase her inner lover girl.
Dahi & Elmiene — "Shame"
Ahead of his Marking My Time EP's release next month, British singer Elmiene teams up with DJ Dahi for their new song "Shame." Dahi calls it the first of many collaborations between the two and on this one, Elmiene shows off his vocals over textured and nostalgic production supplied by Dahi himself.
Some artists covered here are Warner Music artists. Uproxx is an independent subsidiary of Warner Music Group.