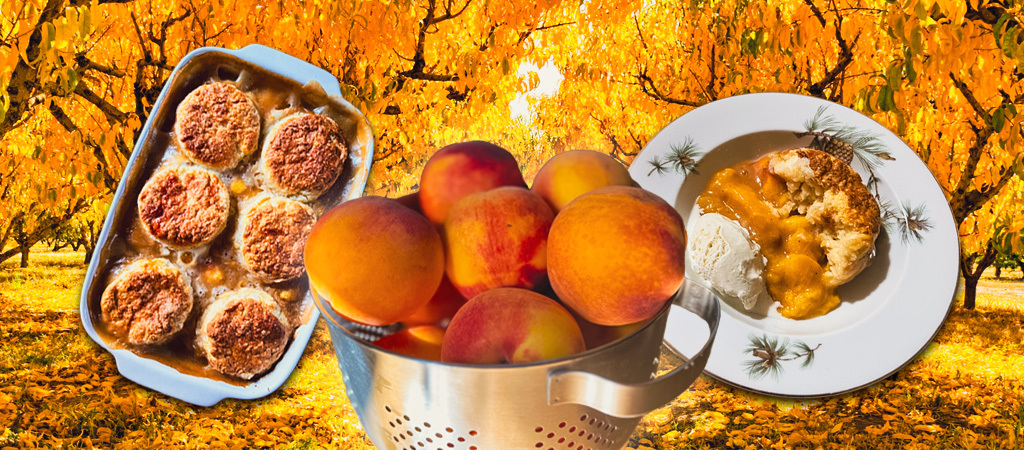 Nothing says midsummer like a gooey and delicious peach cobbler. And while it is officially fall, it was still 80-plus degrees and sunny outside when I made this, which is still very much summer vibes even though it was the first day of October. Seasonality aside, being able to make a good cobbler is a must for any home cook's arsenal. The marriage of soft, spiced, sweet, and fruity pie filling topped with biscuit- or scone-like topping is a delight.
Add a little vanilla ice cream when it's still warm from the oven … chef's kiss!
While some of the more tart fruits (green apples and berries) work better with rich crumble toppings, peaches are sweet and bold enough to stand up to the thickness of a good quickbread topping. I'm not saying you can't make a great peach crumble too. I'm just saying that cobbler is the best way to go for that extra oompf.
Below, I'm going to break down my favorite recipe — swapping a good dose of bourbon in, rather than vanilla. It's a very old-school way to get deeper flavors into pie fillings that goes back centuries. Keep in mind, real vanilla was a huge luxury until very recently, so vanilla-forward flavoring agents like bourbon were almost always used instead. The bourbon also adds a little extra depth to the mix that takes this recipe from general "pie spices" to something a little more nuanced.
There are other small tricks I've picked up through the years too. I tend to actually top my cobblers with cut biscuits/scones instead of a thick layer of topping. I've found that the more space you have for steam to escape, the more the pie filling thickens. It also lets the topping stay fluffier and more layered since you aren't rolling it out as much (to stretch it to the size of a whole baking dish). The "cobbles" on this cobbler are textural masterpieces with crispy and crunchy tops, delightfully layered and buttery middles, and gooey and soft bottoms. They're also thick without being dense, which is ideal.
The best of all of this is that your kitchen/home is going to smell amazing while this is baking in the oven. Does all of this sound good? Of course, it does! Let's dive in!
Bourbon Peach Cobbler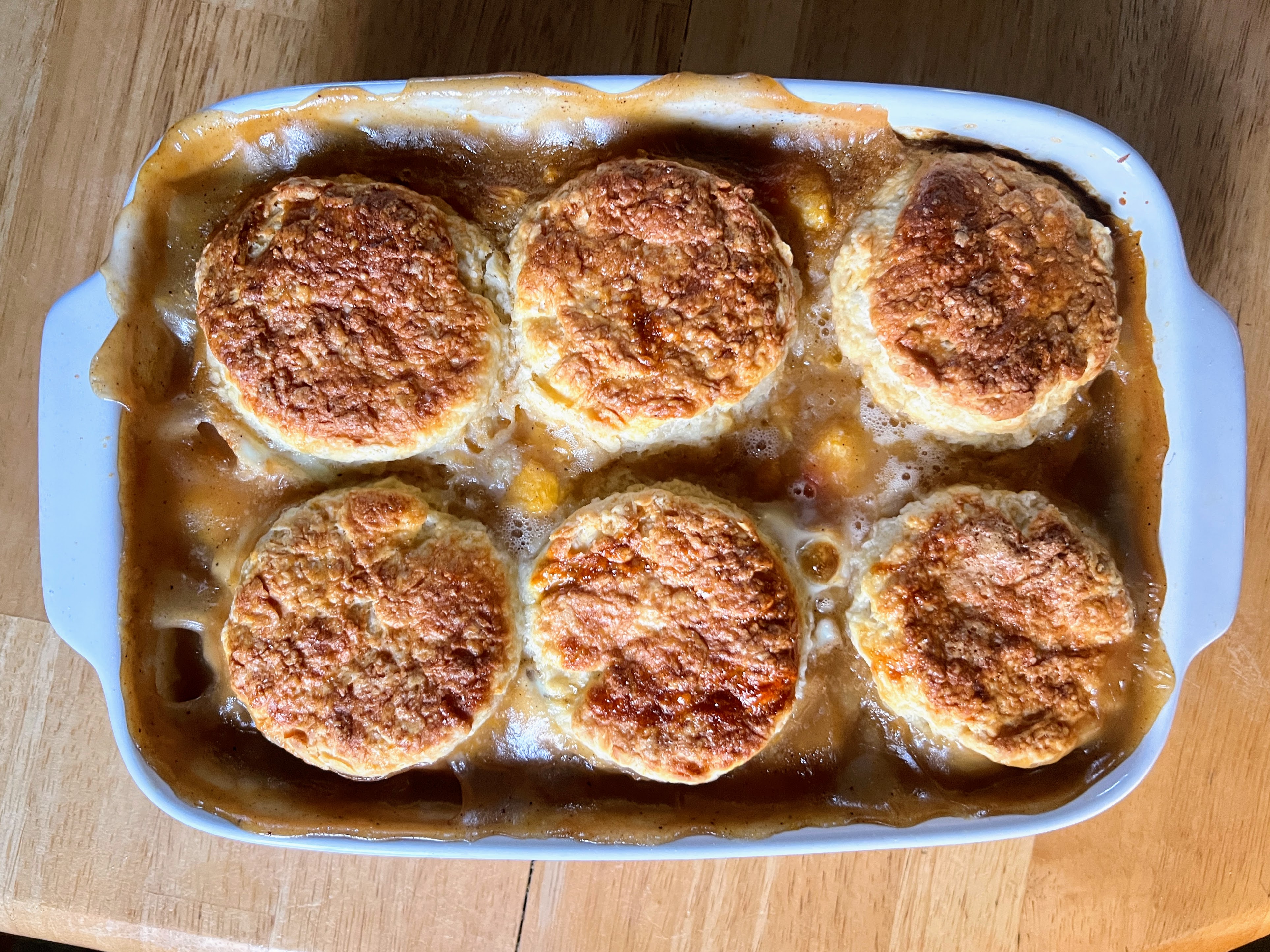 Ingredients:
Serves: 12
Filling:
8-10 yellow peaches
1/4 cup bourbon
1/3 cup granulated sugar
1/2 cup light brown sugar
1 tsp. cinnamon
1 tsp. nutmeg
1/2 tsp. allspice
1 tsp. Kosher salt
1/2 cup AP flour
A quick note about the peaches. You'll want to get ripe peaches that still have some heft to them. Do not use mushy peaches. Since you have to skin and slice these, you'll want them ripe enough to just give a tiny resistance when you squeeze them.
A good vanilla-forward bourbon to use is a standard Buffalo Trace Bourbon. It's affordable, widely available, and goes deep on the vanilla while adding plenty of barrel spice and a hint of orange.
Topping:
2 cups bread flour (sifted)
1 tbsp. granulated sugar
1.5 tsp. baking powder
1 tsp. Kosher salt
1 stick unsalted butter (frozen)
1 cup fresh buttermilk (whole)
1 egg white (lightly beaten)
Extra granulated sugar
What You'll Need:
Large bowls
Large pot
Paring knife
Large baking dish (9 in. x 12 in. x 3 in.)
Rolling pin
3-inch biscuit cutter (or water/pint glass)
Large spoon
Fork
Grater
Cookie sheet
Method:
Preheat oven to 375F.
Baking time: 45-60 minutes
Resting time: 1 hour (minimum)
Prep the Peaches: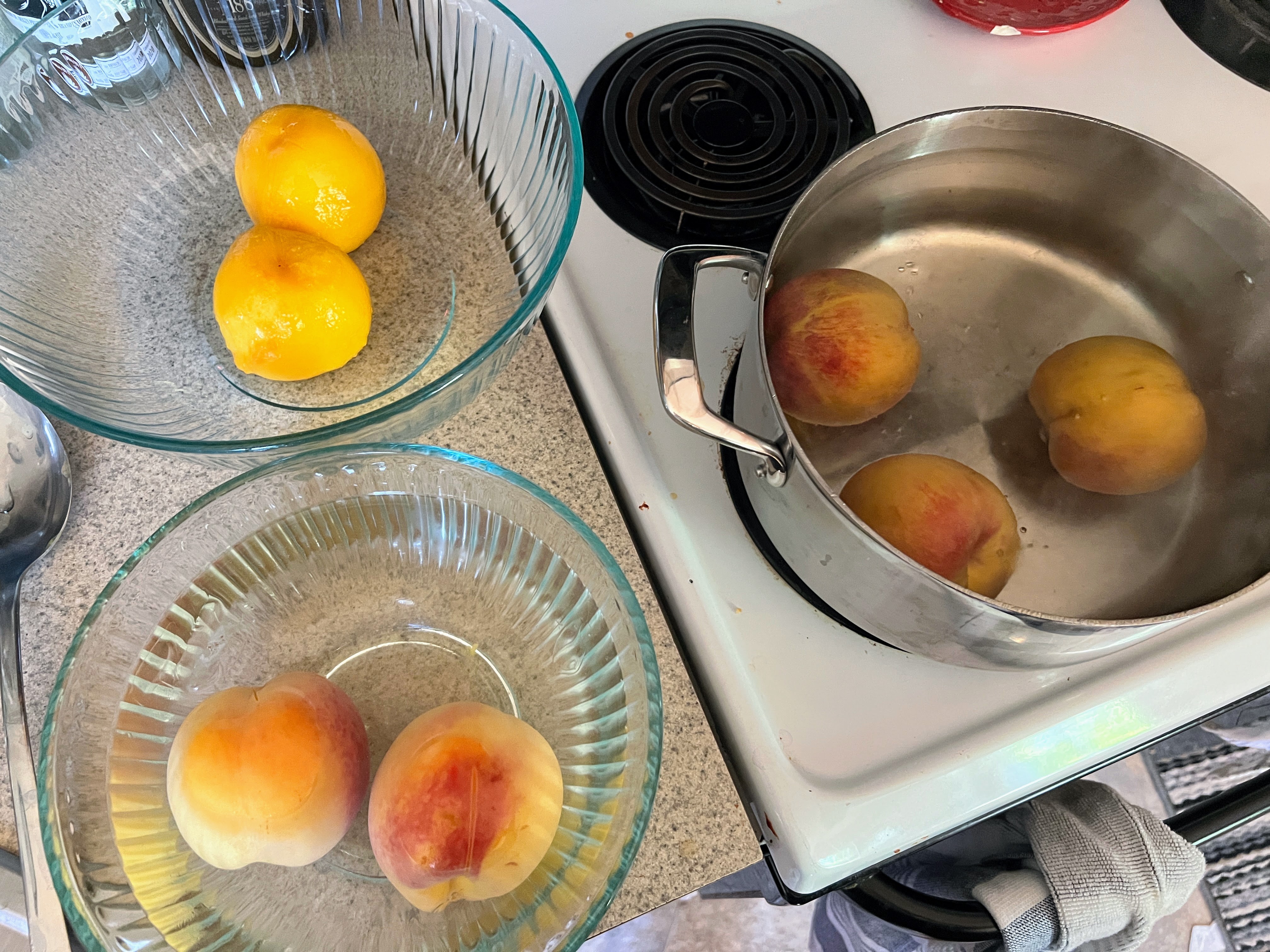 Bring a large pot full of tap water just barely to a simmer (do not bring it to a boil).
Prepare a large bowl with ice water and have another empty large bowl waiting.
Use a paring knife to score a cross in the bottom of each peach.
Gently place about three or four peaches in the barely simmering water. Let "simmer" for about 60 seconds or until you see the skin start to pull away from where you scored the cross.
Fish the peaches out with the spoon one at a time and add to the ice bath.
Gently pull away the skin from the spot where you scored the peaches — it should slide off very easily. Place the skinned peaches in a waiting bowl.
Repeat until all peaches are skinned.
Filling: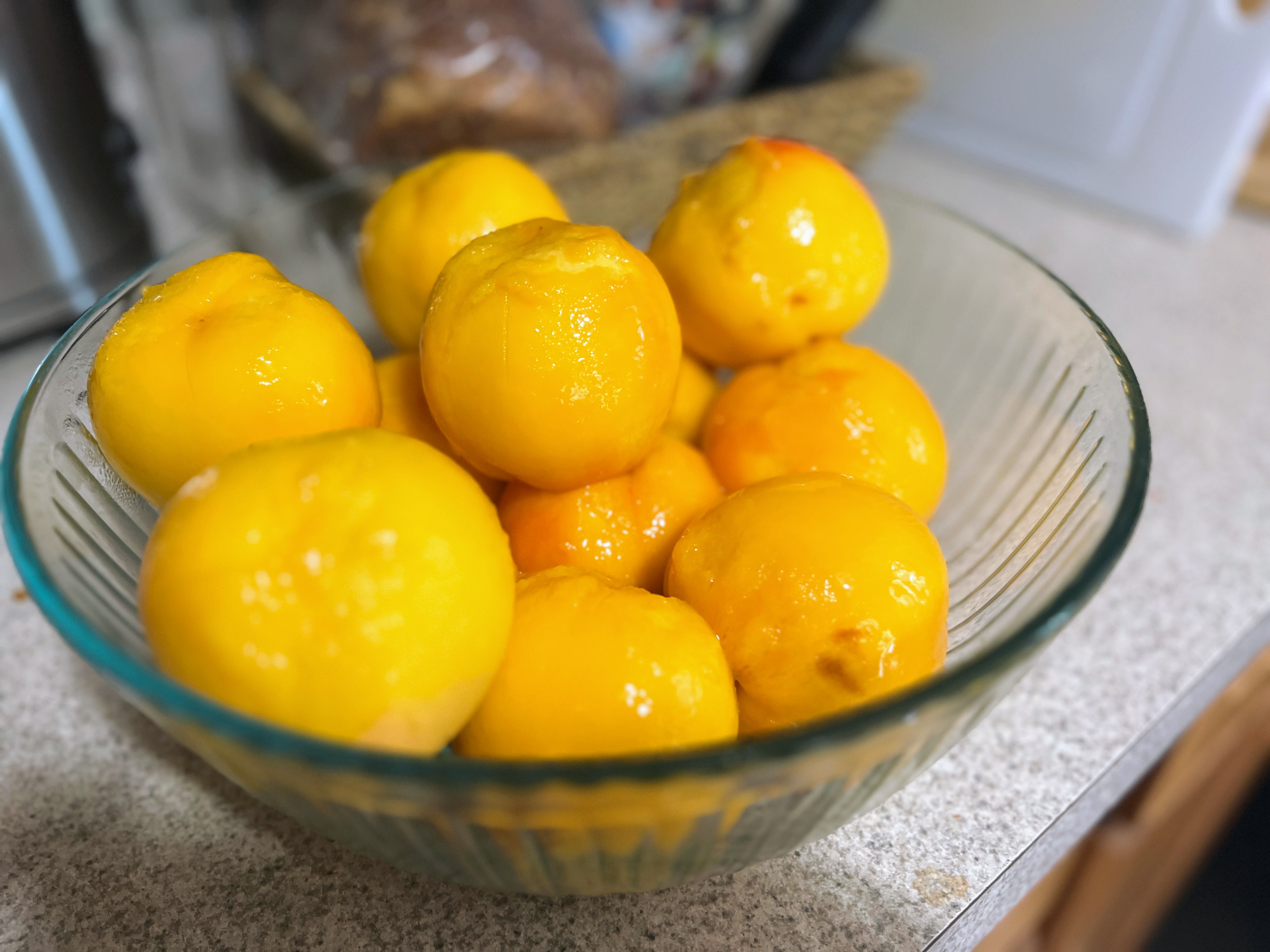 Using a paring knife, slice the peaches off the pit, making a wedge shape and working your way around the pit. (Use the same bowl the peaches are already in while you do this to save all the delicious peach juice in one place).
Once all the peaches are pitted and in medium wedges (closer to the size of a tangerine wedge than an orange one), add in the bourbon, sugars, spices, salt, and flour.
Use a large spoon and mix until a thick and dark sauce forms around the peaches.
Pour the mixture into the baking dish.
Topping & Build: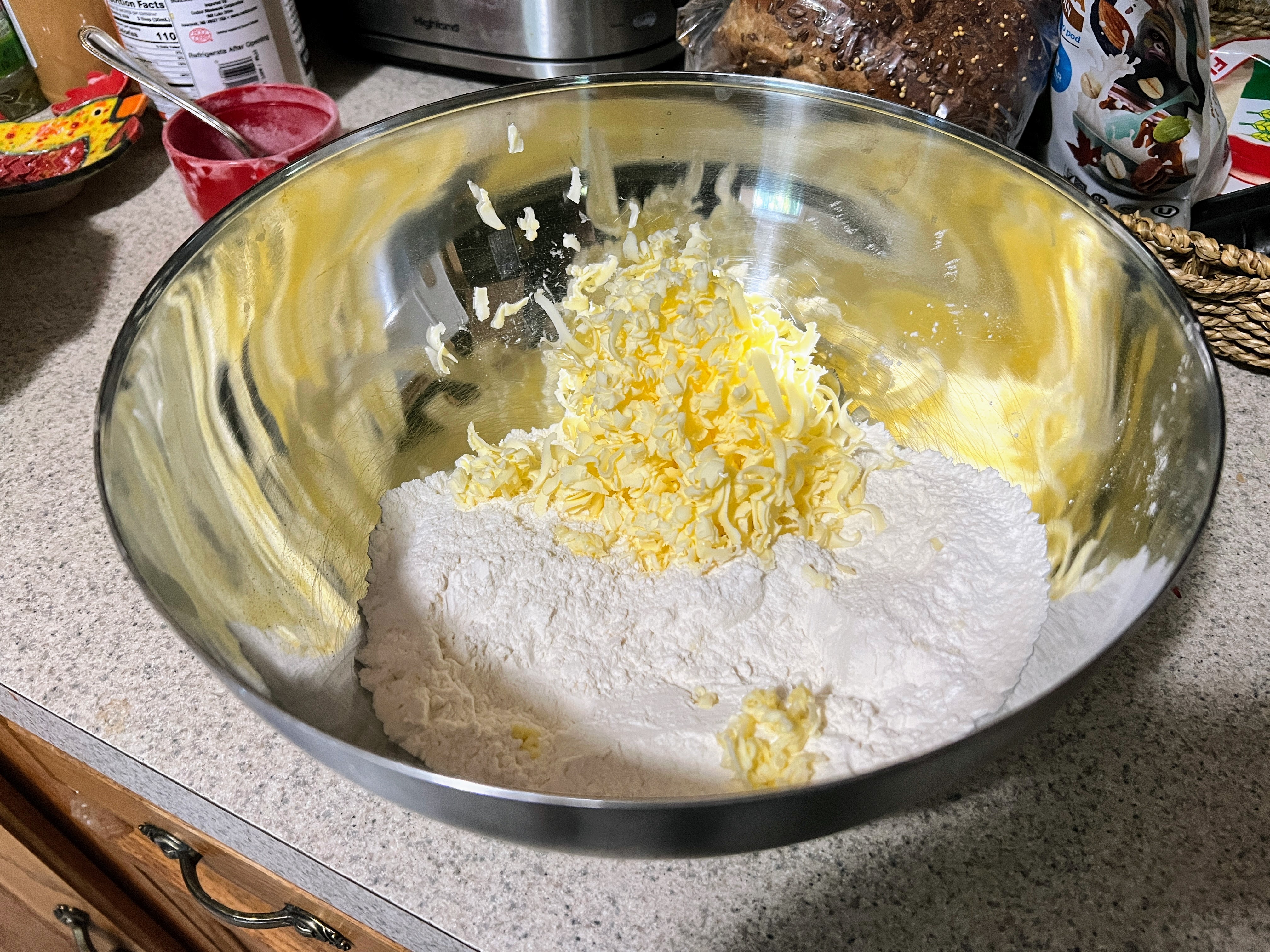 Add the flour, baking powder, sugar, and salt to a large mixing bowl. Use a fork to integrate the dry ingredients.
Grate the frozen unsalted butter into the bowl.
Use a fork to gently mix the butter into the flour mixture. (Make sure not to use your hand too much as it'll warm up the butter).
Add in the buttermilk one-half cup at a time to hydrate the flour/butter mixture, using the fork to bring things together until you have a very shaggy dough.
Pour the whole mixture onto a wooden surface and bring it together with your hands until a dough just forms (again, don't overwork this with your warm hands).
Use a rolling pin to roll out the dough until it's about 1/2-inch thick.
Use the biscuit cutter to cut out four biscuits. Re-roll out the dough and cut two more.
Place the biscuits (cobbles) on the peach filling and brush with a whole egg white (make sure to use it all) and then sprinkle with granulated sugar.
Place the dish on a cookie sheet (it will boil over while baking).
Bake (45-60 min. at 375). Rest. Serve.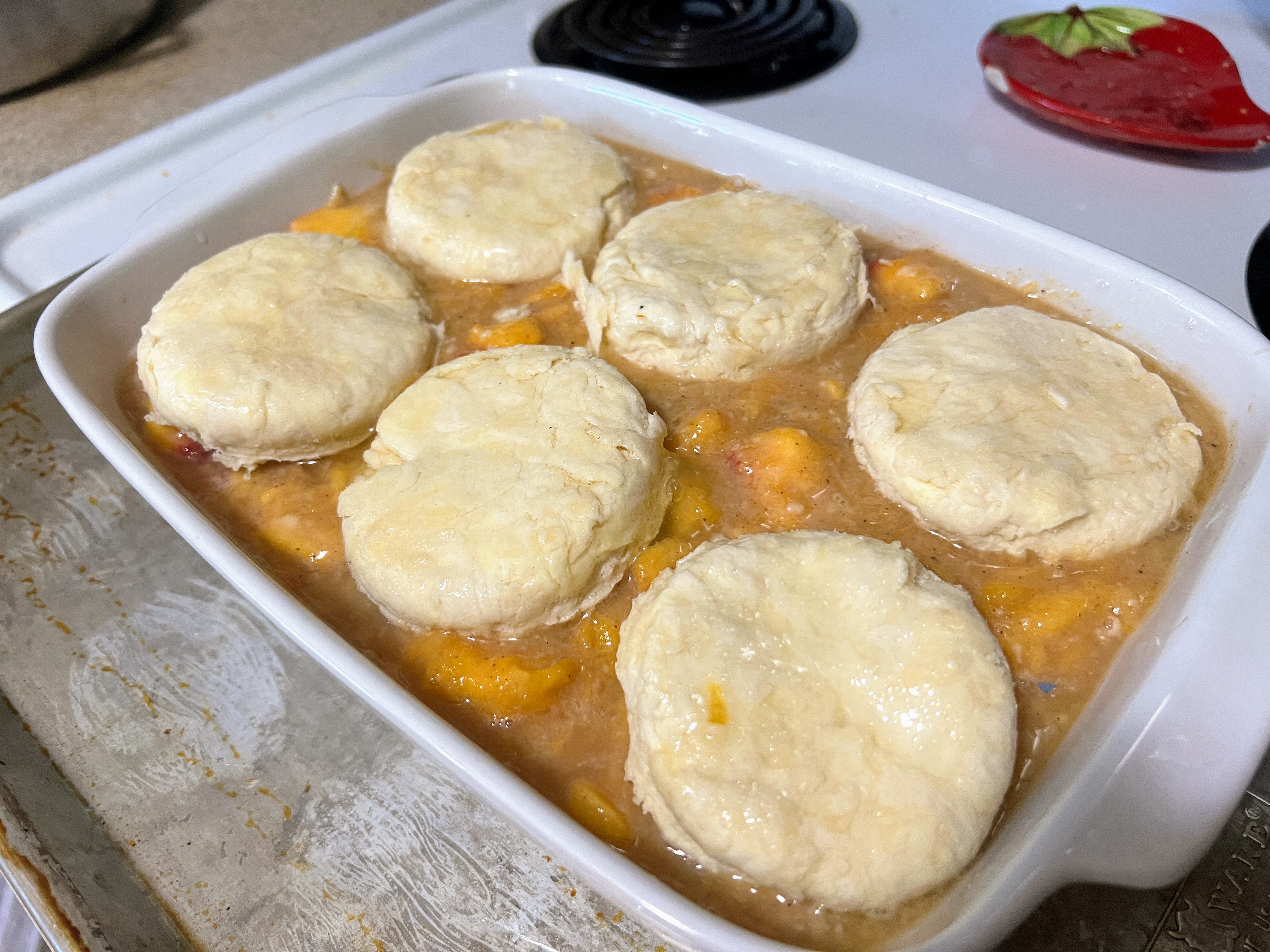 Bottom Line on the Bourbon Peach Cobbler:
I wish you could smell this. It's delightful. The taste is exactly what you're looking for in that it's sweet, syrupy, and full of vanilla-laced and fall-spiced goodness.
The cobbles/biscuits add a wonderfully fluffy and crunchy textural variance that just works with the pie filling. Had I made these biscuits on their own, they'd rule. On this cobbler, they're extraordinary.
Yes, this took a minute to prep and bake, but it wasn't overly taxing. All told with the peeling, mixing, and prepping, I spent maybe 30 to 40 minutes getting this in the oven. My oven ended up taking 50 minutes to bake. The hardest part was waiting an hour or so to actually dig in. But this was such a crowd-pleaser in my house that I've already been ordered to make it again next weekend.