This limited series for UPROXX's Style Hot List highlights world-renowned artists and celebrates their unique sense of style.
It's one thing to lead the charts thanks to a delightful, distinct voice. It's quite another skill set to exude that same uniqueness through personal style sans stylist. British singer-songwriter Saint Harison does both — exhibiting his inimitable individuality from vocals to sneaker choices.
Just look at the stunning COLORS performance of his single, "Ego Talking" – amassing over 2.5 million views and more than 10 million streams to date – where he channels a minimalist aesthetic in an all-white outfit. In May, Saint released his poignant, power-packed debut EP, lost a friend, and earned support from BBC Radio 1, Apple Music (who also deemed him one of "Apple Music's Global Up Next Artists"), VEVO, and other top platforms.
Fresh off his first-ever headline shows in his native UK, which included two sold-out shows in London and Southampton, Saint announced a U.S. tour debut taking place later this fall. The artist's talent has garnered him public co-signs from Justin Bieber, SZA, Elton John, H.E.R., Jazmine Sullivan, Ty Dolla $ign, Timbaland, Summer Walker, 21 Savage, and Viola Davis, among other A-listers. While the UK crooner is poised as one of the most exciting emerging artists of 2023, he will also undoubtedly be an icon on the fashion front.
We caught up with Saint while he was on the road to talk about his style influences, staples, and must-follow fashion advice.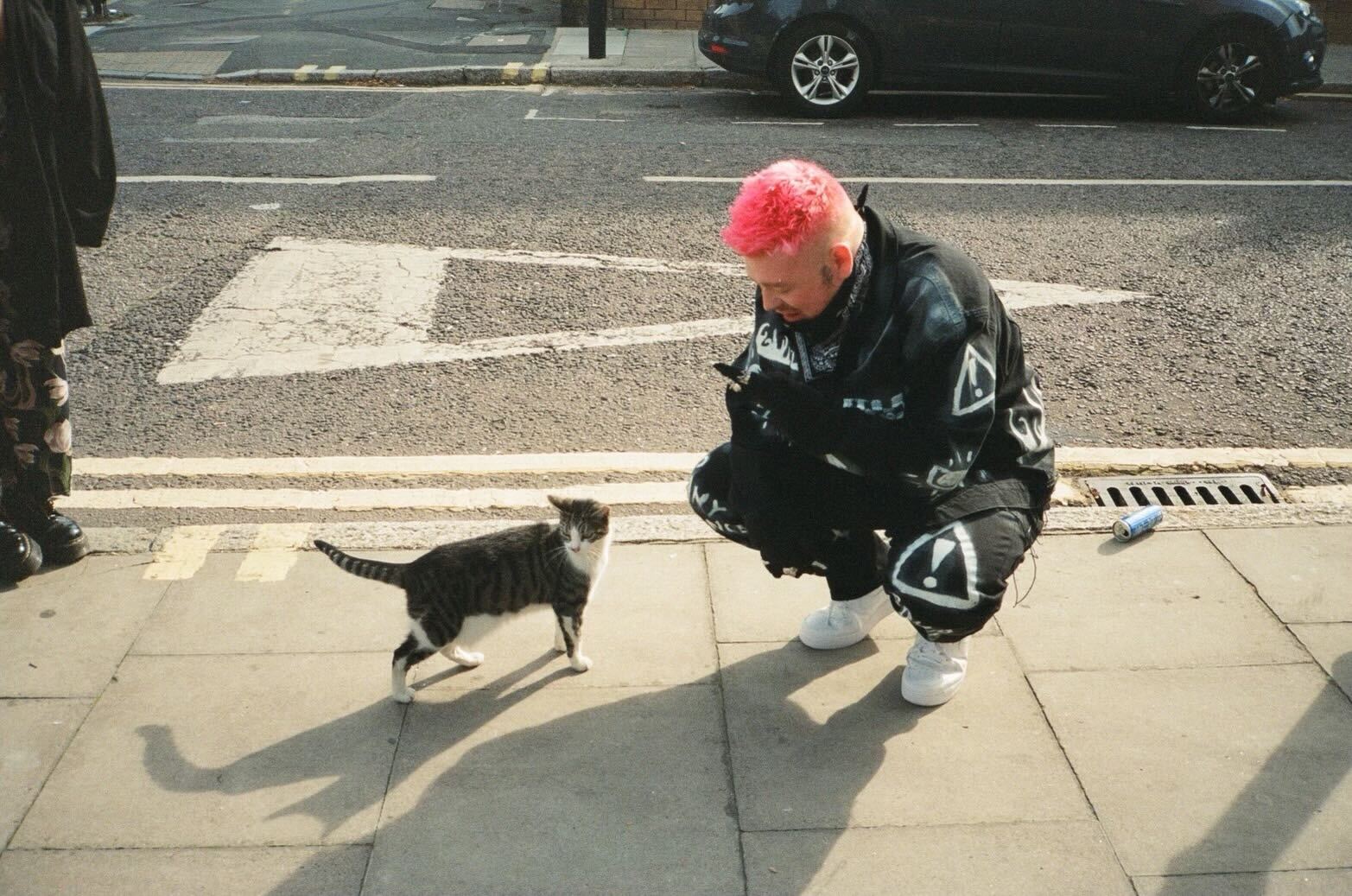 From your fun hair to your stylish kicks, what inspires you to show up as "authentically you?"
I felt so uncool growing up. I remember when I finally left school and went to college, I tried every style under the sun. I had black hair – then blue, and green and would wear different color DMs [Doc Marten's]. At that time, I found a particular style I loved and felt so authentic that it stuck around.


If you had to choose a song from your discography (or another artist's) that captures your style, what would it be and why?

I think "Ego Talking" for sure. I love being an artist and experimenting with style and fashion, but that side of it is definitely the "ego" if you like. But Saint at home is probably just in sweats chilling with my puppies. 

You have the coolest statement tees and sweatshirts! Are these styles your go-to? If not, what's your must-have staple?

Statement clothing is my favorite. It says so much without having to say a word, and people online like to dissect it and try to figure out the deeper meaning, which is always fun. My must-have staples right now are a pair of glasses and my necklaces.

Who's the G.O.A.T. of fashion – past or present – and why do you pick them?
Elton John. I don't know if it gets more iconic than that. As a kid, I was comforted so much by seeing artists like Elton push the boundaries of fashion and be so adored and loved. That still gives me so much confidence to do that. 


What's the correlation between your music and personal style taste – if at all? If not, how does being an artist influence your style?
I don't know if there is one. When I'm drunk talking to random people in the smoking area, they always assume I'm a tattoo artist or something. So I have no idea. Being able to be an artist is so fun when it comes to style. There are so many opportunities to showcase fashion, so I'd say it definitely pushes me to be creative.

Give me a piece of style advice that everyone should live by.

Nothing is ever "too much."