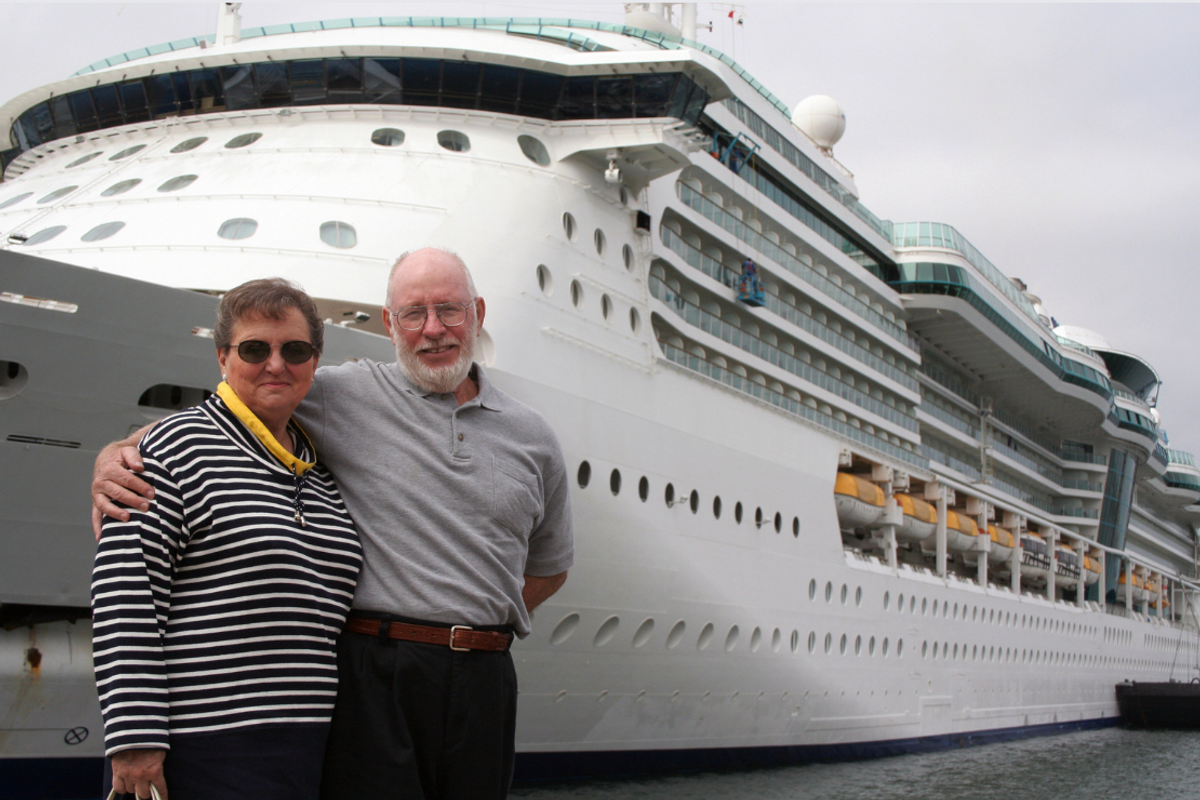 For many, if not most of us, the purpose of retirement is to sit back and enjoy life. A chance to see the world, take up new hobbies, explore what it means to simply exist without having to clock in.
So it's almost no wonder that more and more retirees are finding themselves on cruise ships, where relaxation, adventure (and having someone else do your chores) are the name of the game.
Retired Australian couple Marty and Jess Ansen can certainly attest to this—having spent close to 500 days sailing around the world on their 51 back-to-back cruises.
That's right. 51 cruises. Back. To. Back.
---
The great-grandparents told A Current Affair that they were cruise fanatics long before calling one home, and were eager to catch on the cruising they missed during Australia's strict COVID-19 lockdowns.
Plus, their plan to spend two years onboard became a no-brainer after realizing it would be cheaper than a nursing home. Marty told their travel agent "whatever comes, just book it," and they've been living it up ever since.
In addition to enjoying the perks of their morning ping-pong matches and sipping beer while basking in breathtaking views, the Ansens particularly enjoy ballroom and hula dancing.
"Where else can you go where you go for dinner, you go to a show, you go dancing?" Jess gushed. "Through the day, you have all these activities."
At this point, Jess and Marty are pretty much beloved fixtures of the cruise itself, dubbed by the hotel managers as the "celebrities onboard." And the duo takes their status seriously—making sure to welcome every new captain aboard.
One might wonder if there are ever bittersweet feelings about being so far away from home and family, but the couple attests that no such feelings arise.
"They're all busy," Jess shared, regarding their other family members. "And we're in a place in our lives where we just want to enjoy it."
So, aside from the occasional reunion when they touch down in a nearby port, the cruising couple are focused on having fun with each other. It's a journey with no end in sight, for as soon as they finish touring with their current vessel, a Princess Cruises' 2,000-passenger Coral Princess, they plan to hop onto an even bigger ship, the Crown Princess, for another year. Then..who knows…
And according to Jess and Marty, "it's a wonderful life."
Curious about how to make permanent cruising a reality in your own life? You might find some helpful tips here
.