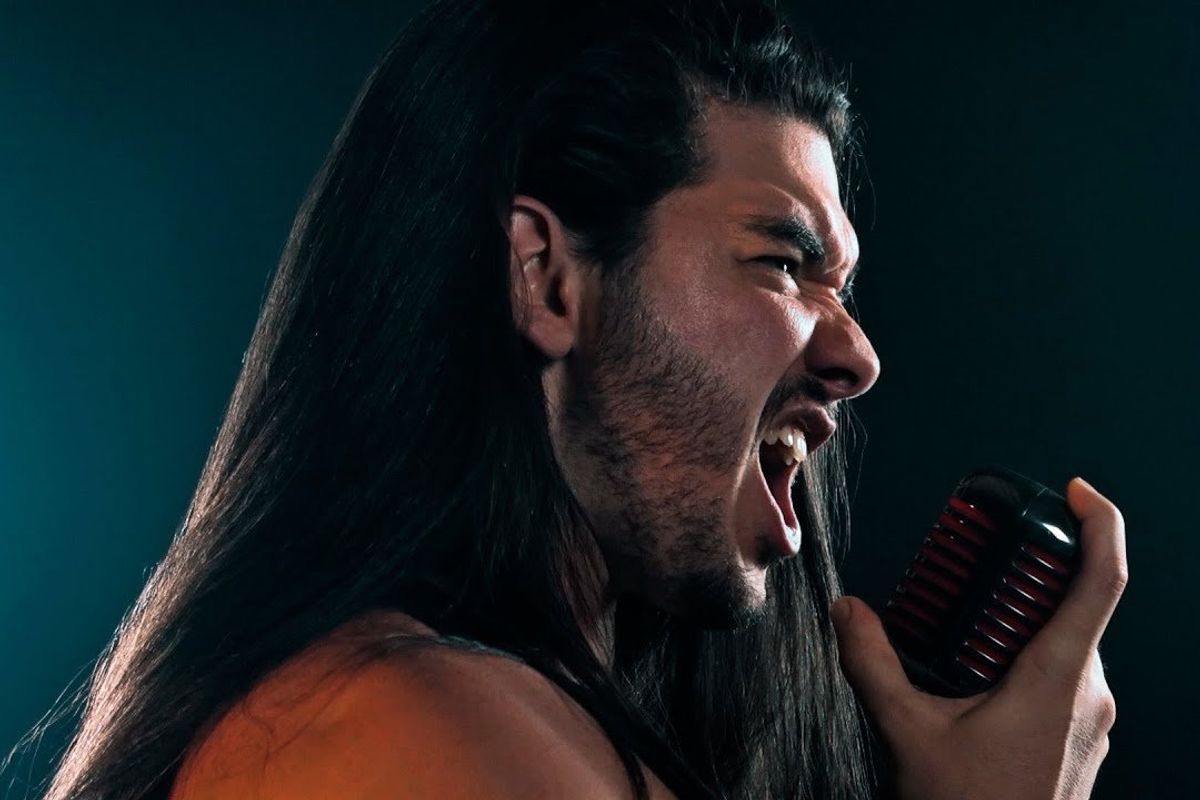 "Amazing Grace" may just be the world's most beloved and recognizable hymn, with people from all faith traditions and walks of life finding meaning and comfort in its lyrics. It was written in 1772 by John Newton, a former slave trader, after a near-fatal shipwreck caused him to reevaluate his life, convert to Christianity and become a devoted abolitionist.
Newton's spiritual has been sung by countless people in countless renditions, but there's a good chance you've never seen it sung quite like this.
Heavy metal singer Dan Vasc recorded a solo rendition of "Amazing Grace" and shared it on his YouTube channel, where it has received over 7 million views. If you're thinking that the grungy, high-pitched scream-singing that marks metal music is a strange match for a traditional Christian hymn, you could be right. But give Vasc's version a listen before passing judgment because he might just change your mind.
---
It does help that Vasc begins the song in a more traditional way, with his rich tone and impressive vocal control making his classical singing training evident. Then it builds and goes up an octave. A harmonica comes out of nowhere. Then it builds more. Another octave. And finally, that scream-singing that you don't expect to work but totally does, making believers of even the most ardent metal music skeptics.
Oh, and for the record, Vasc arranged and recorded all of the instruments and vocals here himself.
Enjoy:
If you're sitting there picking your jaw up off the floor or reaching for the replay button, you aren't the only one. People in the comments—young and old, religious and non-religious, metal fans and non-fans—shared similar reactions:
"I'm a 62-yr-old Scot and have always felt this song was meant to be belted out, your version is how this should be sung. I bet yours rattled the doors of heaven, absolutely brilliant."
"The best most passionate version I have ever heard in my 60 years! I felt every powerful note into my soul! Incredible performance."
"This was sung at our wedding. Wow, this is such a powerful version. I love the history of the song. While not super religious, this moves me."
"This song was written to be sung EXACTLY like this! With honor, respect, and power! This isn't just a quiet little song. Thank you for doing this song the way it was designed to be done. It's beautiful! I've never heard it sung like this in my entire life. You have a beautiful voice!"
"I am a 64-year-old preacher's son. I grew up singing this song and have done so my entire life. You, sir, captured the true emotion John Newton intended for us to feel. The most beautiful rendition I have ever heard."
"I'm not a metal fan….but I am a music and musician fan. You have delivered a powerful and beautiful rendition of this song. Your control of your gift is fabulous. Timing, diction, expression and air control. As someone else mentioned….I've heard it done a thousand ways and sung it myself too many times. I felt it in my heart as you sang it here. A great and stirring performance. Thank You."
Find more of Dan Vasc's music on YouTube.