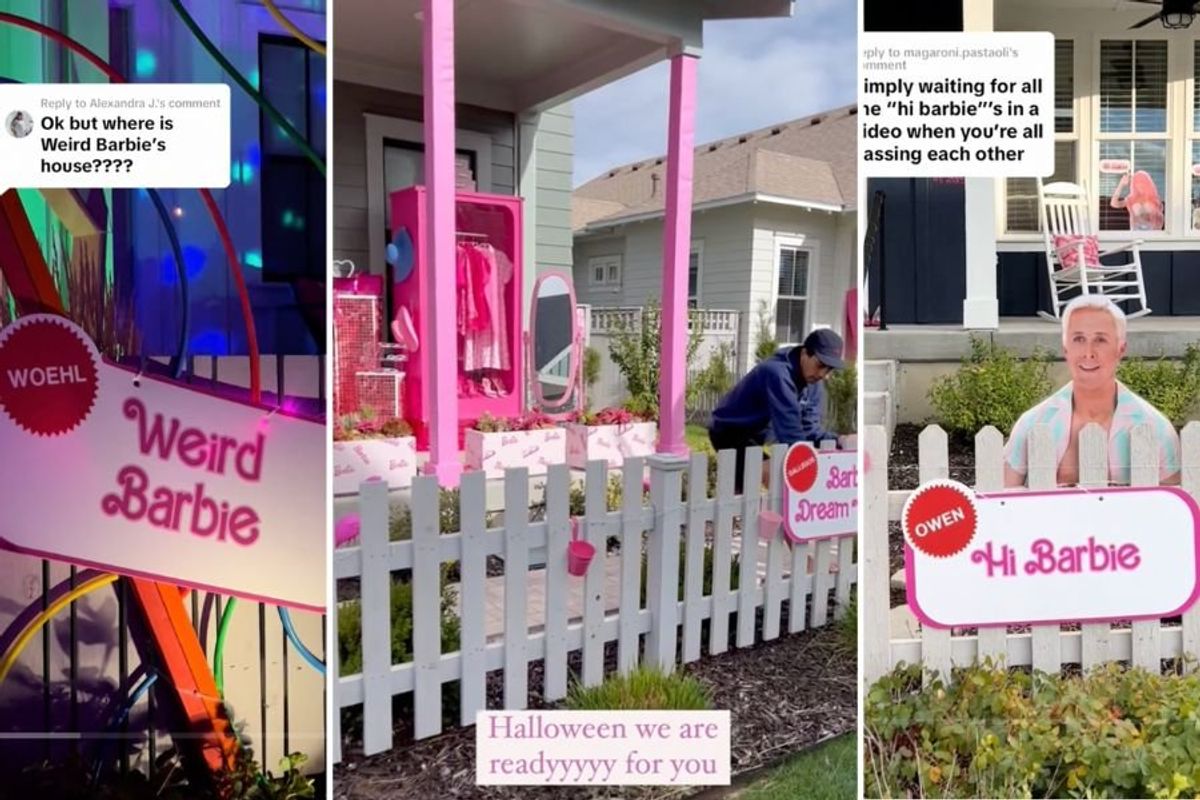 You can bet your bottom dollar that Barbie will be one of the most sought after Halloween costumes this year, thanks to the film being the pop culture moment of 2023. But Barbie-fied haunted houses? That's a whole other level of hot pink.
And yet, this was the vision for a group of close-knit neighbors living in the residential community of Daybreak in South Jordan, Utah.
In lieu of cobwebs and skeletons, the crew went all out to transform their block into Barbieland, giving each house a slightly different Barbie theme.
---
In a now-viral clip shared to TikTok by Liz T.G. (@paseo_forever), we see houses decked out with pink flowers and furniture, a disco ball, a slide…all while the movie's signature song, "Pink," plays in the background.
Of course, it almost wouldn't be right to make Barbieland without some kind of nod to Ken's Mojo Dojo Casa House. Never fear—one family took up the mantle, bro-ing out their home with a saloon-style cowboy bar, an inflatable motorcycle and a giant horse.
And the neighborhood did still pay homage to some traditional Halloween fixtures. Like with their Barbie graveyard, where they placed tombstones for Ruth Handler, the creator of Barbie, Sugar Daddy Ken and the patriarchy.
There's even a neon sign that quotes the forever quotable line, "You guys ever think about dying?" They seriously thought of everything!
You might assume that this DIY Barbieland is best suited for daytime. Guess again. At night each house gives off a party pink glow.
You also might wonder, as one viewer did, where Weird Barbie's house was. After all, that house is iconic all on its own.
So far, Liz has only teased its existence in a three-second follow-up video. But exciting nonetheless.
Lastly, there's a clip where audio from the famous "Hi Barbie" scenes plays while the camera cuts to different cardboard cutout characters, like Ken and Mermaid Barbie.
Basically, these neighbors are geniuses, and everybody loves how committed they were to the bit. What a perfect way to breathe fresh new life into spooky season, and prove yet again that Barbie can be anything. 💫