Dark rum is a great fall sipper to have on hand thanks to the mix of dark fruit, sweet caramel, and warming spicy notes usually found in their flavor profiles. Dark rums also make for some killer cocktails this time of year too. It's a good time to start thinking about stocking some well-aged rum on your home bar cart, is what I'm getting at.
To help you find the tastiest dark rums to grab this time of year, I'm conducting a double-blind taste test. What does that mean exactly? With the help of my very patient wife, I was able to taste 15 pours of dark rum without any idea what brand or even style each dark rum was. I gave my wife two directives when picking the lineup though: One, don't grab more than two bottles from the same brand, and two, don't grab any flavored or spiced rum. All of my dark rum samples are in the same boxes and bins, so it wasn't too taxing of an ask.
Once the dark rums were poured, I dove in and started tasting and ranking based on the flavor and depth of what was in the glass in my hand. To be very clear, I'm not here to discuss the veracity of these spirits. I know rum has a lot of additives and coloring; I also know that people lose their shit over those details and insist on purity. That's not what this list is about. This is about dark rum bottles that are on shelves and how they taste. This double-blind tasting is looking for well-made distillates that taste good. It's as simple as that. We can talk about additives and coloring in the rum game another time.
Sound good? Let's dive in and find some tasty rums to sip and mix with this fall!
Also Read: The Top 5 UPROXX Bourbon Posts Of The Last Six Months
Part 1 — The Smooth Dark Rum Double Blind Tasting
Taste 1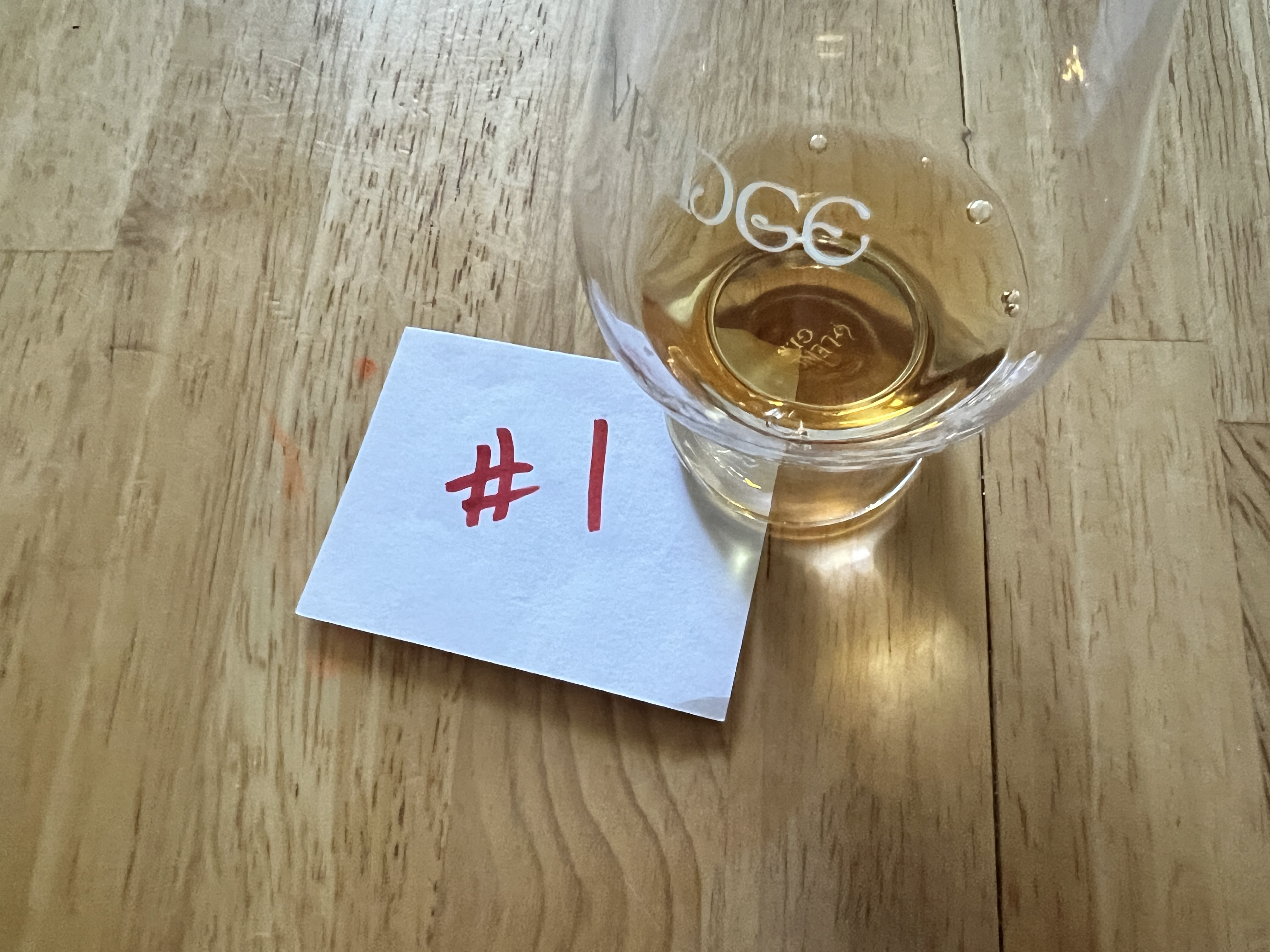 Tasting Notes:
Nose: The nose draws you in with a mix of dried ancho chili, real maple syrup, hints of bitter chocolate, caramel candy, and a good layer of creamy vanilla with a note of woody winter spices.
Palate: The palate opens with a creamy dark chocolate-covered espresso bean vibe next to more of that creamy vanilla cut with cinnamon and clove that builds towards Christmas spice cakes covered in that same dark chocolate.
Finish: The end then veers into bright and lush fruits — star fruit, tangerine skins, and peach juice — with a nice sense of tiramisu creating a creamy finish.
Initial Thoughts:
Well, this is a nice place to start. This is good but very light. All those flavors are just there, making this feel like a cocktail base more than anything.
Taste 2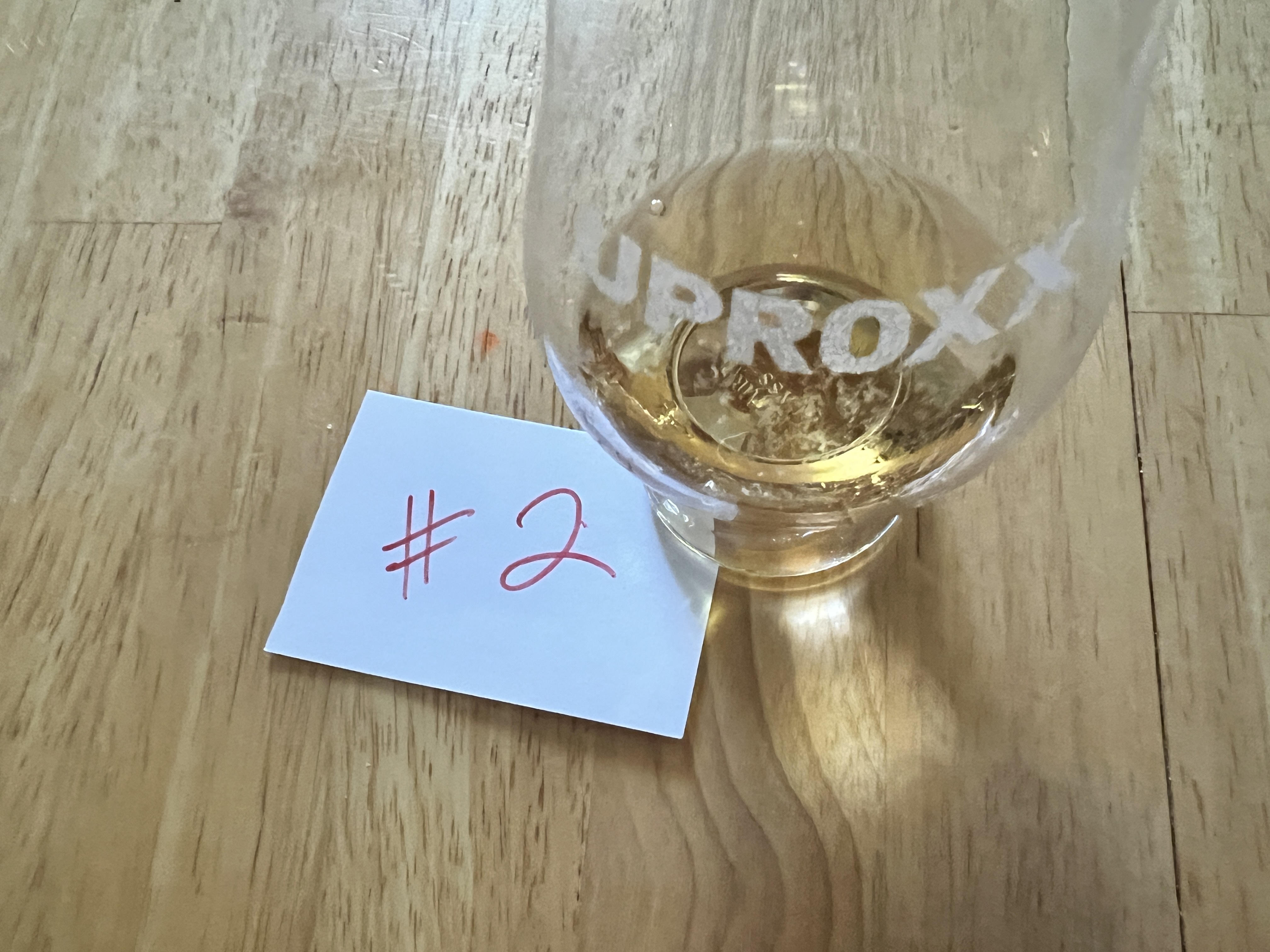 Tasting Notes:
Nose: The nose opens with a leathery mix of oak, eggnog, honey, and toasted coconut with a dash of tangerine and almost floral coffee.
Palate: The spice marries the woodiness on the palate as peanut brittle, marzipan, and grilled pineapple leads to hints of black pepper and some tobacco.
Finish: That tobacco and pepper are complemented by leathery fruits, melon skins, and creamy spice with a vanilla base on the finish.
Initial Thoughts:
This is perfectly nice too. It's very woody and nutty but it works with the peppery spice.
Taste 3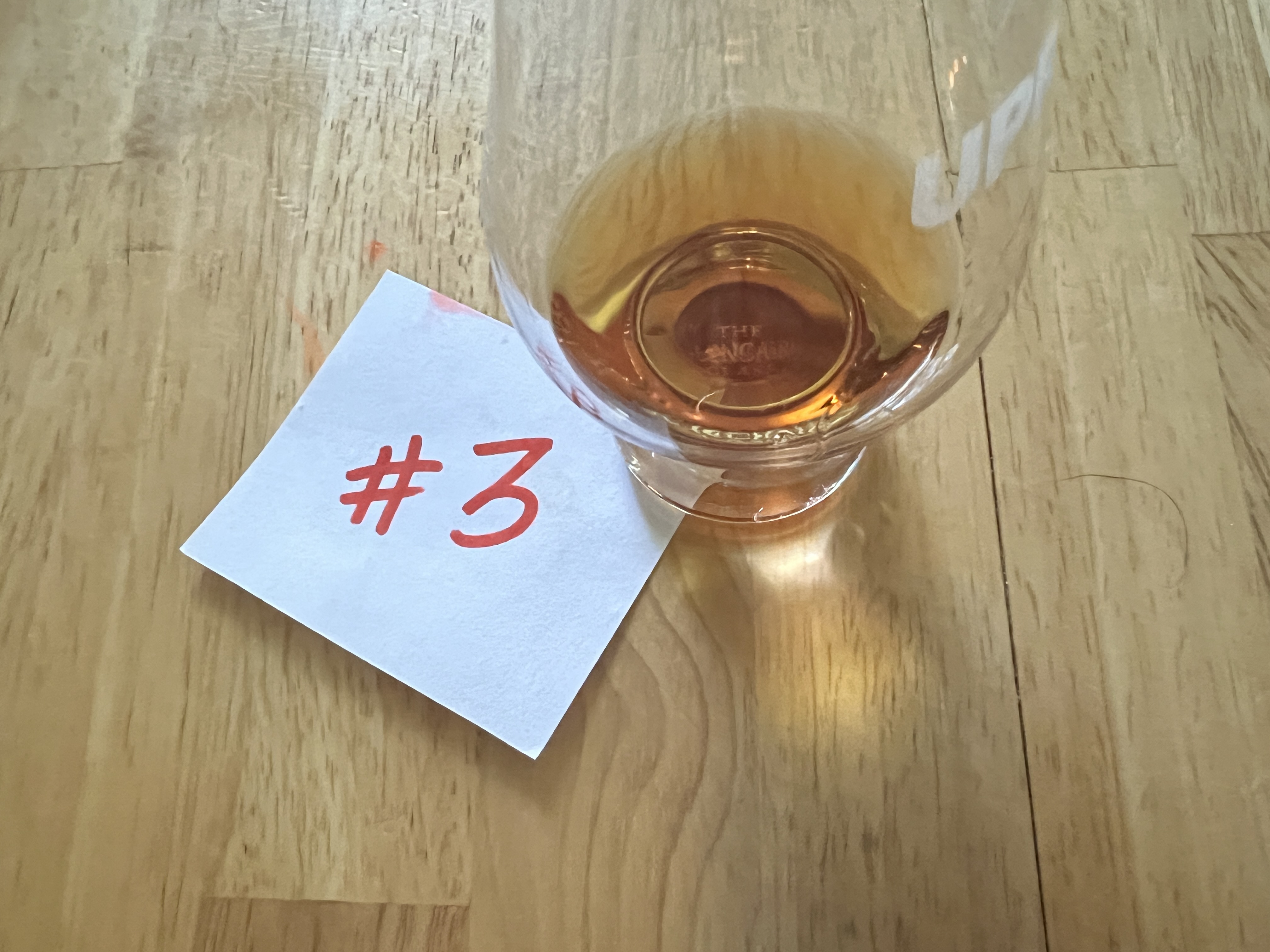 Tasting Notes:
Nose: There's a sense of dried fruits next to woody spice and some vanilla but it's very basic.
Palate: The palate is light but carries a sense of toffee cut with vanilla and cinnamon next to a whisper of peach and chocolate.
Finish: Honey molasses and more dark dried fruits (mostly raisin) drive the finish toward a very light and short end.
Initial Thoughts:
This tasted cheap and light but did have a profile that said, "Yup, that's dark rum alright…".
Taste 4
Tasting Notes:
Nose: There's a mild sense of old oak and leather next to dark winter spices, dark berries, and a whisper of potpourri.
Palate: The palate has a rich blackstrap molasses sweetness and bitterness that leads to woody winter spices, red berries with a candied edge, and a hint of that dried floral vibe.
Finish: The end gets a little light but it's more minerality than watery proofing as wet pipe tobacco and sweet vanilla candies dominate.
Initial Thoughts:
This was light too but had a much deeper and clearer flavor profile. It still felt like something you build with or sip slow.
Taste 5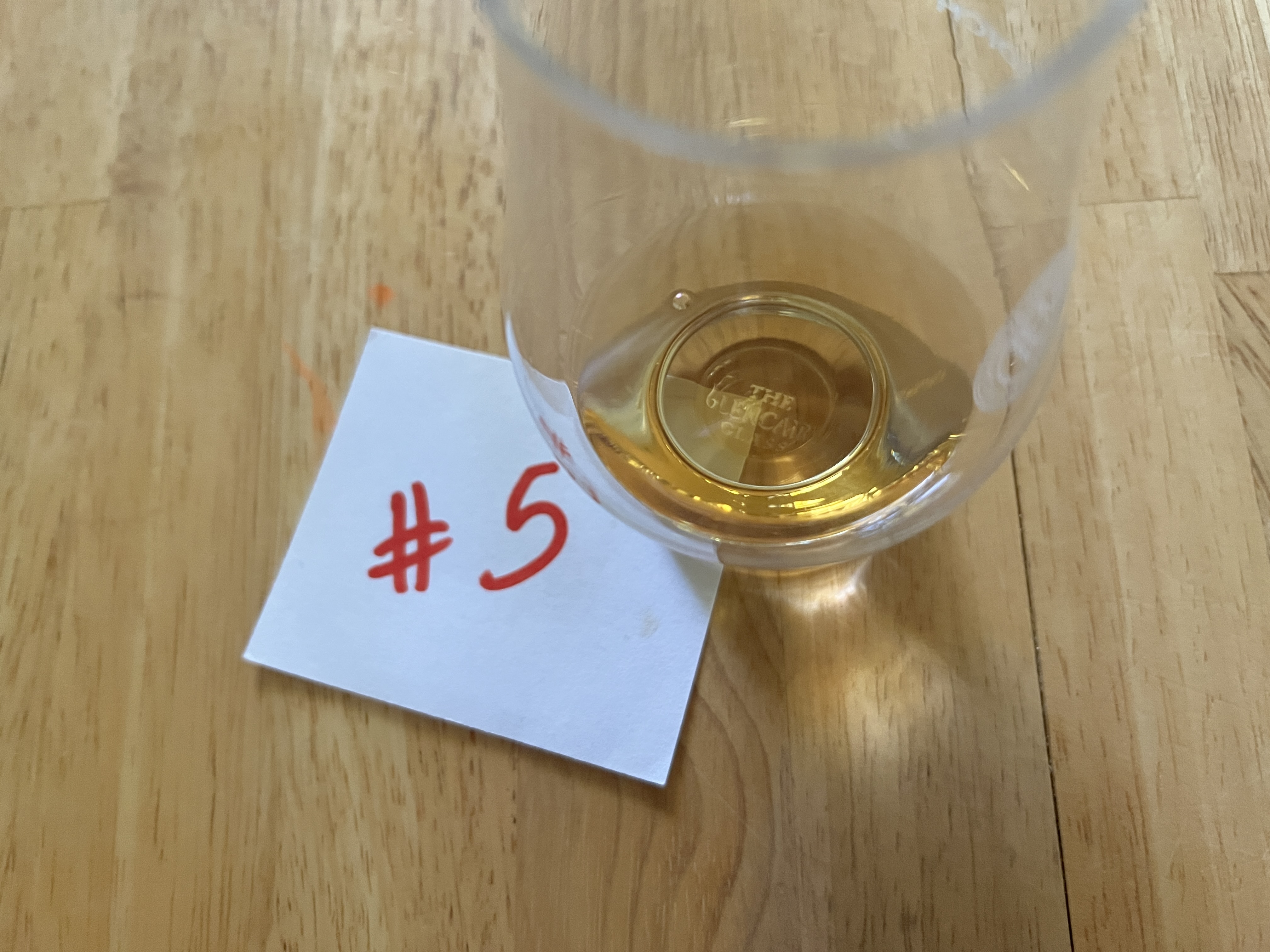 Tasting Notes:
Nose: The nose is very grassy — almost wet straw — with a sense of leathery wood, old cinnamon sticks, and dried red berries.
Palate: Vanilla, dark fruits, oak tannins, and chocolate caramel chews drive the palate as touches of dried red berries and maybe a little black tea mingle on the mid-palate.
Finish: The end leans back into the wet straw and caramel as the vanilla marries to those dried berries with a spicy foundation.
Initial Thoughts:
This was fine but that wet straw vibe was a little off-kilter.
Taste 6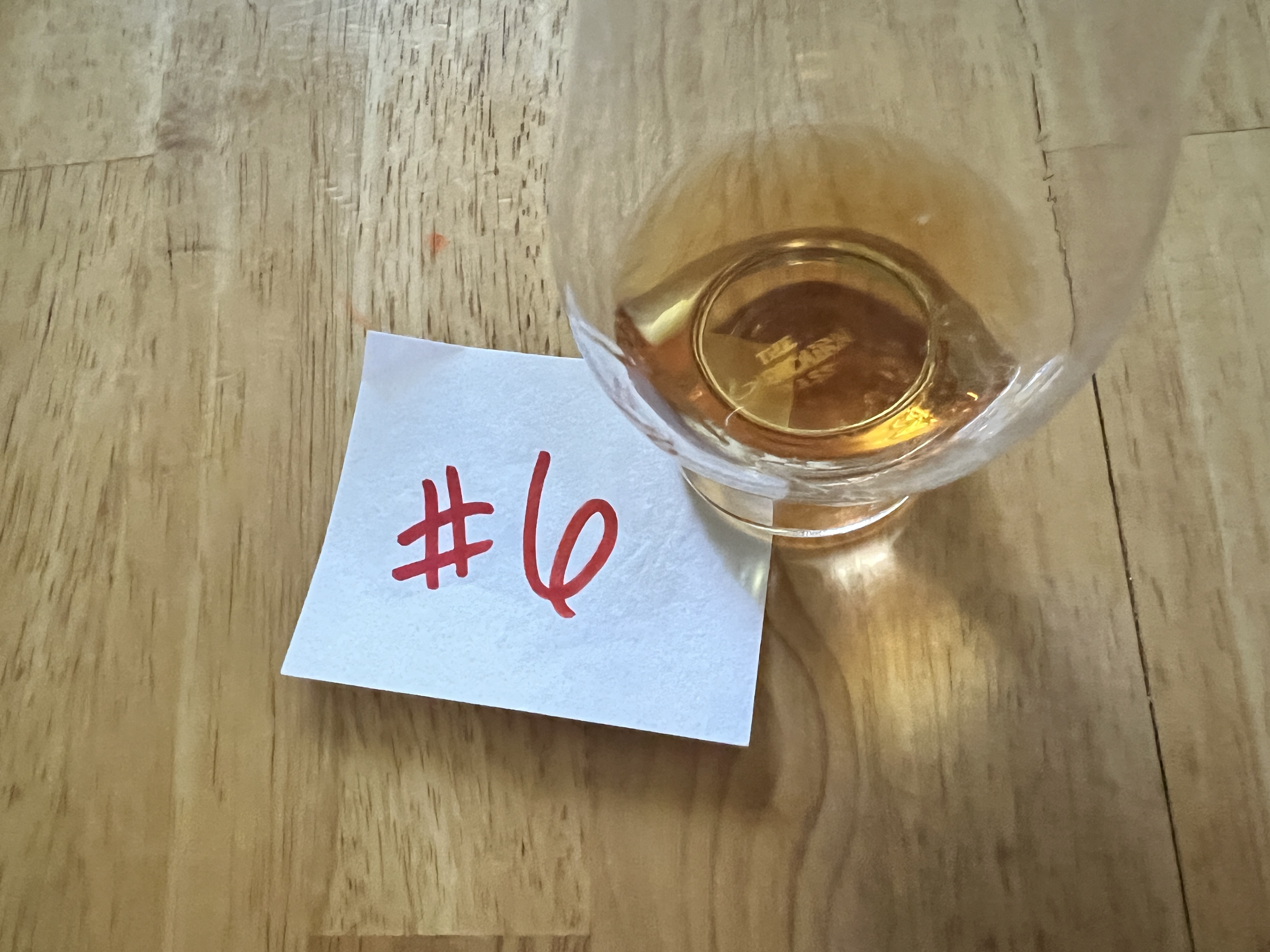 Tasting Notes:
Nose: The nose on this one is deep with notes of old oak staves next to a spiced holiday cake full of candied fruits, raisins, dark spices, and buttery vanilla with a hint of espresso bitterness and maybe a whisper of gooseberry.
Palate: The palate leans into the wintry cake spice with a focus on nutmeg and clove creating a lush eggnog feel next to candied ginger, woody huckleberry, pine resin, and Almond Joy.
Finish: The end has a flourish of marzipan and fresh mint next to pineapple tobacco and more of those dark holiday cake spices all wrapped up with soft cedar bark and dry sweetgrass.
Initial Thoughts:
This has a ton going on and it all makes sense with a nice balance. It was a little dry and woody but I imagine over a rock that wouldn't be an issue.
Taste 7
Tasting Notes:
Nose: Rich caramel cut with clove, cinnamon, and nutmeg leads to chili-laced dark hot chocolate on the nose with notes of vanilla and orange.
Palate: The vanilla gets creamy on the palate as the caramel carries more dark winter spice, loads of dark chocolate, and rum-soaked raisins next to roasted almonds with a hint of suede.
Finish: Old oak and dry cinnamon sticks round out the finish with creamy vanilla and plenty of chocolate and a mild note of grassy cedar bark.
Initial Thoughts:
This is creamy and sweet with a classic dark rummy vibe emboldened by a lot of chocolate.
Taste 8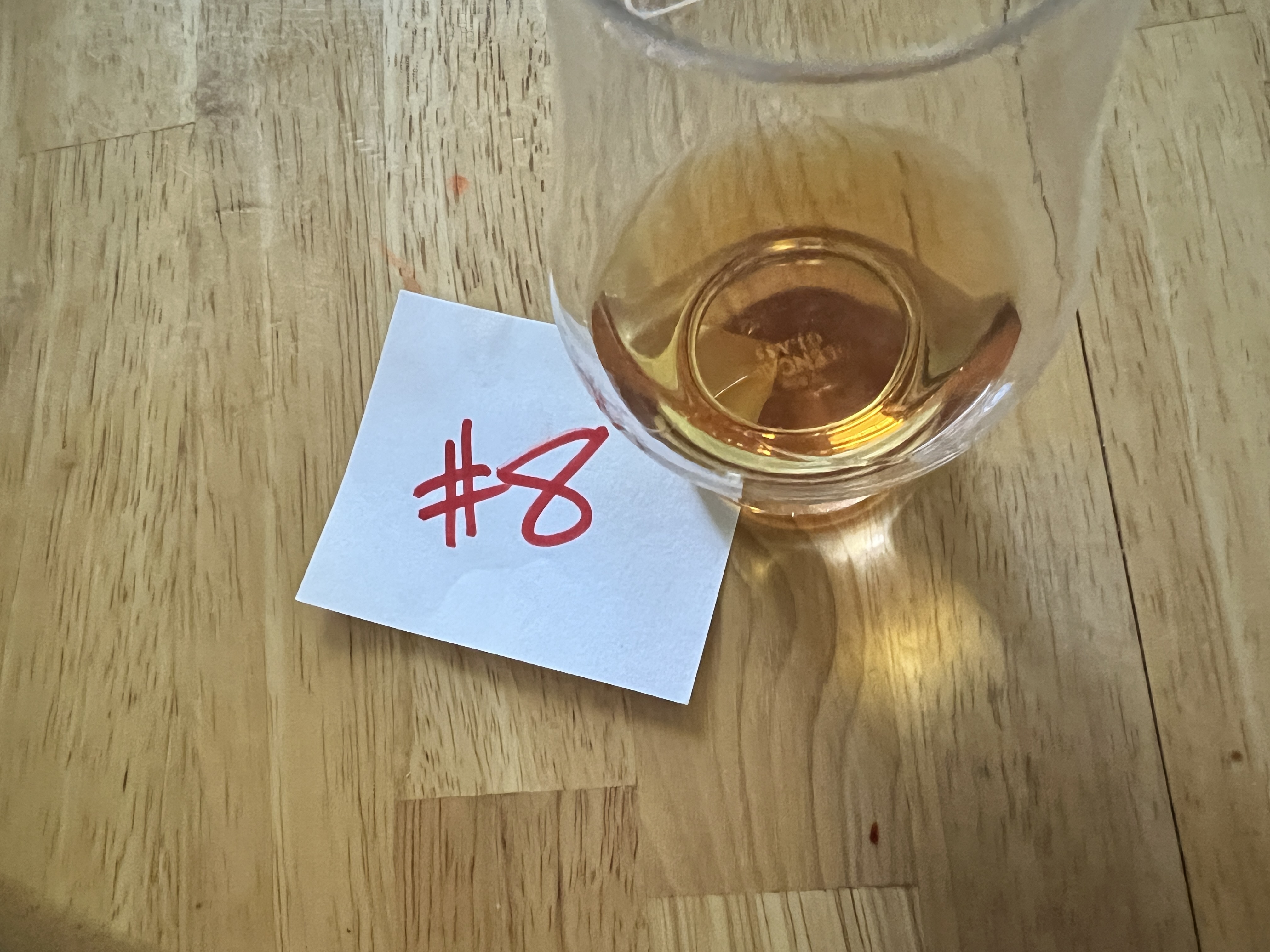 Tasting Notes:
Nose: Banana bread with walnuts and plenty of brown powdery baking spice drives the nose toward light tropical fruit, oak, and caramel before a clear note of sweet black tea arrives.
Palate: That pineapple gets woody on the palate as more brown spice melds with sweet rock candy, old leather tobacco pouches, and plenty of vanilla.
Finish: The end takes on a banana foster vibe next to plenty of nutmeg and cinnamon, a hint of orange, and malty vanilla cream that ultimately leads back to a very clear sense of sweet black tea.
Initial Thoughts:
This was complex and very easy drinking, thanks to that sweet tea feel.
Taste 9
Tasting Notes:
Nose: Rich and spicy caramel leads to mulled wine, old cedar tobacco boxes, dates soaked in brandy, and deep dark chocolate that's just kissed with sea salt and espresso oils with creamy vanilla lurking beneath it all.
Palate: Rum raisin, eggnog, and cinnamon bark drive the palate toward toasted oak with a sweet edge, dark espresso cream kissed with more dark chocolate, and five-spice that gives way to a hint of water chestnut.
Finish: The five-spice leads to sweet soy (almost like teriyaki sauce without the garlic) before rich caramel sweetness leads back to dark dried fruits and almost tart dark chocolate.
Initial Thoughts:
This is wildly complex and it works. The umami, dark fruit, and buttery sweetness just play so well together on the palate. This is next-level rum.
Taste 10
Tasting Notes:
Nose: Rich cinnamon cookies dipped in nutmeg-heavy eggnog leads on the nose with stewed pears, overripe bananas, and toasted almonds next to an almost floral sense of pineapple.
Palate: Cellared oak and dark molasses open the palate toward lush vanilla, more cinnamon and nutmeg, and a bright sense of freshly cut pineapple full of fresh juice cut with those brown spices and soaked in rum, creating a pineapple holiday cake vibe.
Finish: A hint of peppery fatty smoked pork arrives late and perfectly accents the pineapple as notes of dark cherry jam, old spice barks, and dry orange zest mingle with old oak staves.
Initial Thoughts:
This is excellent, even if it is very pineapple-forward. It just works and runs so deep and it's fascinatingly delicious.
Taste 11
Tasting Notes:
Nose: The nose runs deep with pine-y honey, fresh ginger, rum raisin, and old leather tobacco pouches with a hint of winter spice barks and dried orange, lemon, and lime leaves.
Palate: Overripe bananas and brandy-soaked figs mingle with deep dried and candied orange on the palate as dark chocolate attaches to winter spice, rich molasses cakes, and a sense of funky oak cellars.
Finish: The figs get jammy on the end as the spices sharpen and the chocolate takes on vanilla and gets creamy with a very Christmas spiced cake vibe running deep on the finish.
Initial Thoughts:
This is just good. It's funky, nostalgic, and deep.
Taste 12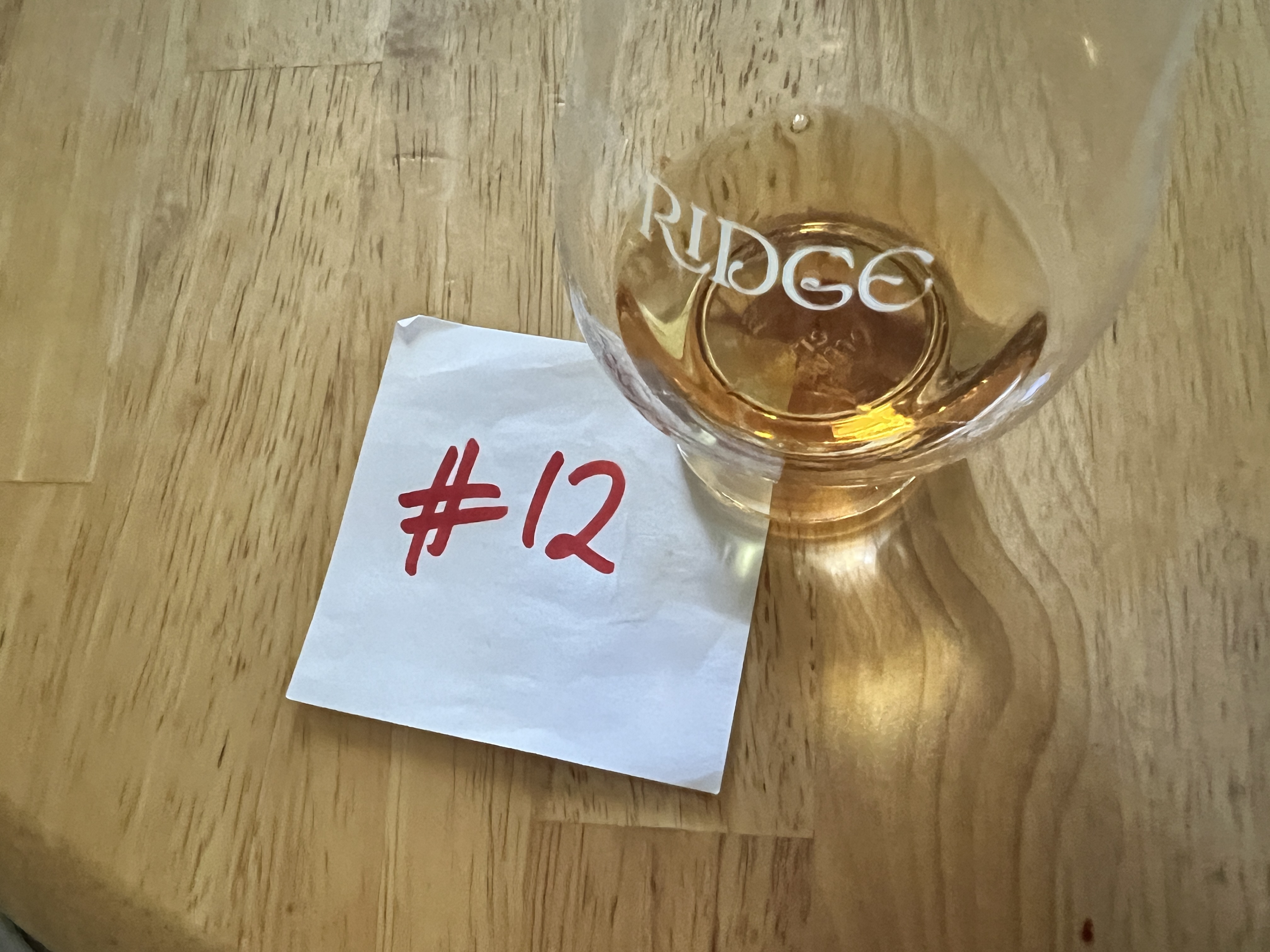 Tasting Notes:
Nose: Leathery fruit and toasted coconut lead to orange flowers, peach pits, and banana fosters on the nose with a hint of Almond Joy.
Palate: Honey and Nutella arrive on the palate next to gingerbread dipped in milk chocolate, light dry tobacco, and a hint of dill.
Finish: Pear and black licorice drive the finish toward more caramel sweetness and a dash of lemon pepper straight out of the 1990s.
Initial Thoughts:
This was fine. The profile was dialed but it was a little light all things considered.
Taste 13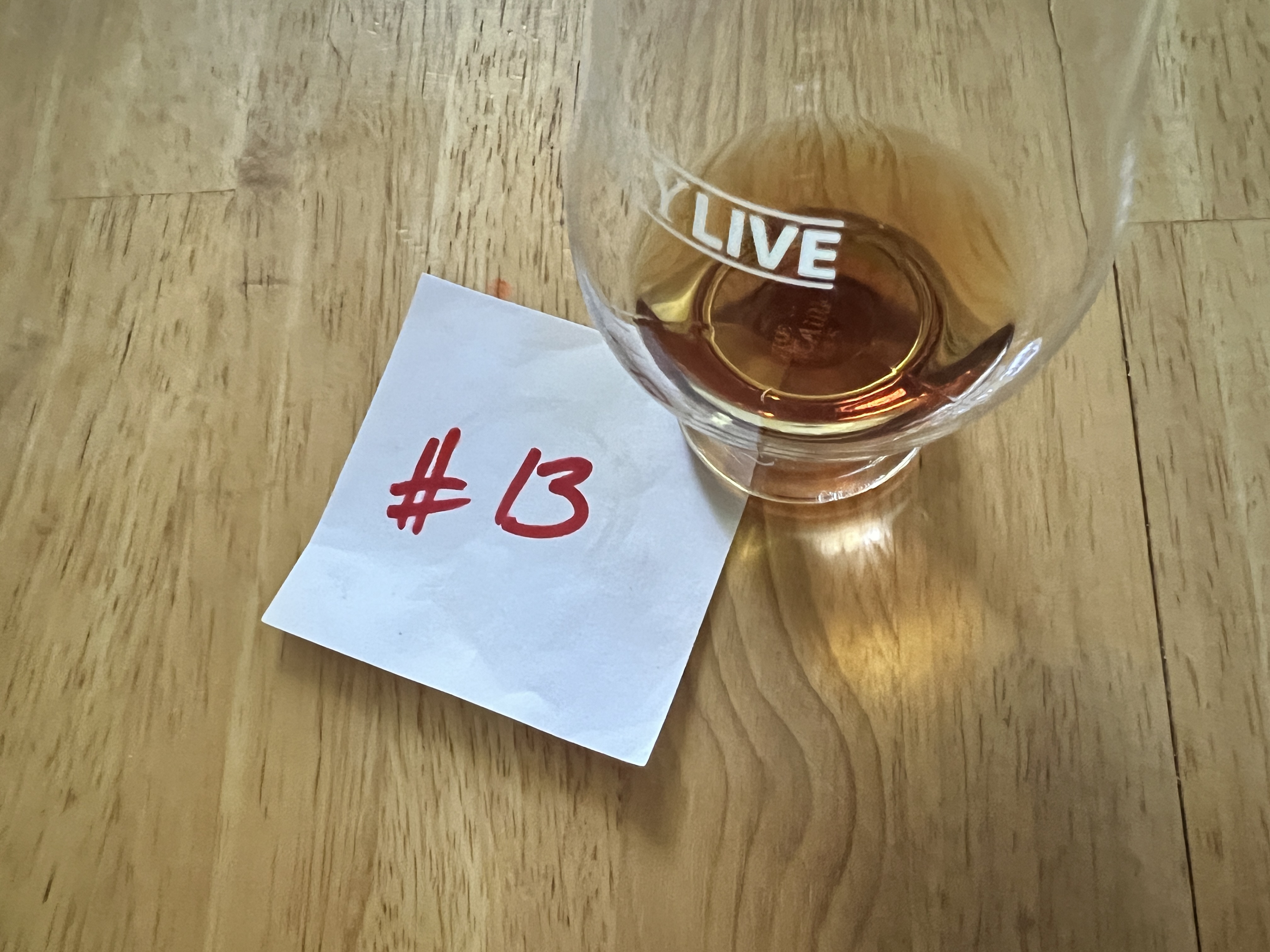 Tasting Notes:
Nose: Sweet dried leathery fruits open the nose toward rich vanilla, caramelized tropical fruits, nuttiness, and a good dose of winter spice mixes.
Palate: Those spices and vanilla mix on the palate to create a winter cake vibe dipped in dark chocolate with grilled tropical fruits cut with honey and chili spice.
Finish: And hint of old leather and oak arrive on the finish with a sense of banana leaves, pineapple skins, and more winter spice.
Initial Thoughts:
This either needed some water or time to open it up a bit. It was very tight in the glass and I feel like there was more here if I had the time to really dive into it.
Taste 14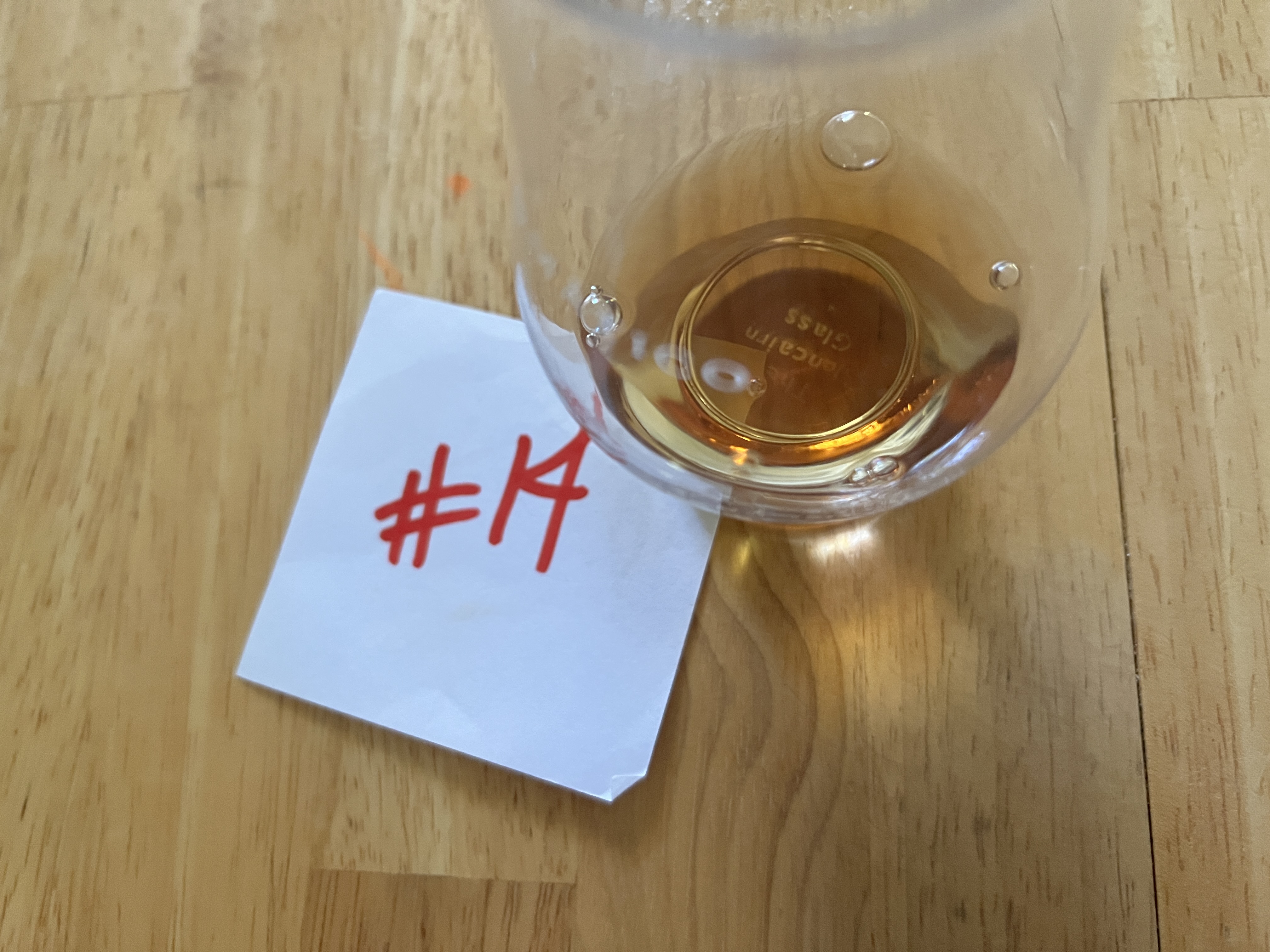 Tasting Notes:
Nose: This is very light and fresh on the nose with hints of vanilla, coffee beans, and plumminess.
Palate: Almond Joy and vegetable broth drive the palate toward old oak and a hint of apricot jam over light tobacco.
Finish: A hint of bourbon vanilla arrives late with a sense of wood spices, old tropical fruits (overripe), and soft chocolate.
Initial Thoughts:
This was very much a shrug. It's fine. It's also very flat.
Taste 15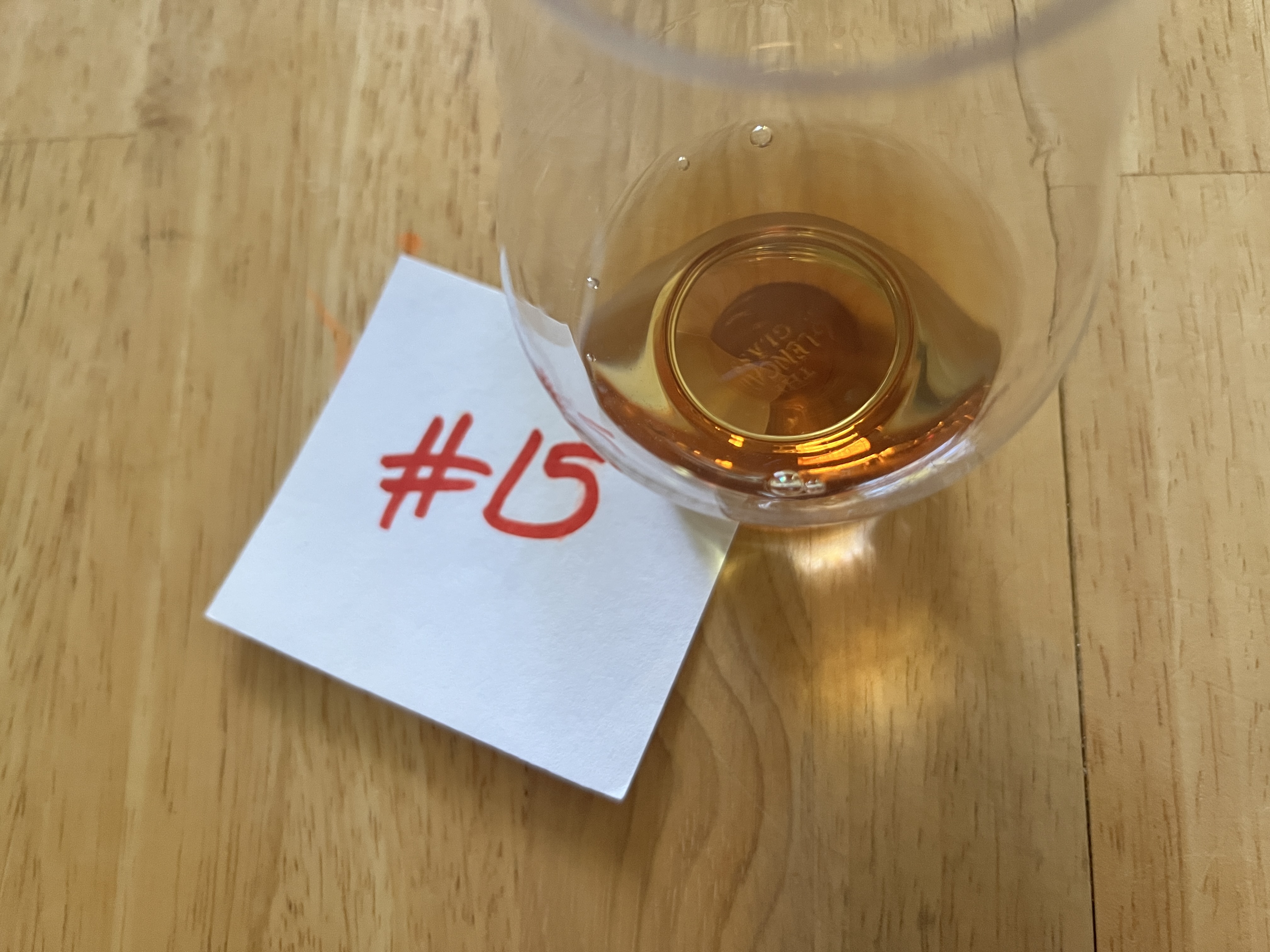 Tasting Notes:
Nose: There's a sense of roasting herbs on the nose with an almost fresh moment of sugar cane juice (right off the press) next to dark winter spices brightened with fresh ginger, mango juice, and pineapple cores.
Palate: The pineapple gets juicy on the palate before melding with rich dark molasses, darker chocolate, and a sense of creamy vanilla layered with rich and sharp winter spices.
Finish: Those spices, chocolate, molasses, and tropical fruit bind on the finish to create a rich and vibrant Christmas cake on the end that's spicy, fruity, and softly decadent.
Initial Thoughts:
This is a really tasty rum that delivers a hardcore winter nostalgia vibe.
Part 2 — The Smooth Dark Rum Ranking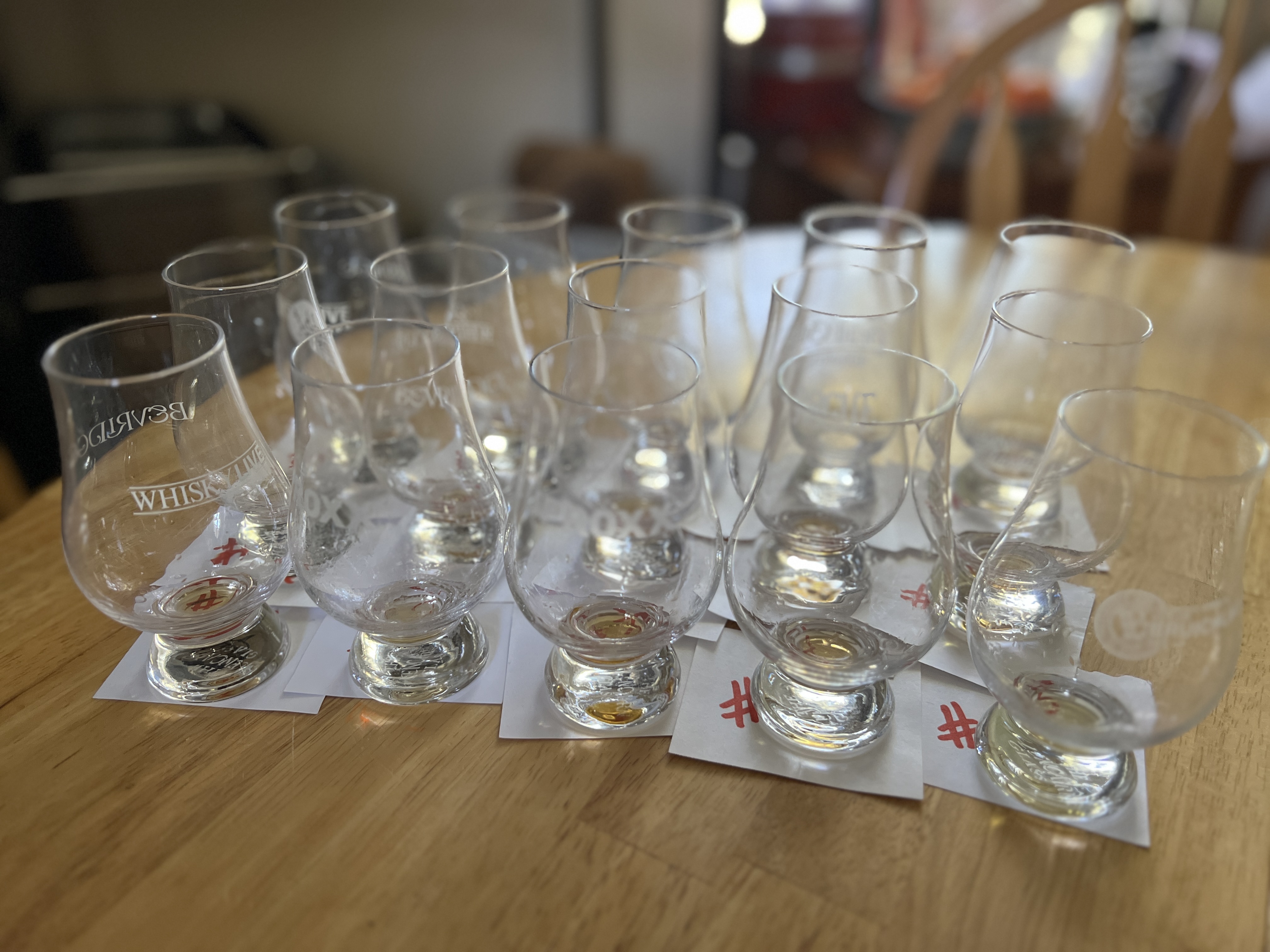 15. Brugal 1888 Doblemente Añejado Gran Reserva Rum — Taste 3
ABV: 40%
Average Price: $41
The Rum:
Brugal 1888 is produced in the Dominican Republic. The rum is aged in both ex-bourbon and ex-sherry casks which they call "double-aging." Those barrels are batched, the rum is proofed, and it's bottled.
Bottom Line:
This tasted fairly cheap. That doesn't mean "bad." It just means that it's made for mixing. Use it accordingly.
14. Papa's Pilar 24 Solera Profile Dark Rum Spanish Sherry Cask Finish — Taste 14
ABV: 43%
Average Price: $50
The Rum:
This Florida rum is sourced from nine different rums from around the Caribbean and Central America. Those barrels are sent up to Florida where they're batched and then re-barreled into Spanish sherry casks for a final maturation before batching, proofing, and bottling.
It's worth noting that this is an official project of the Hemingway family. They've gone the Joan Woodward and Paul Newman route with this business and donate 100% of the profits from Papa's Pilar to various charities.
Bottom Line:
This is perfectly fine rum. I'd use it for mixing cocktails.
13. Proof And Wood 2/3 Pot Still Rum Distilled in Jamaica 3 Barrel Blend — Taste 5
ABV: 54%
Average Price: $69
The Rum:
This rum is bottled in the U.S.A. from only three barrels of Jamaican rum. The rum first spent two years in ex-bourbon barrels in Jamaica before traveling to Kentucky where they were re-barreled into ex-rye whiskey barrels for another three years of rest — hence the 2/3 on the label. The three barrels were batched, just kissed with water, and bottled without any extra sugar, color, or flavor added.
Bottom Line:
This is another one that was fine. It was a little funky on the nose but ultimately finished strong. That slight imbalance is the only reason this is lower on this panel's ranking.
12. Flor De Caña V Generaciones 30 Years Old — Taste 13
ABV:
Average Price: $1,499
The Rum:
This rum is a true cane-to-glass experience from the slopes of the San Cristobal volcano in Nicaragua. This particular expression is a single barrel aged up to 30 years in the shadow of that volcano and is proofed with mineral water bubbling up from the volcanic soil underneath.
It's also worth noting that this brand is made at a distillery that's certified as 100% sustainable, carbon neutral, and fair trade.
Bottom Line:
This was very tight. It simply needs a lot of time, air, and water to get into the depth of this pour. I went back to this and after about 30 minutes and a few drops of water, it really bloomed in the glass. But that was no longer part of the tasting panel. Take that for what it's worth.
11. Plantation Rum Barbados 2013 Limited Edition 9 Years Old — Taste 12
ABV: 50.2%
Average Price: $79
The Rum:
This limited edition from Plantation Rum is a sourced set of Barbadian rum. The rum (from West Indies Rum Distillery) is molasses-based, column and pot distilled and spent eight years aging in bourbon casks by the sea in Barbados. Then those barrels were sent to France where the rum was re-barreled into Maison Ferrand cognac casks for another year of rest before bottling at cask strength with no additives or coloring.
Bottom Line:
This is where we get into the good stuff. This was a nice sipper overall but felt like it'd really shine as a cocktail base for a rum old-fashioned or the like.
10. Angostura Caribbean Rum Aged Seven Years — Taste 1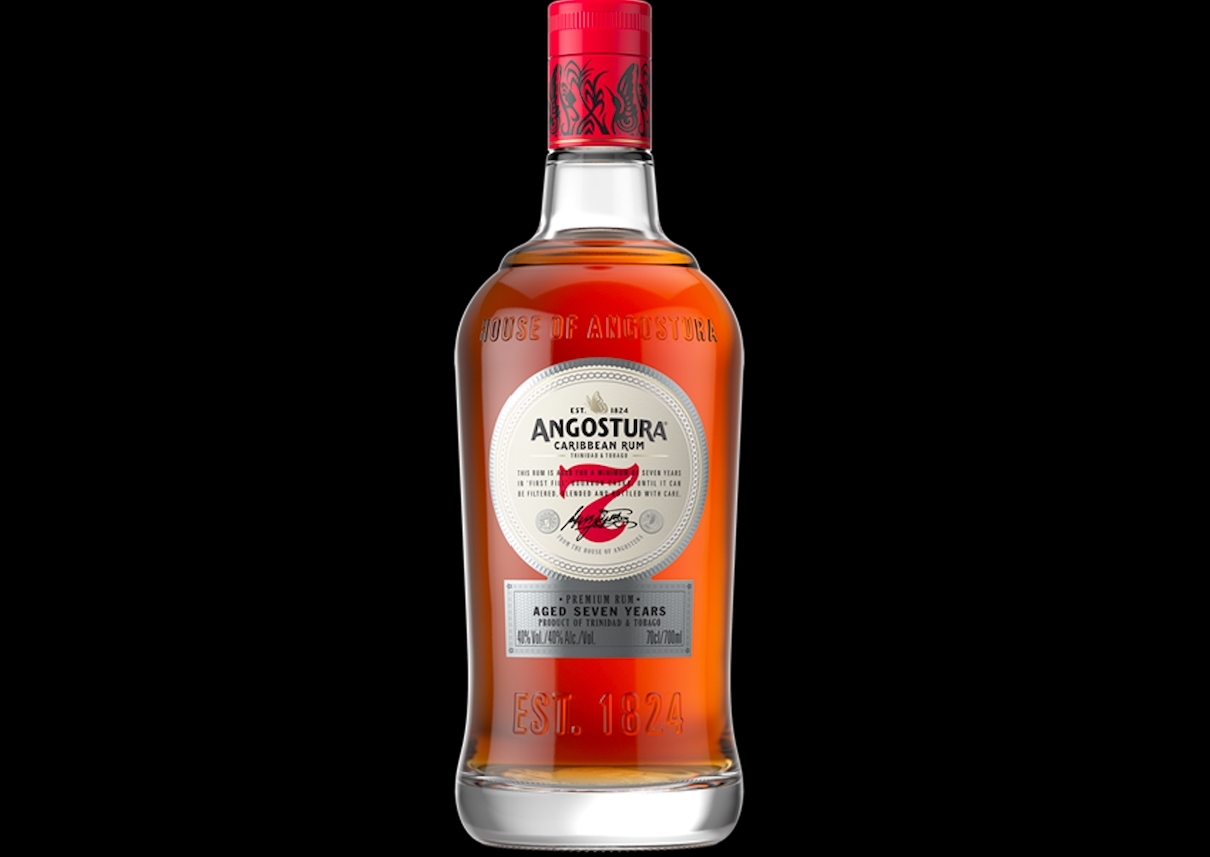 ABV: 40%
Average Price: $28
The Rum:
While Trinidad and Tobago's Angostura is probably best known for its iconic bitters, don't sleep on their deep bench of rums. Their seven-year-old expression is a really solid entry. The juice is aged for at least seven years in ex-bourbon casks before it's blended, filtered, proofed, and bottled with no sugar or spice additives.
Bottom Line:
This is a good standard dark rum to have on hand. It'll make a mean cocktail and work as a sipper over rocks in a pinch.
9. Plantation Rum Venezuela 2010 Limited Edition 12 Years Old– Taste 2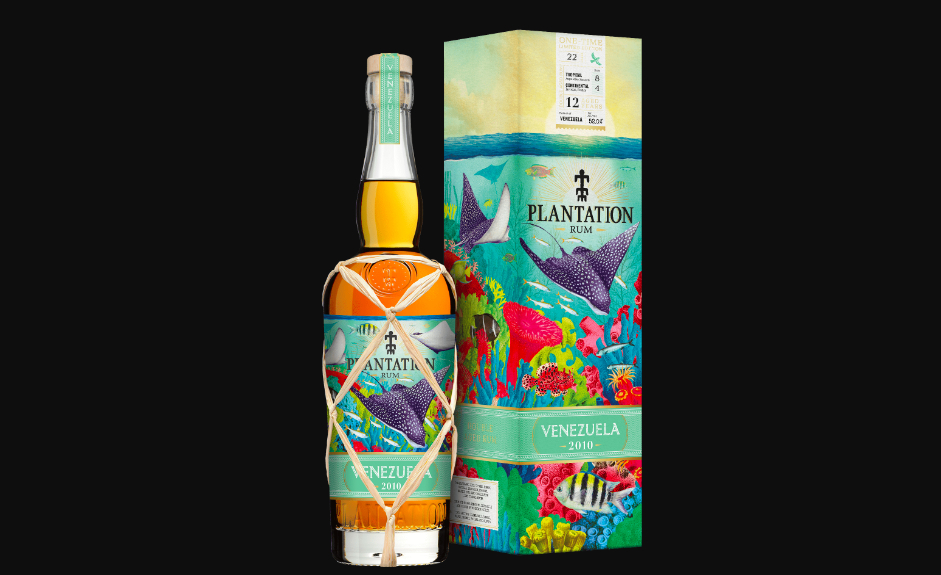 ABV: 52%
Average Price: $74
The Rum:
This limited edition vintage rum from Plantation is sourced from Destileria Sofa's cellars in Venezuela. The rum is molasses-based, column distilled, and aged in ex-bourbon for eight years. Then the barrels were sent to Javrezac, France for an additional four years of aging in Ferrand cognac French oak casks. Finally, those barrels were batched, just kissed with proofing water, and bottled without any additives.
Bottom Line:
This is a good all-around sipper with a deep profile. It was a little woody, but that can be solved easily with a big ol' rock in the glass.
8. Flor De Caña Centenario 18 Years Old — Taste 4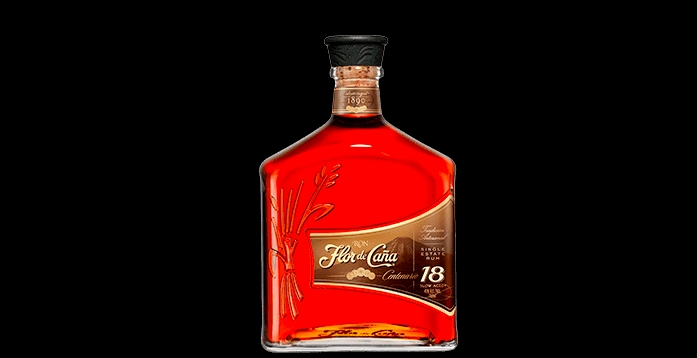 ABV: 40%
Average Price: $50
The Rum:
This Nicaraguan rum is made on the slopes of the San Cristóbal Volcano. The molasses is made from estate-grown sugar cane from that volcanic soil. The rums are then aged in ex-bourbon barrels for varying amounts of time before blending. It's important to note that "18" is the average age of the barrels involved and not the age of the expression.
Bottom Line:
This was a pretty good sipper with a very approachable profile. This is the sort of pour that you sip with ice when you want a dark rum that delivers. I can also see this working really well in cocktails as a replacement for bourbon.
7. Mount Gay Barbados Rum Andean Oak Casks — Taste 6
ABV: 48%
Average Price: $214
The Rum:
Master Blender Trudiann Branker is creating some amazing Barbadian blends with Mount Gay's Master Blender Collection. The fourth release takes Mount Gay rum that spent 14 years mellowing in former bourbon barrels just a stone's throw from a beach and finishes that rum in South American oak from the Andies. After 11 months in those barrels, the rum is proofed and bottled as-is.
Bottom Line:
This is a very complex rum that takes you on a journey. I'd recommend taking the time to let this bloom in the glass with some time and water and enjoying the ride slowly.
6. Brugal Colección "Visionaria" Edición 01 Finished in Toasted Virgin European Oak Casks — Taste 7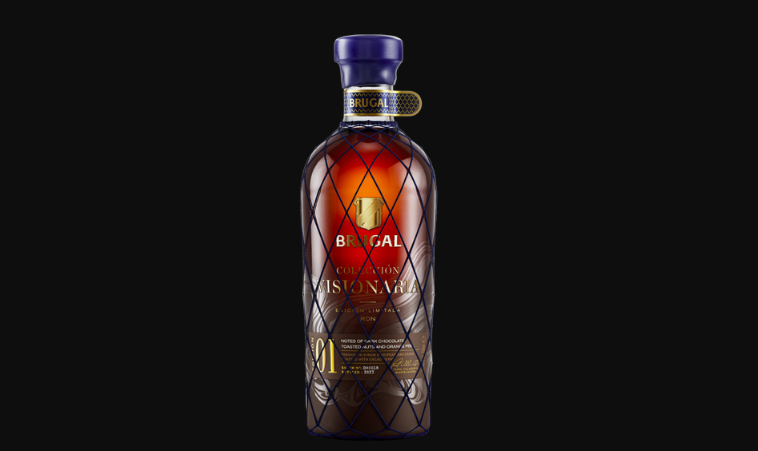 ABV: 45%
Average Price: $129
The Rum:
This classic Brugal rum is made with their iconic Dominican rum that's finished in special barrels using the "Aromatic Cask Toasting Technique". That means that the rum was finished in special barrels that were toasted with Dominican cacao beans as the fuel for the fire. Those beans imparted chocolate aromatics into the wood to play with the rum that was eventually filled into them.
Bottom Line:
This was a chocolate bomb, sure. But it worked. The chocolate was part of the overall profile and not a dominating force. If you're looking for a deftly layered chocolate-forward dark rum, this is going to be your jam.
5. Chairman's Reserve Finest Saint Lucia Rum "Legacy" — Taste 8
ABV: 43%
Average Price: $42
The Rum:
This Saint Lucia rum is about the blend. The rum is made from barrels of both molasses-based rum and sugarcane juice-based rum (similar to rhum agricole). The rums were distilled on both pot and column stills before aging ex-bourbon barrels on their own. Finally, those barrels were batched, the rum was proofed, and then bottled.
Bottom Line:
This had a really attractive profile. It was so easygoing while offering a deep sense of well-made dark rum. Try it over a rock or in your favorite rummy cocktail.
4. Diplomatico Distillery Collection No. 3 Pot Still Rum — Taste 15
ABV: 47%
Average Price: $79
The Rum:
This limited edition rum from Venezuela is all about the pot still juice. The blend is a mix of 100% pot still rums that spent eight years resting in ex-bourbon barrels. The final blend was built to highlight flavor notes that the pot still imbues into the spirit.
Bottom Line:
This was just really easy drinking while offering a truly deep flavor profile. It wasn't a "wow" sip but it was a very nice one.
3. Camikara Rum Cask Aged 12 Years Old — Taste 11
ABV: 50%
Average Price: $86
The Rum:
This Indian rum is made from locally grown sugarcane at Picadilly Distillery in Indri, India. Once distilled, the rum spends 12 long years in ex-bourbon casks where it loses 94.4% of its volume to the angel's share. Finally, the casks are batched, just kissed with local water, and bottled.
Bottom Line:
This was a big surprise. It was unique but still offered a deeply layered dark rum tasting experience. I can see this working wonders over ice, allowing the deeper notes to shine.
2. Appleton Estate "Legend" Minimum Aged 17 Tropical Years — Taste 10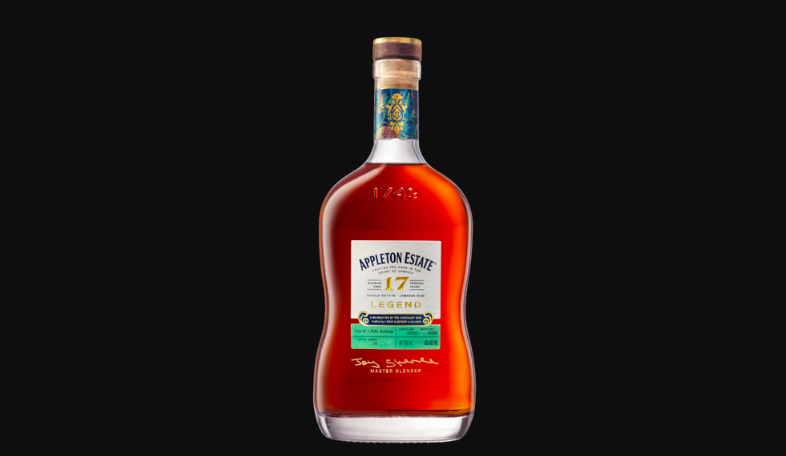 ABV: 49%
Average Price: $519
The Rum:
This one-off rum from The Appleton Estate's legendary Joy Spence is a recreation of the equally legendary J. Wray & Nephew 17-Year-Old from the 1940s — which is the rum that helped launch the entire tiki craze back then. The rum in the bottle is a blend of four very rare single-estate rums that mimics that iconic 1940s release exactly.
Bottom Line:
Even though this is made for making the perfect Mai Tai, it's delicious on its own. It's very pineapple-forward, but it's fresh and real pineapple (a hard trick to pull off). And if you're looking to make the best Mai Tai ever, this is the bottle to do it with.
1. Diplomatico Ambassador Selection Cask Strength Finished in Pedro Ximénez Barrels — Taste 9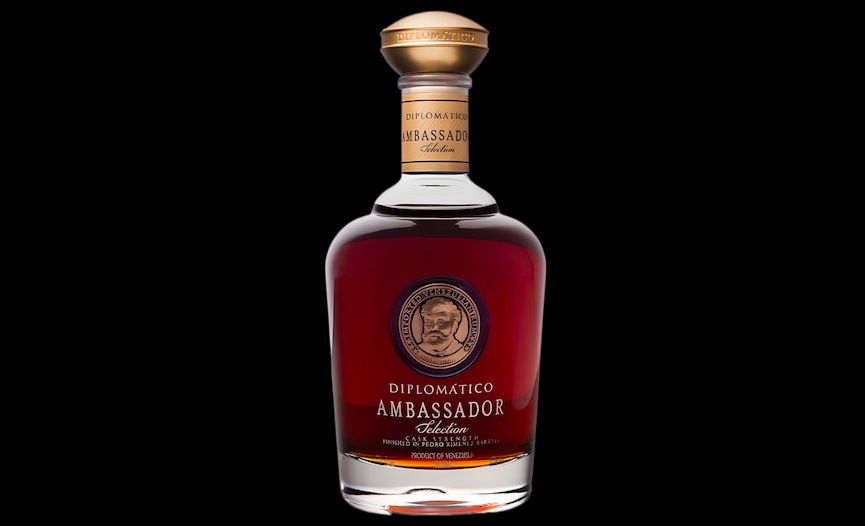 ABV: 47%
Average Price: $294
The Rum:
This Venezuelan rum is made from a blend of 100% pot still rums. Those rums spent 12 years in ex-bourbon casks before being batched. Then that rum was re-barreled into Pedro Ximénez sherry casks for a finishing run before batching, proofing, and bottling without any added sweeteners, caramel coloring, or other additives.
Bottom Line:
This was the deepest and tastiest rum on the panel today. It just kept going, was delicious neat, and beckoned me back for more.
Part 3 — Final Thoughts on the Smooth Dark Rums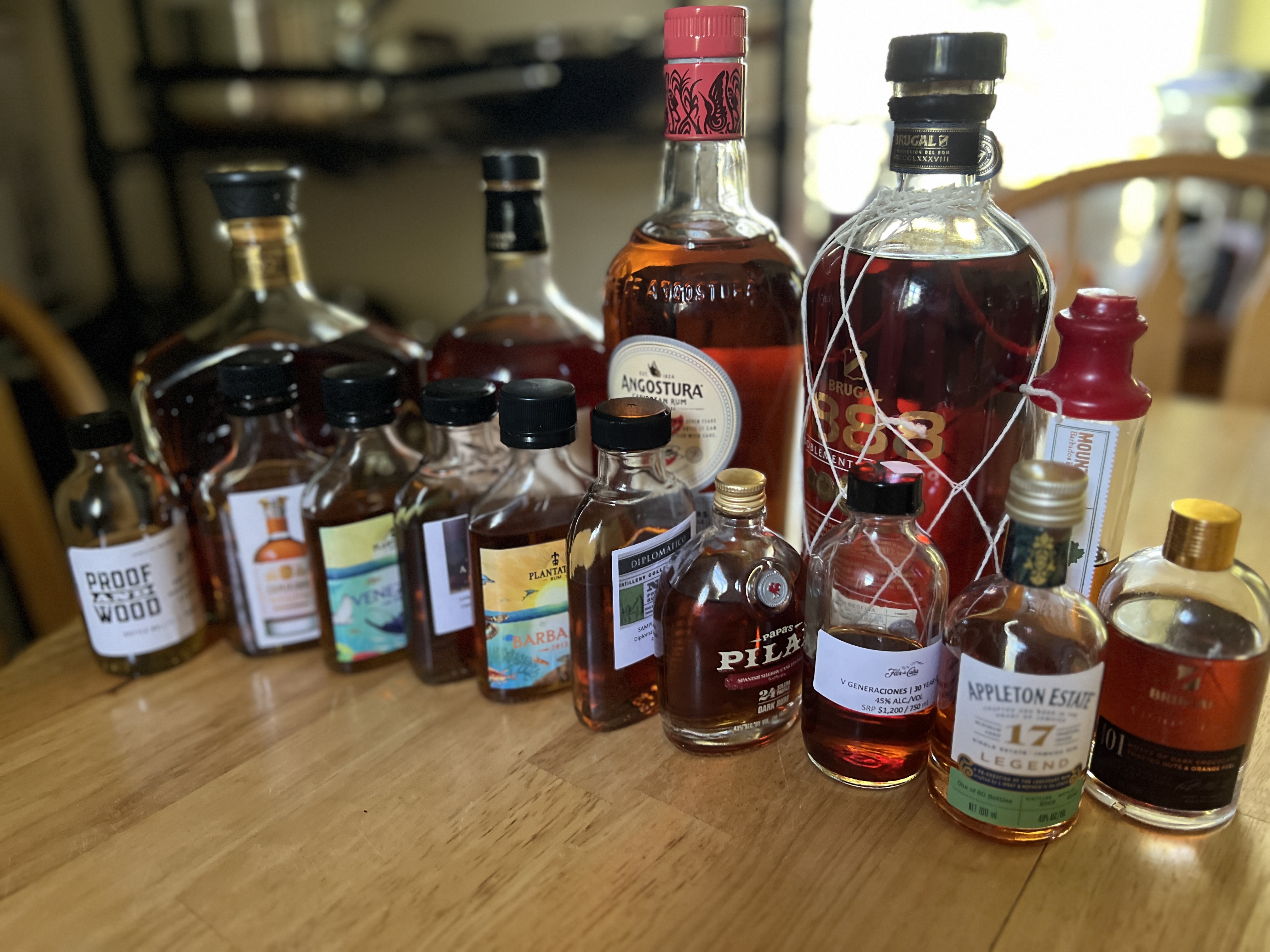 There's a lot going on with this list of dark rums. There are so many different flavor profiles, textures, and vibes that you really can't go wrong finding the one that speaks to you the most.
That being said, the top four or five are the most stellar examples on this panel. Again, each one offers something a little different. So go back and re-read the tasting notes and find something that speaks to you. Or grab yourself a bottle of that Diplomatico Ambassador and be done with it. It'll be a delightfully deep, spicy, and fun dark rum sipping experience.