Sherry cask finishing in the Scotch whisky game is nothing new. Doing it right on the other hand … that's a whole other beast. There's no getting around that blenders will put whisky that's not quite there yet or slightly imperfect into a finishing cask to cover up those imperfections or out of a need to speed things up. That makes it easy to get duped by any sort of cask finish. But there are plenty of folks out there in whisk(e)y land who are doing it right. They aren't cutting corners, they're taking their time, and they're adding something truly special to their whisk(e)y to legitimately elevate it.
Enter The Dalmore's brand-new Cask Curation Series — Part 1. The first release in this new series shows how deeply important cask finishing can be when done right. In this case, that finishing was with sherry casks from the iconic Tio Pepe González Byass winemakers in Jerez de la Frontera, Spain.
The team at The Dalmore put their heads together with the González Byass crew to find the perfect barrels of sherry (at all ages) to help finish very old The Dalmore Single Malt Scotch Whisky. This was less about the finish and more about marrying flavors from very specific sherries to very specific whisky. Trial and error was the name of the game as two teams of absolute masters found the perfect balance of wood, whisky, and sherry to create a trio of one-of-a-kind sherry-finished Scotch whisky.
That one-of-a-kind whisky led to 150 sets of three new bottles at 26, 28, and 43 years old. Since there are only 150 trio sets, this is a very rare and elite whisky product with a crazy high price tag — hell, you have to ask to be considered to pay your hard-earned cash for a set, it's that elite. Naturally, I don't know if it's worth it for you because I don't know who you are. If you're looking for a truly unique whisky experience with elite-class whisky partnered with iconic sherry wood, then this is going to be a must-have. There are few whiskies that do a sherry finish better than these three bottles. So with that, let's get into what's actually in the set.
Also Read: The Top 5 UPROXX Scotch Whisky Posts of The Last Six Months
The Dalmore Cask Curation Series The Sherry Edition Aged 26 Years Finished in Tare González Byass 2002 Vintage — Cask no. 4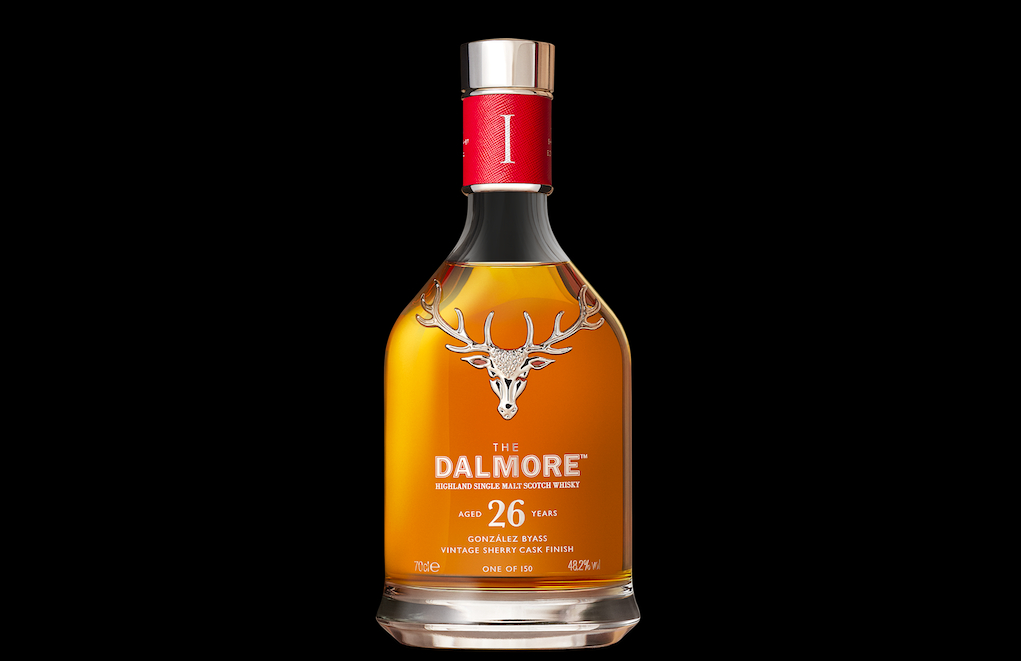 ABV: 48.2%
Average Price: $37,500 (set of three)
The Whiskey:
This new release is the youngest of three elite whiskies that The Dalmore is dropping. This very limited edition bottle is hewn from The Dalmore's iconic malt that spent years aging in ex-bourbon casks. The whisky was batched and then re-barreled into a González Byass 2002 Vintage Sherry Cask (Cask #4) for years more of aging until just right. The final product was bottled 100% as-is to highlight the beauty of that finishing barrel on classic The Dalmore.
Tasting Notes:
Nose: The nose draws you in with a bright sense of caramelized oranges, fresh floral honey, and ripe off-the-vine apricots with a deep sense of rich vanilla pods, dry cacao, and fresh almonds with a hint of cherry syrup.
Palate: Raisin-heavy spiced cakes are cut with bright orange zest on the palate as cherry syrup leads to almond cookies cut with vanilla oils and a sense of sultanas baking in the hot sun.
Finish: There's a buttery sense of a fresh croissant on the finish next to creamy espresso for sipping, ginger rock candy, and lush vanilla cake cut with more orange oil, almond, and poppy seed.
Bottom Line:
This is funky and fresh and presents more on the sherry side of things than a classic The Dalmore. If you're looking for that classic plummy port-finished darkness that the brand is known for, go elsewhere. All of that said, this is so light, airy, and bright, it feels like a wholly new whisky from The Dalmore. Make sure to add a little water to let the citrus and bourbon vanilla get extra creamy and really luxuriant on the senses.
The Dalmore Cask Curation Series The Sherry Edition Aged 28 Years Finished in Very Rare Gonzalez Byass 30-year-old Matusalem Sherry Cask
ABV: 55.3%
Average Price: $37,500 (set of three)
The Whisky:
This whisky starts off with The Dalmore's ex-bourbon-cask-aged single malt. That whisky was then transferred into a 30-year-old Matusalem Oloroso Sherry, which is a dark, sweet, and spicy sherry with plummy depths. After a long rest, the whisky was bottled at cask strength to let all those dark sherry notes shine in the whisky.
Tasting Notes:
Nose: Black-tea-soaked dates, old leathery prunes, and rum-soaked raisins drive the nose toward black licorice ropes, dark and creamy honey with a hint of summer flowers, and a bright burst of star fruit with a deep sense of bourbon vanilla beneath it all.
Palate: Mincemeat pies and sticky toffee pudding (cut with orange zest and salted toffee) drive the lush palate toward bold marmalade, brandy-soaked pears cut with marzipan, and more of that black licorice with a hint of absinth candy.
Finish: Black cherries soaked in brandy and dipped in salted dark chocolate arrive late on the finish with a sense of sasparilla bark, dark molasses, and more of that mince meat pie vibe next to candied orange tobacco and whispers of cedar.
Bottom Line:
Holy shit, this is good whisky. It has that deep and dark The Dalmore vibe while going even deeper on a holiday spiced sherry vibe that just keeps delivering dark and delicious flavor notes on the nose, palate, and finish.
If this list was ranked (it's not because this is only sold as a set), this would be number one by a country mile.
The Dalmore Cask Curation Series The Sherry Edition Aged 43 Years Finished in Very Rare Gonzalez 30-year-old Apostoles Sherry Cask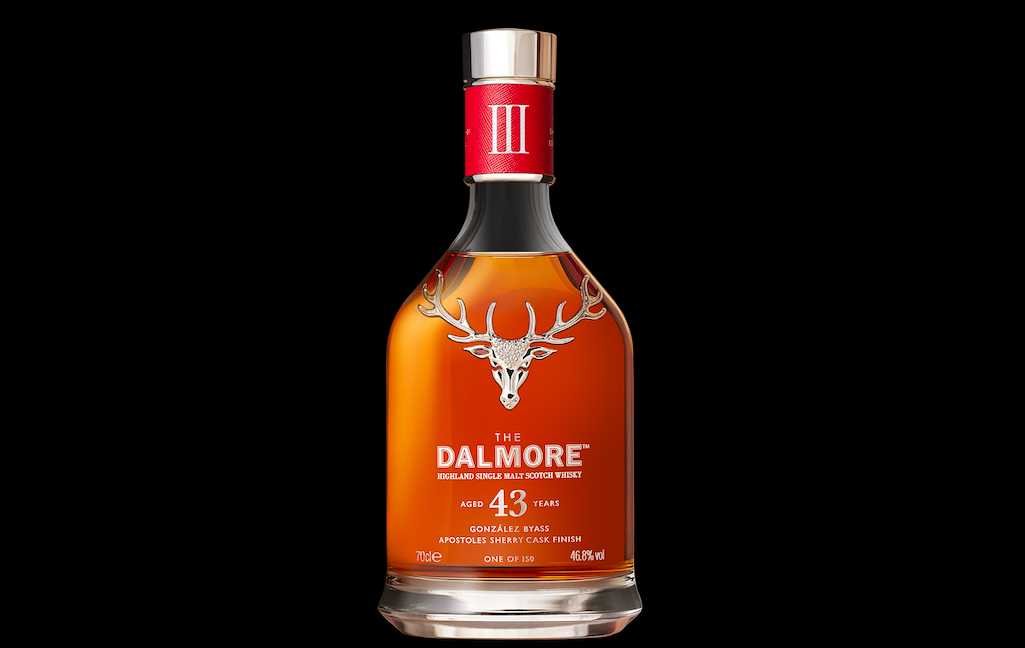 ABV: 46.8%
Average Price: $37,500 (set of three)
The Whisky:
This long-aged version takes whisky that spends decades resting in ex-bourbon and batches it. That whisky is then refilled into a 30-year-old Apostoles sherry cask, which is a very sweet, spicy, and plummy sherry with deep woody depths. Once just right, the whisky was bottled at cask strength 100% as-is.
Tasting Notes:
Nose: Summer honeycombs piled with bright and fresh oranges greet you on the nose with a sense of fire-roasted chestnuts, fresh raisins, sultanas, meaty dates, and a deep sense of bourbon vanilla with a touch of almond oil.
Palate: The vanilla gets vibrant and rich on the front of the palate as sweet orange binds with dark chocolate just flaked with salt next to huckleberry, black currant, and grapefruit pith with a flutter of oaky tobacco.
Finish: Apricot jam over a sweet and soft scone with a buttery edge drives the finish toward more juicy orange cut with sharp cinnamon, chocolate, and sea salt next to grilled pineapple studded with cloves and nutmeg.
Bottom Line:
This is a stellar whisky that really leans back into the brighter notes of the 26-year-old. It's almost airy and bright even though it's over four decades old. Overall, this is the pour you pour when you want something 100% unique and bright.