Cooking a perfectly juicy burger is no easy task. Well, it can be… but it can also get screwed up very easily. Luckily for us, the internet is rife with a million ideas about how to cook the juiciest hamburger patties. I'm going to try a whole bunch of them to see who's full of it and who is actually sharing some good advice out there.
For this exercise, I'm grilling beef patties on a flattop on my stove or in a cast iron skillet, depending on what the recipe calls for. While I'm a big fan of grilling burgers on a charcoal, gas, or smoker-based grill, the juices simply don't get retained the same way they do on a flat surface (where fat can collect and reintegrate into the patty). I'm also aiming for medium-rare on all the cooks — that's around 130f. For the steakhouse patty, I went closer to 120F because bloody as hell is the only way to order a steakhouse burger in my very humble opinion. What's interesting is that there were some big swings in coloration thanks to spices and mix-ins even at medium-rare — which I found fascinating given that people eat with their eyes (and get squirrelly about "bloody" meat). We'll get to all of that.
Next, I'm not going into cheese at all. Yes, the Juicy Lucy has "juicy" in the name thanks to the melty cheese in the middle of the patty. But that feels more like a cheat than actually just producing a simply juicy burger patty. Cheese is just fat and water, after all.
Lastly, my trick for amazing juicy burgers is the classic Oklahoma smash burger method. That's where you take shaved white onions and smash it into the patty as you grill it off. The water from the onions helps the patty stay super juicy while the sugars help with the caramelization of the patty's edges. But that's getting into topping territory, and this is about making and maintaining a juicy patty of meat. Adding a whole onion just feels like a cheat too, so I skipped it. Still, it works wonders.
To pull this off, I made all my patties and marked them out. Some were seasoned in the mix, some were pre-seasoned, and some were seasoned on the grill top. You can clearly see the different looks of each one below.
Then I grilled them all at the same time so that I could taste test each one while it was still hot and prime.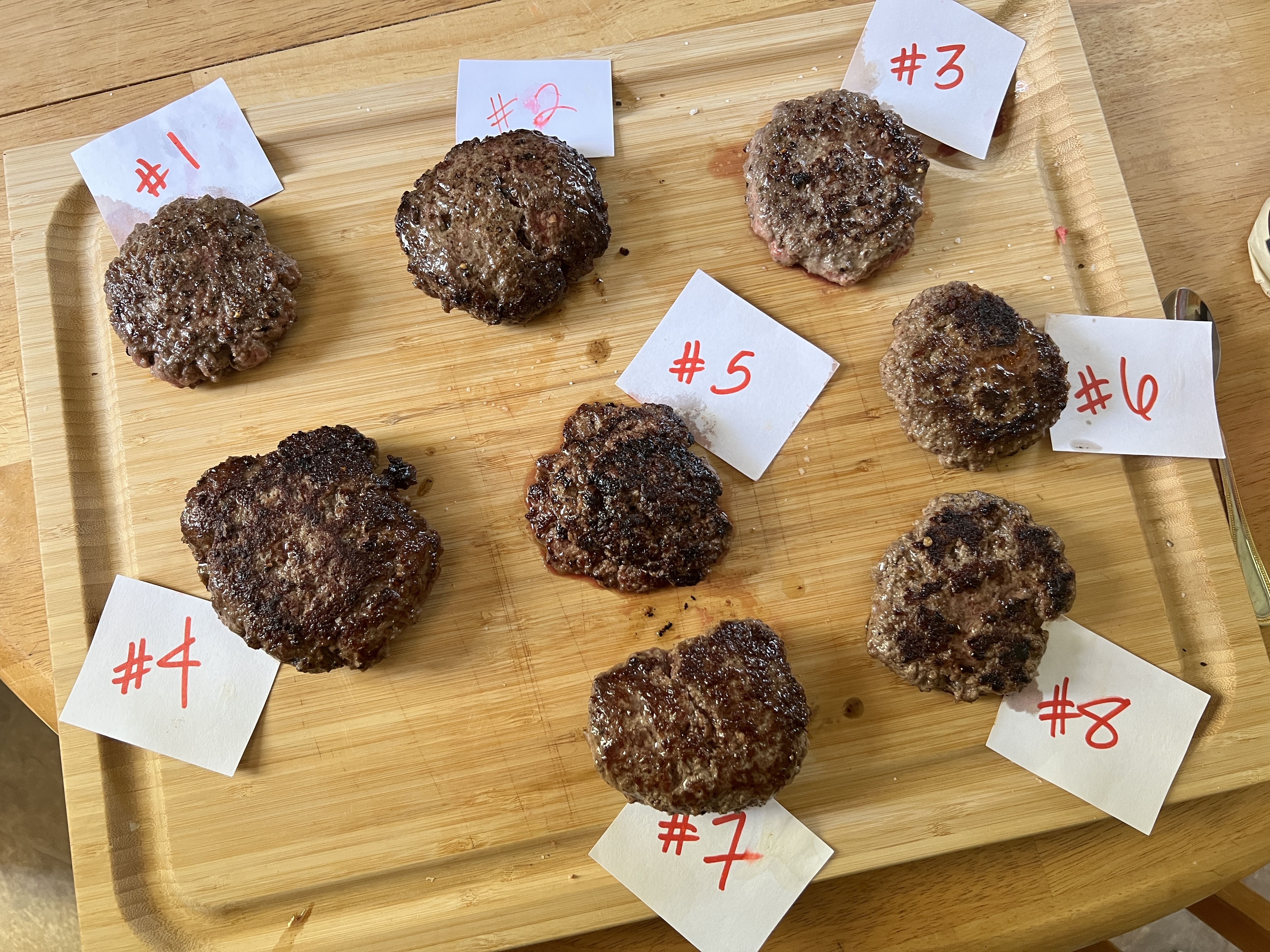 Look good? Let's dive in!
8. Milk Patty — Taste 3
The Patty:
The "milk patty" is pretty self-explanatory (and all over the internet). You simply add milk to the ground beef before forming and seasoning. The addition of milk adds fat and water and does make the meat an unholy pale grey. But you can't argue with adding water and fat to achieve juiciness in a burger.
Ingredients:
4 oz. 80/20 ground chuck
1 tsp. whole milk
Kosher salt
Black pepper
Neutral oil
Method:
Mix the milk into the ground beef and form a standard patty (either by hand or with a plate press).
Generously salt and pepper the patty on both sides.
Add the oil to the grill top and lay the patty on over medium-high heat. Cook the patty for 2 minutes on each side to create a nice crust (don't press down on the patty while cooking). Let rest for a few minutes before dressing and serving.
Juiciness Rating: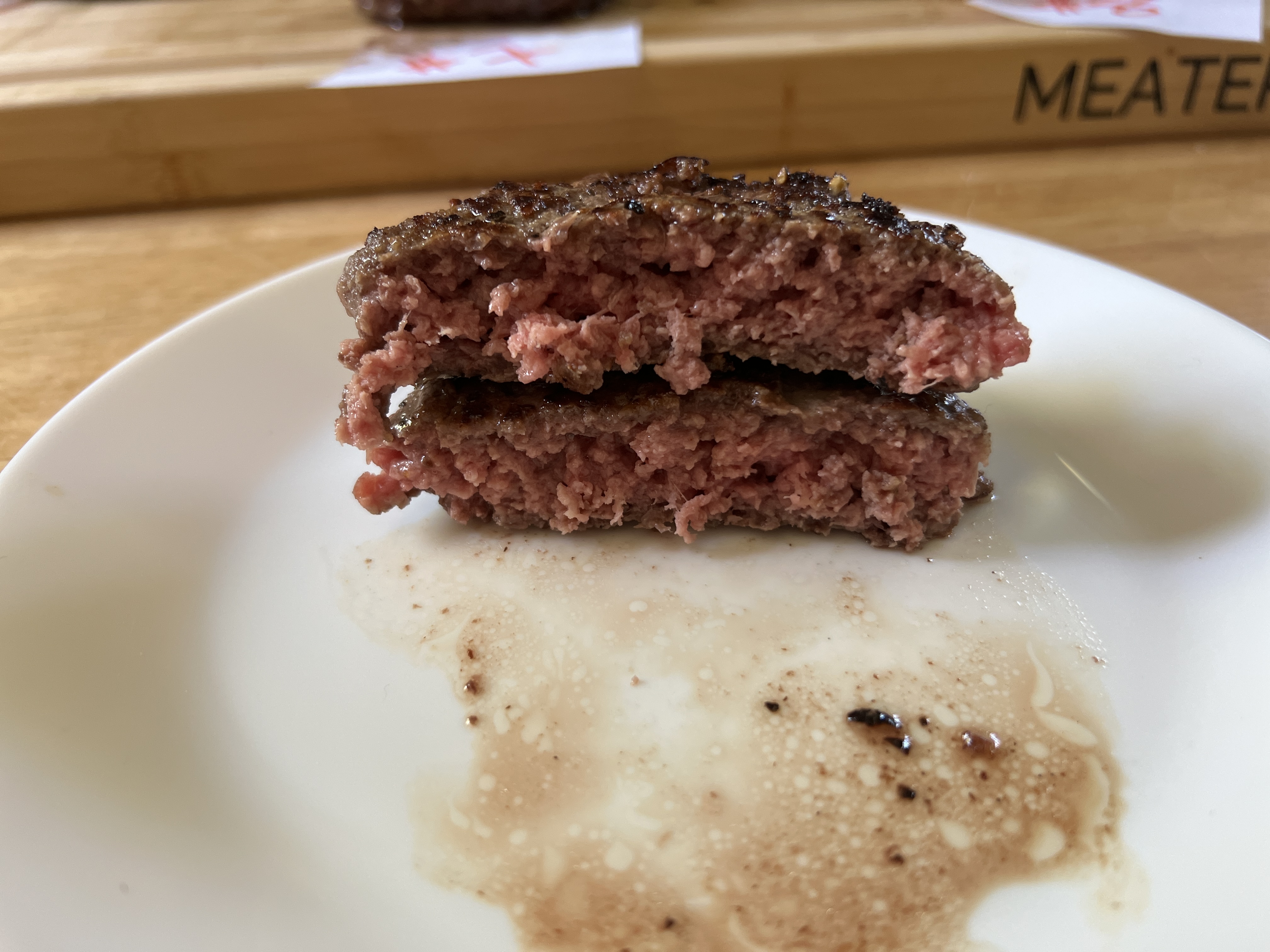 5/10 — This had a normal level of juiciness to it. But the texture was just off. It was chewy. The flavor wasn't that great either. It's not that the milk was over-powering but it was just off. All of that added up to something inferior, albeit acceptably juicy.
7. S+P Patty — Taste 1
The Patty:
This is just straight meat with salt and pepper. No tricks. No hacks.
Ingredients:
4 oz. 80/20 ground chuck
Kosher salt
Black pepper
Neutral cooking oil
Method:
Form patty by pressing with a small plate or pan until about 1/3 inch thick.
Season patty on both sides generously with salt and pepper.
Lay patty on a hot skillet or grill top that has a thin slick of oil on it. Cook for a minimum of 2 minutes per side making sure not to press down on the patty while it cooks.
Juiciness Rating:
6/10 — This was a perfectly suitable juicy burger that tasted like it had salt and pepper on it. Nothing fancy. It was nice and meaty though as the beef was 100% the star of the show. To that end, I'd recommend using this method if you're grinding your own mix of beef cuts.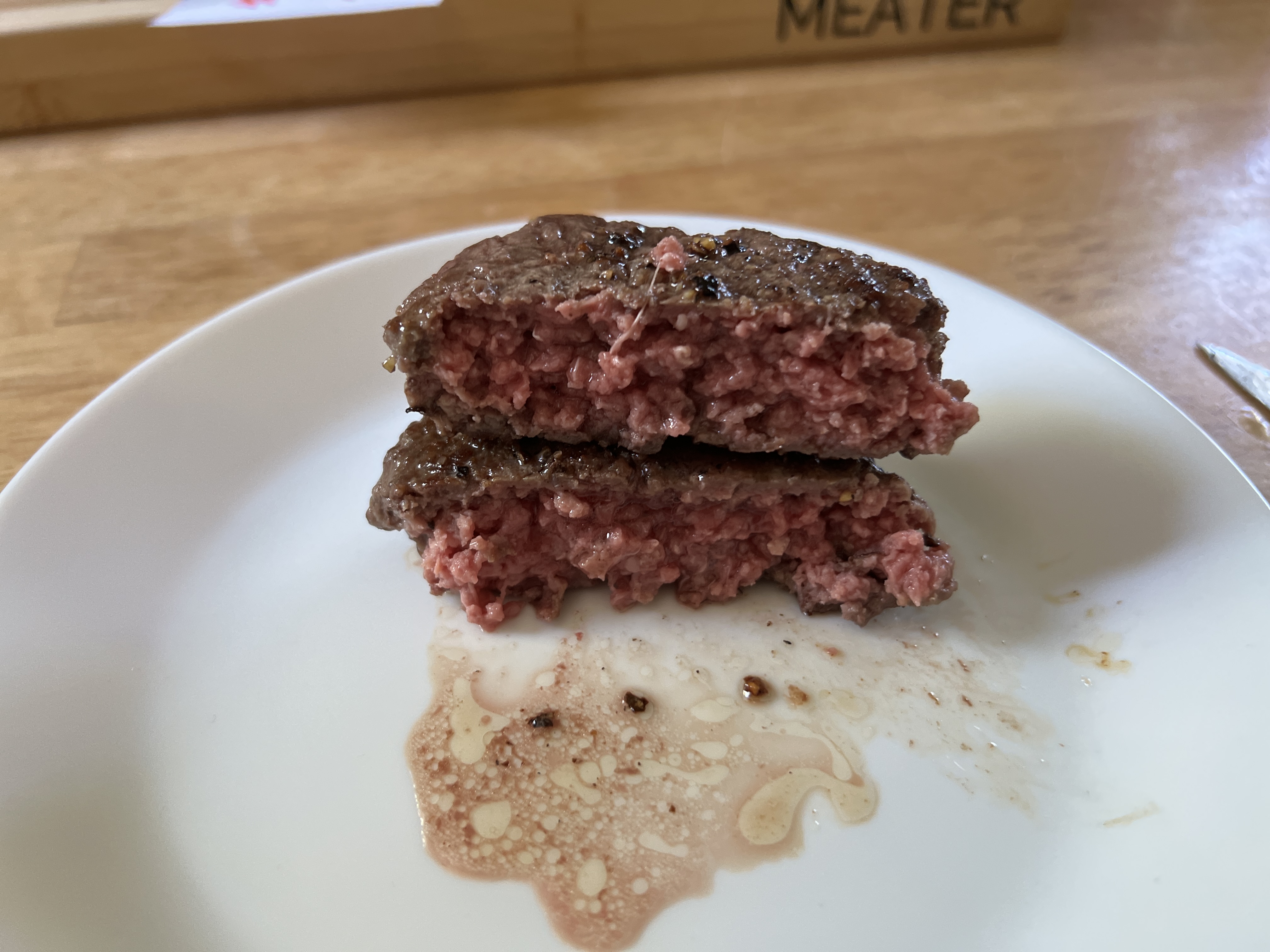 6. The Tik-Tok Patty — Taste 7
The Patty:
There are a gazillion TikToks out there — everything you can imagine gets tossed into a burger patty recipe on that app. The overall gist is always around bread crumbs (panko usually), an egg, and spices and herbs.
A quick note, this is always odd to me as you're making a meatball or meatloaf rather than a burger patty. But hey, to each their own!
Ingredients:
1 pound 80/20 ground chuck
4 tbsp. panko (or bread crumbs)
1 egg
1 tbsp. Worcestershire sauce
3 tbsp. evaporated milk
1 tsp. MSG
1 tsp. chili crisp
1 tsp. mixed herbs
Neutral oil
Method:
Combine all ingredients in a large mixing bowl. Mix with hands until everything is well integrated.
Weigh out 4 oz. balls and form into patties
Heat a pan to medium-high heat without any extra oil. Once hot, place the patties in the pan and cook until each side is seared — about 2 minutes per side (don't press down on the patty while cooking).
Let patties rest for up to 5 minutes before serving.
Juiciness Rating: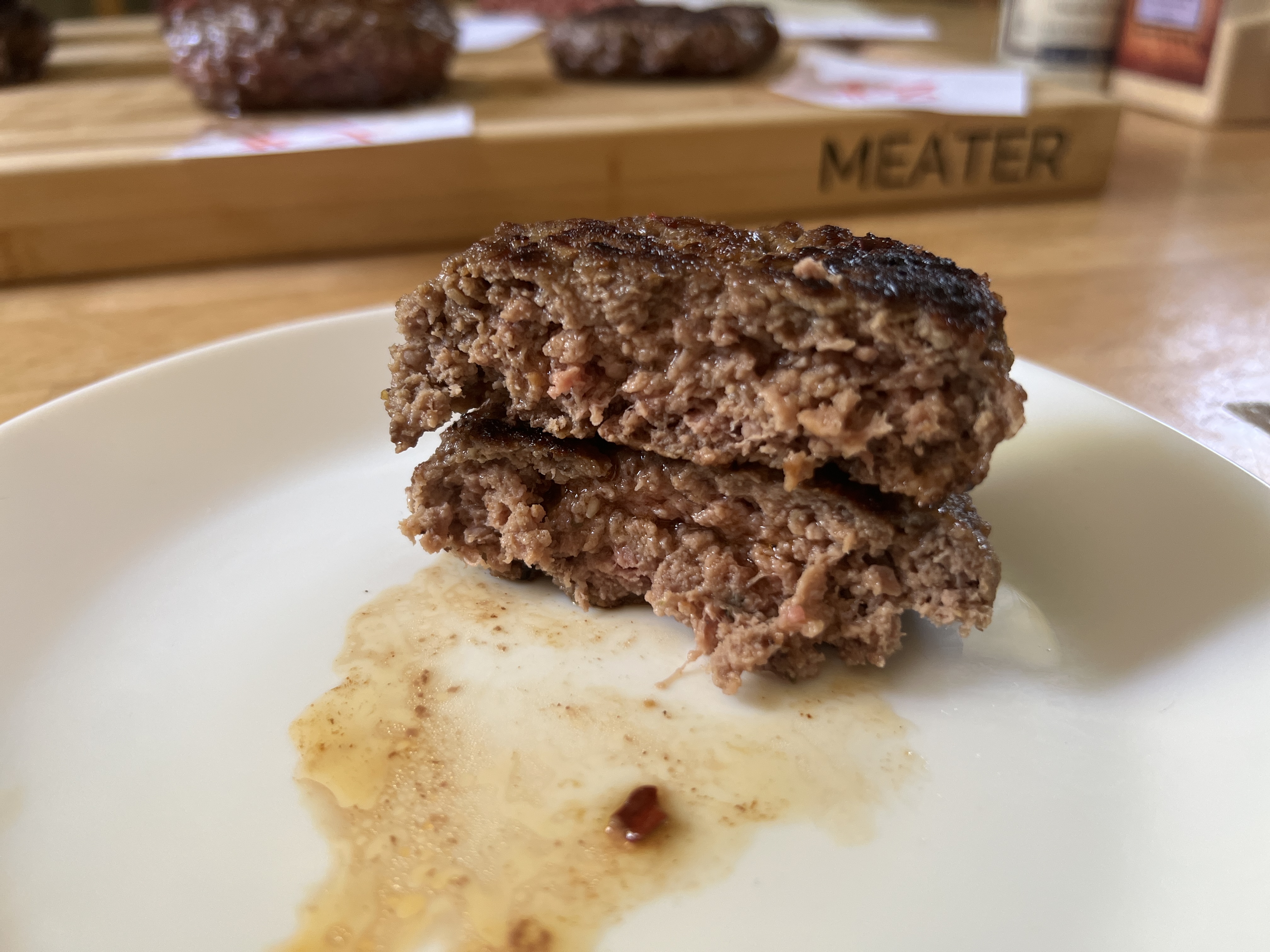 6/10 — This was medium juicy but really just tasted like a meatball. I know, shocker. If you're looking for a classic burger taste or texture, this isn't it. Still, it had a nice mouthfeel and was well-flavored, so it's not a total loss.
It's also worth noting that this read 130F when I checked the temp. Which is exactly the same temp as far redder patties on this list. The salt and pepper patty right above this was exactly the same temp. The mix-ins do have a pretty big effect on the color of the meat — which is either a detriment or a fix for the squeamish who don't trust temps over their eyes.
5. Smash Patty — Taste 6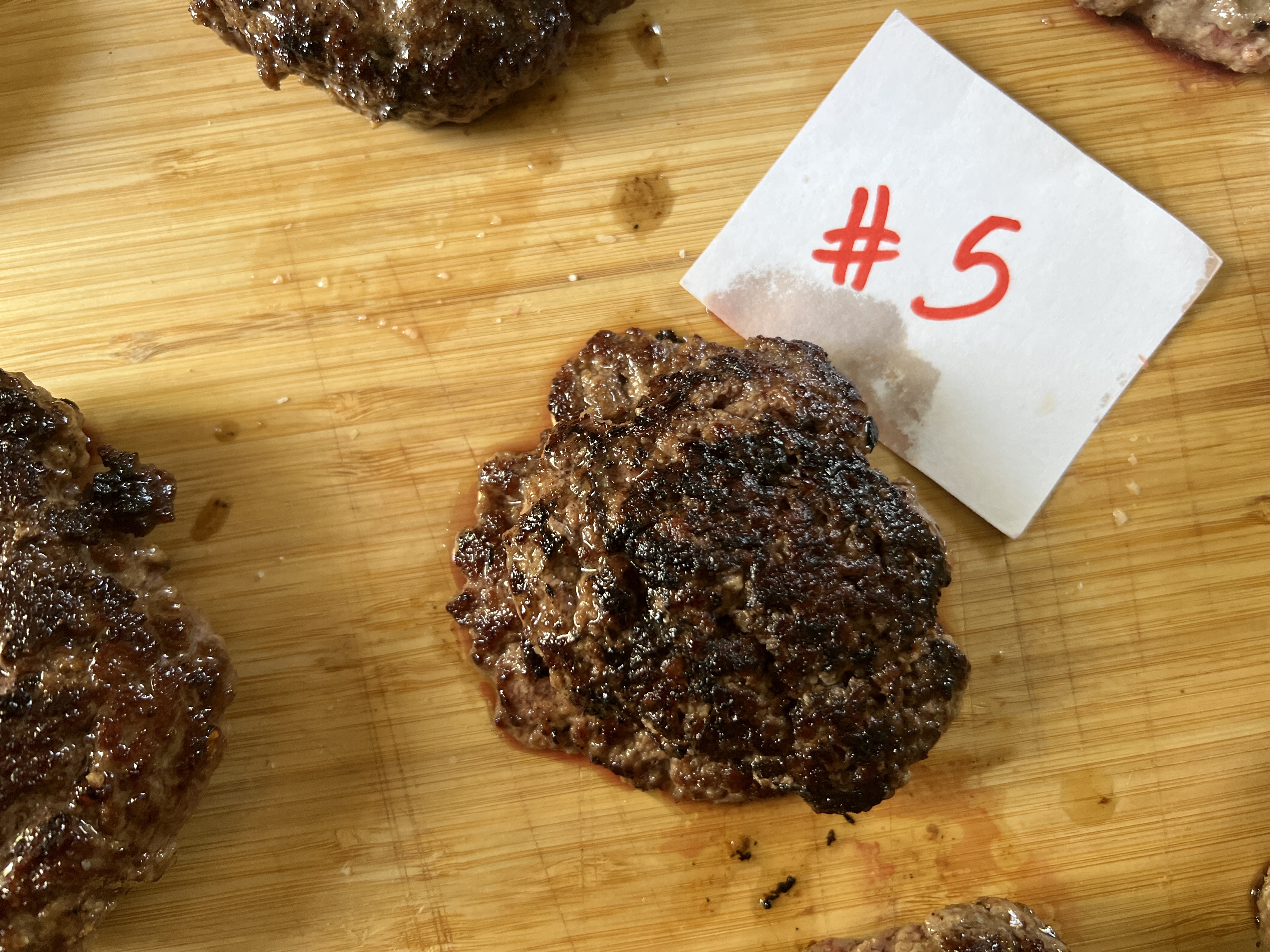 The Patty:
This is a classic for a reason. Two small balls of meat smashed on a super hot grill top hit with salt and done. It's fast, easy, and delicious.
Ingredients:
4 oz. 80/20 ground chuck
Kosher salt
Black pepper
Neutral oil
Method:
Form two 2-oz. meatballs with the ground chuck.
Turn the heat up to high and add a splash of oil to the grill top.
Once the oil just starts to smoke, place the meatballs on the grill top and use a heavy spatula and kitchen towel to smash the meatballs into burger patties. Immediately hit with a big pinch of salt and pepper.
After about 45 seconds, a good crust should have formed. Flip and cook for about 45 more seconds.
Stack the patties and serve.
Juiciness Rating: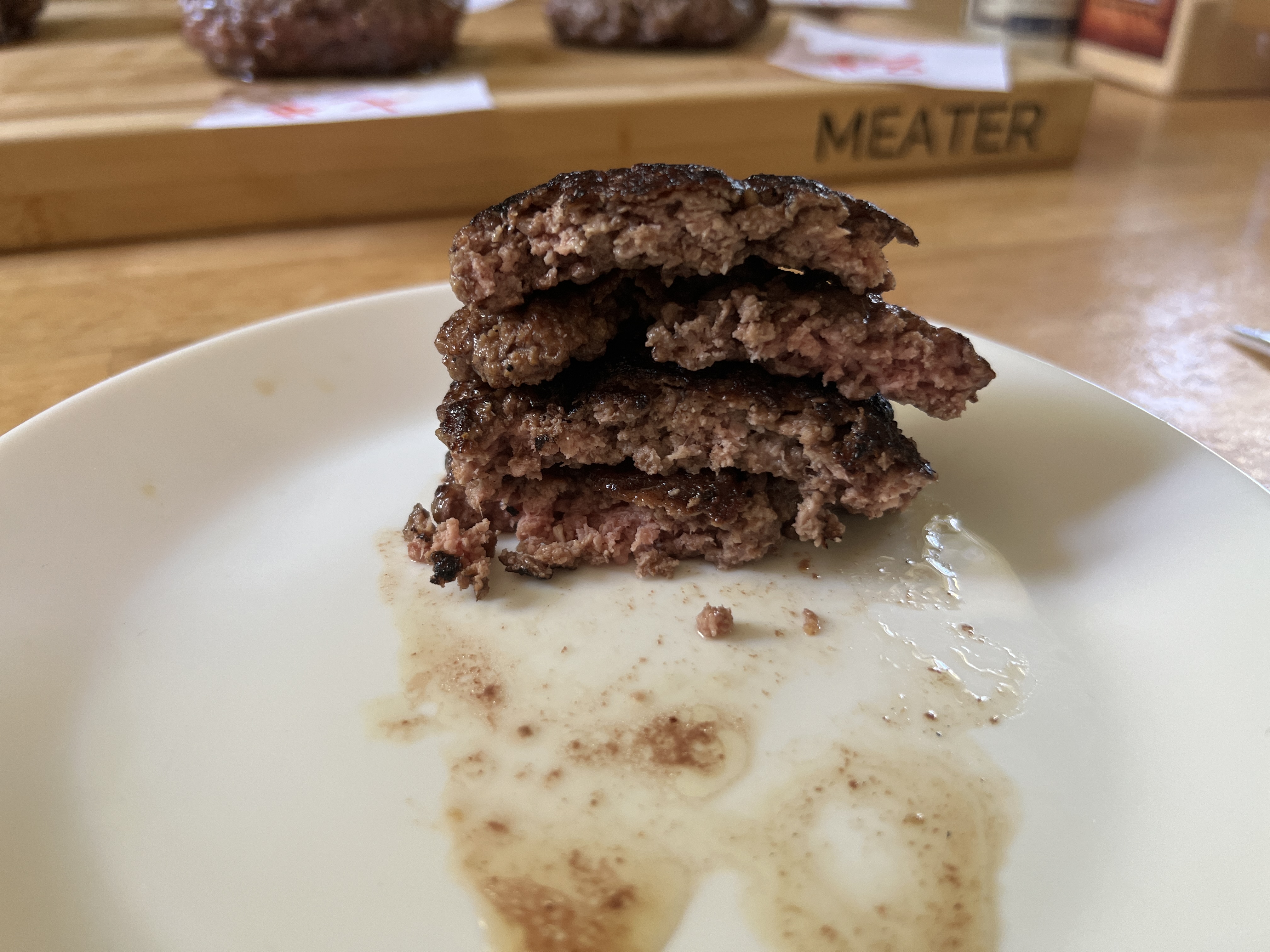 7/10 — These were actually juicy. They weren't the juiciest, don't get me wrong, but they weren't dry either. Moreover, the texture of these was excellent. You have layers of crunchy, softness, and a mix of it all with a juicy burger patty experience.
The rub here is that these are probably the easiest to overcook and dry out. Move fast when cooking smash burgers, folks!
4. The "Bramucci" Patty — Taste 8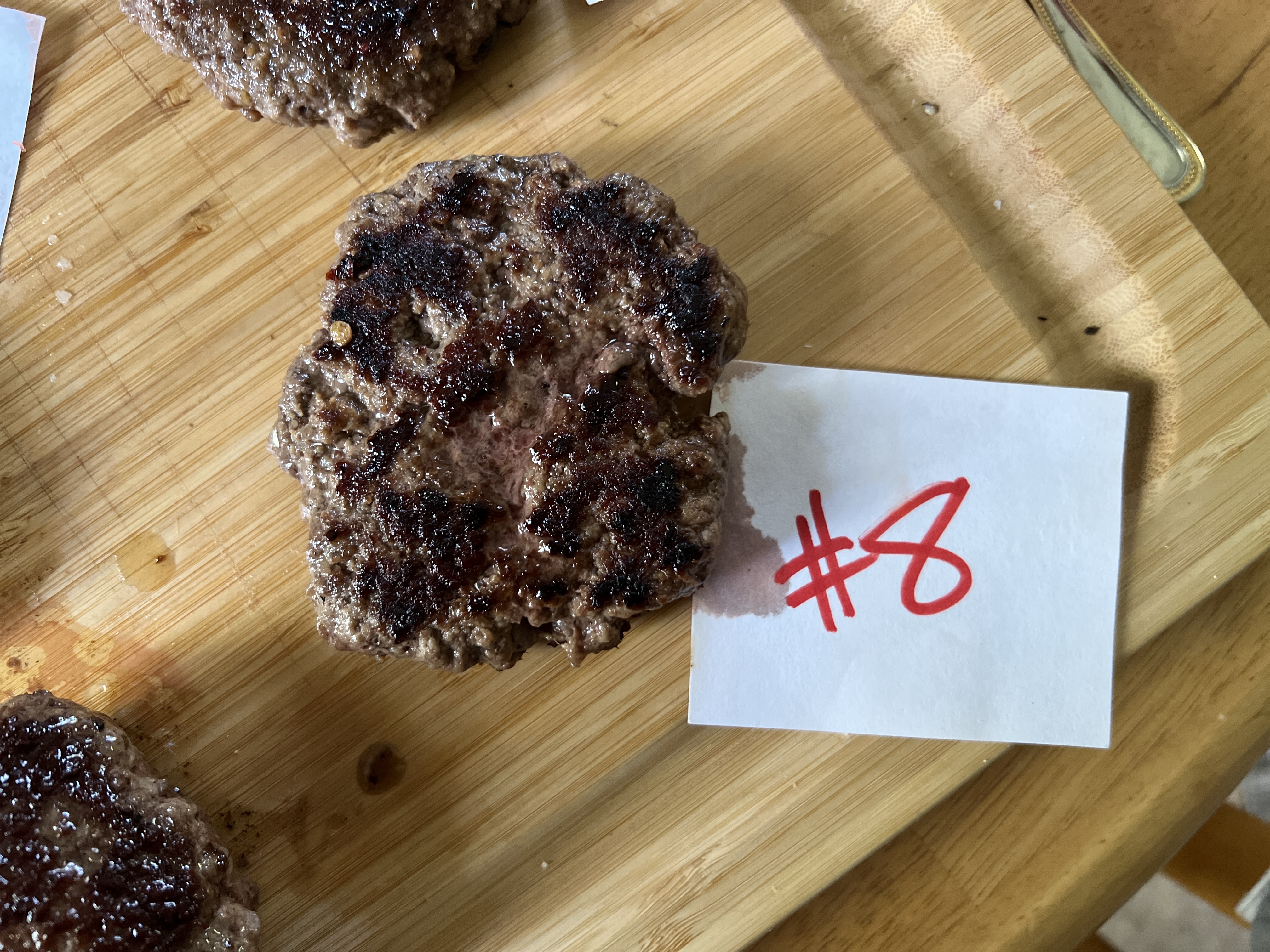 The Patty:
When I was assigned this task, my editorial director dropped this recipe with pride. I was 100% intrigued as while I don't add too many mix-ins, I love all the things he mixes into his meat here. Fish sauce, hell yes! Mustard powder, sign me up! MSG? That's what I'm talking about! Not to mention, chili flakes when used judiciously make everything better.
Ingredients:
1lb 80/20 organic ground chuck
2 dashes of fish sauce
2 shakes of mustard powder
2 shakes of onion powder
2 dashes of chili flakes
MSG
Black pepper
Neutral oil
Method:
Combine the chuck, fish sauce, mustard powder, onion powder, and chili flakes in a larger bowl and mix with your hands until everything is well integrated.
Heat a skillet to medium-high heat with a touch of oil. While that's heating form four 4-ounce patties either by hand or with a press.
Lay the patties on the lightly oiled grill top. Dash the patties with MSG and black pepper on the top of the patty.
Cook for 2 minutes per side, making sure not to press the patties with the spatula while cooking.
Rest for at least 2-3 minutes before dressing and serving.
Juiciness Rating: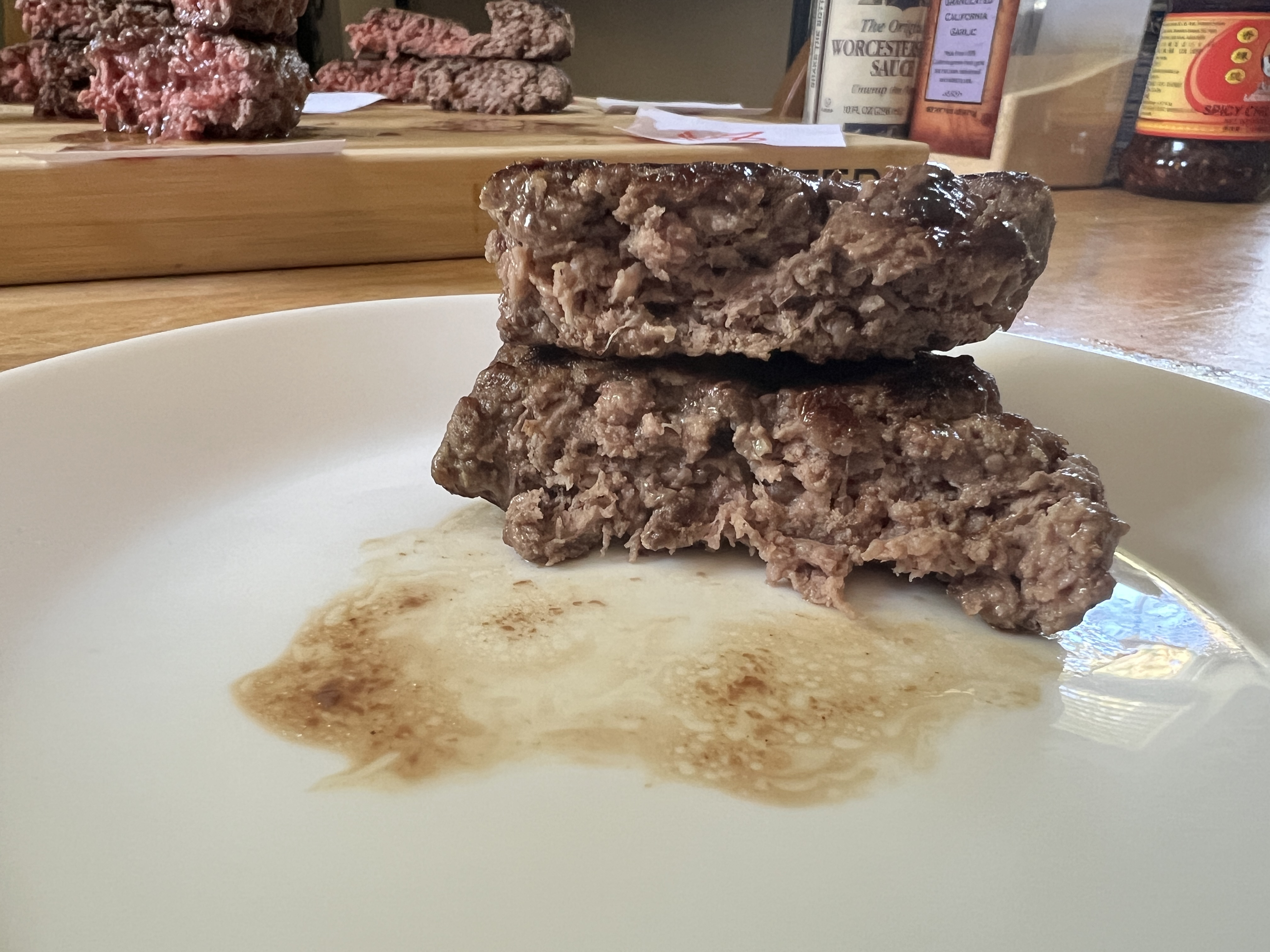 7/10 — This was averagely juicy. But what I've noticed so far is that putting dry ingredients into your patty meat is tricky as it'll soak up water and also affect the end color pretty drastically (I temped this and it was 132F — still a way from well-done at 140F).
That all said, this was still a meaty well-seasoned burger that felt like a burger patty (and not a meatball) with a decent juiciness.
3. George Motz's Steakhouse Patty — Taste 7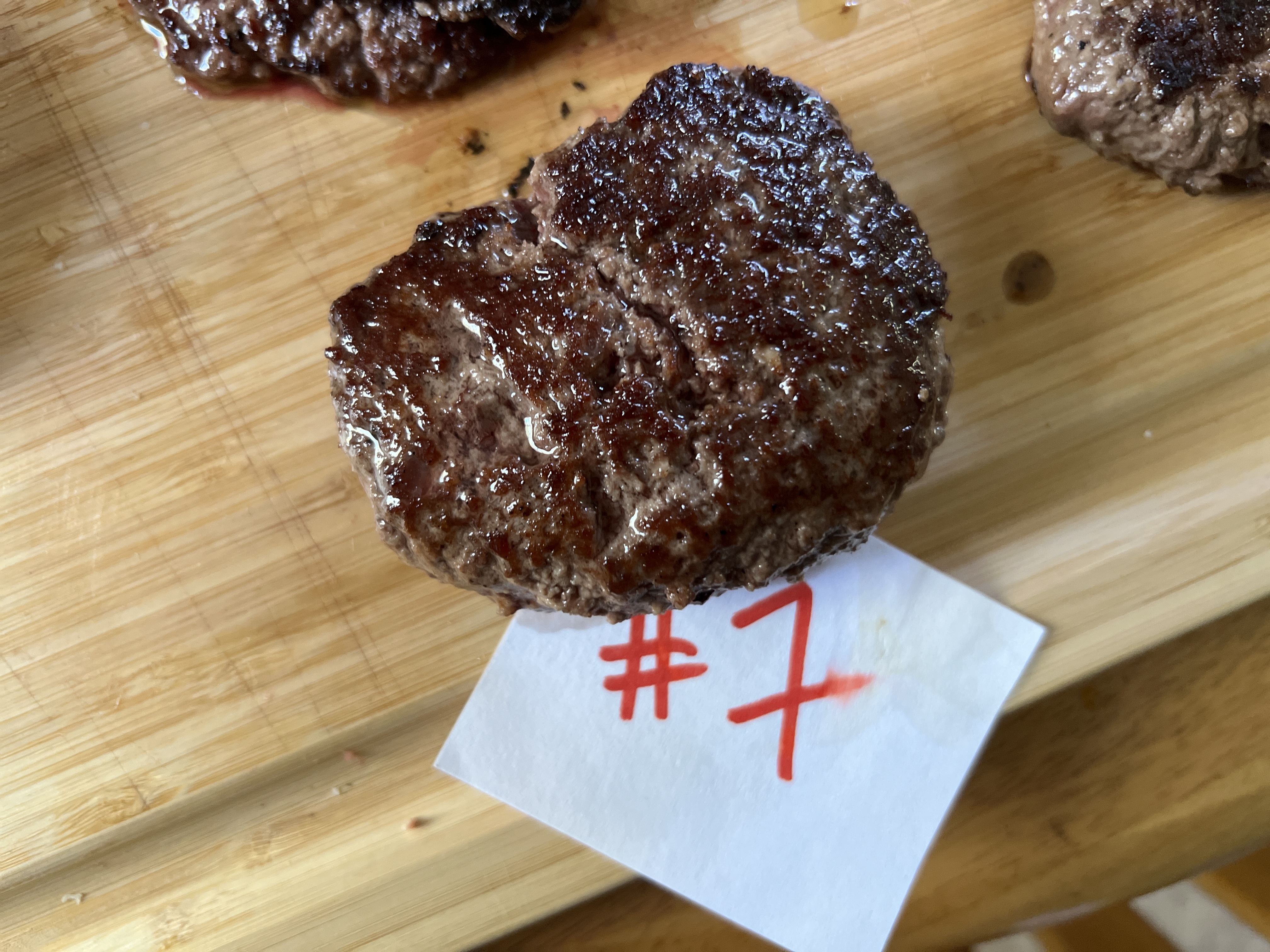 The Patty:
According to burger master George Motz, the key to any good steakhouse burger is special high-quality meat that's usually ground in-house from the trimmings of the steaks with chuck, rib-eye, sirloin, brisket, and other cuts. Since my grinder is on the fritz, I used ground wagyu, which is on pretty much every steakhouse burger menu right now. After all, this is more about technique at the end of the day with that thick patty being the point.
Ingredients:
6 oz. wagyu ground beef or dry-aged ground rib-eye
Kosher Salt
Neutral Oil
Method:
Press the burger with a four-inch ring/burger mold or by hand until even on all sides.
Heat a skillet on high heat and add a touch of oil.
Slap the patty down onto the skillet to get a super flat cooking surface on the bottom of the patty.
Generously salt the top of the patty.
After about 3 minutes, a crust should have formed on the bottom and you can flip. Cook the patty another 3 minutes until the internal temp is 115F (add a whole minute to each side of the patty during the cook if you want medium rare). Also make sure not to press the patty while it cooks, let it ride.
Let the patty rest for 5 minutes (the temp should rise to 120F, which is rare) before dressing and serving.
Juiciness Rating:
8/10 — This was juicy. So juicy. The salt was enough to give it a good season (I used a lot of salt) and really highlight the flavor of the wagyu beef being used. In the end, though, it didn't pop flavor and juicy-wise as the next two entries. That said, this is a really good burger patty.
2. Gordon Ramsay's Patty — Taste 4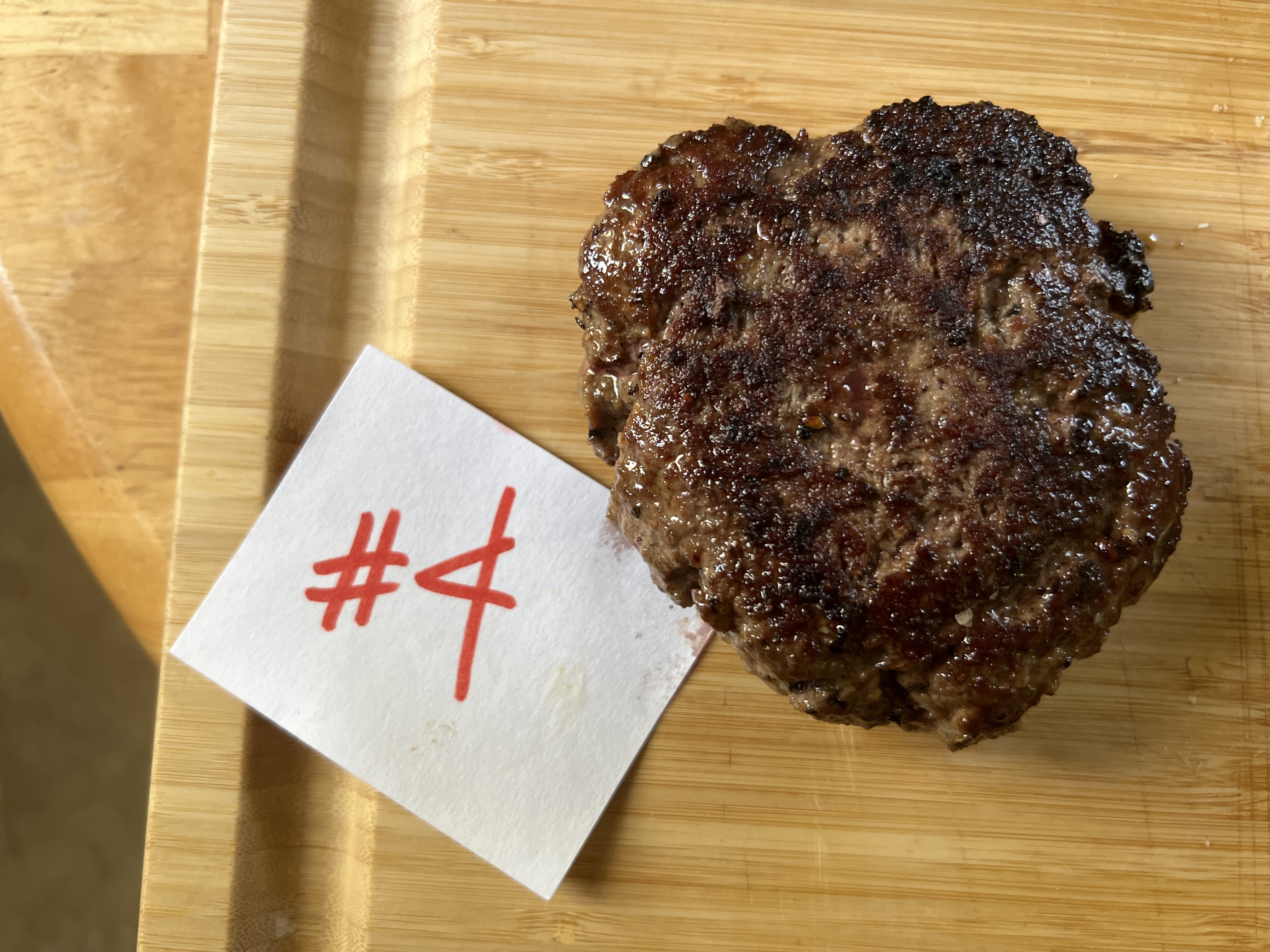 This is a famous Ramsay backyard BBQ grilling burger. It's massive. I had to re-read the recipe about six times to make sure he was really calling for one pound of ground beef for two, count 'em, two burgers. There's no reason not to make these six-ouncers, but here we are.
The Patty:
Ingredients:
8 oz. 80/20 ground chuck
1 oz. frozen unsalted butter
0.5 tbsp. garlic powder
0.75 tbsp. salt
0.5 tbsp. freshly cracked black pepper
1 tbsp. olive oil
Method:
Combine the spices and meat in a bowl and use a box grater to grate the frozen butter into the meat. Form one (very large) patty.
Cover the patty in the olive oil and add to a grill on medium heat. Cook for at least 3 minutes per side until an internal temp of 125F is reached, making sure not to press it while it cooks.
Let the patty rest for 3 to 5 minutes (the temp should rise by about 5F during that rest) before dressing and serving.
Juiciness Rating:
9/10 — Of course, Gordon Ramsay has this shit on lock. The addition of frozen butter is clutch. Just like with southern biscuits, frozen butter expands as it cooks, creating pockets of goodness (or layers in biscuits).
This had a great seasoning like the Bramucci Patty with that extra layer of juiciness that helped it pop. I'll be making this again but likely sort of combining the two into a super patty.
1. J. Kenji López-Alt's Diner Patty — Taste 2
The Patty:
López-Alt's Diner Patty takes the wonderful fattiness of a well-worked diner grill top and brings it home. He does this by seasoning the skillet with bacon fat and then clarified butter. While López-Alt doesn't say to butter baste his patty while cooking it in the skillet, I couldn't help myself.
Ingredients:
6 oz. 80/20 ground chuck
2 strips bacon
3 tbsp. clarified butter
Kosher salt
Black pepper
Method:
Use your hands to form a large patty that's about 1/2 inch thick. Generously salt and pepper and set aside.
Add the bacon to a cast iron skillet and turn the heat to medium. Add a spoonful of tap water to help render the fat from the bacon. Once the bacon is cooked and the skillet is full of bacon fat, set aside.
Add the clarified butter to the skillet and keep the heat on medium.
Lay the patty in the skillet and cook for 3 minutes, don't press the patty down with the spatula. If the butter starts to smoke, turn the heat down a tad. Flip the burger and cook for at least another 3 minutes until the internal temp is 125F (I used a spoon to scoop the butter over the patty while it cooked, helping it baste in hot goodness). Let the patty rest on the bun for 2 to 3 minutes before serving (it'll increase internal temp while resting).
Juiciness Rating: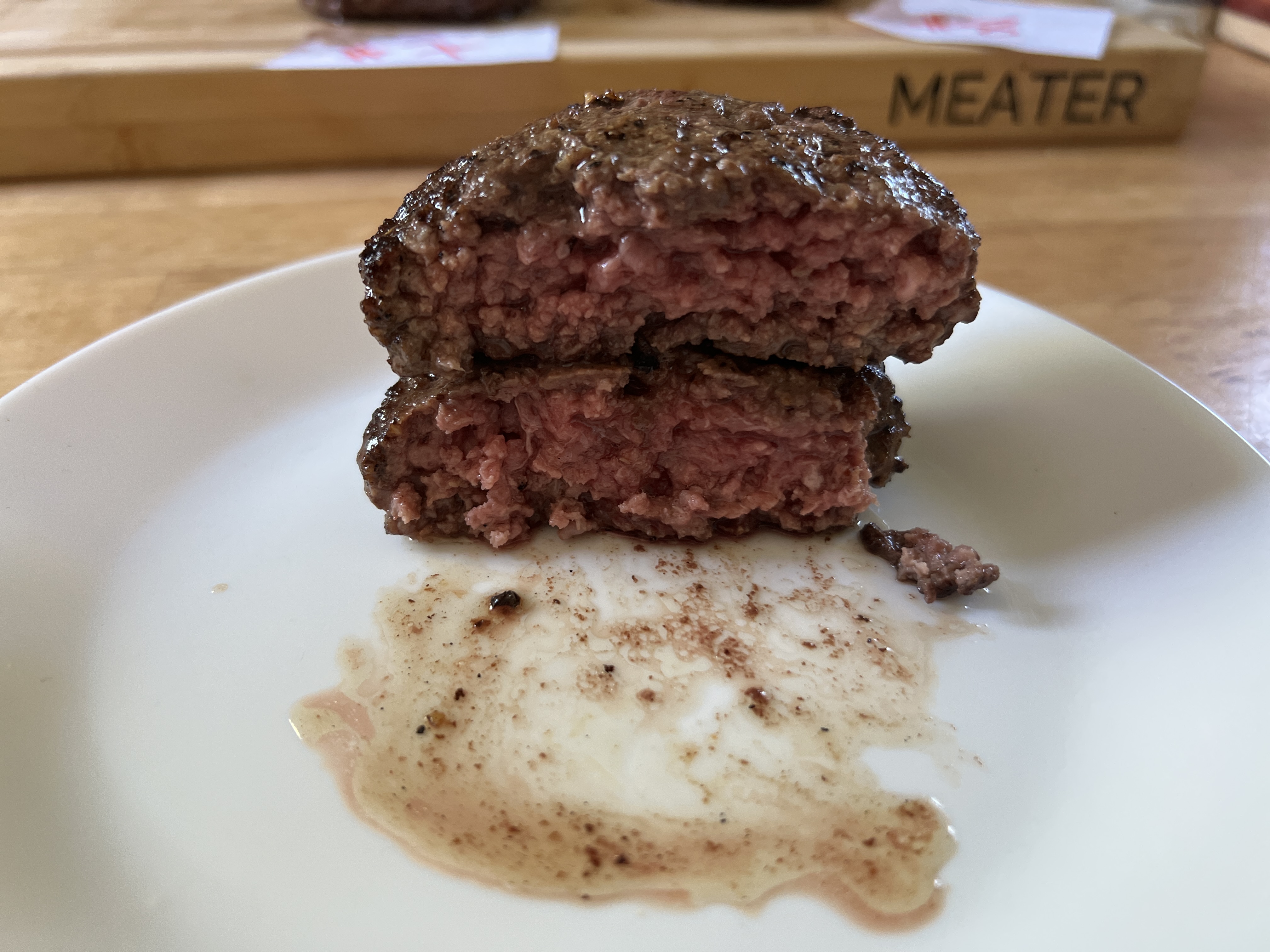 10/10 — This is the juiciest and tastiest burger patty by far. It had a tone of meaty beef flavor while still feeling well-seasoned. But the clarified butter/bacon fat mix it's cooked in just took this to a whole new level of juiciness. This is pure comfort food to the point that I could see eating this patty on a nice bun with nothing else and still being happy about it. Well, maybe some pickle. And maybe some onion. And a slice of sharp cheddar.
Final Thoughts On The Burger Patties
There wasn't a dry patty in sight on this list. Still, some were juicy than others. I did learn that mix-ins are tricky. They can discolor the meat pretty dramatically while drawing out some juiciness. Still, you're adding a lot of flavor so it's not a wash, per se. I think there's value there, especially if you're adding fat and water back as in Gordon Ramsay's patty recipe.
I would avoid an egg and panko (or bread crumbs) though. It just doesn't feel like a real burger patty anymore once you go down that road. That doesn't mean it won't taste good though.
In the end, I'd add wet spices and mix-ins that have some fat. So things like oily chili crisp instead of dry chili flakes and frozen butter instead of milk or egg. There's a balance to be found in the recipes that I'll certainly be playing with in the future. I hope you do too!