Fall is here – whether it feels like that where you live or not – and to many of us, that means one thing: time to leaf peep. Seeing the vibrant displays of colorful leaves on these fleeting fall days is enough to turn even a cynic into a fall fan. And there is no better place in the United States to do it than the Northeast. A perennial bucket list destination for foliage, the iconic landscapes of New Hampshire, Vermont, and Maine are awash with golden beauty – and tourists – for those coveted "peak leaf" weekends.
While some people may recommend — understandably, it's crowded — to plan your East Coast leaf-peeping trip far in advance, that's not my recommendation. Why not? Because "peak" fall foliage doesn't run on a metronome. You have to be flexible and okay with some last-minute arrangements if you want to be there for the best colors.
According to the New England Peak Fall Foliage Map, peak conditions will start in the Northeast around October 20 and last into the end of the month in many locations – even into November for areas further south. So, you still have plenty of time to plan an epic New England fall road trip if you start with this article.
Here are my recommendations for routes, where to stay, what to do, and where to eat and drink while you're there:
PART I — START IN BOSTON:
I recommend flying into Boston, as it is centrally located, offers tons of flights that will likely be cheaper than other smaller New England airports, and has more options for car rentals. This also allows you to explore Boston if you have the time or Salem if you can brave the October crowds. Then I'd head straight to possibly the best place for fall foliage in the nation: New Hampshire.
PART II — VISIT NEW HAMPSHIRE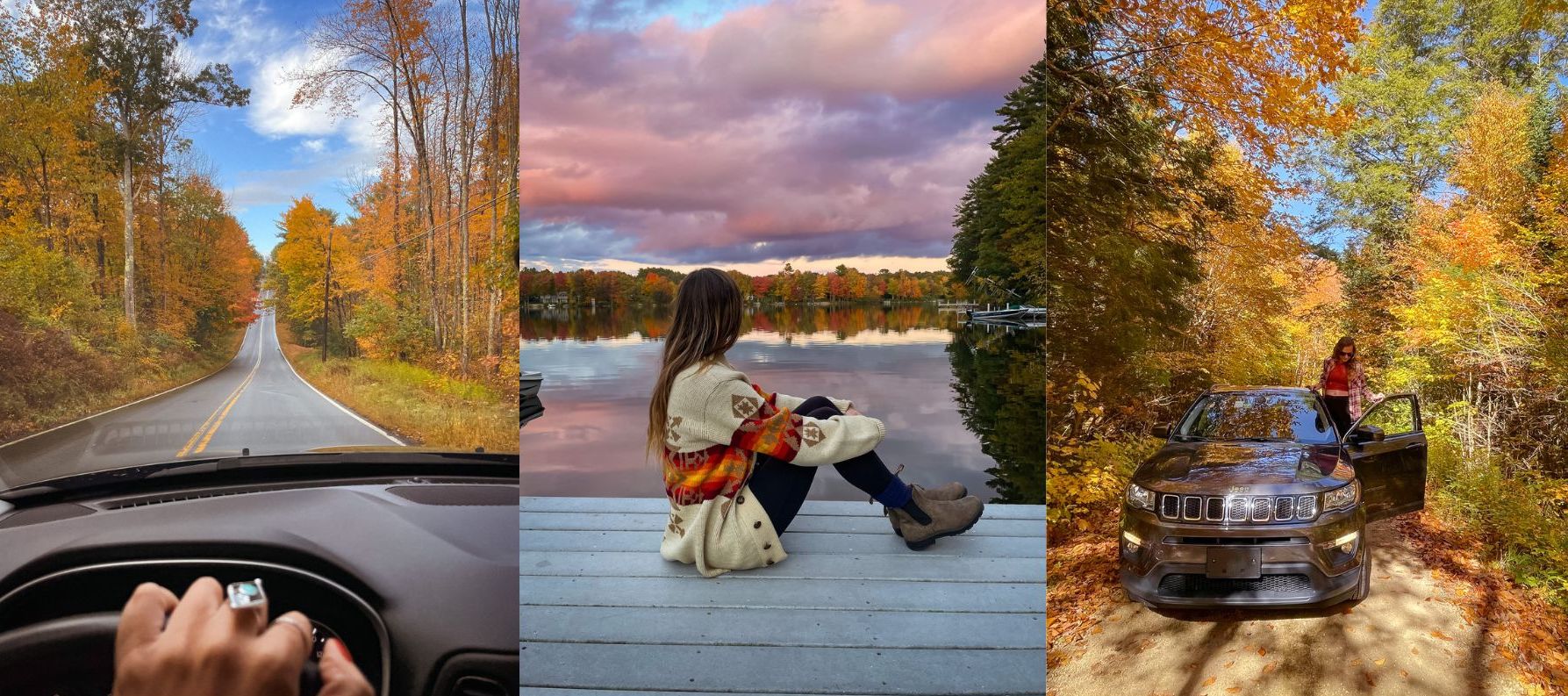 New Hampshire doesn't always get its due, sandwiched between the classic fall vacation spots of Vermont and Maine – but it's arguably the best place for fall colors and outdoor adventures. Here are some recommended stops.
WHITE MOUNTAINS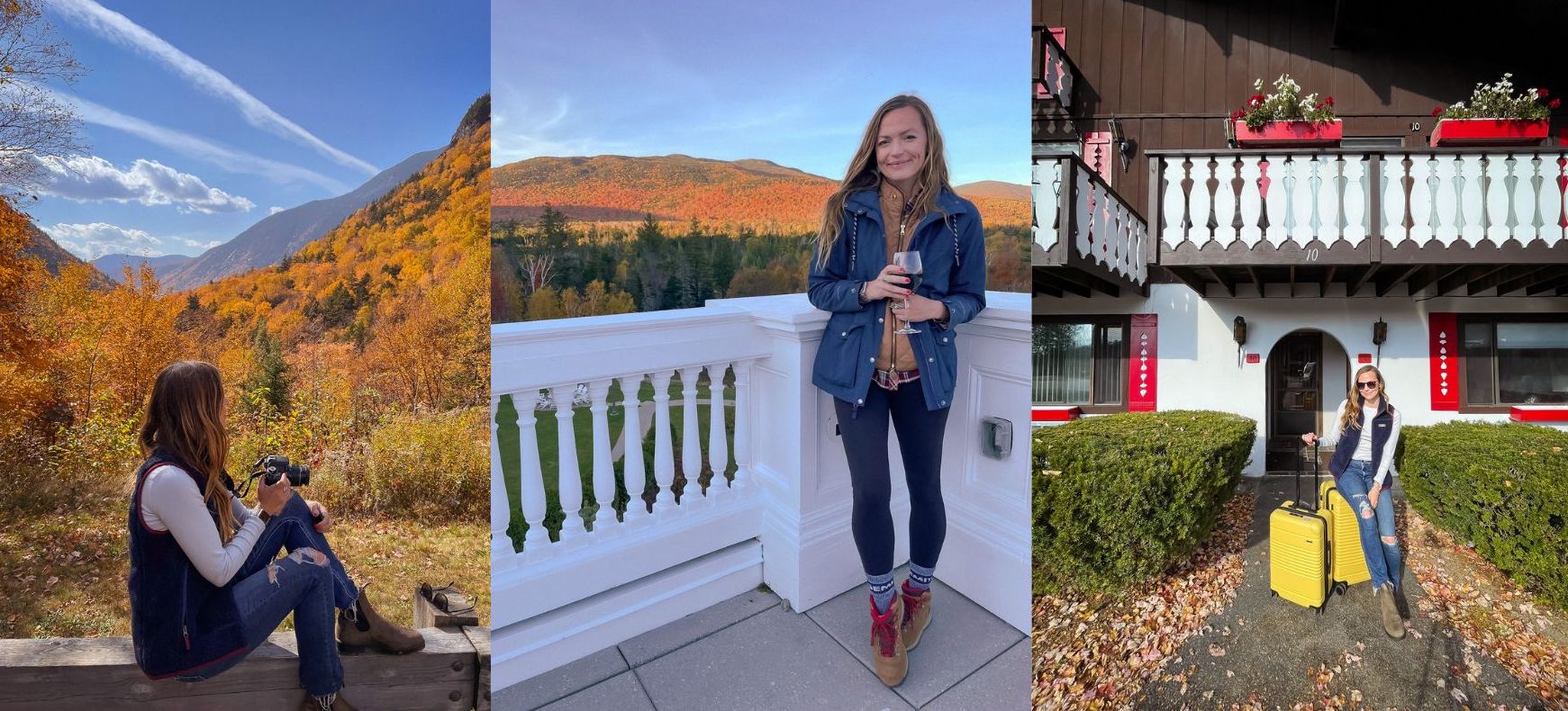 If you do nothing else on your fall foliage adventure, spend (ample) time in the White Mountains of New Hampshire. My jaw was on the floor, in awe of my surroundings throughout my visit. It's truly unlike anything I have ever seen and worth your time.
WHAT TO DO IN NH:
FRANCONIA NOTCH STATE PARK
There are endless options for outdoor recreation in New Hampshire, but if you're visiting for fall leaves – you have to visit Franconia Notch State Park. The park is easily accessible from Interstate 93, with imposing mountains, gorges, hiking, lakes, and waterfalls everywhere you turn. And in the fall, you have all that plus foliage – it's an incredible bucket list park.
THE FLUME GORGE
Inside Franconia Notch State Park is The Flume Gorge – a gorge that is approximately 800 feet long and with depths up to 90 feet deep with endless waterfalls – including the 45-foot Avalanche Falls – to admire as you walk along the boardwalks and steps under the towering granite walls.
ARTISTS BLUFF AND BALD MOUNTAIN HIKE: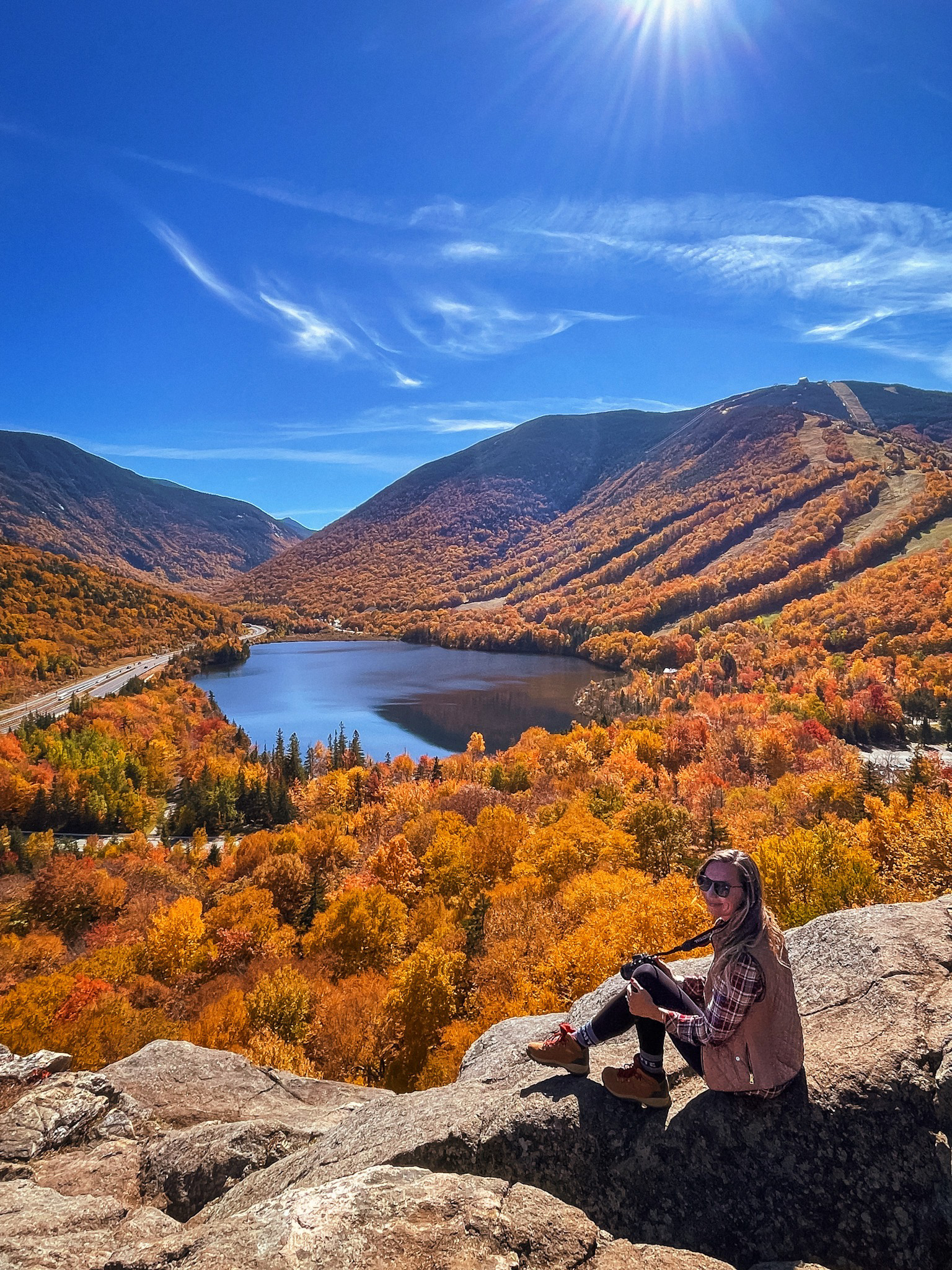 If you've ever seen a photo of a fall in New Hampshire, it was likely taken at the Artists Bluff overlook in Franconia Notch State Park. The relatively short – but sometimes steep – trail covers just around 1.5 miles to bring hikers to an incredible view of Echo Lake, Cannon Mountain, and the Franconia Notch. It's a viral spot, especially in the fall, but the views are jaw-dropping and worth the hassle.
WHERE TO STAY IN NH:
OMNI MOUNT WASHINGTON RESORT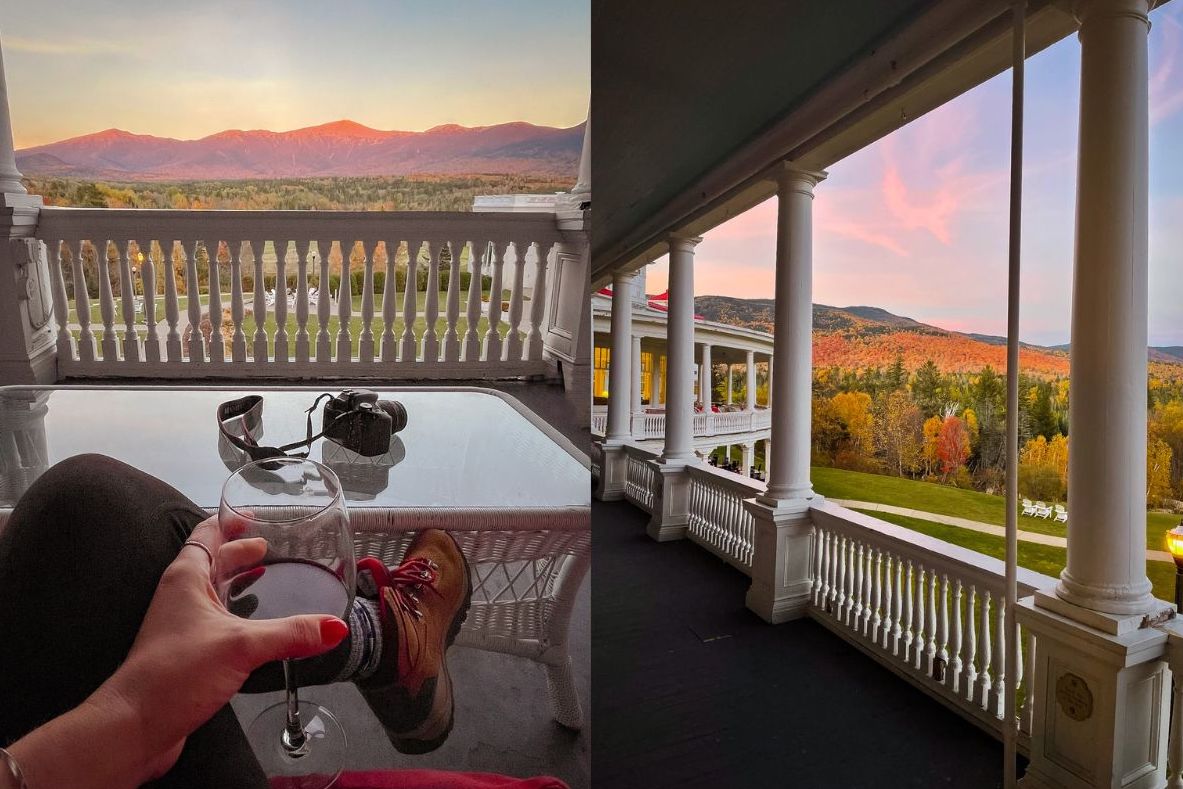 I didn't actually stay at Omni Mount Washington Resort in Bretton Woods (unfortunately), but I spent some of the best moments of my time in New Hampshire there. The historic hotel, built in 1902, is a landmark and destination in the White Mountains. Home of the 1944 Bretton Woods Conference that created the IMF fund, the history is fascinating, the grounds are immaculate, the dining is elevated, and the views from anywhere on the property are stunning. I grabbed a snack and a glass of wine and enjoyed watching the sunset over the mountains from one of the decks.
I can't wait to return and stay a while.
PART III — VERMONT
Vermont is sort of the quintessential fall foliage destination against which all others are judged. And I understand entirely after my first visit to the state last year during peak foliage. Simply driving down the highway transported me into a wholly different, quieter, and more colorful world. Here are some stops you shouldn't miss.
WHERE TO GO IN VT:
STOWE
Stowe is the city most visitors will base themselves in when hunting for fall colors. The quaint small town feels like walking through a fairytale, the nearby Stowe Mountain Resort offers plenty of year-round activities (and views), and the surrounding Green Mountains – including Mount Mansfield, the tallest peak in the state – offer unparalleled views. I recommend spending time in the village before driving the auto road up Mount Mansfield or riding the scenic gondola at Stowe Mountain Resort.
WOODSTOCK
Woodstock, Vermont, is another city that is synonymous with fall. The quaint downtown is almost unreal – it is so picturesque – with interesting local shops and restaurants dotting the foliage-covered streets. Visit the covered bridges, museums, and Marsh-Billings-Rockefeller National Historical Park while in the area. But be aware the famous "Sleepy Hollow farm" in nearby Pomfret is closed for the fall foliage season due to overcrowding. Not to worry, there are plenty of other nearby fall attractions and public farms to visit.
WHERE TO STAY IN VT:
ESSEX RESORT AND SPA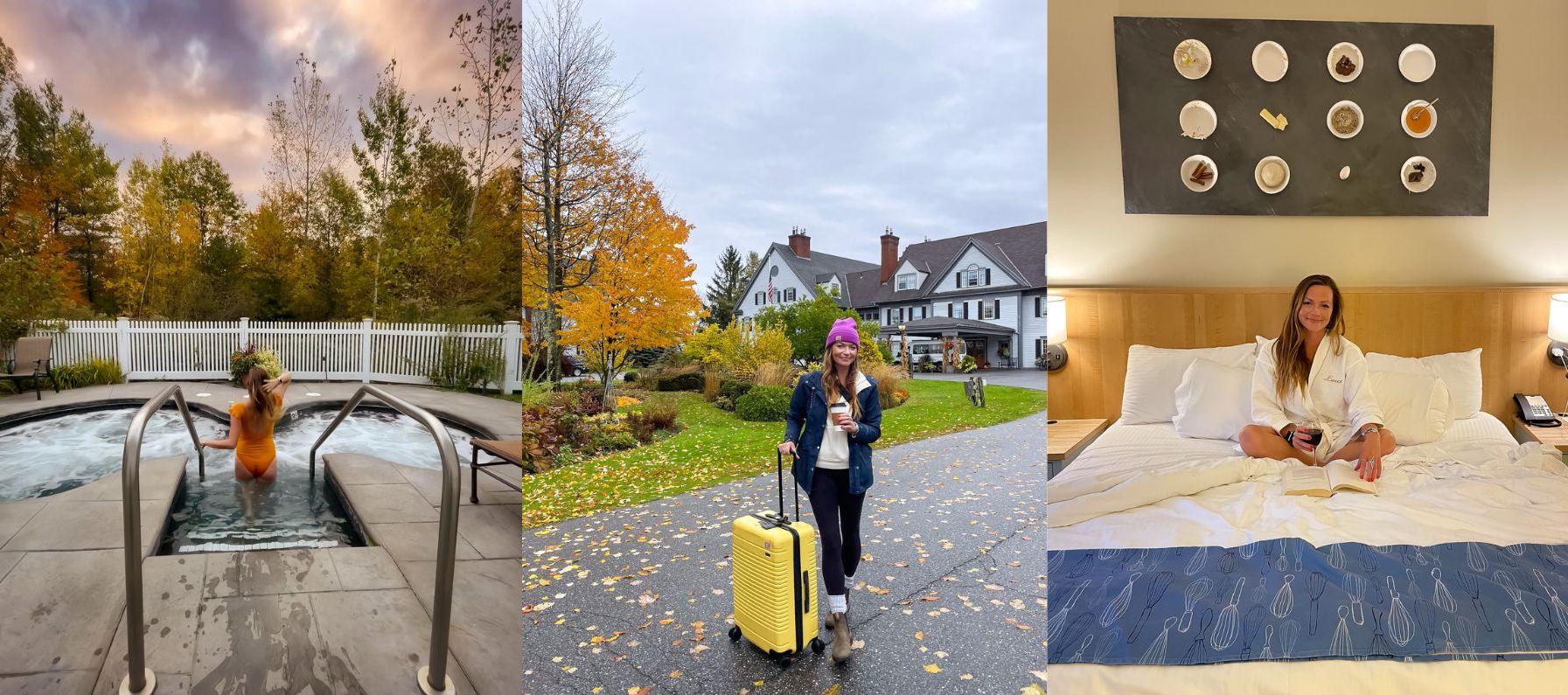 During my visit to Vermont, I loved staying at the Essex Resort & Spa. From the second I drove onto the property to the time I had to check out, I felt a warmth and coziness that is hard to find in a resort this size. Known as a "culinary resort," the Essex offers cooking classes and three dining options, from the down-to-earth Tavern and casual to-go offerings at the front desk cafe to the luxurious and award-winning Junction Interactive Restaurant.
I loved watching the sunrise from the outdoor hot tub and swimming laps in the indoor pool before cozying up in my grand and large king bedroom with understated culinary-inspired decor. The grounds are immaculate and offer something for all types of travelers.
WHERE TO EAT AND DRINK IN VT:
JUNCTION INTERACTIVE RESTAURANT
Part of my job as a travel writer is dining in some of the country's best restaurants. So, as you can imagine, I'm often asked what my "favorite meal" or "best dining experience" has been. And one that always comes to mind is my dinner at Junction Interactive Restaurant at Essex Resort and Spa. During my last visit, I enjoyed my multiple-course, farm-to-table, artistic, and delicious meal at the chef's table. The service was immaculate, and the dishes were inventive without being pretentious. The vibe amongst diners was celebratory and fun, making for a truly memorable dining experience.
PART IV — CONTINUE TO MAINE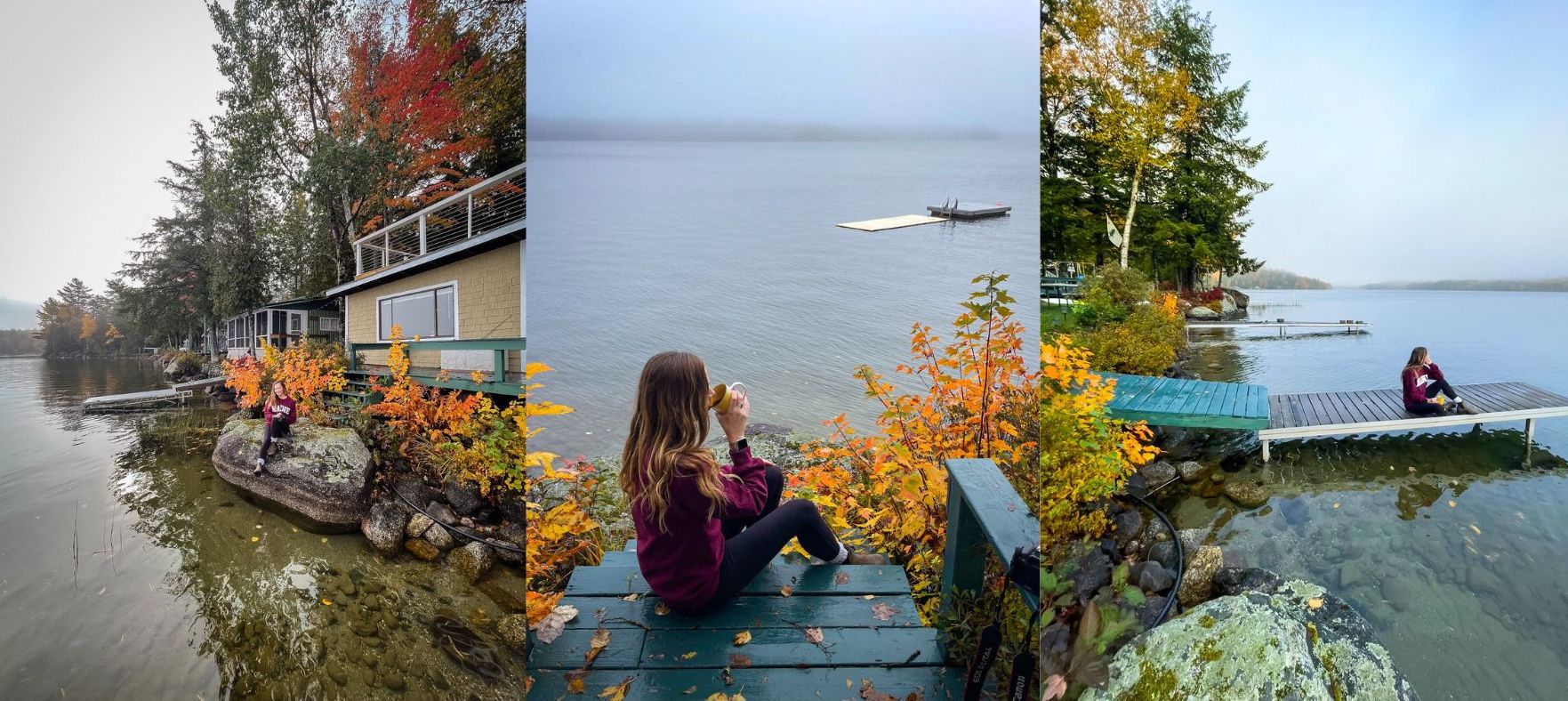 I talk about Maine so often that I'm regularly asked why I haven't just moved there already, but even for a Maine lover like myself, fall takes the cake. From the quieter coastlines to the vibrant foliage and mountainous landscape, it is a natural wonder I hope everyone gets to see at least once in their lifetime. Here is what to do while you're there.
WHAT TO DO IN ME:
ACADIA NATIONAL PARK
No fall anything list is complete without at least mentioning Acadia National Park. One of the rare National Parks that is known most for its fall season, you will have a hard time picking your jaw up off the floor after you enter the park. Drive to the summit of Cadillac Mountain for sunrise or sunset (with a timed entry permit), hike the Beehive Trail or Jordan Pond, or take a cruise on a rented bike through the carriage roads that feel like they came straight out of a film set. Bar Harbor, the gateway town, is just as quaint as you'd ever imagine a real live place could be, and the lobster rolls are still going strong into the fall.
If you're a daredevil, head to the highly exposed and rugged Precipice Trail, and if you want some solitude, drive to the Schoodic Peninsula.
KENNEBUNKPORT
As you head back down the coast from Acadia, I highly recommend stopping in Kennebunkport for a night or two. The coastal Maine village is surprisingly hip while keeping its roots as a quiet New England hamlet. The picturesque town is just sleepy enough to relax after a long road trip and enough activity to satisfy the most active visitor.
BEACHES
Call me crazy, but my favorite time to visit a beach is fall. With fewer crowds and the opportunity to wear some cozy knitwear – it somehow feels even more magical to post up in the sand in autumn than in the summer heat. So when I visit Kennebunkport, beach visits are at the top of my list. There are several in the area, but I'm partial to Goose Rocks and Kennebunk Beach in neighboring Kennebunk.
WHERE TO STAY IN ME:
YACHTSMAN HOTEL & MARINA CLUB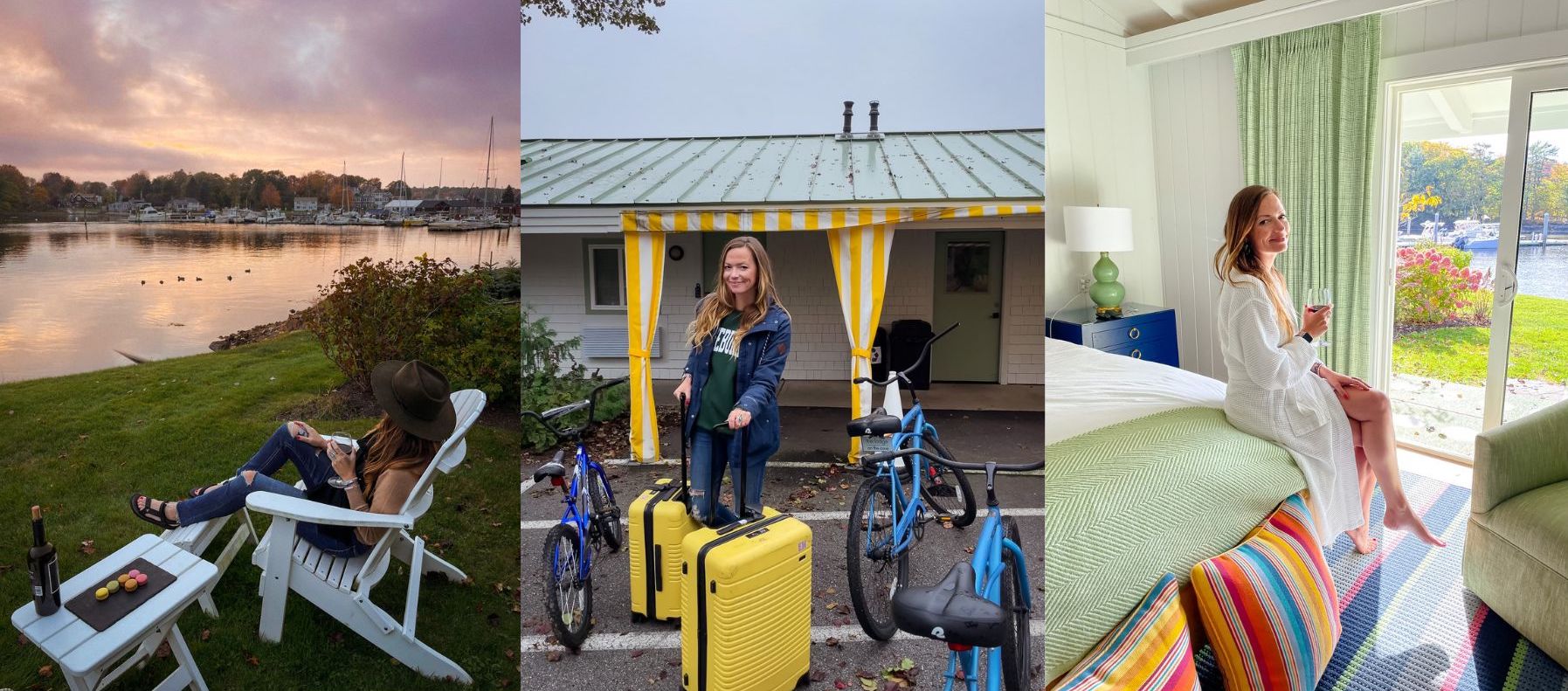 I've been fortunate to visit Kennebunkport several times. Although there are many incredible hotels, resorts, and bed and breakfasts, I keep returning to the Yachtsman Hotel & Marina Club. Now open year-round, with in-room fireplaces, vaulted ceilings, and private patios with stunning water views from each room – it feels fun while remaining astoundingly peaceful. The design is sleek and bright, with an incredible walkable location to town or next door to the marina where you can get out on the water.
WHERE TO EAT AND DRINK IN ME:
MABEL'S LOBSTER CLAW
If you visit Maine and don't eat a lobster roll, were you ever actually there? I indulge in plenty during my trips to the state, but none has ever topped the hot buttered lobster roll from Mabel's Lobster Claw. Slightly out of the downtown area but still entirely walkable, the seasonal restaurant has long been a Bush family favorite (their summer house is on the coast nearby), and I understand why. The atmosphere, service, food, and value were all exactly what I had hoped for.