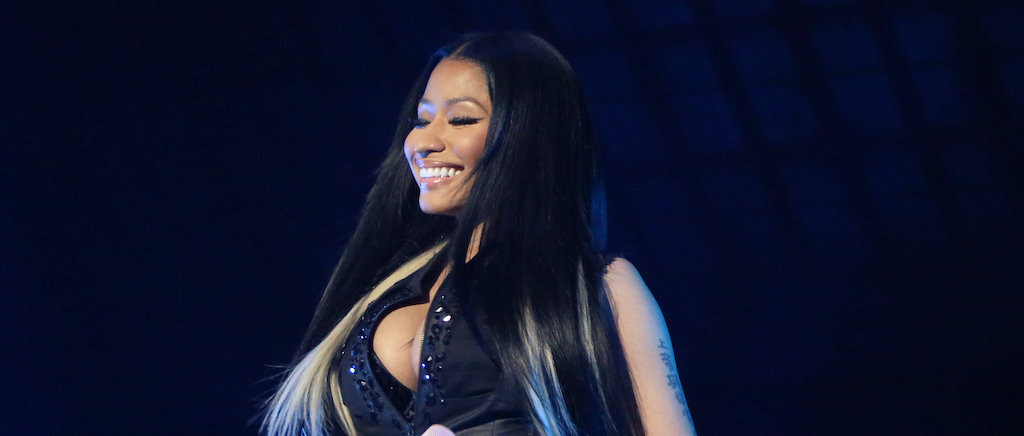 A month ago, Nicki Minaj revealed the Afrofuturistic cover for her upcoming album, Pink Friday 2, while also insinuating that another cover was on the way. With the album's release date now just over a month away, the Queen from Queens has shared the second cover for the album, revealing that this one will be a vinyl exclusive. On the cover, Nicki is draped in a diaphanous Barbie-pink gown which reveals her midriff and surrounded by a billowing satin sheet.
The rollout for Pink Friday 2 has clearly been planned to perfection, with Nicki carrying her momentum from appearing on the Barbie soundtrack with Ice Spice and rolling it into the debut of her reflective lead single, "Last Time I Saw You." From there, she revealed the cover for the album, then used her dual gigs as host and performer at the MTV VMAs to debut her new song, the release of which she later teased on social media.
It hasn't all been smooth sailing though. She initially planned to release PF2 earlier in the year but pushed it back to ensure the maximum amount of time to work on it. And lately, her husband appears to have gotten sucked into Nicki's long-simmering rivalry with Cardi B, threatening Cardi's husband Offset and earning himself a few months of house arrest. Given that her beef with Cardi partially derailed her last album rollout, you really hope she learns the lesson and sticks to great imagery, sharp lyrics, and catchy beats to sell this one, because there's more competition than ever and it looks like shes' on the right track.
Pink Friday 2 is due on 11/17.