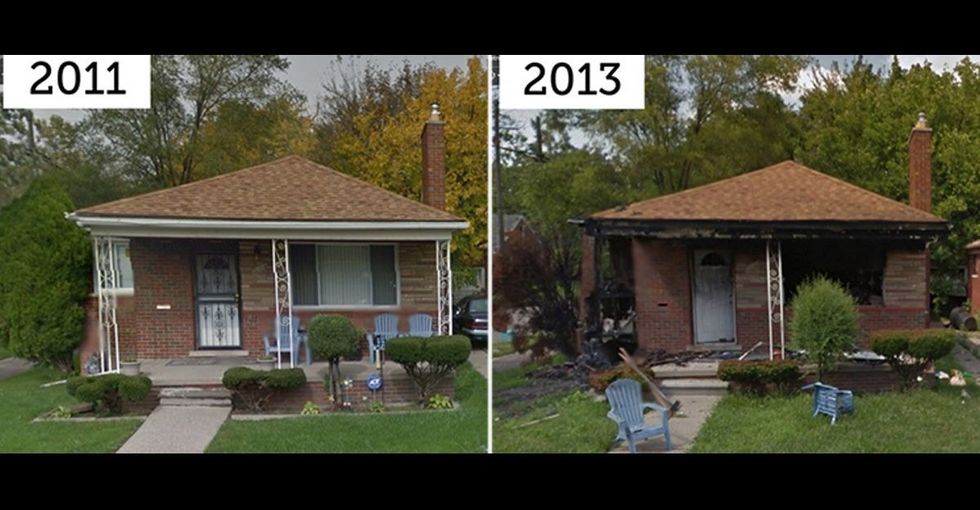 Yup. These images were taken only two years apart. And what you're seeing was not an accident.
When the economy crashed in 2008, it was because of shady financial practices like predatory lending and speculative investing, which is basically gambling, only the entire economy was at stake.
---
When the recession hit, it literally hit home for millions of people. And Detroit was right in the middle of it.
I spoke with Alex Alsup, who works with a Detroit-based tech company that's mapping the city's foreclosed homes to help city officials see the bigger picture and find solutions. He also runs the Tumblr GooBingDetroit, where he uses Google Street View's time machine to document the transformation of Detroit's neighborhoods over the last few years.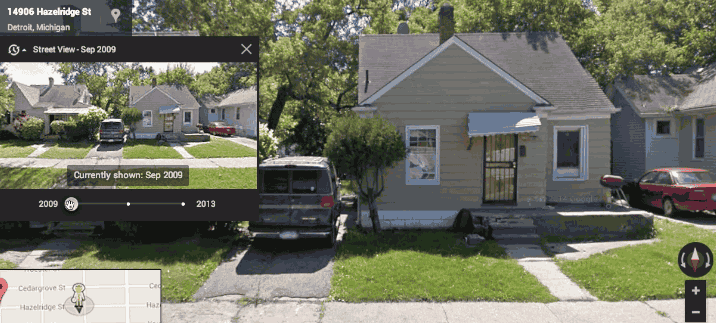 "There's a common sentiment that Detroit's looked the way it does for decades, but it's just not true," Alsup said.
It's astonishing to see how quickly so many homes went from seemingly delightful to wholly unlivable.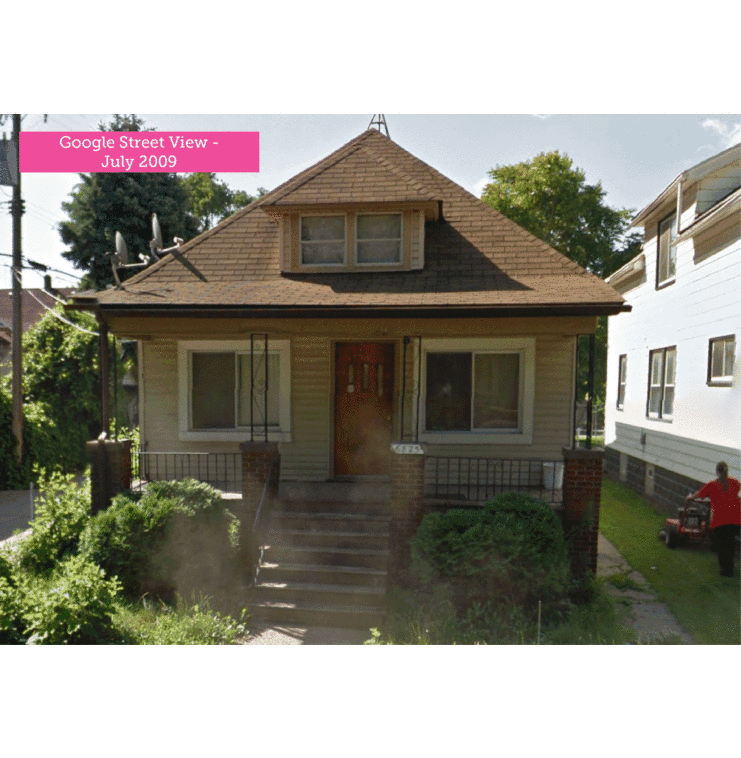 When the recession went into full force, home values took a nosedive. But the city expected homeowners to pay property taxes as if they hadn't.
Not only does the situation defy logic, but it's like a brass-knuckled face punch to the people the city is supposed to be looking out for. Alsup explains:
"You had houses — tens of thousands of them — that were worth only $20,000 or so, yet owed $4,000 a year in taxes, for which very few city services were delivered (e.g. police, fire, roads, schools). Who would pay that?"
Indeed.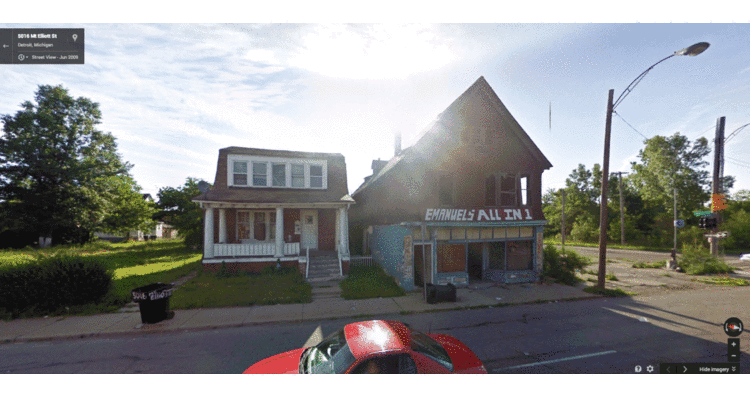 A local group calls what happened to Detroit a "hurricane without water."
And like a real hurricane, homeowners aren't the ones to blame. They're even calling for what is essentially a federal disaster response.
Here are the three strategies they want to see in action — and they can work for basically anywhere in the country that's struggling with a housing crisis.
1. Stop kicking people out of their homes.
They want the city to end foreclosures and evictions from owner-occupied homes. Many people aren't just losing their homes — they've lost jobs, pensions, and services because of budget cuts. Putting them on the street is like a kick in the teeth when they're down.
2. If a home is worth less on the market than what the homeowner owes on their loan, reduce what they owe.
Those are called underwater mortgages. Banks caused this mess, and governments ignored it. It's only fair that people's mortgages be adjusted based the current value of their home.
3. Sell repossessed homes at fair prices to people who actually want to live in them.
Selling to banks and investors only encourages what led to the financial crisis in the first place. Wouldn't it make more sense to sell to people who are going to live in them and have a genuine interest in rebuilding the community?
Housing is a human right. And an economy based on financial markets doesn't care about human rights. Maybe it's time for a new economy?
Click play below for a silent cruise down a once lovely residential block in Detroit.
This article originally appeared on 12.15.14