If it seems like your entire social media feed over the summer was just a stream of pics of your friends in Spain's Balearic Islands (think: partying in Ibiza or lounging sexily on Mallorca's beaches), then join the club. Both Ibitza and Mallorca are fully on the "Cool Kid of Instagram" summer travel circuit. Which is fun for many but also… kinda turned me off a tad. So when I heard about the lesser-known island of Menorca — often called "Mallorca's little sister" — I booked a flight straightaway.
Not only did I discover that Menorca lis indeed ess crowded than Mallorca, but I also found my new favorite hotel on earth. Villa le Blanc by Gran Meliá has that "it" factor. It's new(ish), sexy, eco-conscious, and gives an overall sense of Mediterranean laidback luxury without ever trying too hard. It also delivers a sense of place, from the scenery, F&B curated by a local chef, and one of the most comfortable beds I've ever jumped into.
Let's get down to the details…
WHY IT'S AWESOME:
Well, first of all….look at this place:
From the moment I walked in, the cool design and architecture caught my attention. But when I learned that they sourced all of the hotel's artwork, sculptures, and even furniture, from local artisans to drive support to the island's businesses, I knew I'd just walked into someplace special. The hotel opened last summer as the island's first energy-efficient carbon-neutral luxury hotel, with sustainability efforts and tributes to Menorcan food and design.
Spanish architect Álvaro Sans transformed this hotel to reflect traditional Menorcan architecture including sea-facing terraces, tons of natural light (perfect for snapping those Insta-worthy pics), and materials like stone, wood, and clay with a predominately white and blue color scheme. One of the coolest aspects was that the common areas throughout the resort are designed to achieve a seamless blend of outdoor and indoor spaces. Also, the hotel's gardens are planted with olive, cypress, lemon, and pomegranate trees, among other local plants.
If you're anything like me and always seek some sort of wellness experience while on vacation (because, #selfcare), the spa can't be missed. Treatments feature all-natural, vegan products that combine essential oils, trace elements, and naturally active and biotechnological ingredients that are all carefully selected for their high quality and sustainability. Guests can use the spa's hydrothermal circuit consisting of a swimming pool, Jacuzzi, sauna, and hammam.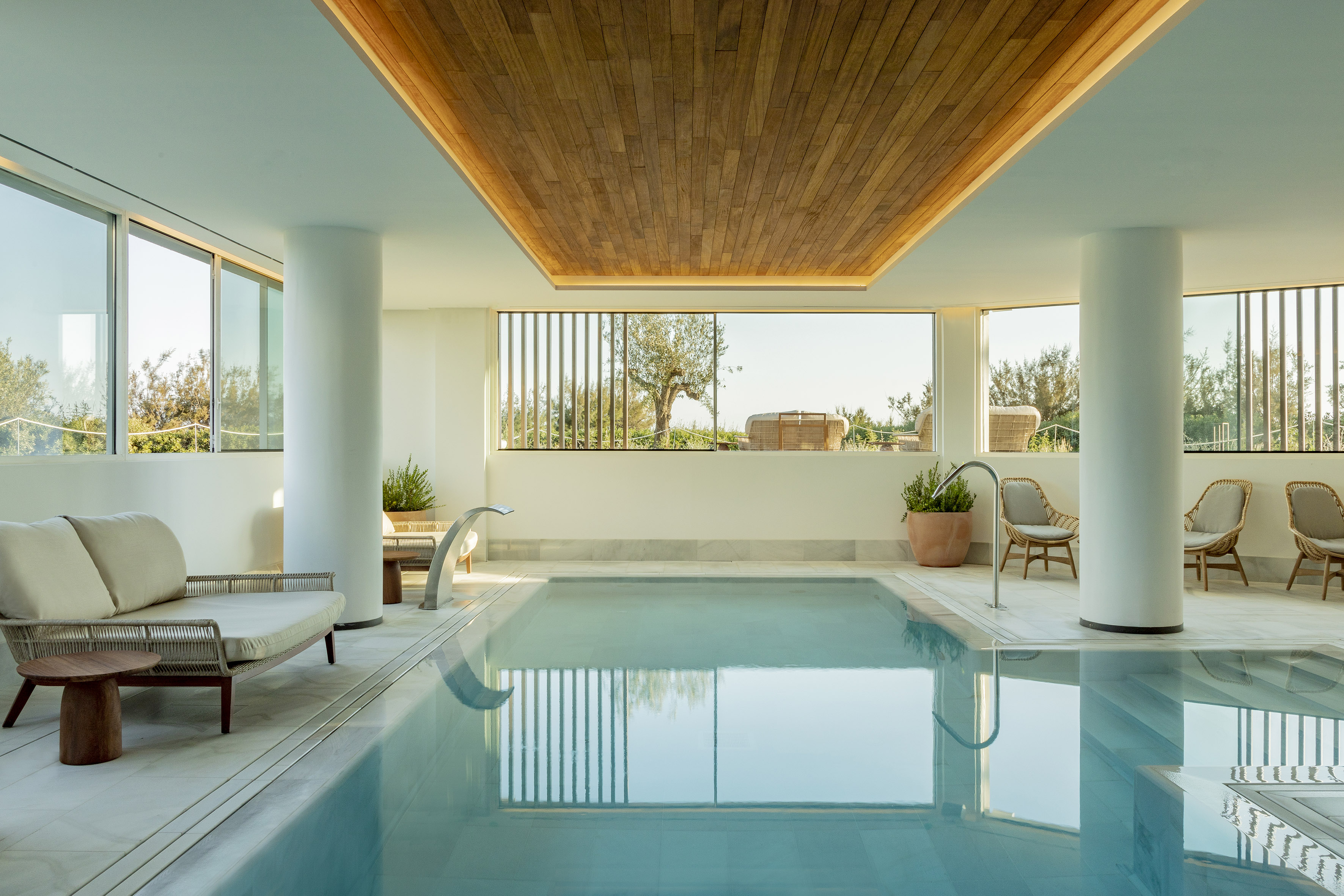 IN-HOUSE FOOD & DRINK: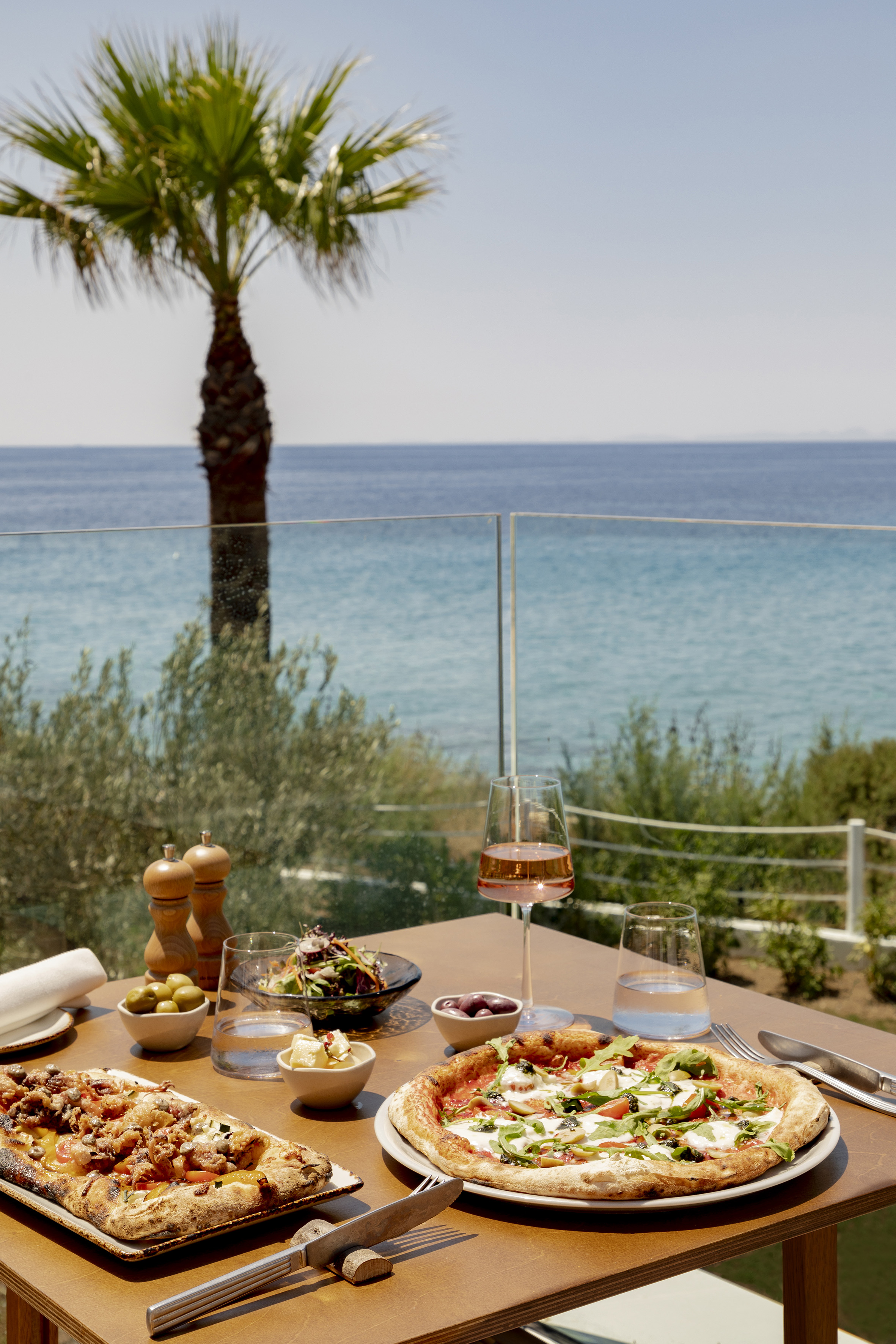 From my pool-side cabana lunches (my must-try picks: oysters and the spicy tuna roll) to golden hour cocktails and dinner, every single bite and sip here excited me. The hotel's dining pays homage to local products, with each restaurant using the fresh ingredients from the island's various farms. Located on the first-floor terrace overlooking the sea, Villa Le Blanc is home to the newest location of S'Amarador — widely recognized as one of the top seafood restaurants on the island. The restaurant works with top fishermen and farmers to source the ingredients for its delicious rice dishes and seafood bisques, with a particular focus on one of the culinary highlights of the Balearic Sea: the local red lobster. The restaurant preserves and adapts all the traditions of the ancient fishermen's taverns that used to be located throughout the port area. My menu recs: the Menorcan lobster stew, monkfish, and the margarita cocktail.
Along with S'Amarador, the restaurateur Joan Canals brings his Menorcan cuisine expertise to Cru, which combines fresh fish, shellfish, vegetables, and olive oils for super contemporary techniques and presentation. Ceviche, sushi, oysters, and the famous Mahón cheeses are all highlights. Cru is also the more social gathering spot to grab cocktails, meet other guests, and watch the sunset.
View this post on Instagram
Lastly, Nivi is the hotel's all-day restaurant, which offers grilled dishes, rice specialties, international-inspired menus, and dare I say, an extensive wine list. It's also the go-to spot for its breakfast buffet. However, as a self-proclaimed "room service snob," I opted for a breakfast room service. It was well worth it.
AMENITIES:
Direct beach access

Indoor and outdoor pools

Rooftop with an adults-only pool

Boutique store

24-hour gym

Room service

Pet friendly

Kids club and babysitting services

Bathrobes

Spa with sauna and hammam

Free WiFi
ROOM TYPES:
All 159 guestrooms (45 of those being suites) are designed with balconies and either city or sea views. I stayed in a junior sea-view suite, which has its own private roof terrace and offers direct access to the hotel's adults-only rooftop pool via an outdoor spiral staircase. It felt like a true wellness oasis of my own. The room amenities range from pools to terrace jacuzzi tubs, along with TVs, coffee makers, a mini-bar and in-room snacks, luxury bathroom products, and a comfy bathrobe.
THE BEST THING TO DO WITHIN A 15-MINUTE WALK:
View this post on Instagram
The hotel itself is located on Santo Tomás Beach, so it's an ideal spot to go for a walk along the coastline, snorkel, or take part in watersports, if that's your thing. There's also a running trail carved out along the beach making it easy to go for a morning run or sunset walk with the most amazing scenery.
THE BEST THING TO DO/EAT/DRINK WITHIN A $20 CAB RIDE:
View this post on Instagram
A "cala" is a small bay or cove in the coastline of the sea. Cala Mitjana is the closest one to the hotel, around a 20-minute drive that's definitely under $20, and ended up being a top highlight of my trip. It was pure natural beauty, with bright turquoise waters and cliffs.
The charming historic center of Ciutadella de Menorca is small but very beautiful, and while it may be a longer journey (30-minute car ride), it's a must-visit while on the island. The narrow streets of the old town are pedestrianized and lined with charming shops, bars, and restaurants. Wandering those medieval-looking streets was the exact moment I fell in love with Menorca. The main square, Plaça des Born, is home to the Gothic-style City Hall and the 19th-century palaces of Salort and Torre-Saura. The 14th-century Santa Maria of Ciutadella Cathedral features a huge marble altar and the baroque-style Chapel of Souls. You can make it a day trip to spend a few hours there or go later in the day to spend dinner there.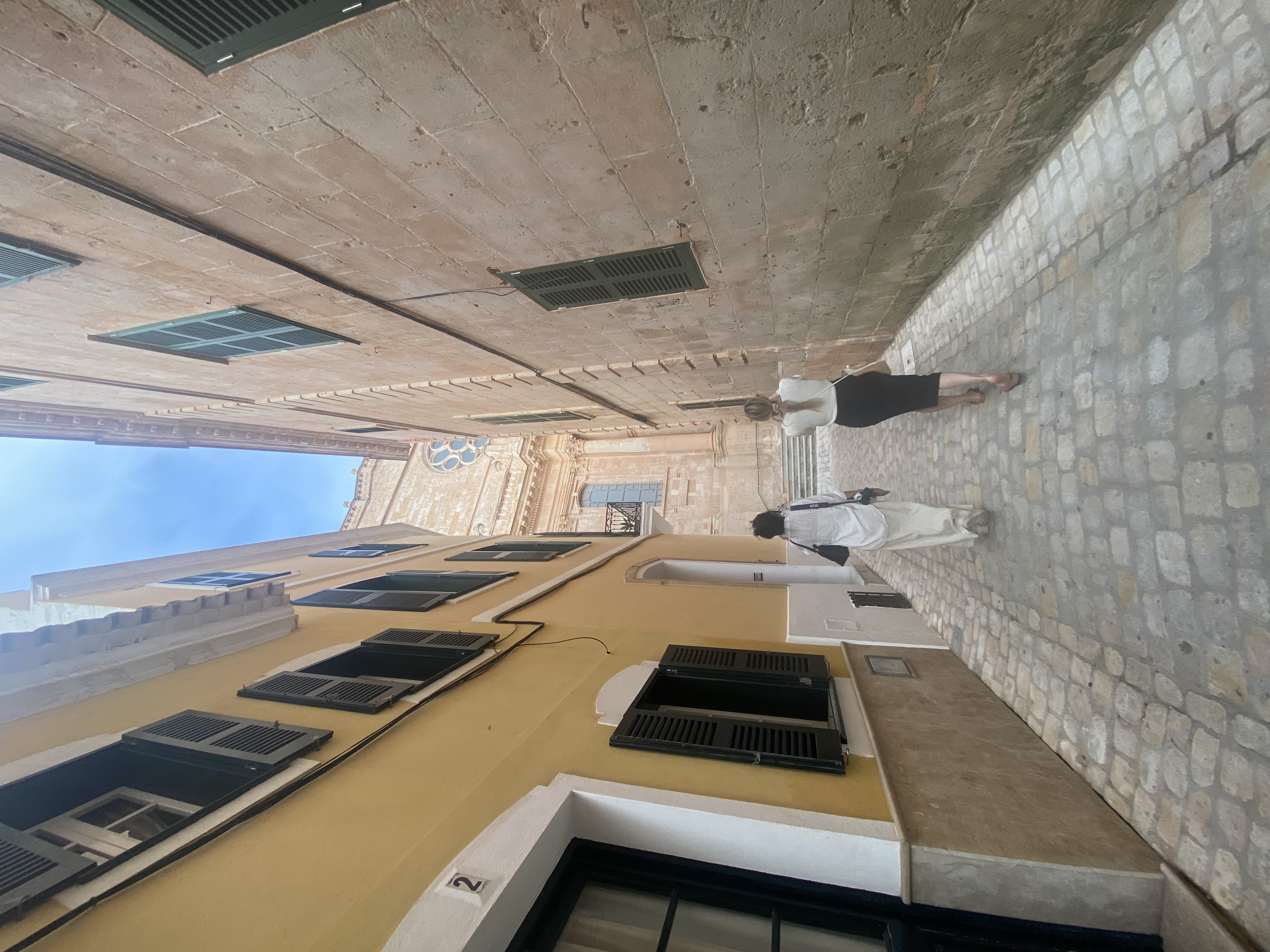 I had dinner in Ciutadella at the restaurant Ulisses, led by chef Joan Canals who curates the restaurants at Villa Le Blanc. What makes it cool? Joan Canals started making cocktails self-taught from a very young age. Over time, he trained in classic mixology and molecular mixology and is now award-winning. His passion and training were evident because each dish was not only delicious but really made you think, engaging all senses beyond taste and texture.
BED GAME: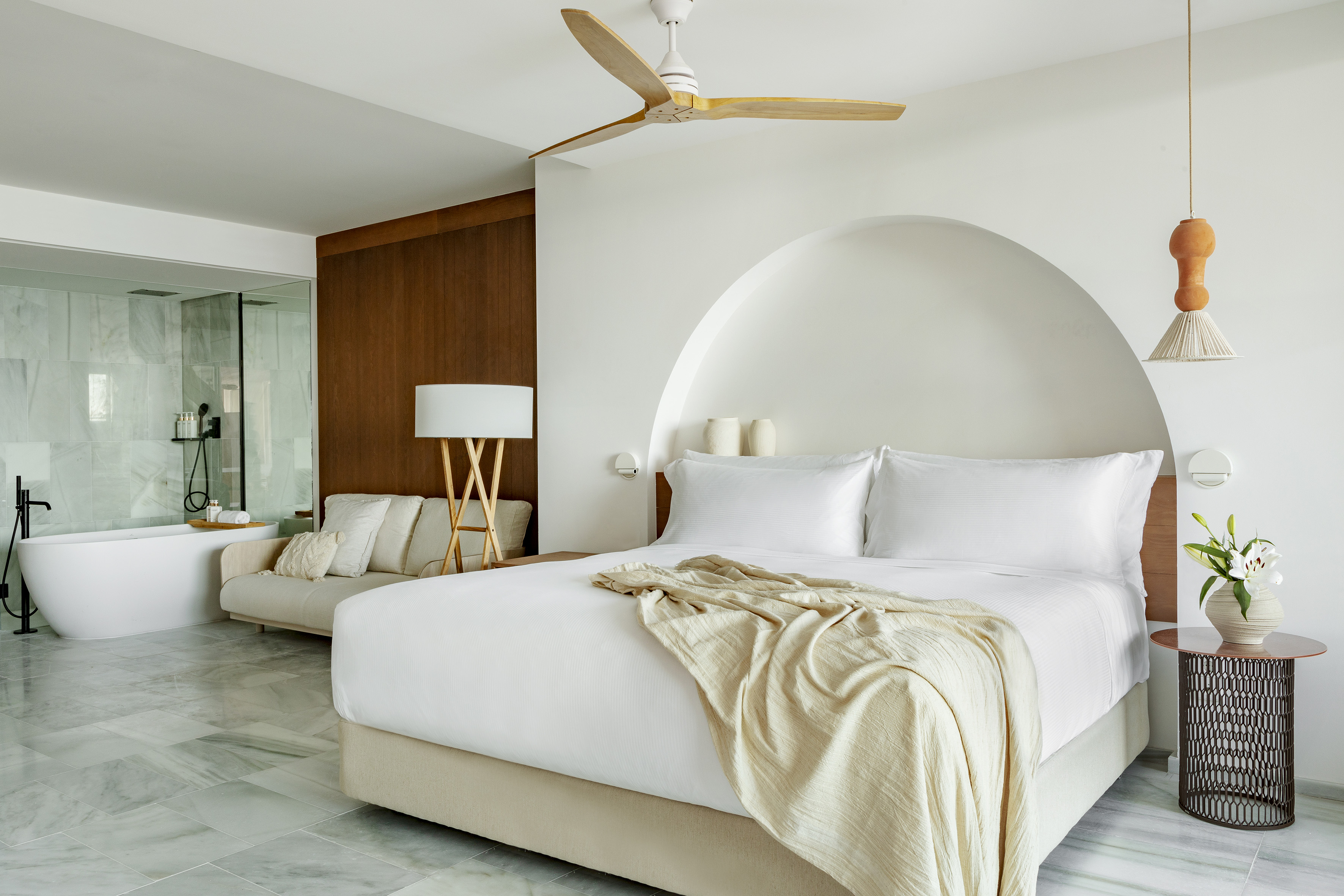 As a travel writer, I've visited many hotels in my lifetime, but this king bed has risen to the #1 spot. The fluffy yet lightweight comforter, ceiling fan above, and perfect pillows, had me excited to get back into my room any chance I got. If I could transport any hotel bed into my apartment, this would be my vote.

Rating: 10/10
SEXINESS RATING:
The rooftop access, cocktail bar, design, rooms, and overall vibe would be a 10/10. The only aspect that calls for minus one point on the sexiness scale is that it's kid-friendly. Add to that a few crying babies by the main pool and you hit eight on the meter.
Rating: 8/10
VIEWS & THE PHOTO OPPS:
View this post on Instagram
It's hard to capture a bad picture here. The rooms and outdoor spaces have unobstructed views of the Mediterranean Sea. That, plus the Instagrammability of the hotel itself, make this a dream photo opp. I recommend walking through the hotel lobby right before sunset for interior pictures and snapping pool or rooftop balcony pictures during the day.
Rating: 9/10
BEST SEASON TO VISIT:
Anytime from May to October is the best time to visit. I was here in mid-May, right before the summer busy season began. It was the perfect time if you want less crowds and warm, but not too warm, weather.
IF I HAD TO COMPLAIN ABOUT ONE THING:
The service was top-notch, the food was mouth-watering, and I never felt more relaxed. One drawback is that the downstairs lobby bar closes at 11 p.m., which can be early for the younger crowd who still wants to socialize and mingle over drinks past that time. However, if you are a partier, you can head into town after 11 p.m. While Menorca doesn't get rowdy, there are tons of bars and clubs, some even with live music.
For a night of indie, soft rock, or acoustics – possibly some jazz, head on over to Es Claustre. Other local nightlife experiences can be found at JAZZBAH and Pura Vida Pub Menorca.
BOOK IT:
Rates start at around $800 per night for guest rooms and $1,200 per night for suites.
INSTAGRAM IMAGES TAKEN AT VILLA LE BLANC
View this post on Instagram
View this post on Instagram
View this post on Instagram
View this post on Instagram
View this post on Instagram