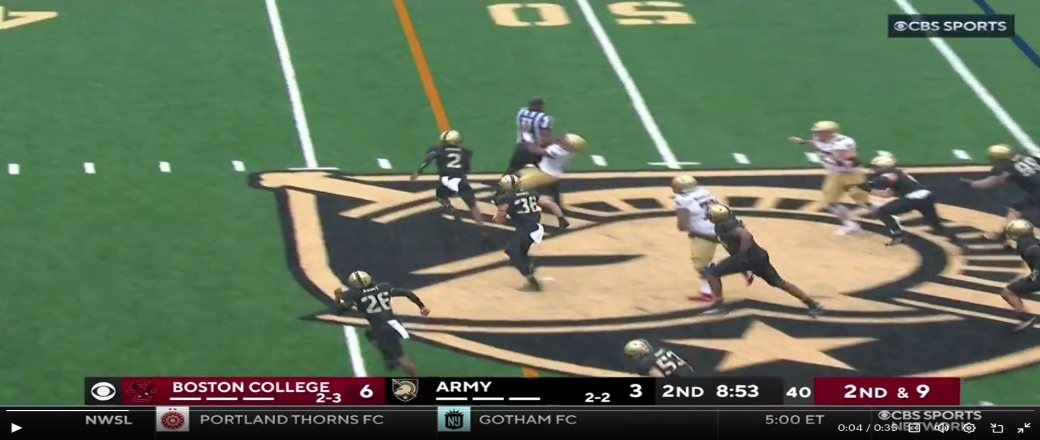 Boston College has had a hard enough time winning football games without the referees playing for the opponent.
But that's exactly what ACC umpire Mark Wilson did when he unintentionally tackled BC quarterback Thomas Castellanos on Saturday.
The Eagles were in Annapolis to play Army out of conference. Boston College trailed most of the way before coming back to win, 27-24.
In the second quarter, Castellanos had a designed run on second-and-9 and it looked like he was headed straight towards the first-down marker. But Castellanos ran straight into the beefy shoulder and forearm of Wilson instead.
REF WITH THE HIT STICK pic.twitter.com/hRNupIRbTH

— CBS Sports College Football (@CBSSportsCFB) October 7, 2023
"He gets credit for the tackle. Put him in the box score," CBS Sports' play-by-play announcer Charles Lewis quipped after the play.
Castellanos bounced right back up after the hit, though it did seem to (understandably!) surprise him. Wilson, meanwhile, smiled sheepishly after the play and got right back to work.
Castellanos went on to lead Boston College in rushing with 142 yards on 31 carries and four touchdowns, including the game-winner he ran in with 25 seconds to go. The Eagles' defense played well, as the normally-beleaguered unit held Army to just 161 rushing yards.
There is word on whether or not BC coach Jeff Hafley has inquired about Wilson's eligibility.