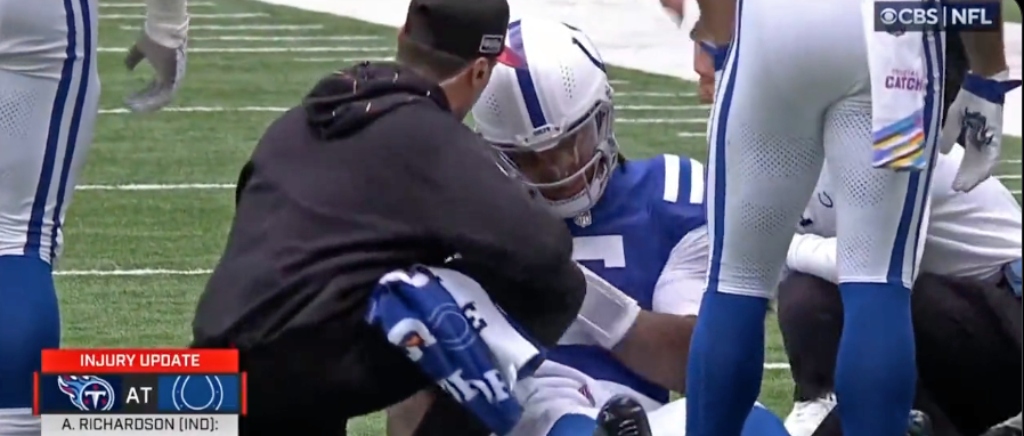 Colts rookie quarterback Anthony Richardson has impressed to start his NFL career, as the first round pick out of Florida has shown why his athleticism and arm talent made him such an intriguing prospect.
Unfortunately, Richardson's running ability has led to him taking some big hits as well, already missing a week earlier this season with a concussion. On Sunday, Richardson scrambled to his right against the Titans and got driven into the ground on his throwing shoulder, immediately tapping at his shoulder/collarbone area while on the ground as the trainers came out to check on him.
Richardson would leave for the injury tent to get evaluated further and backup quarterback Gardner Minshew would enter the game for him. Hopefully the injury is not something as severe as a collarbone and is more in line with the AC joint sprain that Derek Carr suffered recently but was able to come back quickly and play through against the Patriots this week. We'll have to wait for an official diagnosis and further testing to know what it is, but for a Colts team that was playing well with its dynamic rookie QB, it's an unfortunate sight seeing him have to leave with the training staff for the second time in five weeks.
The initial report was he was questionable to return with a right shoulder injury, which hopefully means it is not a collarbone issue.
#Colts QB Anthony Richardson is questionable to return with a right shoulder injury.

— Mike Garafolo (@MikeGarafolo) October 8, 2023