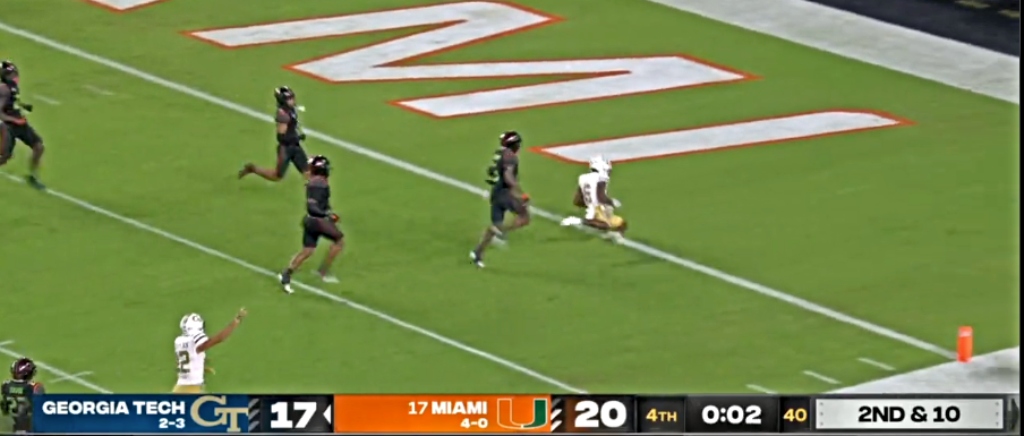 It is only Week 6 of the college football season, but we can officially hand Mario Cristobal the award for worst coaching decision of the year.
After a sloppy performance against Georgia Tech coming off of a bye week, the Hurricanes looked like they were going to escape with a 20-17 win after getting a first down with under two minutes to play and the Yellow Jackets having just one timeout. In fact, the math worked out to where all Miami needed to do was snap it inside 5 on the play clock on third down and take a knee to win the game. Instead, they ran a play — with Tim Hasselbeck rightfully losing his mind on the ACC Network call — handing it off to Donald Chaney Jr., who got held up and had the ball ripped out of his hands for a fumble.
The ruling on the field stood after review, as it wasn't clear and irrefutable that the ball was not moving when his elbow hit the ground.
Miami was in position to win with 0:30 seconds remaining, only needing to kneel down the ball

They instead run the ball, fumble, Georgia Tech drives down the field for the win

Unreal

— PFF College (@PFF_College) October 8, 2023
That meant Georgia Tech got the football with under 30 seconds to play and no timeouts, needing a field goal to tie or a TD to win. Given the Yellow Jackets hadn't moved it well offensively all game, there were low expectations for the drive, but Haynes King found two big pass plays to pull off a truly stunning upset. The first was a lofted pass over a DB to get Miami across midfield, and the second was on a rollout near midfield where he was able to catch Miami's defense off guard in the scramble drill, with Christian Leary leaking out behind the defense for a touchdown with two seconds to play.
MIAMI COULD HAVE KNEELED THE GAME OUT

THEY INEXPLICABLY HANDED THE BALL OFF AND FUMBLED

THEN THIS HAPPENED AS TIME EXPIRED
pic.twitter.com/Z9nseuaJ2w

— RedditCFB (@RedditCFB) October 8, 2023
It was a truly unbelievable finish to the game and Cristobal will get rightfully torched, because this was impossible game to lose once they got to that third down and they managed to do it. Not only did the offense cough up a (questionable, for sure) fumble, but the defense then allowed two big passes to a team that couldn't move it through the air all night, including a busted coverage in a scramble drill for the game-winning touchdown. Just watch all three plays in succession and tell me it doesn't hurt your brain.
All credit to Georgia Tech for taking advantage of the opportunities Miami gave them all night with turnovers, and they deserve plenty of praise for how they fought to pull off this win. That said, the story of the night is Cristobal and the Canes, who lost their undefeated season in the most unimaginable way possible.