Last November, around the rather elaborately fabricated rollout for Drake and 21 Savage's joint Her Loss album, the two rappers shared a spoof interview with Howard Stern that turned out to have some degree of truth buried within it.
In one of the clips, Drake said to 21, "You know a lot of people are like, 'You're the pride of London.' That's why that London O2 night has to happen. That's some real homecoming sh*t. I'm excited for that." Well, over the weekend, 21 Savage confirmed he has finally been cleared to travel internationally after a years-long limbo in his immigration status, and the London-born, Atlanta-based artist will stage his inaugural hometown show at London's The O2 on Thursday, November 30.
"Now a permanent US resident and free to travel internationally, 21 Savage made a triumphant first international performance on Saturday evening [October 7] in Toronto, joining Drake on stage at his highly anticipated It's All A Blur Tour stop giving fans a taste of what's to come overseas in the UK next month," a press release relayed.
The pre-sale begins Wednesday, October 11, at 9 a.m. local time, followed by a general sale on Friday, October 13, at 9 a.m. local time, per Live Nation.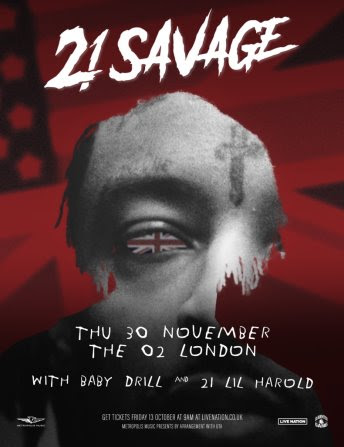 While the billed supporting artists are 21 Lil Harold and Baby Drill, Drake will likely fulfill his own prophecy and make an appearance. 21 Savage posted an Instagram Reel soundtracked by Skylar Grey's "Coming Home," the hook of which is "I'm coming home," and Drake commented, "*we're."
Last week, Drake tipped everyone off that 21 Savage had finally earned permanent US residential status in his For All The Dogs single, "8AM In Charlotte." In it, Drake raps, "Savage got a green card straight out of the consulate / Where I go, you go, brother, we Yugoslavian."
In February 2019, 21 Savage was arrested by Immigration And Customs Enforcement (ICE) in Atlanta, citing "he is unlawfully present in the US and also a convicted felon." It was the first public disclosure that 21 had been born in London. The ICE deportation case stemmed from vacated felony drug charges and an expired visa.
In September 2021, 21 Savage surrendered to Atlanta police and was immediately released on bond. His arduous court battle for permanent US residency included a motion to suppress 2019 arrest evidence, delays in his case, and help from Meek Mill.