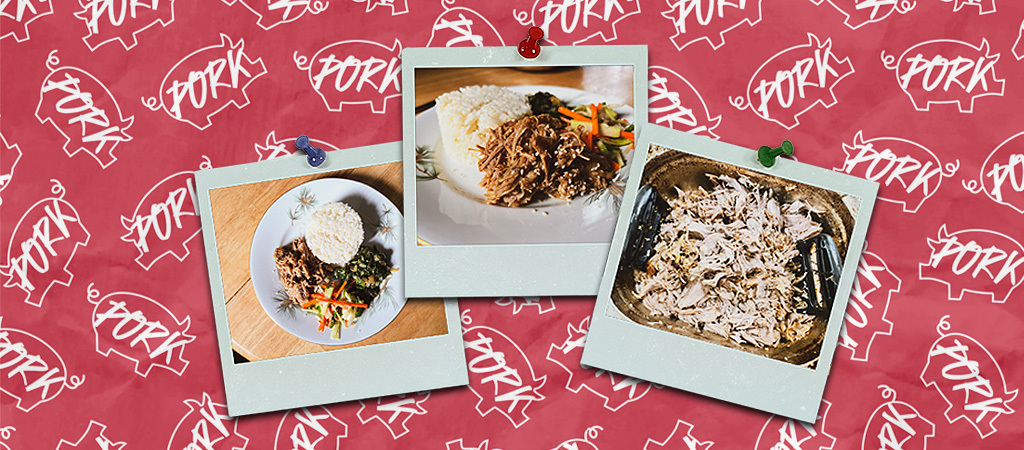 Pulled pork is the gift that keeps on giving. Making pulled pork at home is the ultimate low-and-slow set-it-and-forget-it dish that usually yields enough food for a party or enough to fill lunchboxes for a week. The beauty of pulled pork is that you can go any direction with the flavoring. Oaxacan earthy spice? Go for it. Hawaiian pineapple and umami? Yes, please. Beer-soaked with roasting herbs a la a Bavarian beer garden? Sign me up! Low and slow teriyaki? Yup!
To that end, I'm going to give you an example of how I make pulled pork at home (in a standard oven) with an East Asian vibe that speaks to those communities in the Pacific Northwest of the United States (where I grew up). The most important part of my recipe below is to make it your own. This is how I like to make this when I do it based on years of traveling, eating, and learning. Find your own balance of flavors from your culinary past and adjust it accordingly.
Before we dive in, I can't overstate how easy this is to make. It's really time-consuming for about 30 to 45 minutes total. The rest of the time is all non-contact cooking. If you have a good roasting pan, some foil, and a decent oven, you're set. The best part is that once the meat really starts cooking, it'll fill your home with amazing smells for hours. You can't beat that!
Check Out These Other Recipes From Flavored For You:
East Asian Slow-Roasted Pork Shoulder
Ingredients:
4-5 lb. bone-in pork shoulder
1/2 bottle teriyaki sauce (good stuff with plenty of garlic and sesame seeds like Kikkoman Takumi Teriyaki)
2 tbsp. five-spice
1 poblano pepper
2 green onion
1 orange
1 cup pineapple juice
You should be able to find a bone-in pork shoulder (or pork butt) in any grocery store. The Kroger in my town often has them on sale as well, meaning that this piece cost me about $15 before tax. That's an amazing deal that feeds a family of four for multiple days. Of course, you can spend a lot more by going straight to a farmer's market butcher and getting higher-end breeds of pig for this cut.
Support local farmers — we love it! But expect to pay above $50 for the same cut.
The rest are very straightforward ingredients that you can get from any supermarket. The one variable here is the five-spice. I like to use a "whole" five-spice mix instead of the ground powder stuff (star anise, clove, cinnamon, Sichuan pepper, and fennel). The main reason is that this is a braising recipe and those full woody spice barks and buds tend to work better in that setting. But you do whatever is easiest for you.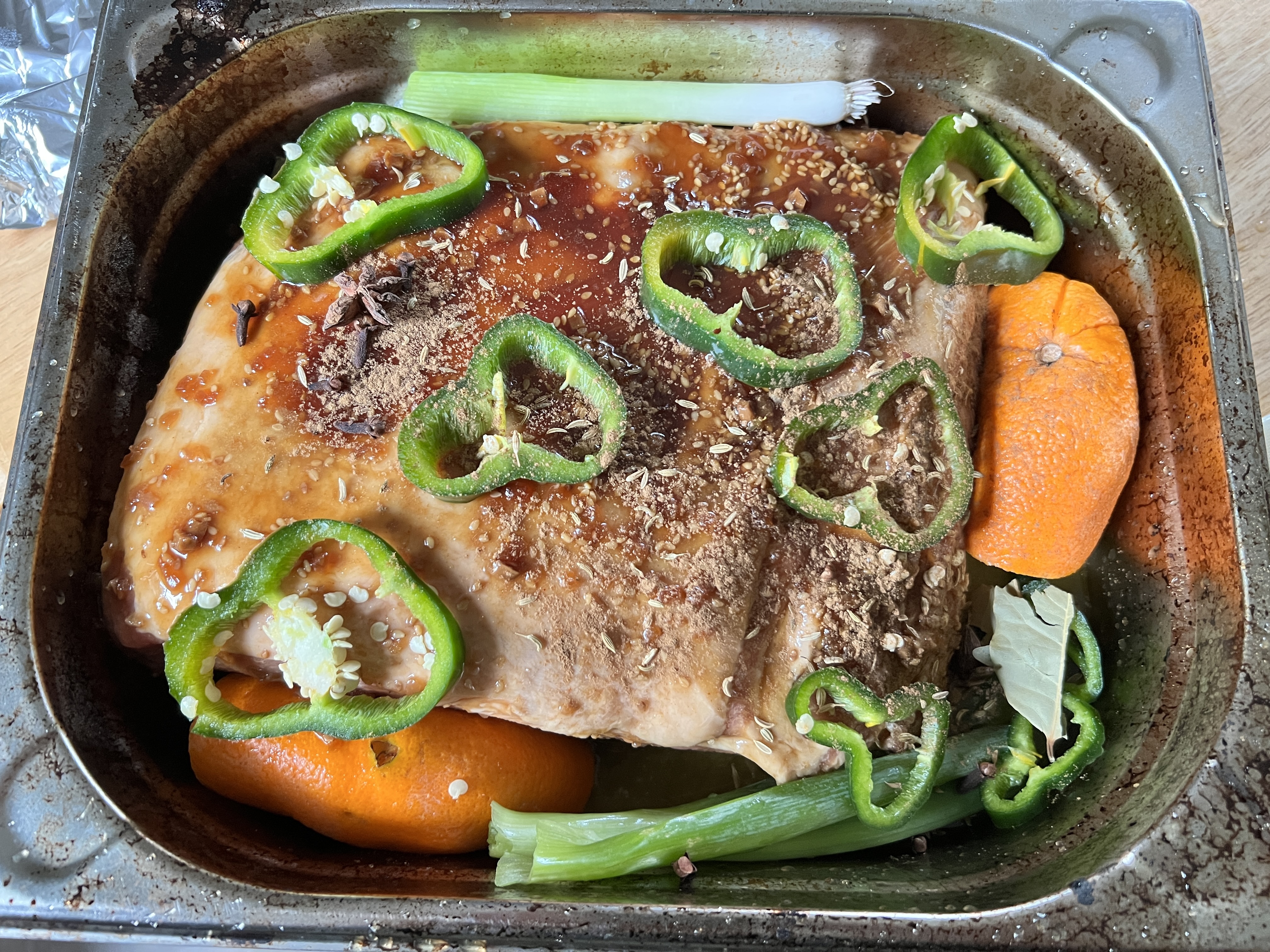 What You'll Need:
Roasting tray or pan (14x10x5 inches)
Foil
Knife
Cutting board
Method:
Place the pork shoulder into the roasting pan and cover with half the bottle of teriyaki sauce. Let rest overnight in the fridge (covered in foil).
The next morning, remove the roasting pan from the fridge for at least 2 hours before you plan to roast it.
In the meantime, preheat the oven to 325F for at least an hour to get a good solid heat in there. At the same time, very roughly chop the pepper, onion, and orange into halves.
Squeeze the oranges over the pork shoulder and drop in the halves. Add the five-spice, onions, and pepper with the pineapple juice to the bottom of the roasting pan.
Recover the pan in foil and place it in the center of the oven.
Roast for 4 hours without opening the oven. Check internal temp (it should be around 160). Raise the oven to 350 and cook for another 2 hours (or so). I left my thermometer in the meat from this point on and just wrapped the foil around the end of the cable that led out of the oven to the receiver. If you don't have an in-oven thermometer, it's okay. Just check the temp every hour or so.
Once the internal temp reaches 205F, it's done.
Remove the pork shoulder from the pan temporarily so that you can strain the juices into a waiting pot. Put the pork shoulder back in the roasting pan, cover with foil, and then set aside to rest for at least 30 minutes.
In the meantime, make a sauce with the pan juices by reducing the juices on the stovetop by about 1/2 the volume using a rolling boil (and stirring occasionally).
Once rested, pull the bone out of the pork shoulder and continue to shred the pork in the pan.
Pour the reduced pan sauce over the meat, mix a few times, and serve over rice with a green side (like a jalapeno slaw or steamed bok choi or both!).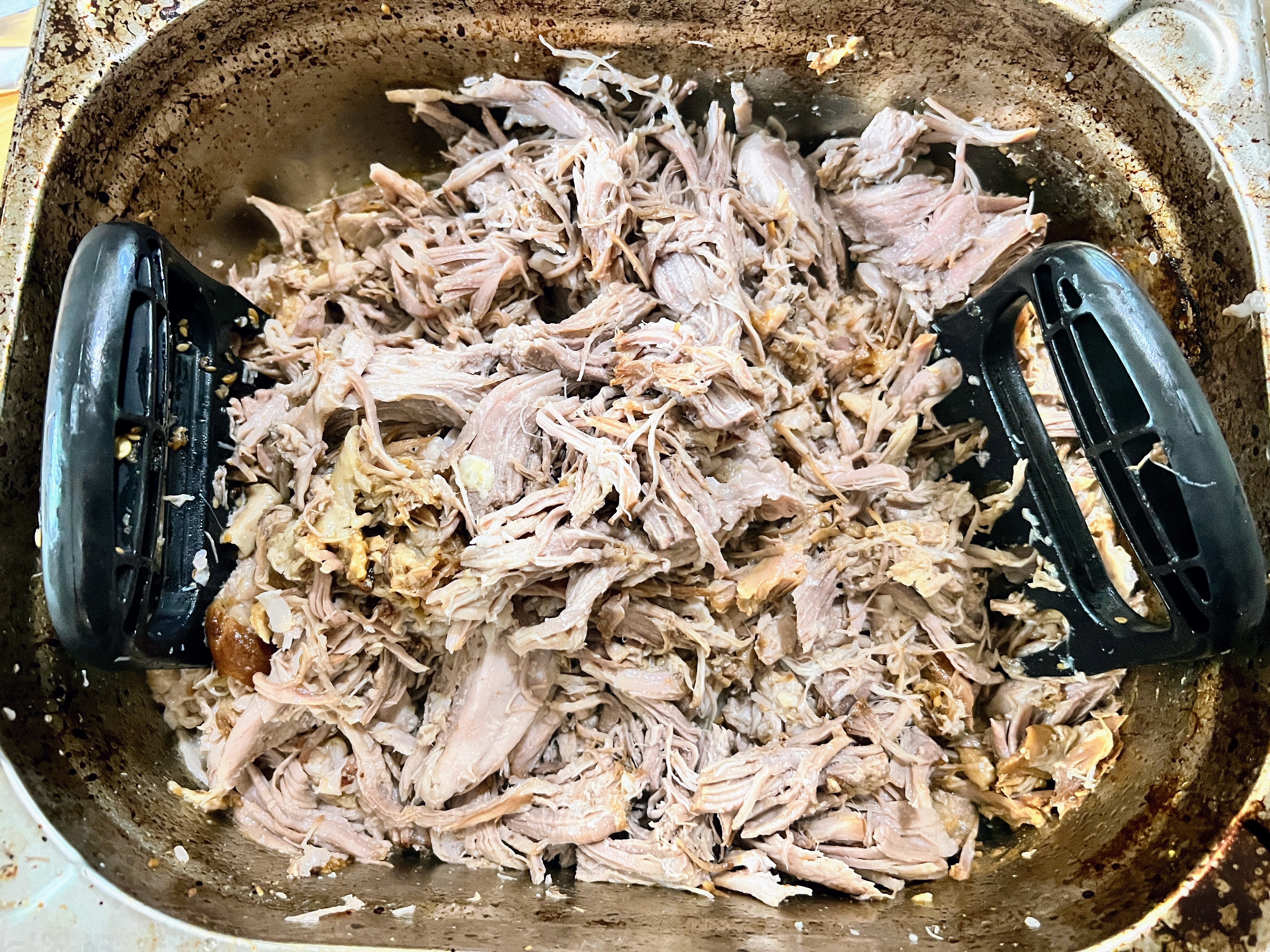 Bottom Line on the Slow-Roasted Pork Shoulder:
You'll know this is going to be awesome when you take it out of the oven and it's all jiggly. This was so soft, moist, delicious, unctuous, delightful… The sweetness and sharpness of the teriyaki marinade made its way through the fat and lean beautifully. There was a nice five-spice vibe to the whole thing, especially after I poured the reduced pan juices back over the meat. It was just delightfully sweet and umami-forward with a nice hint of warming spice.
I served this with a carrot, broccoli stem, and bok choi stem slaw with jalapeno and green onion mixed with fish sauce, soy sauce, rice vinegar, chili oil, and mirin that slapped. The crunch of the slaw with the softness of the pork was magical.
I made myself some small rice bowls for lunches this week (after feeding four people on Sunday) and still have some pulled pork left over. I'm going to make some kimchi fried rice with it tonight, I think. And maybe throw the last of it in some ramen another night this week. That's a lot of meals for a great price and little effort all things considered. That's especially true given how flavorful this pork is.