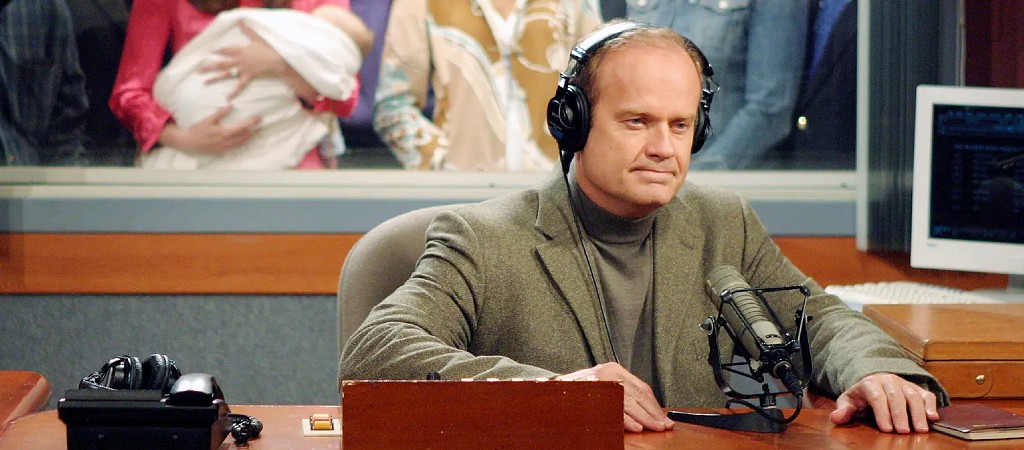 With the Frasier revival set to arrive on Paramount+ this week, here's a refresher on what happened during the series finale for the beloved classic that ran on NBC from 1993 to 2004.
In the final episode, "Goodnight, Seattle," Frasier is in a pivotal moment in his life. His brother Niles (David Hyde Pierce) and Daphne (Jane Leeves) are getting married and welcoming a son. Meanwhile, his father Martin (the late John Mahoney) is moving out of the apartment he's shared with Frasier and finally getting some peace and quiet. To top it all off, Frasier's girlfriend, Charlotte (Laura Linney), has left for Chicago, leaving the radio host feeling alone as everyone else's lives are moving on.
In a momentous decision, Frasier gathers everyone for dinner and reveals that he's moving to San Francisco to take a television job he had previously rejected because he was happy in Seattle. After reciting, Alfred Lord Tennyson's poem "Ulysses," Frasier bids his friends and family goodbye and boards a flight. However, the radio host does not go to San Francisco. In a surprise twist, he lands in Chicago to be with Charlotte ending the series on a romantic note.
Of course, that brings us to the new revival series, and obviously, things did not go well in Chicago. Frasier has returned to Boston where he was first introduced as part of the cast of Cheers. Niles and Daphne aren't along for the ride, or anyone from Frasier's old life in Seattle. Unfortunately, his ex-wife, Lilith (Bebe Neuwrith), is slated to make an appearance, which Frasier is sure to love.
Here is the official synopsis for the new series:
Same Frasier. New skyline. The new series follows Dr. Frasier Crane (Kelsey Grammer) in the next chapter of his life as he returns to Boston with new challenges to face, new relationships to forge, and an old dream or two to finally fulfill. Fraiser has re-entered the building!
The Frasier revival premieres October 12 on Paramount+.