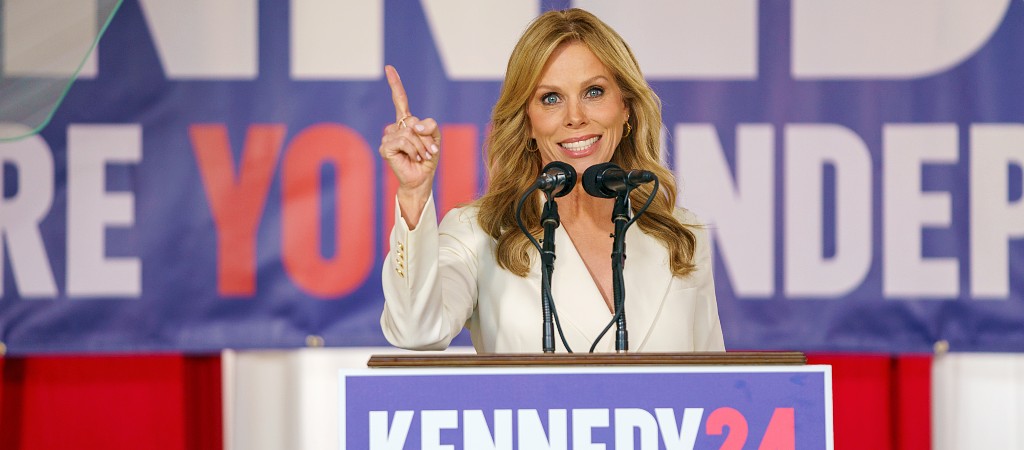 After failing to connect with Democratic voters despite his family name (hold onto that thought), Robert F. Kennedy Jr. has officially announced he's running for president as an independent candidate. His wife, Curb Your Enthusiasm star Cheryl Hines, was on hand to help launch his third-party campaign, which devolved into an episode of the hit sitcom right out of the gate.
Shortly after Hines introduced her husband, he took the stage only to realize he forgot his speech. As Kennedy walked back to his handlers, he can audibly be heard complaining that he can't read the teleprompter and that it's upside down. This exchange goes on for a hilariously awkward amount of time, which you can see below:
Adding insult to injury, the Kennedy family responded to his presidential run by issuing a statement denouncing his entire campaign. Via CNN:
"Bobby might share the same name as our father, but he does not share the same values, vision or judgment. Today's announcement is deeply saddening for us. We denounce his candidacy and believe it to be perilous for our country, " Rory Kennedy, Kerry Kennedy, Joseph P Kennedy II and Kathleen Kennedy Townsend said in a statement.
As for the Republicans, there is justifiable concern that Kennedy's run would more likely pull votes from Donald Trump than Joe Biden, so there's some freaking out happening with Trump's campaign.
"Voters should not be deceived by anyone who pretends to have conservative values," a Trump spokesman told CNN. "The fact is that RFK has a disturbing background steeped in radical, liberal positions."
In the meantime, you better believe the Curb jokes were flying on Twitter:
I'm still half-convinced that RFK Jr.'s candidacy is just setting us up for the new season of "Curb."

— Chris Burdick is @chrisburdick.bsky.social (@chrisburdick) October 9, 2023
Just needed one little tweak. pic.twitter.com/Bz5Gw1RnNM

— Machine Pun Kelly (@KellyScaletta) October 9, 2023
Imagine the next season of Curb Your Enthusiasm if RFK Jr. is president

— Julia Johnson (@juliaajohnson_) October 9, 2023
(Via CNN)