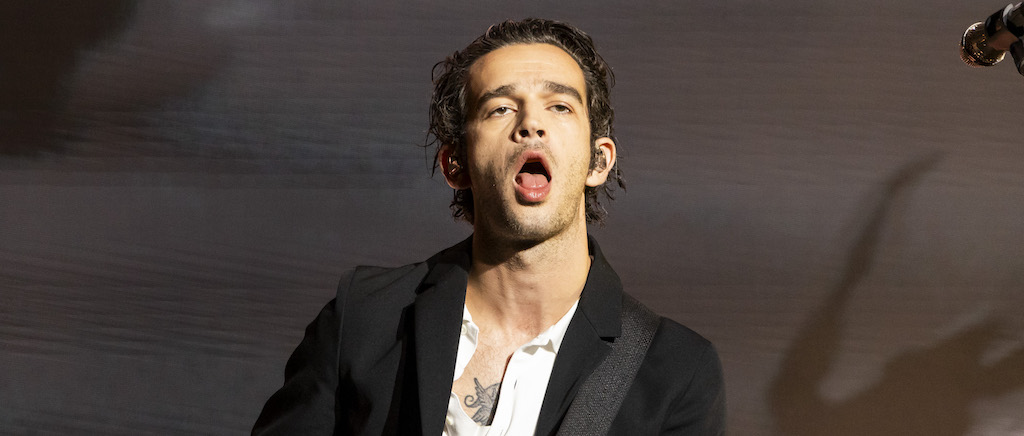 Matty Healy has been in hot water over his trollish antics often enough that he can joke about it pretty effectively, but the punishment he narrowly avoided for one incident was apparently no laughing matter. In July, The 1975's frontman claimed that the band was banned from Malaysia after he kissed his bandmate Ross MacDonald onstage during their set at the Good Vibes Festival in Kuala Lumpur and later ordered to pay a nearly $3 million fine.
As it turns out, it could have been worse, as Healy recently revealed they were also "briefly imprisoned" by the Malaysian government. While he had previously hinted at the possibility of being imprisoned, saying, "Me and Ross nearly shaved our heads because we thought we were going to prison for being f**s," during a show in Hawaii, this is the first time he has admitted that the bandmates were detained.
During a concert in Forth Worth, Texas, Healy gave one of his customary addresses, telling the crowd, "If you truly believe that artists have a responsibility to uphold their liberal virtues by using their massive platforms, then those artists should be judged by the danger and inconvenience that they face for doing so, not by the rewards they receive for parroting consensus… Those who took to Twitter to voice their outrage over the 1975's unwillingness to cater to Malaysian customs would find it abhorrent if the 1975 were to acquiesce to, let's say, Mississippi's perspective on abortion or trans rights."
He also pointed out that the 1975 was brought to Malaysia in spite of their history of snogging onstage. "The 1975 did not waltz into Malaysia unannounced," he said. "They were invited to headline a festival by a government who had full knowledge of the band with its well-publicized political views and its routine stage show… It should be expected that if you invite dozens of Western performers into your country, they'll bring their Western values with them. If the very same things which made you aware of them could land them in jail in your country, you're not actually inviting them to perform. You're indirectly commanding them to reflect your country's policies by omission."
You can read Healy's full speech on Pitchfork.