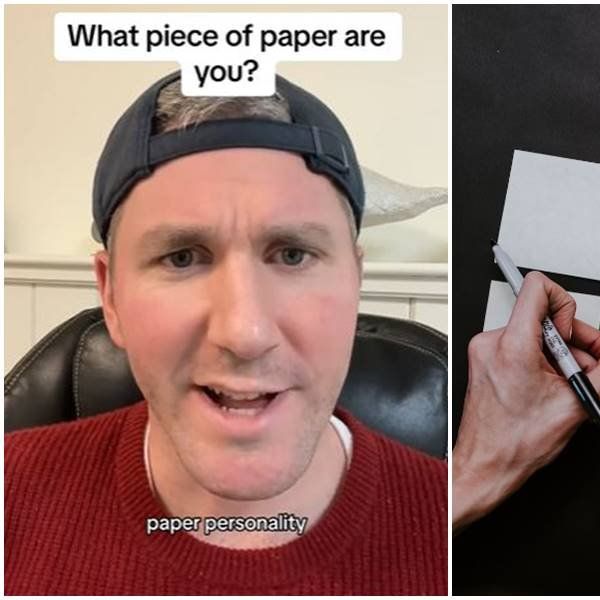 Communication Coach Zac Broomfield, or @l4coach on TikTok, has shared a fun test test that he says can provide valuable insights into someone's personality. Zac is a professional family communication expert at Level 4 Coaching.
"There's a question I ask my clients about which piece of paper you would prefer," Zac begins the video. "While this isn't a scientific assessment, I have found that there are some common traits amongst folks that pick a certain type of paper."
---
To begin the assessment, Coach Zac asks his clients to choose from four types of paper: lined paper, blank printer paper, a page from a coloring book, and graph paper. He then provides a detailed personality profile based on their paper preference.
@l4coach

Are your graph, blank, lined or coloring? #paper #psychology #notscience #parenting #communication #family #graph #lined #coloring #blank
Here's Zac's breakdown of the different choices:
Coloring book page
Zac says that coloring book people are creative, open-minded and nurturing but are looking "for folks to create a structure for them." He adds that people with this preference often work with children or in healthcare.
Graph paper
"They prefer to create a structure for themselves," he says. These people are logical, analytical and love organization. These are your engineers, mathematicians and architects.
​Lined paper
These people are orderly, disciplined, responsible, and tend to be reflective and thoughtful. These people are planners, journalers, readers and writers.
Blank computer paper
"These are independent, self-reliant people," he says, adding they "can be a little bit controlling." These folks tend to be out-of-the-box thinkers and are often innovators or entrepreneurs.
Zac ends the video by noting that the test isn't "absolute" but that it's a "fun question to ask," and it gives you a "little bit of insight."