Quick, what is one of the most delicious things you can eat from a fast food drive-thru? Something that'll make your eyes widen, your mouth water, and your tastebuds vibrate with glee. The answer, dear friend, is the fast food bacon cheeseburger.
How can something this delicious take less than 15 minutes to prepare? We're eating this well out of a drive-thru? Is it all a dream?!
The bacon cheeseburger is fast food's greatest — yes, greatest — gift to us (eat your heart out chicken sandwich) — a simple creation consisting of a buttery toasted bun, bacon, beef patty or patties, and multiple slices of cheese, maybe some onions, definitely some ketchup, mustard, mayo or burger sauce, all working together to produce something greater than the sum of its parts. An umami bomb of delicious proportions.
The bacon cheeseburger is the type of dish that you abandon all dietary rules for. We know, it's bad for us. We know, it's too much salt. But no food from a drive-thru can match the experience of biting into a juicy decadent bacon cheeseburger. So who makes the best?
We found out by ranking all of our favorite fast food bacon cheeseburgers. Let's eat!
Also Read: The Top 5 UPROXX Food Rankings From The Last Month
10. Sonic — Garlic Butter Bacon Cheeseburger
Tasting Notes & Thoughts
Grilled onions massively dominate the flavor here with a hint of pungent and spicy garlic and smokey notes from the bacon rounding out a strong-savory finish. This burger has a lot going for it, but unfortunately, Sonic's weak point is the quality of the meat.
The beef patty here is pretty standard stuff, it has a pepper-forward flavor but doesn't cut through the more interesting accouterments. The bacon is fine but lacks crunch and doesn't look nearly as impressive in person as the photo would suggest.
The Bottom Line:
In a tough field, someone has to rank last. Because quality of meat alone, this is that burger.
Find your nearest Sonic here.
9. Burger King — Bacon King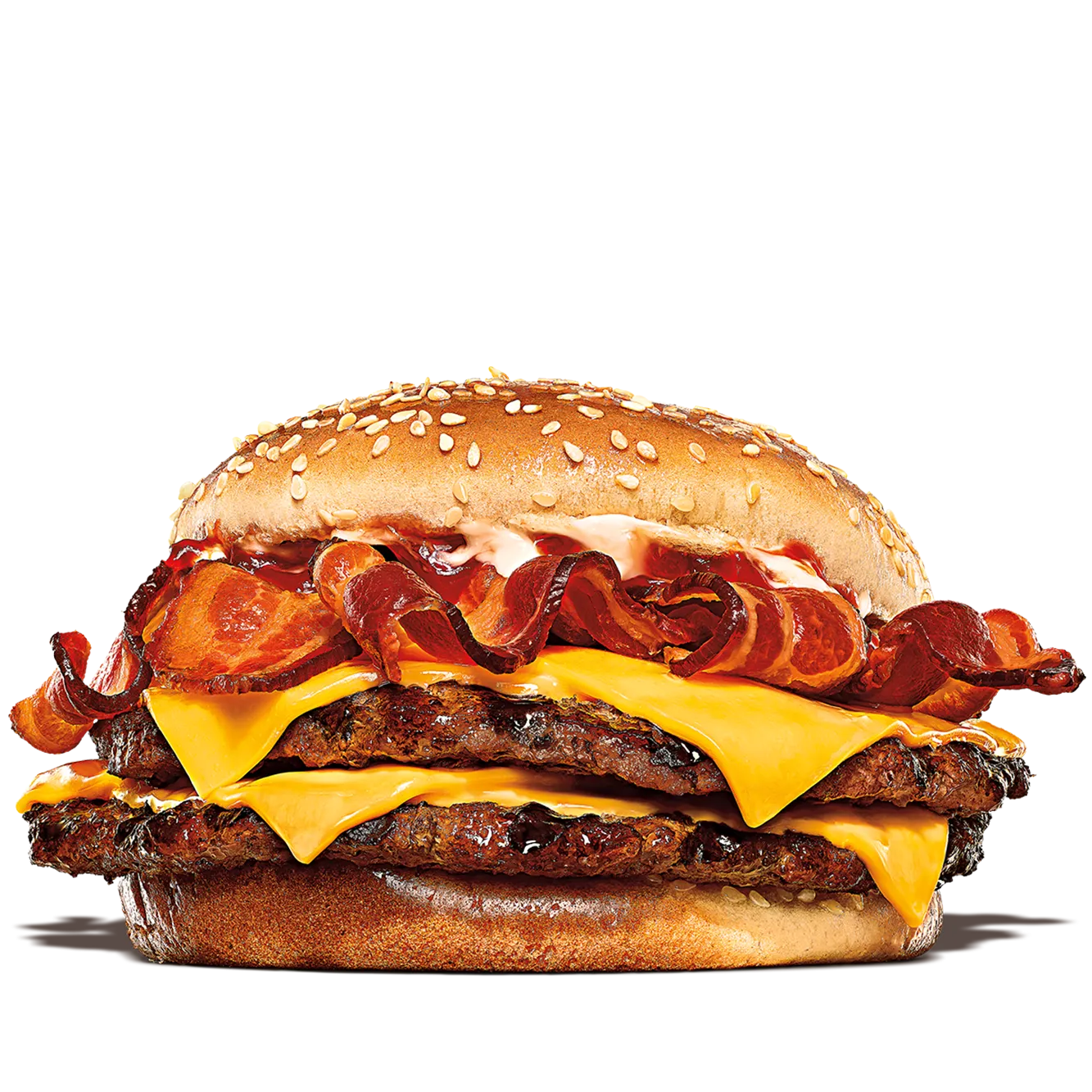 Tasting Notes & Thoughts
At first bite, you're greeted with a burnt meat flavor with a gravely, moisture-less texture. If you like juicy burgers, this is the opposite of that. It's a shame because the bacon is good, it's smokey and slightly sweet and the sauce (ketchup and mayo) emphasizes that sweetness and adds a hint of tang to the aftertaste.
But the burger is so dry it's nearly inedible. Who cares if something is flame-grilled if it tastes bad?
The Bottom Line:
Once again, Burger King's lack of quality control has come to hurt the brand. BK keeps adding things to its menu but what it really needs to do is reformulate its core product, the burger.
Find your nearest Burger King here.
8. Jack in the Box — Bacon Ultimate Cheeseburger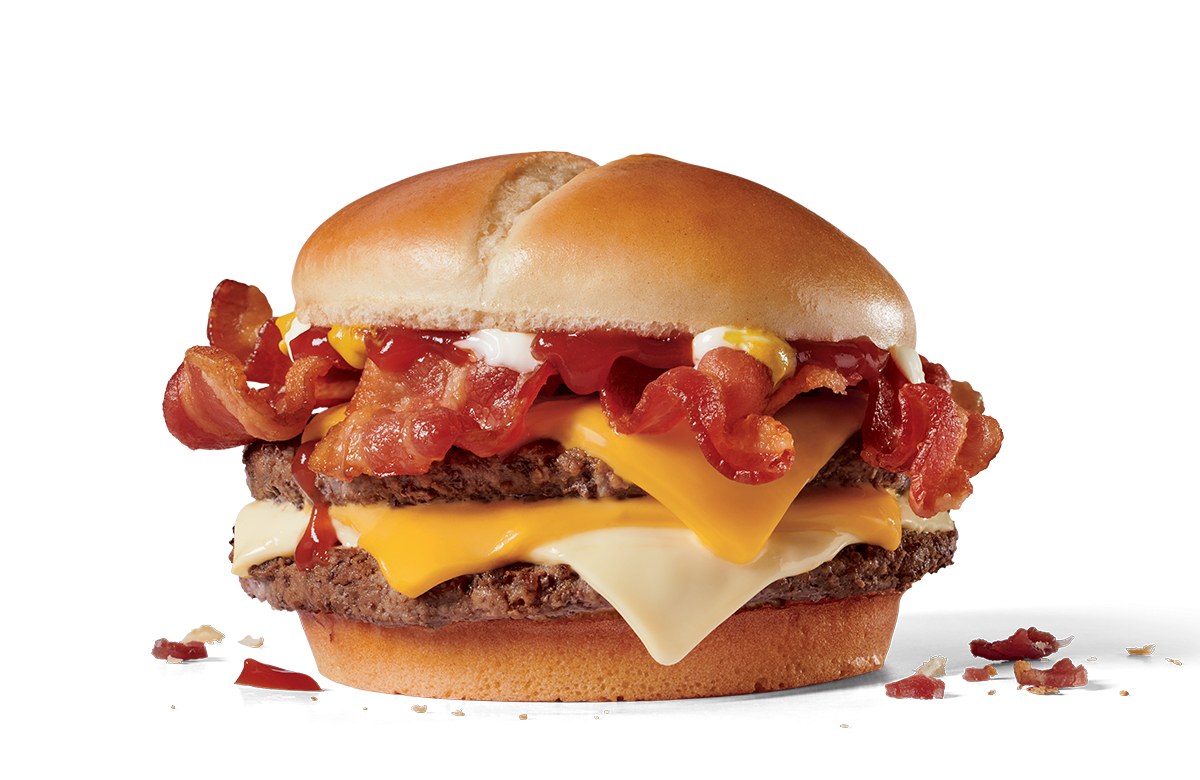 Tasting Notes & Thoughts
A mix of tang, sweet, and earthy flavors combine for an interesting-tasting burger that, like Sonic, separates itself from the competition. Unfortunately, interesting isn't always good, and just like Sonic, this burger is lacking where it matters: the bacon and beef.
The beef is underseasoned, have you ever cooked a burger at home and forgot to season it? Apparently, that's what Jack in the Box does. The bacon is too thin for its smokey flavor to cut through. All the flavor from this burger comes from the double dose of American and Swiss Cheese, and the ketchup, mustard, and mayo.
The Bottom Line:
Not enough flavor from the meat, where it really matters.
Find your nearest Jack in the Box here.
7. Carl's Jr. — Double Western Bacon Cheeseburger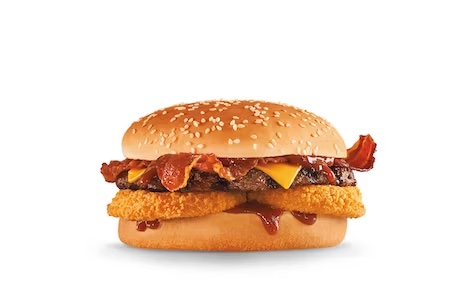 Tasting Notes & Thoughts
Good flavors, but soggy as hell. The sweet tang of barbecue sauce is the strongest flavor note with a lot of crunch and some savory qualities coming from the deep-fried onions. The beef has a decent charred flavor to it but the bacon is too thin and gets completely lost in the barbecue sauce soup.
As a result, the bacon comes across more as a texture than a flavor.
The Bottom Line:
A delicious cheeseburger perhaps, but not a great bacon cheeseburger.
Find your nearest Carl's Jr. here.
6. McDonald's — Bacon Quarter Pounder With Cheese
Tasting Notes & Thoughts
Surprisingly simple and direct. The flavor of this burger is beefy, salty, and sweet with a crisp spice to it from the onions that pair nicely with the earthy brine of the pickles. The bacon is clearly not this burger's strong suit, it's not that it's bad it's just that it's too sparingly used and, as with a lot of the burgers on this list, a bit too thin to really be enjoyable.
This is an easy way to elevate McDonald's Quarter Pounder but it doesn't exactly scratch the itch that a great bacon burger does.
The Bottom Line:
Way better than you'd expect, but not as decadent and satisfying as a bacon cheeseburger should be.
Find your nearest McDonald's here.
5. Rally's / Checkers — BaconZilla
Tasting Notes & Thoughts
Now we're talking, Rally's BaconZilla is piled with four strips of bacon atop two patties of beef, two slices of American cheese, and ketchup and mayo. The build is simple but delivers. It's beefy, smokey, slightly sweet, and super salty with a meaty flavor that cuts through the sauce and is elevated by it, rather than masked.
It's clear that the BaconZilla is inspired by Wendy's Baconator and while it doesn't quite reach that level, it's the second-best cheeseburger you're going to get from a drive-thru. The majority of the rest of our choices are from more fast-casual-feeling food spots, which means they are much pricier than the humble BaconZilla.
The Bottom Line:
Simple but delivers on that meaty decadence you want from a bacon cheeseburger.
Find your nearest Rally's/Checkers here.
4. Shake Shack — SmokeShack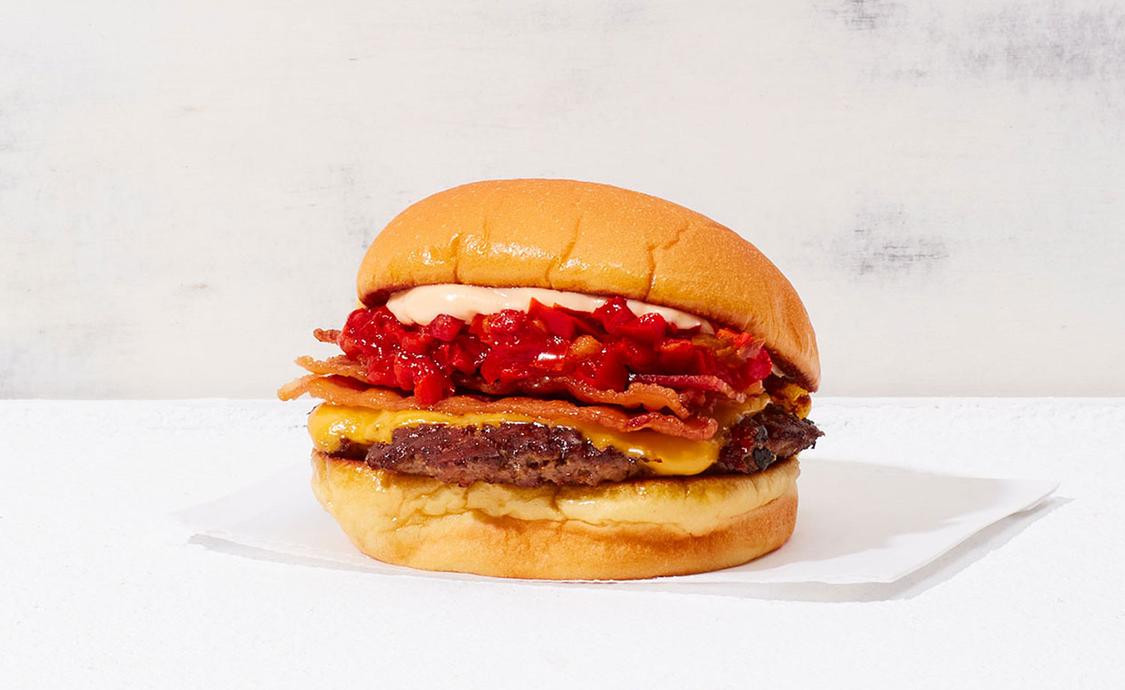 Tasting Notes & Thoughts
This was a tough one to rank. Without a doubt, Shake Shack has one of the best, if not the best, hamburger patties in the game. It's deep and rich in flavor, juicy, expertly cooked and seasoned. Based on the burger patty alone, this ranks highly, but the bacon is holding it back.
It's so thin that it's almost offensive. It barely registers as having any flavor at all, which is a shame because the burger build is great. Chopped cherry peppers add some bright vegetal qualities and a mild building spide, and the shake sauce is savory, tangy, and rich, emphasizing the complex flavors of the beef patty. But you'll never feel more ripped off at Shake Shack than ordering a bacon cheeseburger and getting… this.
The Bottom Line:
A fantastic burger that is marred by its pathetic bacon.
Find your nearest Shake Shack here.
3. Five Guys — Bacon Cheeseburger
Tasting Notes & Thoughts
I love Five Guys, but the bacon cheeseburger is pretty weak. Sure you can load up your burger with grilled mushrooms, jalapenos, pickles, relish, A1, hot sauce, or whatever you want, but the flavors never come together into a harmonious whole and the bacon ends up sticking out in all the worst ways.
Five Guys' bacon is too overcooked, it's all crisp, with no flavor. That results in a wonderful audible crunch, but the sweeter notes of bacon are gone, replaced instead with a smokey and sometimes straight-up burnt flavor.
You can make it work by adding barbecue sauce, which brings back some of the sweetness, but there are probably more inventive builds you can get here that don't require bacon at all and, as a result, will cost you less money. Bacon is the only Five Guys addition that raises the prices.
The Bottom Line:
The right build will get you a great burger, but it'll probably taste better without the overcooked bacon. If you like your bacon super crispy though, this just might be what you're looking for.
Find your nearest Five Guys here.
2. Smashburger — Double Bacon Smash Burger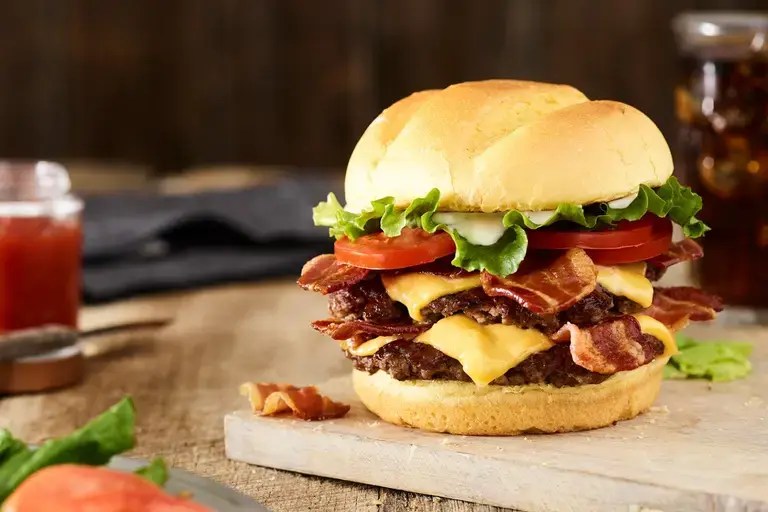 Tasting Notes & Thoughts
This was another hard one. I'd say it was neck and neck with our number one choice and what kept it from getting the top spot was that there wasn't quite as much bacon as I wanted.
The beef is delicious here, juicy, and beefy with a mix of seasonings that make it incredibly addictive bite after bite. It's a smash patty so it has that mallard crust that adds a bit of texture to it. The cheese brings in some salty flavors which pair nicely with the smokey sweet flavor of the bacon. This is some high-quality bacon, too — it's smokey, crispy, sweet, and a bit fatty, but not to the point of being chewy. The bun is also delicious, it's buttery, a bit flaky, and not so bready that it masks any flavors.
The tomato, lettuce, and mayo are quality too (the mayo isn't great and doesn't add much).
The Bottom Line:
A fantastic high-quality bacon cheeseburger with a great flavor. This could easily be your favorite… it's just not mine.
Find your nearest Smash Burger here.
1. Wendy's — Baconator
Tasting Notes & Thoughts
Super juicy and meaty with a strong emphasis on the bacon flavor. A true 50-50 split between beefy and smokey. The bacon here tastes as good as the best greasy spoon breakfast spot — it's crispy and oily, smokey, and slightly sweet on the backend. The beef is rich in flavor and when paired with the ketchup and mayo, creates a rich umami finish that comes across as decadent and deep.
I know it might be hard to believe that Wendy's can beat out a fast-casual restaurant, but the Baconator is the best bacon burger in all of fast food. It truly delivers in a way that puts the spotlight on the bacon. Its strength is in its simplicity.
One hack I'll suggest is requesting a slice of Asiago cheese on the burger, this adds a nutty and creamy component to the burger that pairs nicely with the salty meaty flavor.
The Bottom Line:
What every fast food bacon cheeseburger should strive to be. The overall flavor here is as much about the bacon as it is about the beef making it easily the best burger on the entire Wendy's menu.
Find your nearest Wendy's here.