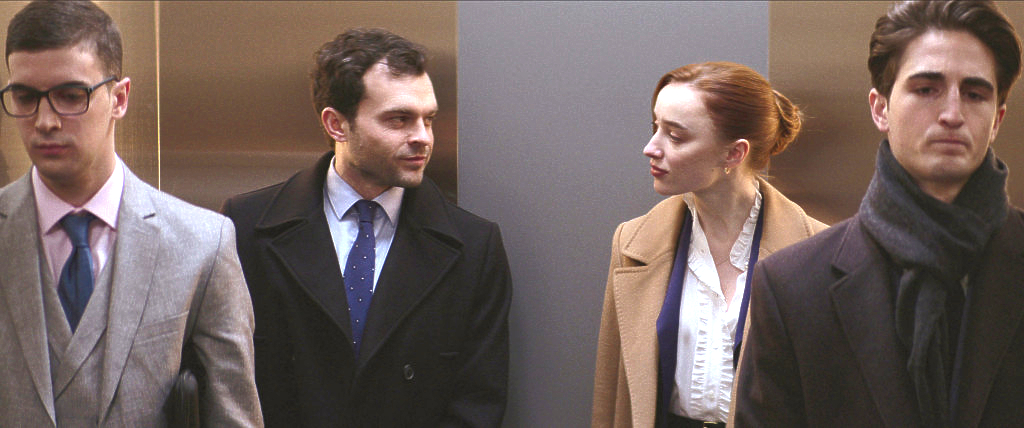 (Trigger Warning: Discussion of sexual assault will be found below.)
There are toxic relationships of many varieties. Then there's the relationship at the heart of Netflix's Fair Play, which feels cartoonish and amped-up at times, but that's to be expected when the couple happens to live in a heightened reality of cutthroat hedge funding. Let's just say that there are layers, which at first beckon towards fans of romantic thrillers. Yet what transpires, ultimately, is anything but romantic, and both Phoebe Dynevor (Bridgerton) and Alden Ehrenreich (Cocaine Bear) give it their all while troubling motives unfold throughout this film that debuted at Sundance.
First-time director Chloe Domont also wrote the screenplay, which she described as an exorcism of sorts. On that note, she drew from the experience of "specifically dating men who I felt were threatened by either my ambition or any little bits of accomplishments." That's exactly what goes down throughout the film, which follows Emily (Dynevor) and Luke (Ehrenreich), who are engaged in a romantic relationship (and they literally become engaged to marry) that is prohibited due to policies at their mutual employer. Soon enough, we learn that Emily is better at the job than Luke, and when she receives a promotion (which Luke believed that he was going to receive), this does not go over well despite his initially feigned reaction.
This leads to the twisting of already twisted relationship power dynamics, which is exactly what Emily does not need when it's been difficult to succeed in a male-dominated workplace. The relationship rapidly begins to deteriorate once she is promoted, and eventually, the passive aggression turns to real aggression. Luke cannot handle that Emily would be more powerful than him at work, and he claims his power over her in a violent way. That includes a scene — at their surprise engagement party — where Luke rapes Emily, but before that happened, he attempted to sabotage her career by revealing their relationship to the boss.
In the end, Emily manages to turn the situation around in a bit of "fair play" at work, but more importantly, she deals with him on a personal level. He later surfaces in their apartment, where he tells her about his new, better job (which is far away), as though he's simply moving onto better pastures. Of course, Emily is no longer "in it" and simply wants him to admit what he did to her and to cry, but his adherence to toxic masculinity just won't let him go there. She slashes his arm with a knife, and he eventually relents with an apology and admission of rape. He also admits to being a monster, which is what she needed to hear. And now… closure.
Fair Play is currently streaming on Netflix.