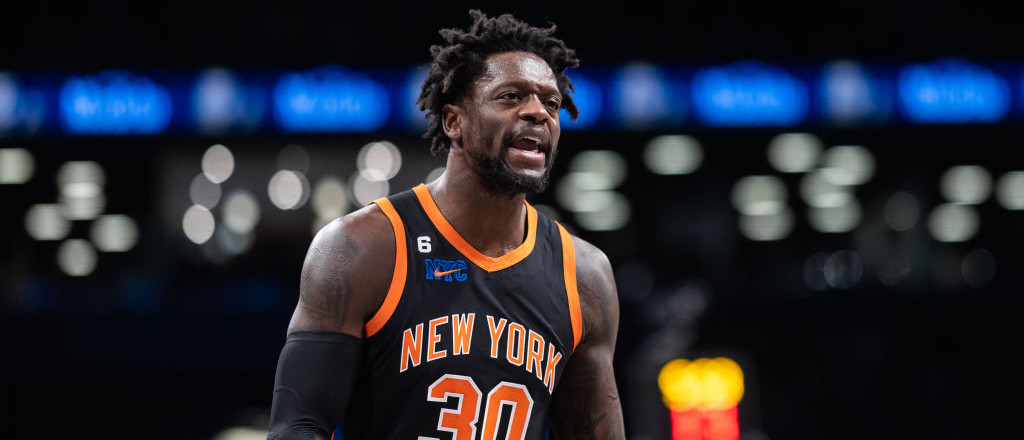 Of the East's top-6 teams from a year ago, the New York Knicks were the ones that had the calmest offseason and enter this upcoming year with the most continuity. After earning the 5-seed a year ago and seeing Jalen Brunson embrace a starring role, the Knicks enter the 2023-24 season with optimism they can not only duplicate that performance but build on top of it.
To do so, they'll need to see some internal improvement, as their only real change to the roster was signing Donte DiVincenzo in their continued efforts to sign every Villanova player in the league and trading Obi Toppin to Indiana.
Biggest Question: Can All Their Stars Play Their Best In The Postseason?
The further up the contender ladder you go, the harder it is to reach the next level, and for the Knicks that would mean threatening the Eastern Conference Finals. The advantage they have over the two top teams in the East is depth, as Milwaukee and Boston have gone all-in on creating nightmare starting units. As we all know, depth plays less of a role in playoff success (provided good health) as starting units can play extended minutes and the benefits of having a better bench group is more limited.
That means the Knicks stars have to play as such to keep things closer against other starting units to allow their bench advantage to shine, and last year only Brunson really lived up to the billing. Julius Randle is the biggest playoff concern at the top of New York's pecking order, as he has struggled mightily in his two postseason appearances with the Knicks. In those 15 playoff games, he's averaging 17.1 points and 9.4 rebounds per game, but sees his efficiency drop off a cliff to 34.4 percent from the field and 28.3 percent from three, while having more turnovers (3.9) than assists (3.7). Randle has struggled to find his rhythm as he often takes a lot of tough shots, with more than 60 percent of his attempts last season coming from beyond 10 feet from the rim (with most of his midrange jumpers being self-created). Against the increased pressure applied by defenses in the postseason, his handle has been bothered and he's struggled to create decent looks for himself. The challenge for Randle and the Knicks is finding ways to get him into a rhythm with easier looks and try and get him away from the isolation attempts that simply have not worked. That's easier said than done considering his regular season shot diet is also a lot of pretty difficult looks that he just knocks down at a much higher rate, meaning he would have to change his offensive approach considerably.
R.J. Barrett took a step forward last year both in the regular season and the playoffs, but he also could stand to take another step forward in terms of efficiency. He's terrific going to the basket and his ability to apply rim pressure is needed on this Knicks team. He has steadily improved his shot selection but needs the three-pointer to become a more reliable weapon to open up the floor a bit more for guys like Randle and Brunson. Cramped spacing has long been a concern with this Knicks offense, and when transition opportunities are limited in the postseason, their halfcourt offense can grind to a halt. He doesn't need to become an elite three-point shooter, but simply raising his level from being a low-30s guy to a mid-30s guy from three would force defenses to think a little longer about sagging off and help New York.
It's a tall order, but if this group is going to be something more than a mid-seed with a second round ceiling, it comes down to their best players raising their level in the postseason rather than simply maintaining it (like Barrett), much less falling off (like Randle).
X-Factor: Josh Hart
While the Knicks only made the one addition this offseason, this will be the first full season with Hart on the roster. After arriving in a trade with the Blazers at the deadline, Hart was sensational for the Knicks in his 25 games and continued that into the postseason. What he provides as a rebounder, cutter, and defender is incredibly valuable. Last year in the playoffs he was third on the team in rebounds per game (7.4), and while Mitchell Robinson, Isaiah Hartenstein, and Randle got rightful credit for their work against Cleveland's bigs on the glass in the first round (effectively swinging that series), Hart's work crashing from the wing was vital to that effort. However, as mentioned above, the Knicks have a spacing issue and for Hart to be on the floor he has to be more of a threat spotting up in the corners.
Hart was terrific from an efficiency standpoint in the regular season in a small 25 game sample (51.5 percent), but saw that dip to 31.3 percent in the playoffs. However, even when he was shooting well in the regular season, it was only on 2.1 attempts per game has he has a tendency to only shoot when wide open (which, naturally, boosts that percentage). He is a frequent record-scratcher, pump-faking against closeouts and then moving the ball. That isn't always a bad thing, but there are plenty of times for this Knicks offense that creating a semi-open three is going to be the best look they create in the halfcourt. Passing that opportunity up sometimes forces them into a tougher shot, and Hart building his confidence to let it fly is important given he's often on the floor with multiple other non-threats from deep. Hart can be a better three-point shooter than I think he is willing to give himself credit for, and embracing that part of his role (in a way he embraces the non-scoring parts so well) could unlock some things for this offense.