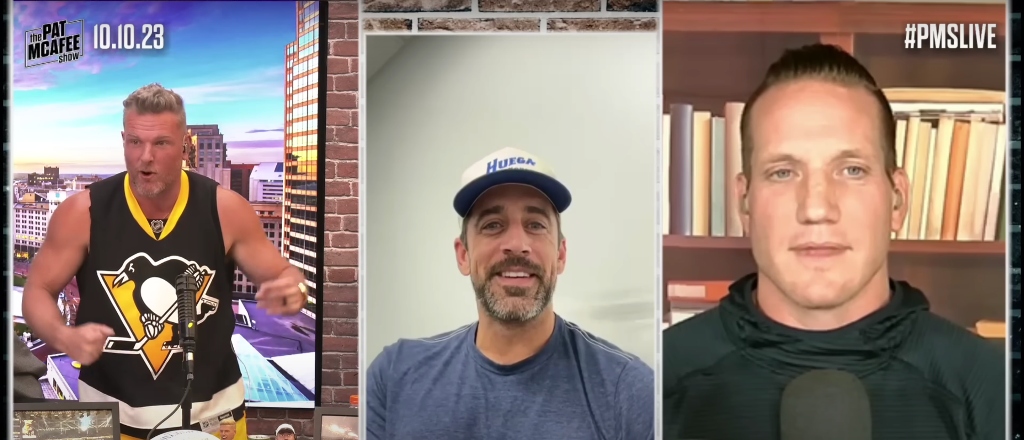 One of the defining features of Pat McAfee's daily show is his ability to get sit downs with some pretty big names in the worlds of sports and entertainment. A new piece by Andrew Marchand of the New York Post dives into two of McAfee's long-standing weekly guests, Aaron Rodgers and Nick Saban, both of whom get compensated for appearing on the show.
Rodgers makes appearances on the show that draw attention and, on occasion, scrutiny, especially when it comes to his thoughts on COVID vaccines. He used his most recent appearance to challenge Travis Kelce and former NIAID director Anthony Fauci to a debate over vaccines against himself and Robert F. Kennedy Jr. And thanks to Marchand — who received confirmation from McAfee — we learned that the future Hall of Fame quarterback has made at least seven figures from this arrangement.
Rodgers is receiving more than seven figures per year to come on the show each week, according to sources, while Saban is in that vaunted neighborhood.
…
"Aaron has made over $1,000,000 with us, for sure," McAfee told The Post over direct message.
Per Marchand, this happens in part because McAfee dips into the lucrative, $85 million deal he signed when he joined ESPN. It's worth mentioning that these are essentially appearance fees, and as Marchand notes, individuals being paid by outlets for exclusive interviews is not a new thing. And on the most recent episode of his show, McAfee addressed (and confirmed) the report directly, saying that he is simply compensating those who appear on his show and have helped him become successful.
"If somebody is gonna make money for us," McAfee said, "that person is gonna reap the benefit from it.
"I am completely ok with everything that was said," McAfee continued. "And I am completely ok being known as the guy that appreciates people's time, effort, and things that happen for us."
Still, even beyond the fact that Rodgers is getting compensated for appearances on an ESPN platform in which he spread anti-vaxx rhetoric, this does highlight the uniqueness of McAfee's arrangement with the Worldwide Leader. The company has a gigantic journalism arm and a colleague of those folks pays for face-to-face time with the individuals they cover. Plus in the specific cases of Rodgers and Saban, the network has a financial stake in both the NFL and college football (particularly SEC football), and prominent individuals in both leagues whose words drive the discourse around them are getting paid to come on the network and say whatever they want, thereby playing a major role in shaping how ESPN covers those sports.