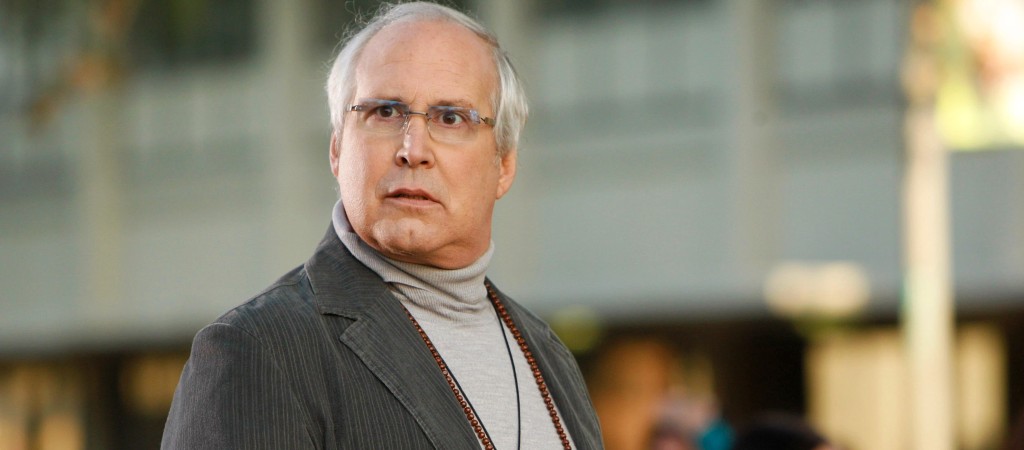 Chevy Chase has been making headlines after he crawled out of the woodwork and took a swing at the cast of Community during an interview with Marc Maron last month. The actor infamously left the show in Season 4 and the cast has been adamant that he won't be returning for the upcoming Community movie.
Even after a decade, the tension is still palpable between Chase and his old cast mates, so here's a brief timeline to bring you up to speed on why the National Lampoon actor is persona non grata with the cast and crew of the beloved sitcom.
March 2012: The Season 3 Wrap Party Blow-Up
The tension between Chase and the Community creative team reached a boiling point during the end of Season 3. According to Deadline, Chase had already walked off set during the filming of the season finale after having issues with the script. However, the actor still attended the wrap party with his wife and daughter where he was roasted by Harmon who not only played the voice mail message, but encouraged the crew to join him in saying "F*ck you, Chevy." The actor later called Harmon and left a profanity-laced voicemail, which Harmon leaked to the press. Harmon was already on thin ice with NBC and was fired from the show.
September 2012: The Huffington Post UK Interview
A few months after the wrap party incident, Chase did an interview The Huffington Post UK where he surprisingly dropped compliments on the cast and crew of Community, but then admitted that he hates working on a sitcom and only did it for the money.
"It was a big mistake!" Chase said about joining the show. "I saw this pilot script, thought that it was funny, and I went into the room where they were casting and said, 'I would love to play this guy.' Then they mulled it over. Then they hired me and I just sort of hung around because I have three daughters and a wife, and I figured out I might as well make some bread, every week, so I can take care of them in the way they want."
"The hours are hideous, and it's still a sitcom on television, which is probably the lowest form of television," Chase added. "That's my feeling about it. I think the reason I have stuck around is because I love these kids, the cast – they are very good. It's not like I am working with the great innovators of all time, but at the same time, they are my friends."
However, Chase's relationship with the cast was not as rosy as he claimed.
October 2012: The N-Word Incident
Reports started coming in that Chase snapped and used the N-word towards Donald Glover, which has now been further documented, and Yvette Nicole Brown, which has gotten lost in the mix. Chase reportedly used the word in a tirade about his character's racism and reports at the time claimed he did apologize afterwards. However, the damage was already done.
November 2012: Chase Exits The Show
It's still unclear whether Chase quit the show or was fired from NBC, but he exited the show just a few episodes into Season 4. Given his public feud with Harmon and reports of Chase repeatedly arguing with Community directors Joe and Anthony Russo, his departure was not a huge surprise.
February 2022: Chase Responds To Claims About His On-Set Behavior
After remaining mostly silent about numerous reports of his on-set clashes with Community cast and crew over the years, Chase finally told CBS News that he doesn't care what's being said about him.
"I don't give a crap," Chase said. "I am who I am. And I like where— who I am. I don't care. And it's part of me that I don't care. And I've thought about that a lot. And I don't know what to tell you, man. I just don't care."
September 2023: The Marc Maron Interview
Seemingly out of nowhere, Chase appeared on Marc Maron's WTF podcast where he took a surprise swing at Community.
"I honestly felt the show wasn't funny enough for me, ultimately. I felt a little bit constrained," Chase told Maron. "Everybody had their bits, and I thought they were all good. It just wasn't hard-hitting enough for me."
And then he slammed the cast.
"I didn't mind the character. I just felt that it was… I felt happier being alone," he said. "I just didn't want to be surrounded by that table, every day, with those people. It was too much."
October 2023: Joel McHale Fires Back
After being asked to respond to Chase's remarks on Maron's podcast, Community star Joel McHale did not hold back.
"He stopped hurting my feelings in 2009," McHale told PEOPLE. "I was like, 'Hey, no one was keeping you there.' I mean, we weren't sentenced to that show. It was like, 'All right, you could have left if you really wanted that.' But yeah, you know Chevy. That's Chevy being Chevy. I wrote about this in my book, but I was like, 'Hey, the feeling's mutual, bud.'"
Community is available for streaming on Netflix.