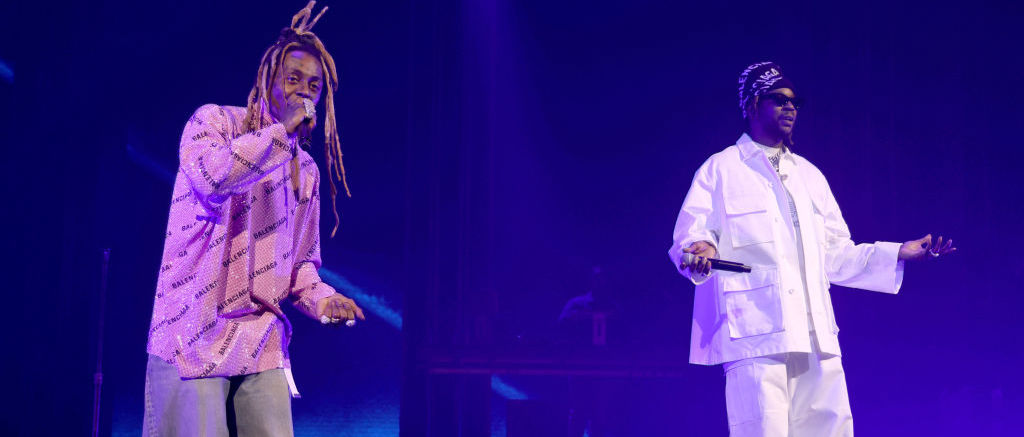 Last month, Lil Wayne dropped his latest album, Tha Fix Before Tha VI. But he's not done. His long-awaited collaborative project, ColleGroove 2, with 2 Chainz, is still in the pipeline. However, one of the rappers might have revealed its release date.
According to Rock The Bells, on October 10, during a private filming organized by the platform, 2 Chainz said, "Me and Wayne's album drops next month. This is a full circle moment."
Last month, another major update was shared in Amazon Music Live's season promotional video. As 2 Chainz sat down to discuss his forthcoming hosting responsibilities and the highly anticipated release. "We have two videos shot, photoshoot shot, [the] album's mixed and getting mastered, so it'll be coming sooner than later, and I'm really excited about it, he said. "It's rapping at a high level — steel sharpens steel. And he's one of the people that I enjoy working with the most."
The joint venture was first teased in 2020. Unfortunately, allegedly due to the COVID-19 pandemic, it was shelved. In March 2023, the duo revised the idea. 2 Chainz recently jumped on Instagram Live to announce the news.
"Two, three, for years, now working on this project, and I'm finally getting to the finish line of this project with me and Wayne, that I'm so excited to bring to the marketplace. I'm still learning stuff. I'm still learning things in this business. And one thing that I have learned in this process is that no response is the response."
https://www.instagram.com/p/CpfSZiRDm60/?utm_source=ig_web_copy_link