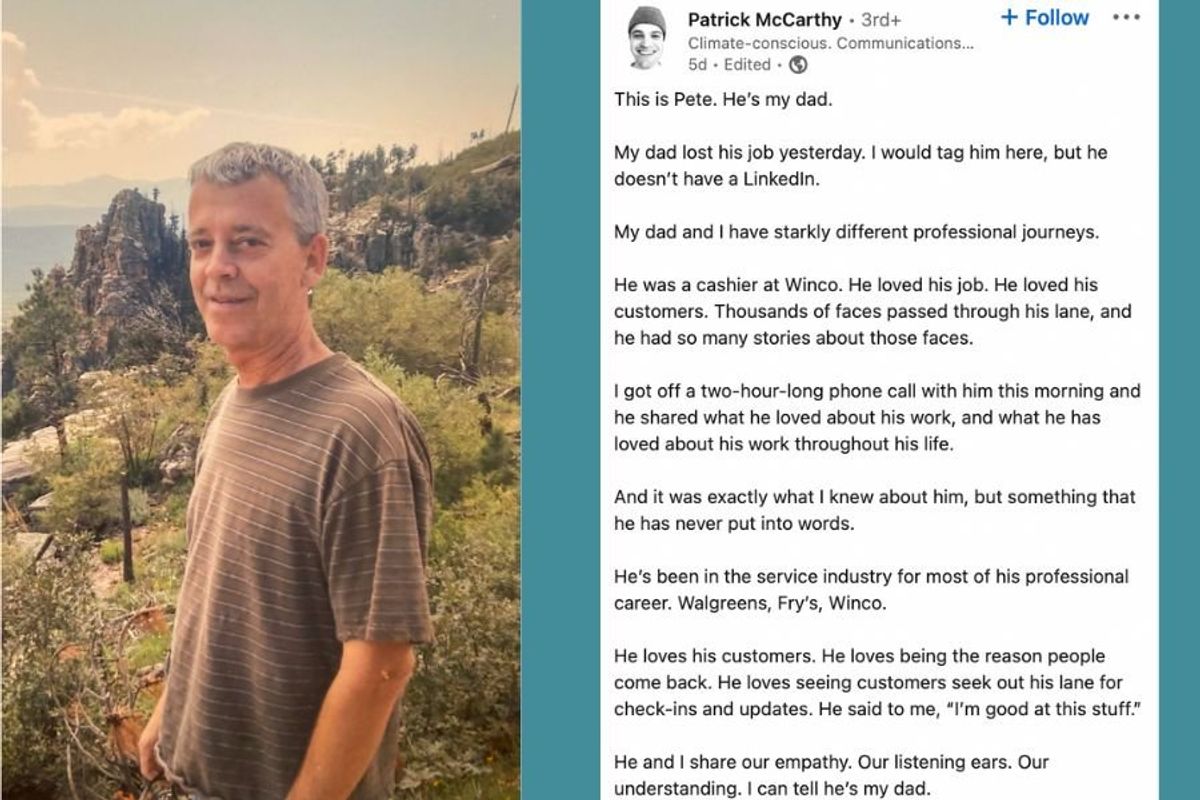 LinkedIn is primarily a platform for working professionals to connect and find employment that aligns with their skills and values. With company layoffs continuing (even increasing in some industries) people have also used the website to courageously share their layoff experiences.
While the main intent behind this is, of course, finding a new job, there have also been some lovely displays of humanity that not only challenge the stigma of being laid off but show the power of a supportive community.
Take this heartwarming story, for example.
Patrick McCarthy, Communications Management & Marketing Leader, recently posted about a layoff that quickly went viral on the platform. Not for himself—for his father.
"This is Pete. He's my dad," his post began. "My dad lost his job yesterday. I would tag him here, but he doesn't have a LinkedIn."
---
Pete, who has had a "starkly different professional journey" than his son, spent most of his life working in the service industry and absolutely loved interacting with customers. His empathy and knack for listening made him perfect for the role. Over his career, Pete had collected thousands of interactions from working at Walgreens, Fry's, and (most recently) Winco, often being the reason folks came back.
And then, Pete was laid off. His job as a cashier, one that he loved and was good at, was gone.
"As anyone would be, he's shocked. Overwhelmed. Scared. Emotional," Patrick wrote.
Knowing his dad didn't have the same network to easily find a new job, Patrick reached out on his behalf, wholeheartedly believing in the "magic" of the LinkedIn Community. He implored that anyone looking for a candidate with "a LOT of customer-facing, customer service, and service industry experience" send him a message so that he could put them in touch with Pete.
Patrick's faith paid off—way more than he thought it would. In less than a week, the post was shared over 500 times, with over 600 comments from people wanting to help.
A manager at a nearby Sprouts grocery store said Pete sounded like a perfect match for a clerk position that could even pay his daily wage ahead of time. Another suggested he could be an excellent outdoor tour guide for REI. Someone else referred them to a weekly meetup group led by a career coach.
Even LinkedIn responded, writing, "Pete sounds like a top-tier employee! 💙 Keep us posted as he progresses on his journey, as well as any tips or insights either of you learn along the way—it may help those in a similar situation."
Truly, Pete's story already provides some helpful insight. While he might still be in the job-seeking phase, things certainly look more optimistic. And all it took (besides Pete being a lovely human being) was one simple, honest post. As Patrick told Upworthy, "Clearly something about his story connected with others. Humanity. Vulnerability. Empathy."
The words "social media" and "job market" can elicit some pretty negative visceral responses. Of course, this viewpoint has some merit, but it's refreshing to see the power of human connection break through the disheartening headlines. Here's to Patrick and his father Pete, for reminding us that even when things seem bleak or uncertain, the world is full of people trying to help out one another.
This article originally appeared on 2.28.23