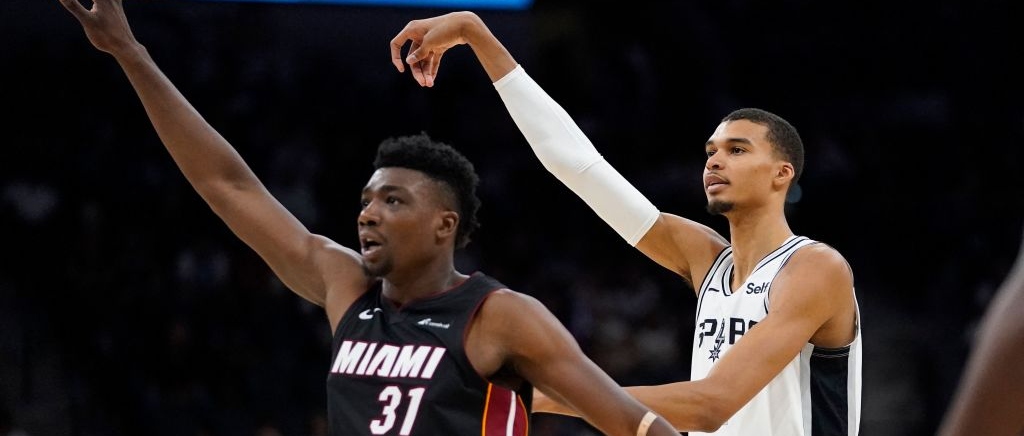 Victor Wembanyama has more hype around his arrival to the NBA than any prospect since LeBron James, and after a pair of 20+ point outings in the preseason in which he's showed a little bit of everything, he's done nothing to slow down that hype train.
On Friday night, the Spurs played the Miami Heat in preseason action and Wembanyama put on an absolute show with 23 points, four rebounds, four assists, and three blocks in a San Antonio win. There were a handful of plays that showcased Wembanyama's abilities, as he brought the ball up the floor and dribbled through the defense to the elbow before swishing an fadeaway jumper, got out of position on defense but still rotated over to block a 10-foot floater taking just one step from the other side of the basket, and more.
However, the play that had everyone going "what?!" was this third quarter dunk in which Wembanyama jumped straight up from outside the restricted area, reached over Heat center Thomas Bryant, and threw it down with his left.
WEMBY THROWS IT DOWN pic.twitter.com/p3YFCs3h8s

— NBA TV (@NBATV) October 14, 2023
You don't often (ever?) see guys dunk from outside the restricted area without their whole body eventually landing in the restricted area, but Wemby just kinda pogo sticks up, reaches out and dunks, and comes back down almost in the same spot he took off from. Even Bryant was just in shock at what happened, as a courtside fan caught his reaction in which he just turned and stared at the Heat bench in disbelief.
Thomas Bryant's reaction to Victor Wembanyama dunking on him pic.twitter.com/oZWv4ITF3f

— Tatum (@CookHimTatum) October 14, 2023
Bryant's underrated when it comes to some funny on-court facial expressions and reactions, and even after getting dunked on he wasn't mad or embarrassed, just stunned that really happened because what is there for him to do. I have a feeling he will not be the last NBA big man to be left befuddled by a Wembanyama play this year, as the French star's length and abilities allow him to do some things on a basketball court no one has ever really seen.