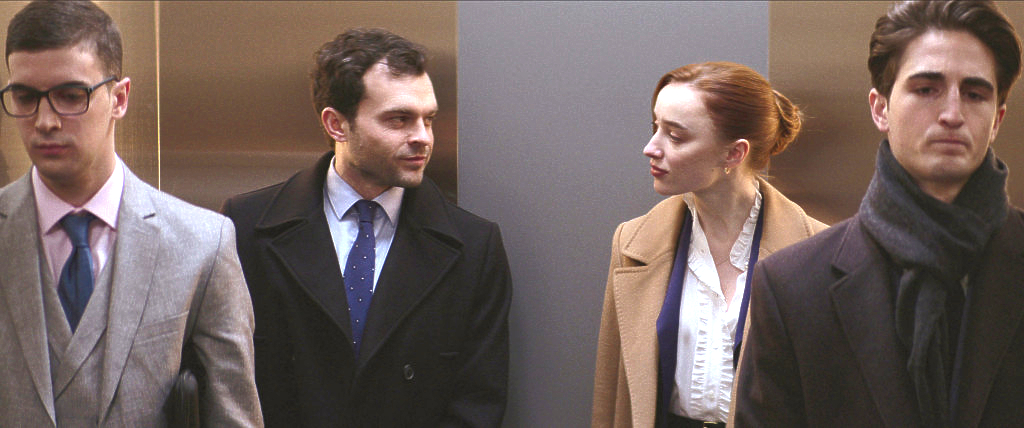 Every single week, our TV and film experts will list the most important ten streaming selections for you to pop into your queues. We're not strictly operating upon reviews or accrued streaming clicks (although yes, we've scoured the streaming site charts) but, instead, upon those selections that are really worth noticing amid the churning sea of content. There's a lot out there, after all, and your time is valuable.
TIE: 10. Totally Killer (MGM movie streaming on Amazon Prime)
I get it: time travel movies can be annoying and nonsensical and overdone and paint their way into an ending. However, this time-traveling spin on a slasher movie actually feels inventive. It helps that Kiernan Shipka has the chops for spookiness (The Chilling Adventures Of Sabrina and Mad Men, if you remember those jokes about Sally Draper turning into a serial killer). In this film, Shipka must help uncover the identity of a notorious serial killer after totally pooh-poohing her mom over being too concerned about such a trifling subject. Well, that serial killer showed her who is still around.
TIE: 10. No One Will Save You (20th Century Studios film streaming on Hulu)
Kaitlyn Dever cannot be stopped, even when there are aliens involved. The Justified, Booksmart, Unbelievable, and Dopesick actress stars in a nearly dialogue-less movie in which her performance still manages to speak volumes. This film ended up (surprisingly) streaming instead of landing in theaters, where it likely would have made a box-office killing in October. However, streaming subscribers can really get their money's worth because this home-invasion horror story will have you stressing in a welcome way.
9. Mission: Impossible – Dead Reckoning Part One (Paramount Pictures film streaming on VOD and Amazon Prime)
Tom Cruise fought like hell to get this movie finished amid the pandemic, and although it didn't fly as high as Top Gun: Maverick, this was still as solid of a Cruise movie as they come. In other words, he did crazy things like ride off a cliff on a motorcycle and perch atop a speeding train, and also, this manages to be a very complicated movie that revolves around keys, but the action makes the intricacy worth it with more of this story to come.
8. Chucky (SyFy series streaming on Peacock)
Although this little scamp could never survive a fight with M3GAN, he's still somehow kicking after several ridiculous movies and now the third season of this series. This year, Chucky will go to the White House, which should surely turn out well, and one episode is called "Jennifer's Body," which definitely has nothing to do with the Hole song or the Megan Fox movie. Or does it? Chucky isn't telling yet.
France is not making the most glamorous real-life headlines at the moment, so there's no better reason for some heist-laden escapism. Could this also be the season for one last job? The Gentleman Thief returns with Assane in hiding but not for long. He comes back to Paris and proposes a new plan for his family, but of course, Assane's enemies and the police make this much easier said than done. At least he'll look stylish as hell while dealing with past ghosts.
6. The Walking Dead: Daryl Dixon (AMC series streaming on AMC+)
Hold onto your tushes because AMC has revealed that Season 2 of the Norman Reedus spinoff will be subtitled as The Book Of Carol. This means that everyone's (sacrilegious) prayers have been answered, and Melissa McCarthy will be back in sync with her platonic soulmate. No, we don't know how Carol will get to France, but Daryl Dixon will still be there, so presumably, she will find a way to join him. Before that happens, the season finale will enlighten us on why Daryl doesn't head back towards The Commonwealth as planned.
This week, the MCU's gloriously burdened ice giant finally reuinited with someone near and dear to his trickster heart. And then there's the whole Sophie matter to contend with, but in the meantime, there is pie and wonderful conversation, which is one of the more appealing parts of this whole show. Leave it to Tom Hiddleston to make exposition fascinating rather than how it's usually used in a utilitarian way. Here, it's part of the pleasure of the series, along with all of those dramatic hair flips and Hiddleston reminding us with every move that he is a classically trained theater actor who happened to stumble into a comic book franchise.
The book clubs will be tuning in this week after devouring Bonnie Garmus' debut novel that made her a "a literary rock star." This will be a hard act to follow upon, but in the meantime, Brie Larson swallows this gig whole in her most complex role since ROOM, for which she won an Oscar. Larson surely relished portraying a brilliant female chemist who is vastly underestimated but finds her success elsewhere and with a rabid following involved.
This week's episode was full of the customary stunts for this series and was so jam-packed that it felt like a five-minute runtime. Actually, the runtime was around 35 minutes, which was arguably too short for many viewers' tastes, but that goes to show how much people are already attached to these characters. The series has also teased a return for Jensen Ackles' Soldier Boy, and although it's doubtful that this character will join in on drop-kicking Johnny Depp, it's still worth fun visualizing.
2. The Fall Of The House Of Usher (Netflix series)
Mike Flanagan and Edgar Allan Poe fans, unite. The streaming horror maestro is back in fine form with a project that rivals the appeal of Haunting of Hill House and Midnight Mass. Flanagan favorite Carla Gugino is likewise back with multiple shape-shifting forms, and the Usher family is not ready for her "consequential" appearances. Do not expect a literal adaptation of the Edgar Allen Poe short story. The series focuses on the hell created by ruthless siblings Roderick and Madeline Usher, who built Fortunato Pharmaceuticals into an empire of wealth, privilege, and power. Oh, how the mighty will fall.
There are toxic relationships of many varieties, and this story manages to embody several types. Phoebe Dynevor and Alden Ehrenreich portray a couple, Emily and Luke, who also happen to be hedge funders, and troubling motives soon unfold in a cathartic journey for director and writer Chloe Domont. When Emily receives a promotion over Luke, he kind-of loses it, and their already twisted power dynamics fall over a cliff. The relationship rapidly begins to deteriorate once she is promoted, and eventually, the passive aggression turns to real aggression. This film should likely carry a trigger warning, but the ending delivers a cleansing payoff that is well earned.