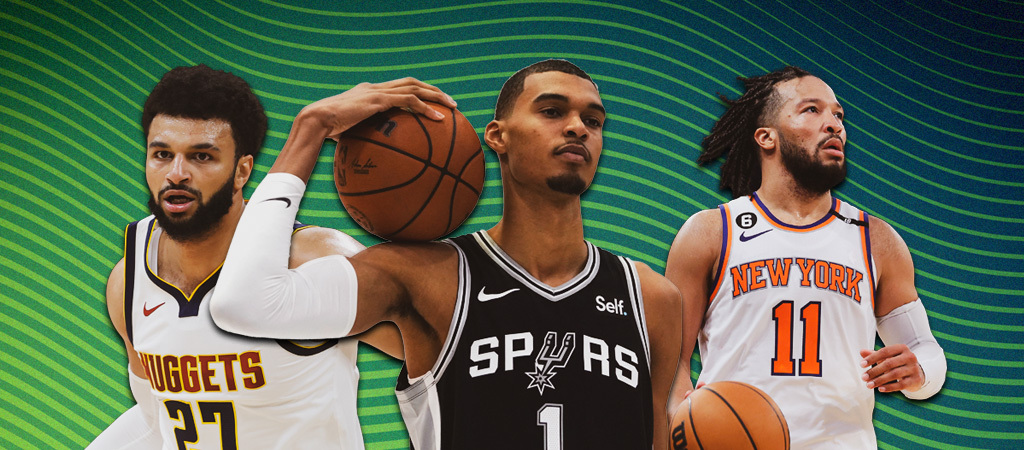 The 2023 NBA All-Star Game featured a number of fresh faces. Six players — Lauri Markkanen, Shai Gilgeous-Alexander, Anthony Edwards, De'Aaron Fox, Tyrese Haliburton, and Jaren Jackson Jr. — earned the first All-Star selections of their careers. It helped that there were 15 players selected due to three injury replacements, which is how Edwards and Fox made their way onto the rosters, but it also showed how deep the league is that there were six players capable of taking that leap last year.
Coming into the 2023-24 season, I wanted to try to identify the players that could make a similar breakthrough next February and earn their first All-Star selections in Indianapolis. First, you have to start at what spots are going to be actually open. Just looking through rosters and understanding how voting tends to work — a deep playoff run the year before can sometimes earn you goodwill in voting — there aren't likely to be a lot of spots available for first timers, especially in the West. Each year, you can lock in a handful of players who will be on the All-Star roster via fan voting, and assuming these guys remain healthy, I'd expect this year's list of locks to look as follows.
WEST: LeBron James, Nikola Jokic, Luka Doncic, Kevin Durant, and Stephen Curry
EAST: Giannis Antetokounmpo, Jayson Tatum, Joel Embiid, and Damian Lillard
From there, you get to the list of former All-Stars that are probably going to be in the mix based on the combination of individual production and team success.
WEST: Kyrie Irving, Anthony Davis, Zion Williamson, Shai Gilgeous-Alexander, Devin Booker, Paul George, Jaren Jackson Jr., Anthony Edwards, Kawhi Leonard, De'Aaron Fox, Domantas Sabonis, Bradley Beal, Karl-Anthony Towns
EAST: Jaylen Brown, Jimmy Butler, Bam Adebayo, Donovan Mitchell, Darius Garland, Tyrese Haliburton, Trae Young, Pascal Siakam, Julius Randle, James Harden, DeMar DeRozan
As you can see, that's more than 24 names combined, and as such, it is very difficult to crack the rosters, especially if you play in the backcourt in the East and the frontcourt in the West. Still, we almost always see someone make that leap and I've identified five players that I think have a real shot at making it for the first time this year.
Jamal Murray
I'll start in the West, where it's going to be incredibly difficult to get in the mix. But coming off of proving himself as the second-best player on a championship team, I'd expect Jamal Murray to get an All-Star nod for the first time. While Luka and Steph are locks in the backcourt, I think you're more likely to be able to find a spot as a guard in the West than a frontcourt player. Kyrie and Shai are in the next tier, but Murray will be in the mix on stats and the best players on the best teams tend to get rewarded with All-Star selections. Plus I expect there will be almost a feeling of duty to get Murray in an All-Star Game after what he did a year ago, as it's frequently brought up that he's never made an All-Star or All-NBA team in his career.
Victor Wembanyama
It's been over a decade since a rookie made an NBA All-Star Game (Blake Griffin in 2011), but let's not forget this is a popularity contest and there are few players drawing more eyeballs this year than Victor Wembanyama. He is going to be the featured player in San Antonio, meaning he should have plenty of chances to rack up the counting stats needed to justify a selection, and he also should have lots of fan support — as we've already seen in the preseason, he's going to be a ubiquitous presence on highlight reels all year. The thing working against him is the aforementioned logjam in the West frontcourt, and he would have to be putting up some preposterous numbers to be a coach's selection because they don't tend to want to put rookies on the roster. That said, if there were ever going to be a rookie to buck that trend, it'd be Wembanyama this year.
Jalen Brunson
The East figures to be a bit less chalky when it comes to selections, but with the game in Indy, one would expect Haliburton to nab a coach's pick alongside the other star guards in the East. That'll make it difficult for Brunson to find his way onto the roster, but after the way he performed last year with a legit case for a selection in 2023 and the general attention that comes with being the Knicks point guard, he ought to have a real shot. The drama in Philly could help, as there is a chance the Knicks will find themselves in the top-4 mix in the East by the time voting is happening. While it's an individual honor, we all know that team success plays a role in All-Star voting. If New York is in a top-4 spot in January, it's likely because Brunson is balling out, and that should come with an All-Star nod.
Mikal Bridges
If Bridges gets categorized as a frontcourt player, he'll have a real shot. If he's listed as a guard, I'm not so sure. He is now the Nets' leading man and should put up some big numbers this year on offense. When coupled with his reputation as a strong defender, that could give him an intriguing All-Star case. A lot will come down to where he's listed, as the guard room gets crowded quickly in the East and he would likely face less resistance on the frontcourt side.
Franz Wagner/Paolo Banchero
If the Orlando Magic are as competitive as many think they could be this year, there will be serious consideration for one of their two young star forwards to make the All-Star roster. Paolo Banchero, the reigning ROY and a standout for Team USA at the World Cup, is likely to be the fans' choice, as a leap in terms of scoring efficiency could very well take him above 25 points per game this season. The better all-around player right now is Franz Wagner, who can score it, facilitate, and is a solid defender, and since this is likely going to come down to a coach's pick, I'd lean Franz as the more likely Magic Man

to get an All-Star not. Either way, if Orlando's in the mix in the East's top-8, don't be surprised to see one of these two in Indy, as there should be a pretty open race for the final frontcourt spot in the East this year.
Tyrese Maxey
If James Harden gets traded sooner than later, Maxey is the guy in Philly who stands to be the beneficiary of a larger role. While Brunson might end up being the biggest beneficiary if the Sixers can't hold onto a top-4 spot, if Maxey excels in a larger role and the Sixers are still a top-4 team in the East, he'll have plenty of momentum for his first All-Star selection. This one requires more moving parts than the others and the East backcourt situation is going to be even more crowded than usual with Damian Lillard's arrival in Milwaukee, but if Maxey becomes a 25-point per night guy and is the No. 2 to Embiid on a really good Philly team, he'll certainly get a long look for a pick.