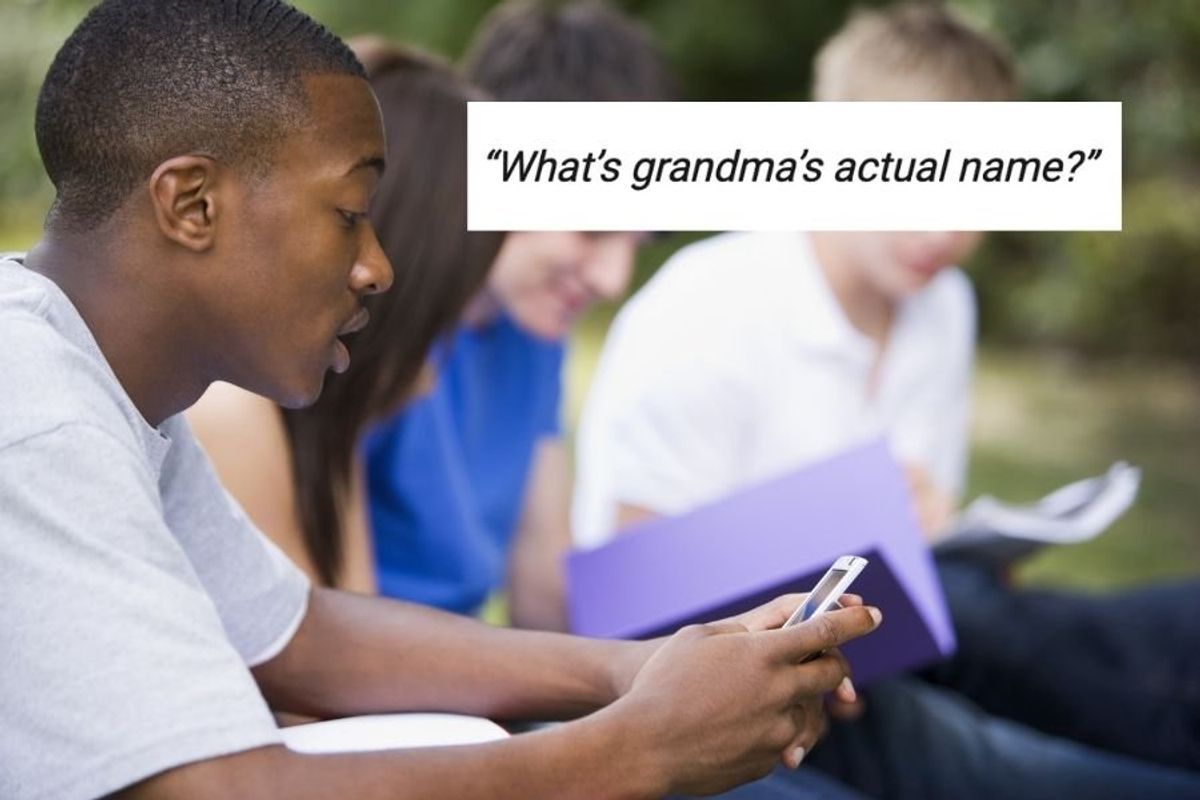 Heading off to college marks a major transition in a young person's life—a distinct shift from childhood into adulthood.
Except, that shift isn't always an instant transformation into complete self reliance, as many parents find out. In fact, lots of parents discover that their kids relied upon them for even the most basic information. Like, to a hilarious degree.
Chip Leighton, comedian and creator of the marriage/parenting themed TikTok series "The Leighton Show," recently had parents share the wildest questions their college freshmen ever asked them after leaving home.
---
In the viral clip, we see oh-so innocent, oh-so bizarre questions ranging from "I can use my expired passport to get out of Mexico, right?" to "does the post office sell stamps?" to…wait for it…"what time is noon?"
Bless their hearts.
After his original video got 2.3 million Leighton followed up with several more, each question more outrageous than the next—leaving parents virtually cackling.
Here are just a few gems:
"What's grandma's actual name?"
"Can I use the bathroom on a plane?"
"How often is annual?"
"Do we live above or below sea level?"
"How do I know when water is boiling?
"Pork chops are part of a chicken right?"
Of course, the comments sections of Leigthon's videos were equally rife with hilarious anecdotes from parents.
One wrote, "My college freshman daughter: which one makes noise? Lightning or thunder?"
Another shared, "My college sophomore was recently filling out a job application and asked me if she was a veteran." Oh dear.
Other parents went a different route, sharing comical misunderstandings their Gen Z kids have made.
"I told my college freshman son that something cost 'sixty five hundred dollars' and he told me to 'speak English please,'" one parent wrote.
Another added "Daughter: What places have I been to? Me: Lists locations and Disney was one of them. Daughter: So I've never been to the US?"
While of course it's fun to laugh at these (mostly cause we've all been there and thank god we aren't there anymore) there could be something to be said of instilling a "there are no dumb questions" policy.
After all, going to college is an exciting experience, but it can also be a daunting and lonely one.
It's a huge adjustment for teens to step into a new routine, new location, new friend group, new responsibilities…and all without having their normal support system close at hand. So even a simple answer to "how do I know which sock is the left one?" could be the very thing that provides a bit more emotional security during a big transition.
And the bright side to all this—it's easier than ever for parents to record these questions to bring up for a good laugh many years later.
By the way, Leighton has all kinds of hysterical comments gathered from teenagers, along with some other funny content. Find it all on his TikTok