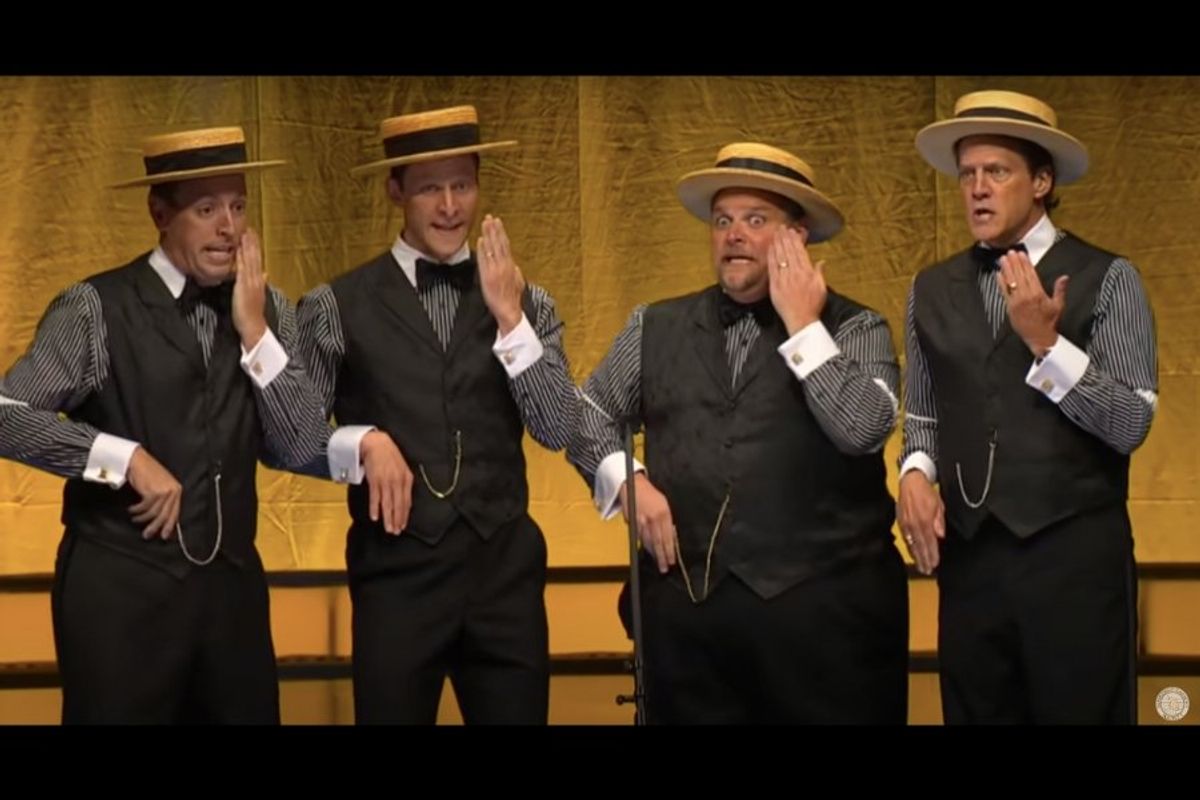 Few things send us reeling through a time warp like the musical stylings of a barbershop quartet. The perfect 4-part harmonies, the old-fashioned vests and straw hats and the turn-of-the-20th-century vibe evoke the sweet simplicity of a bygone era.
Barbershop groups often perform old standards, which is why one quartet's song about "the good old days" combined with a medley of late 90s' and early 00's pop songs hit a nerve. A group called Main Street performed "Today Will Be The Good Old Days Twenty Years from Now" at a barbershop quartet competition in 2015, and their renditions of Britney Spears, Bruno Mars, NSYNC, No Doubt and others' songs are as delightful as they are impressive.
---
The message in the first part of their performance is a hard pill to swallow, but those of us of a certain age know it to be true. The music from our youth is now considered "classic rock," but this medley makes that harsh reality we all have to face eventually a whole lot more fun.
Watch the performance shared by the Barbershop Harmony Society, which has over 7 million views on YouTube:
People loved not only hearing their pop favorites done in barbershop but also how well it was done.
"The average person doesn't get how incredibly complex this is just for ONE song," shared one commenter. "Even if you've been doing music professionally for years this is extremely complicated to do, and I hope it doesn't go unappreciated."
"That was a 15-second sustained note by the guy second from the left. That's incredibly impressive lung control. Whether or not you like barbershop music, you have to give these people credit for being amazing singers," shared another.
"You know the harmonies are tight when you don't know who sings which part," wrote another.
"There's something so gratifying about watching four people on a stage with no instruments just singing together and after 8 minutes still have your jaw dropped," wrote another. Indeed.
Even one of the judges from the competition weighed in:
"Watching this again and have watched it again many times. I happened to be one of the 15 judges on that panel at that event and am pretty certain I gave that the highest score I've ever given a quartet in contest. And, having seen it again many times I'm so thankful that is true and I probably should have given it a few more points. 🙂 Well, actually, I didn't have many left I could possibly give anyway. So entertaining and well sung!"
And people who love barbershop are thrilled with how much attention the video has received.
"As a long time Barbershopper, it blows me away how well this performance did with the 'outside' crowd," wrote one person. "Barbershop as a genre and hobby is incredibly niche. The fact that this video has MILLIONS of views is crazy to me, and it's awesome. I hope you all will check out more videos on the internet! Main Street, Vocal Spectrum, Crossroads, After Hours, etc. SO many amazing ensembles out there!!!"
Check out Barbershop Harmony Society on YouTube here for more barbershop music.