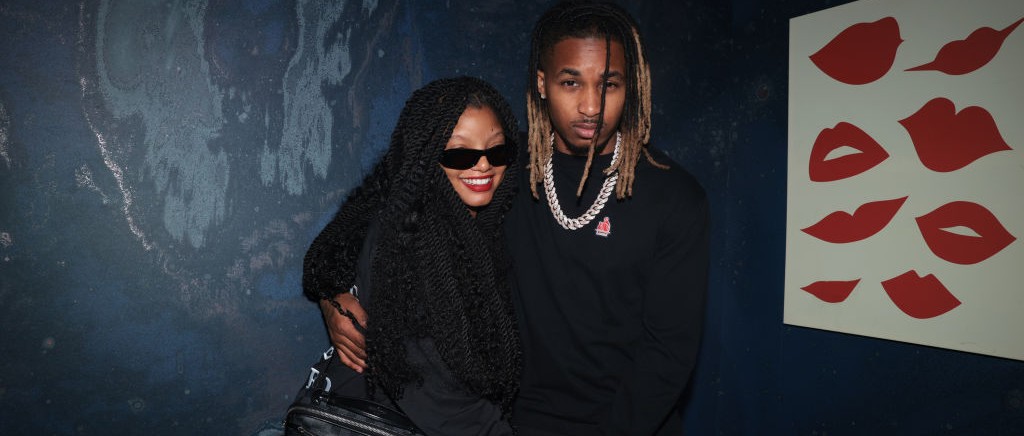 Singer and actress Halle Bailey has had a big year. Back in May, she starred as Ariel in the live-action version of The Little Mermaid. She also dropped her debut solo single, "Angel," and is set to appear as Nettie in a remake of The Color Purple, which arrives in theaters in December.
But her relationship with rapper DDG also has been making headlines. Like many high-profile couples, their relationship has been plagued with rumors. So, here is a timeline of their relationship so far.
January 2022
The two were first spotted together at Usher's residency show in Las Vegas, where they appeared to be enjoying themselves watching the R&B legend perform his hits. Pictures surfaced of DDG with his arm around Bailey, as the pair appeared rather happy and cozy.
June 2022
Bailey and DDG attended the BET Awards, making their official red carpet debut. Bailey noted that she was looking forward to seeing her sister Chlöe perform, with DDG by her side, who she referred to as her "boo."
"I have my boo with me today," Bailey said to Extra at the time. "We're so excited. We're gonna have so much fun just supporting Chloe. It'll be great!"
Later that month, Bailey shared a TikTok of her and DDG doing some vocal exercises.
August 2022
Bailey and DDG attended Variety's Power Of Young Hollywood event together.
October 2022
The couple attended the fifth annual Wearable Art Gala.
November 2022
Bailey opened up about her relationship with DDG in an interview with Essence. She recalled first seeing him as a YouTuber when both of them were younger.
"I've been a fan of his for years," she said. "I grew up being on YouTube and would always see the young Black creators and was constantly inspired by them. He was one of them."
She said she had first seen DDG's videos around 2015, but had forgotten about him for a time. He caught her attention once again when he started making music, and she remembers gravitating to one song in particular.
"Coincidentally he messaged me — and the rest is history," Bailey said.
December 2022
The couple attended the premiere of Avatar: The Way Of Water together.
February 2023
Fans began to speculate that there may be trouble in paradise after DDG's ex-girlfriend, rapper Rubi Rose posted a tweet reading, "Having ur b*tch [wear] my clothes is crazy lol."
Having ur bitch where my clothes is crazy lol

— Rubi Rose (@RubiRose) February 11, 2023
Rose did not allude to DDG or Bailey directly, however, fans noticed that Bailey had shared a picture of herself wearing a shirt Rose had been seen wearing in 2020.
In a since-deleted tweet, DDG wrote "All these girls the same, ain't no way," and fans noticed he had unfollowed Bailey.
DDG later took to Twitter, seemingly addressing the rumors, saying, "nobody cheated on nobody btw. don't take my tweets too serious."
nobody cheated on nobody btw. don't take my tweets too serious.

— DDG (@PontiacMadeDDG) February 9, 2023
March 2023
Bailey and DDG attended the Vanity Fair party together, following the Oscars.
April 2023
In an interview with British Vogue, Bailey reeled over a special kind of love, which she said was inspiring her creatively.
"Experiencing deep love for the first time in my life is something I feel has opened a whole new world for me creatively," she said. "What it feels like to love someone other than your family, like somebody you may not have known two years ago but now they're the center of your world. I like all of the scary feelings that come with that. I like the suspense, the not knowing what's going to happen, and I feel like that's what I'm supposed to be going through in womanhood."
The interview was published shortly before the premiere of The Little Mermaid, and Bailey noted that being in the spotlight was beginning to make her feel uneasy.
"There's a lot of eyes on me now, especially with what's to come," she said. "And sometimes I wish I didn't have so many eyes on me, especially experiencing something like this for the first time."
May 2023
The Little Mermaid premieres in theaters, and Bailey was busy with press this entire month. But as the hype started winding down, she posted a TikTok of she and DDG kissing — the video was captioned, "On my last day of press like…"
@hallebailey

on my last day of press like..
July 2023
This past July, DDG dropped a song called "Famous," in which he seemingly addressed the press campaign for The Little Mermaid.
On the song, he raps, "Filmin' a movie now you kissing dudes / You know I love you a lot / I don't give a f*ck if that sh*t for promo / I don't wanna see this sh*t no more Why is y'all holdin' hands in the photo? / You know I'm insecure, that's a no-no."
Fans suspected DDG was rapping about Bailey holding hands with her co-star, Jonah Hauer-King, during press appearances for The Little Mermaid.
September 2023
Bailey and DDG were seen attending Diddy's listening party for The Love Album in New York City together.
The couple also appeared at shows during Milan's Fashion Week, notably at Dolce & Gabbana for their Womenswear Spring/Summer 2024 collection and at the Gucci Ancora show.
October 2023
The couple was spotted out and about in Santa Monica, California.
Halle Bailey and DDG spotted in Santa Monica. (: Splash News) pic.twitter.com/ss7YmVjqGw

— Pop Base (@PopBase) October 16, 2023