When Kristen Stewart phoned the production team behind Netflix's uber-successful Queer Eye, she had a dream and an industry reputation propped up by alt-YA franchises that have been memed to hell and back. Her personal experiences with the paranormal – the spirit of Princess Di gave her final approval on that Spencer biopic — prompted her to dream up a truly absurd premise: a ghost-hunting road trip across America navigated by gay mediums, spiritualists, and a deep-fried daddy in Diane Keaton's favorite Bowler hat.
The result? Hulu's eight-episode horror docuseries, Living for the Dead. Deliciously addictive and over-the-top, the reality series is a surprisingly cozy Fall watch, a filling gumbo of gay empowerment spooned over spooky tropes for a marginalized audience that doesn't see itself enough in these found-footage paranormal investigations. That doesn't mean the show takes itself too seriously though. Every ghost-hunting term that can be Queer-ified will be over the course of its eight episodes — get ready for "gay-eances" and "spook-kikis" to become part of the pop culture lexicon — a "huntie" will most definitely flirt with an in-limbo entity, and more than once a member of the team will question, out-loud, why the f*ck they chose this line of work. But, even in its most-scripted moments, there's an emotional thread that runs through this reality adventure, one that will likely be familiar to Queer Eye fans. Whether they're cleansing haunted strip clubs of chauvinistic spirits or confronting their clown phobias in a run-down motel filled with painted visages that would terrify even Bill Skarsgard, there's a real sense of joy in watching these outcasts forge these strange connections. Joy, and unintentional situational comedy that will leave you howling … with laughter.
So, if you're ready to suspend your logic, here are six reasons why Living for the Dead should be your next go-to Halloween binge-watch.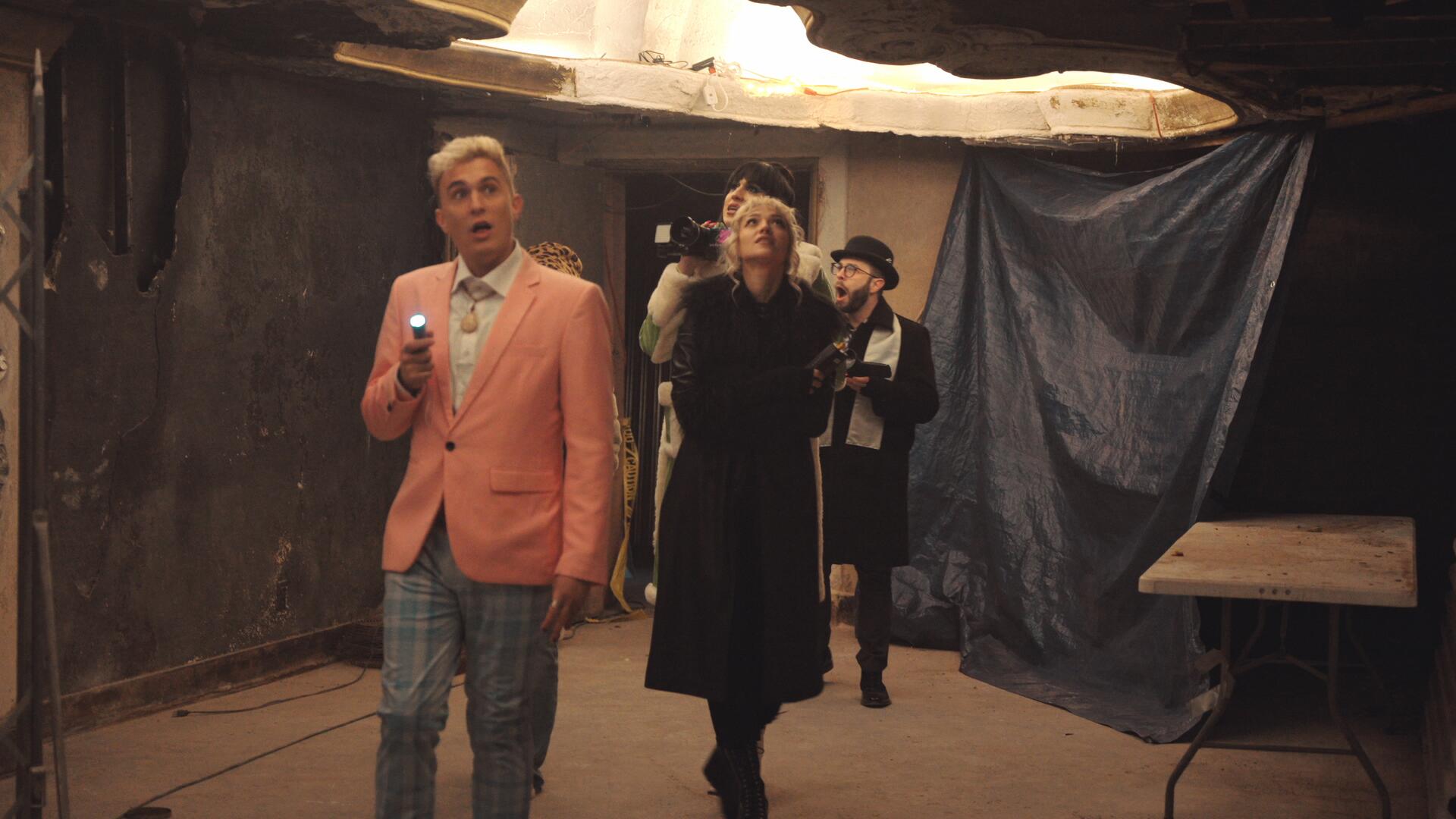 The Ghost Hunties
"A tarot card reader, a techie, a psychic, a researcher, and a witch …"
It sounds like a twisted reboot of The Breakfast Club but somehow, the cast — comprised of Ken Boggle, Juju Bae, Alex LeMay, Logan Taylor, and Hernandez — just works. Each brings a special set of skills and a colorful perspective on life as a Queer paranormal investigator. Boggle reads clients for filth, exposing some of their deepest insecurities and darkest fears with every flip of the deck. (He's a brutally insightful Karamo who harbors a deep-seated fear of clowns and an affinity for dressing like a Victorian-era Goth dandy.) LeMay is the soft-spoken tech expert who slightly resembles a Tim Burton character and is so genuine in her ghostly geek-outs, she almost makes sleeping in a coffin to commune with the dead seem fun. Taylor, the psychic, is a grown-up Haley Joel Osment — sweet, tortured, and constantly battling a spirit-induced stomach ache. Bae is the nurturing, level-headed witch, happy to shake her puka shells, cleanse her hands in holy Florida water, and ward against any pissed-off spirits conjured when her friends get up to their white people nonsense. And Roz is, well, there — to break the tension, to do some "research," and to argue with ghosts that get a bit too grabby. They're the occult Avengers, the Divining Fab Five, the … you get it.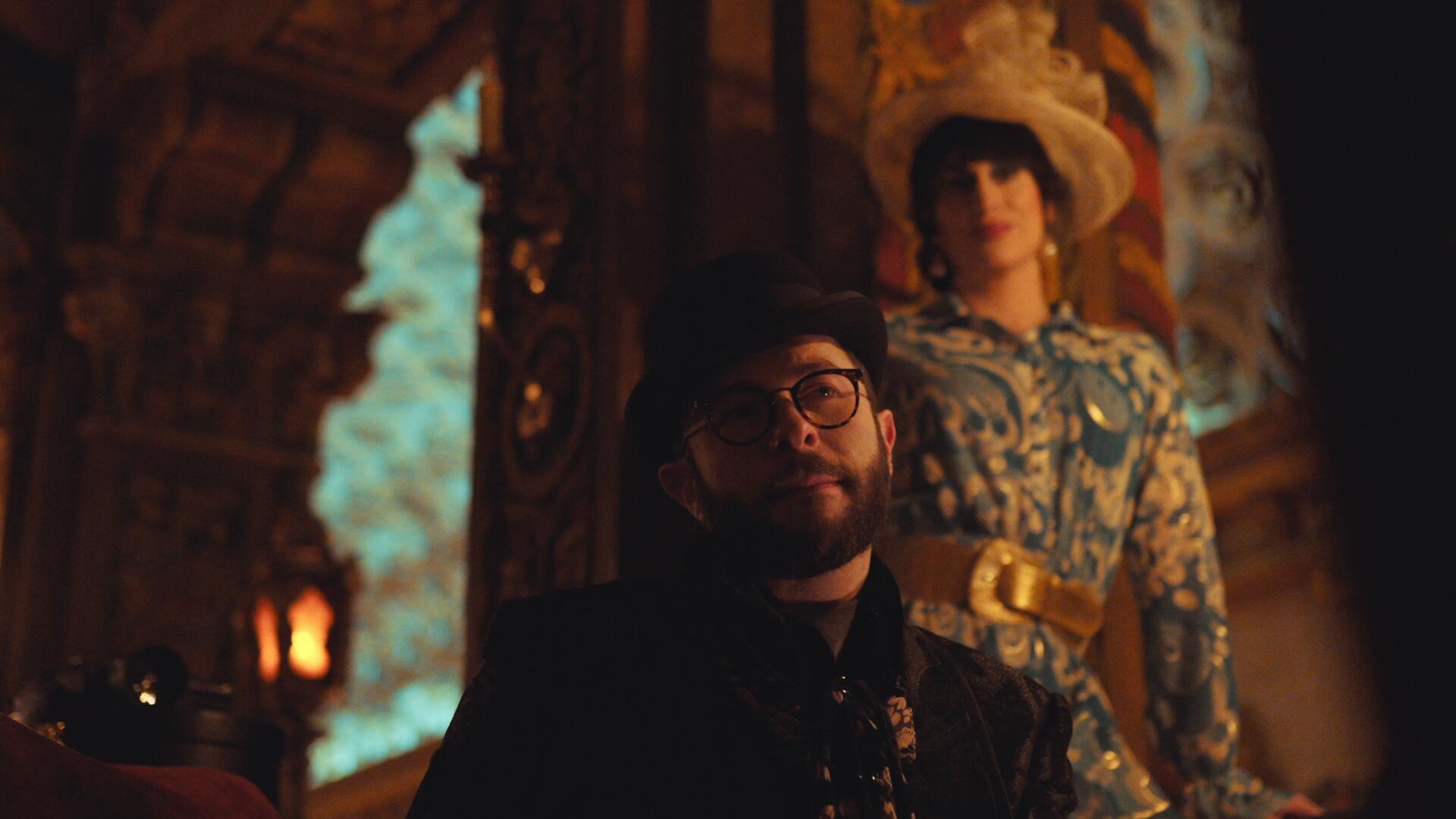 The Camp
The best horror isn't afraid to make jokes at its own expense, to lean into its camp, to poke holes in tired tropes, and to hold the mirror that reflects its own buffoonery. This show does that, lingering a bit too long on decorative doll arms swinging from the ceiling of the group's Scooby-Doo-like camper or injecting a joke about the cold caress of a handy ghost being a welcome come-on when the tension gets too thick. Hernandez, understandably, gets most of the laughs. In one episode, she dons a bomber jacket covered in cartoon ghosts with earrings to match, ultimately questioning whether the fit is insensitive to the horde of spirits haunting a would-be community center. In another, she becomes offended when a sexist specter stalks everyone but her, questioning if the ghost isn't attracted to her because of her haircut. (Thankfully, she decides against losing her bangs.) But each of the investigators finds their moments of brevity — by sliding into a man's DMs via a tarot card reading or having a sleepover with a new ghostly bestie or telling a bigoted poltergeist they aren't afraid to "F*ck a ghost up," and the show is at its best when it ditches the serious for the silly in their ghost hunting routine.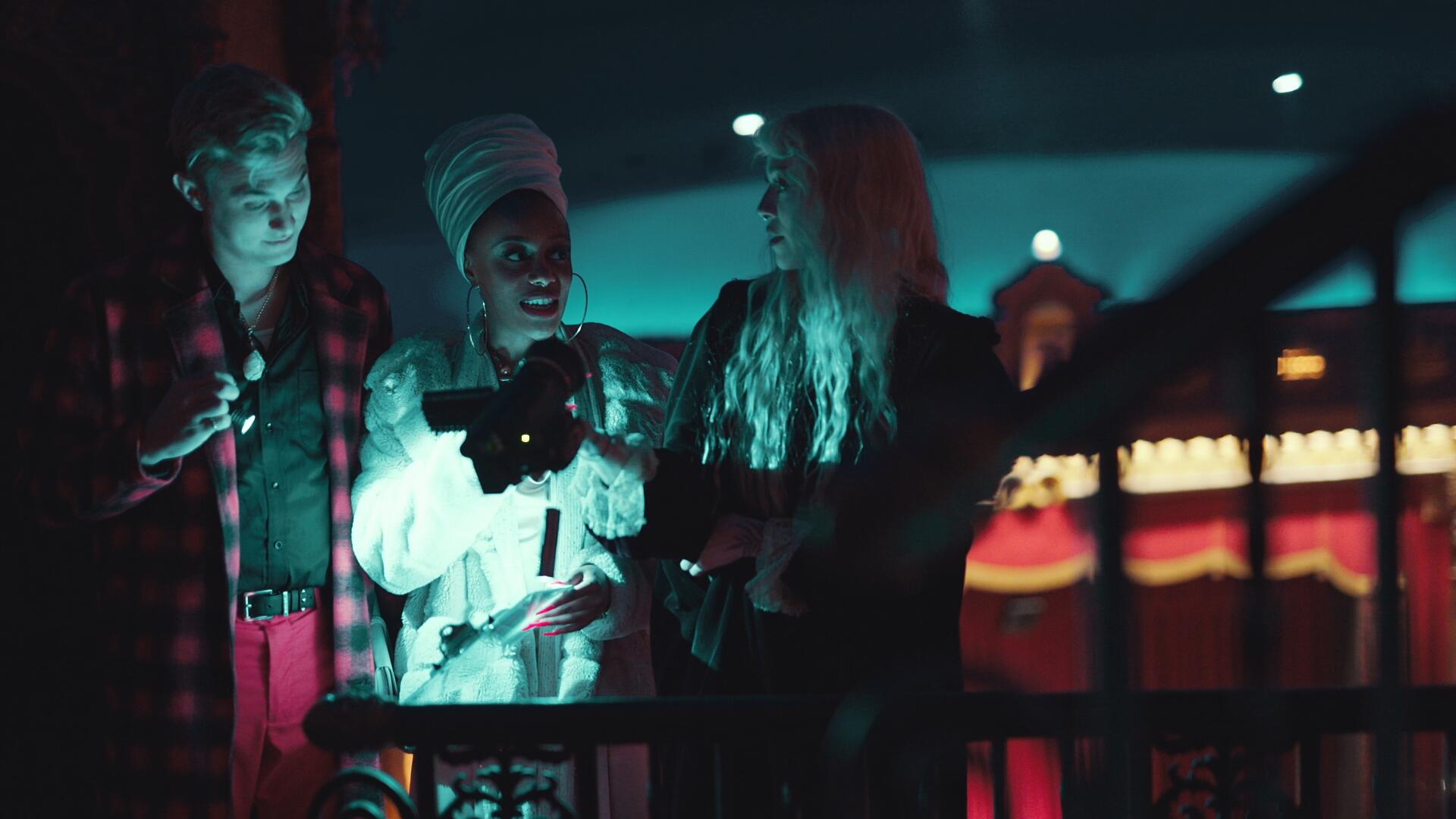 The Haunted Hot Spots
Abandoned sanitoriums, condemned psych wards, death-plagued mansions — these are the familiar haunts of the most popular ghost-hunting shows, and while they do feature on Hulu's genre interpretation, the idea that spooky-happening are solely contained in the weirdest, most obscure places is, as Stacy Ann Ferguson would say, "so 2000 and late." These ghost hunties go in search of the rare, preternaturally-preyed-upon gems you won't find middle-aged white dudes with their camcorders and infrared flashlights plodding around, like strip clubs, dream mansions built on Indigenous burial grounds (allegedly), wild west saloons, and a Free Masons-built funeral home-turned-NCAAP-headquarters-turned-Hungarian-refugee-center. The stories that come with these fascinating places are often just as compelling as the supernatural activity that makes them so feared. From mass graveyards and mining accidents to spirited saloon-era sex workers toying with bed-and-breakfast patrons, gentlemen's clubs built next to LDS communes and historic theaters harboring local legends, there's enough variety in where these hauntings are taking place to hold your interest — and make you grateful you live newly-constructed suburban home with an astronomical interest rate and absolutely no otherworldly ties.
Roz's Donut Addiction
Mark our words: Dunkin Donuts will be begging Roz Hernandez on their knees to become their new spokesperson after fans binge her Hulu reality series. No, really, Ben Affleck should be shaking in his damn boots because no one has made shoving oddly-shaped sugary confections into their mouth look as appealing as the comedic researcher. Powdered, jellied, chocolate glazed, Roz does not discriminate but she does subscribe to the motto that ghost hunting is more tolerable with processed sweets, and that's a political stance we can get behind.
The Ghost-holes
Did you know, that most ghosts, like most people, are total a**holes? It seems fairly obvious in retrospect, but if you're new to the ghost-hunting game, Living for the Dead will relieve you of the notion that spirits are somehow wiser, omniscient beings with a wealth of knowledge gleaned from the other side that they're just dying to communicate. In reality, dead people are just dicks, trapped in places their spirit recognizes as familiar and willing to make life hell for the living to ease their boredom. That's true for Dutch — a movie-theater projectionist who tragically passed away on the job and has started attacking people for leaving his space looking like a fraternity bro's bedroom during finals week. It's true for the former strip club manager whose sole spiritual purpose is to make sure a gay man knows he doesn't like his black nail polish. And it's certainly true for the egregore inhabiting a historic home and cursing visitors because it needs a new paint job. Most ghosts are just mean girls who haven't moved on from the metaphorical high school that is life, which makes the notion that they can scratch, push, and pull your hair slightly less terrifying. Very slightly.
The Underwhelming Paranormal Makeovers
If we had to ding this gloriously gay ghost fest on something it would be its lackluster paranormal makeovers. Sure, the group is great at finding interesting stories, uncovering buried truths, and channeling otherworldly entities. They can slay-eance with the best of em, kiki more spookily than those other girls, and provoke homophobic spirits with ingenious games of truth or dare like none other but it's difficult to say whether they leave these haunted hotspots less spirit-infested than when they came. Besides Bae, who does her best to equip clients with intense bundles and protective charms to ward off malevolent wraiths, the most the group can do is bargain and barter with these ethereal b*tches, empowering the people being haunted with knowledge and rituals to ground them in reality when supernatural happenings ramp up. But that disheartening prescription is also what gives the show its darkly comedic edge. Every episode follows the same format: "Yes, there are ghosts here. Yes, they're purposefully harming you. Look, we riled them up with our EMPs, our silly questions, and our free-journaling psychic. Ok, bye." What these people really need is a Bobby Berk, but, even though it might be a bit mean-spirited of us, it feels unintentionally hilarious that they won't be getting one.