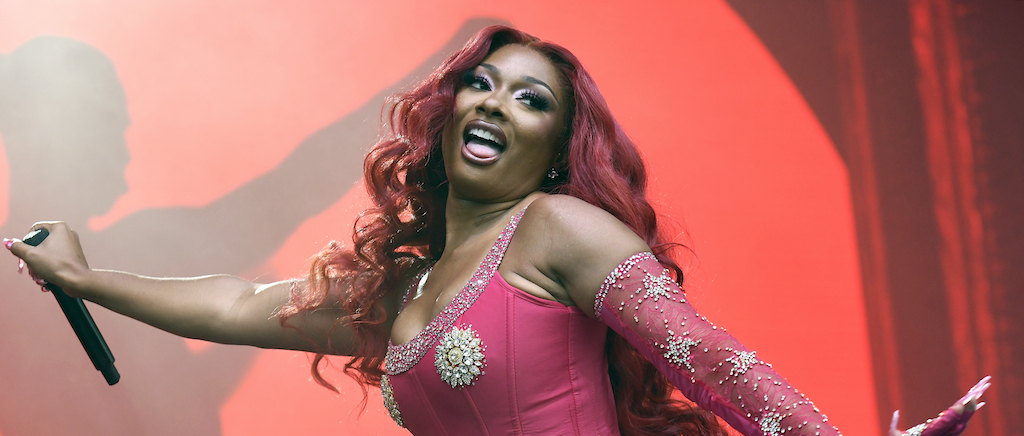 Earlier this month, Megan Thee Stallion revealed that she is no longer signed to a label and will pursue her career independently for the foreseeable future. This seemed to suggest that her long-simmering legal dispute with Houston label 1501 Certified Entertainment had finally come to an end, and today, Billboard confirmed as much, reporting that Megan and 1501 Certified had "mutually reached a confidential settlement to resolve their legal differences" and will "amicably part ways."
Over the course of the past four years, the dispute had grown quite acrimonious at times. Still, in a statement, 1501 said, "Both Megan and 1501 are pleased to put this matter behind them and move forward with the next chapter of their respective businesses," with the label's founder and president Carl Crawford saying he and 1501 "wish Megan the very best in her life and career."
Here's a timeline of the legal battle.
March 2020 — Megan Says 1501 Is Blocking Her From Releasing New Music
After her song "Big Ole Freak" blew up in the summer of 2019, Megan signed with Roc Nation management in September 2019. However, in March 2020, after releasing the follow-up singles "B.I.T.C.H." and "Captain Hook," Megan said during an Instagram Live session that 1501 was blocking her from releasing new music after she requested to renegotiate her 2018 contract with the label, citing unfair terms that gave 1501 cuts of every revenue stream.
Megan requested and was granted a restraining order allowing her to release more music, while 1501 failed to keep her from doing so.
August 2021 — 1501 Tries To Block The Release Of Meg's Remix Of BTS's Hit "Butter"
While Crawford and Houston music icon J. Prince insinuated that 1501 and Meg were close to a new deal throughout 2020, through the releases of the EP Suga and her debut album Good News, in August 2021, the reveal that the label once again tried to block the release of new music appeared to belie their comments.
This time, Megan once again went to court to grant the release of a song, her remix to K-pop band BTS's monster hit "Butter." Once again, she was granted a court order allowing the release of the song, but it became clear that her issues with 1501 weren't going away.
February 2022 — Megan Sues To End Her Contract With 1501
Things came to a head early last year when Megan finally outright sued 1501 Certified Entertainment after the label refused to count Something For Thee Hotties against her contract. By her reckoning, the project satisfied her four-album deal, but because many of its 21 tracks were freestyles or previously recorded material, 1501 labeled it a compilation.
August 2022 — Megan Amends Her Suit, Demanding $1 Million In Unpaid Royalties
A few months later, Megan updated her lawsuit to include not only a release from the label, but also $1 million she said the label owed in royalties — money she later accused the company of hiding.
October 2023 — Megan And 1501 Certified Settle, Meg Walks Away
As of this writing, Megan Thee Stallion is a free woman after it was reported that both sides agreed to settle the suit out-of-court. Although the terms weren't revealed, Megan is officially an independent artist, leaving 300 Entertainment, as well, while presumably continuing her management deal with Roc Nation.
Megan also teased what could be a new album coming soon — without external influences from 1501.