Buffalo Trace is one of my most beloved distilleries in America. Blanton's, Pappy Van Winkle, E.H. Taylor, Weller, Stagg, and the Buffalo Trace Antique Collection are just a few of the prized labels the brand drops throughout any given year. Well, Buffalo Trace just added a new collection of whiskeys to that list — the Prohibition Collection. Below, I'm going to give you my professional tasting notes on all five bottles in this very exclusive tasting set.
Before I dive in, let's have a little background. Each of these bottles represents a brand that the Buffalo Trace Distillery — which was once called the O.F.C. Distillery and George T. Stagg Distillery, depending on the era — either distilled or was the source of for other bottlers back in the Prohibition era. Each of the bottles has a label that shows the bottle as it would have looked when the old George T. Stagg Distillery was operating as a "medicinal" whiskey distiller during the dark days of Prohibition.
It's so well done that the boxes for each of these bottles even have the space for a "prescription" label. I know, I know — get the to the chorus!
The overall point to take away — besides the throwback branding — is that these are new Buffalo Trace whiskeys batched in new ways that we haven't necessarily seen before. Master Distiller Harlen Wheatley was able to make something unique and interesting out of whiskey that most of the whiskey-drinking world already adores. That's exciting.
So, let's dive into my tasting notes on each bottle in this elite collection of whiskeys.
Also Read: The Top 5 UPROXX Bourbon Posts Of The Last Six Months
Three Feathers Bottled In Bond Blended Whiskey
ABV: 50%
Price: $1,000 for the set
The Whiskey:
The Three Feathers band goes back to 1812 and The O.F.C. Distillery days of Buffalo Trace. The whiskey started as a rye before slowly transitioning to a bonded and then eventually a blended whiskey before it was lost to history. Today, the whiskey is a blend of straight whiskeys from Buffalo Trace's stocks and not a blend of whiskeys and neutral grain spirits like other "blended whiskeys".
Tasting Notes:
Nose: Leathery cherry and baking spices pop on the nose with a good vanilla foundation next to old oak and a hint of light-smoldering orchard bark.
Palate: Peach skins and pear are present on the palate with a sense of sour cherry dipped in root beer next to a creamy vanilla sauce just kissed with salt.
Finish: Rich and buttery salted caramel arrives late on the finish as dark winter spices and a light sense of old oak round things out.
Bottom Line:
This is a nice whiskey overall, but a tad thin in the end. It feels like a good standard whiskey that's meant for whiskey-forward cocktails.
Old Stagg Whiskey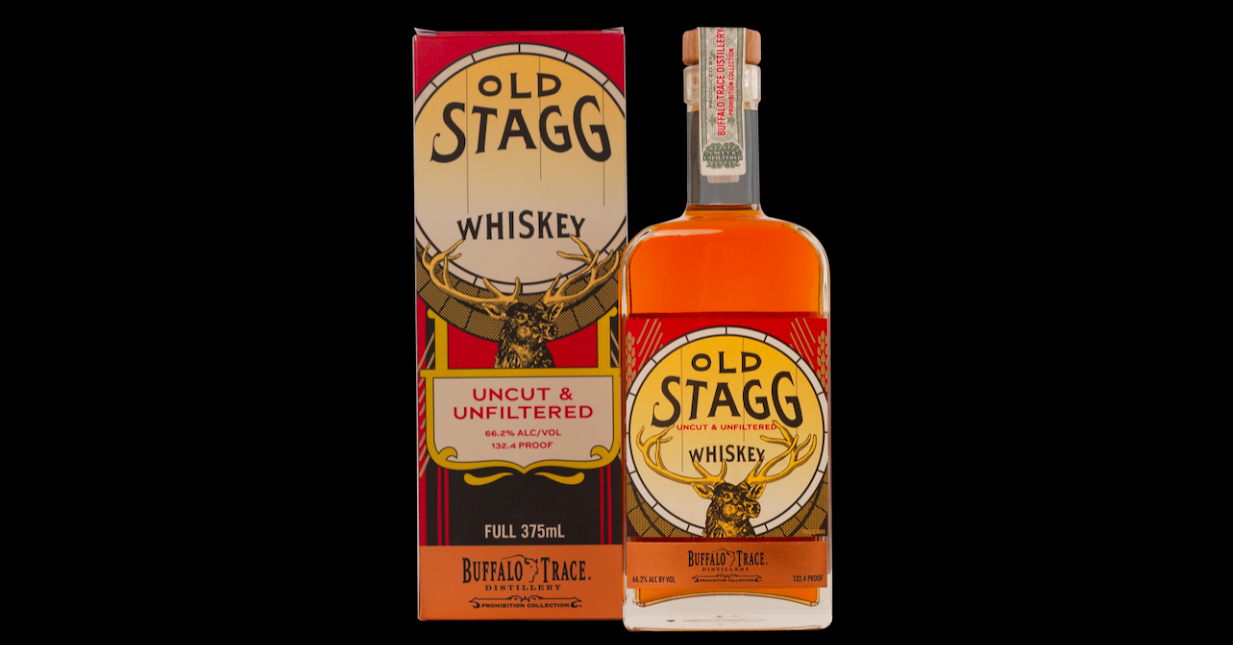 ABV: 66.2%
Price: $1,000 for the set
The Whiskey:
A new Stagg bourbon is always an exciting prospect. This version is a throwback to the label from back in the days of Prohibition when Stagg was the George T. Stagg Distillery's flagship brand. The actual juice in the bottle is a batch of classic Stagg bourbon bottled as-is at cask strength.
Tasting Notes:
Nose: A deep sense of Buffalo Trace sour mash comes through on the nose like a batch of sourdough cinnamon rolls just out of the oven next to rich vanilla icing, leathery dark fruits, and old and musty oak staves.
Palate: The ABVs create a light buzz on the tip of the tongue as soft leather slowly turns into brandy-soaked cherries dipped in dark chocolate rolled in winter spices and just kissed with orange zest and salt.
Finish: The vanilla gets buttery and creamy on the finish as the ABVs warm your throat and chest with sharp winter spices, dried orange, dried red berries, leathery prunes and dates, and a sense of chili-chocolate tobacco rolled with fallen orchard leaves.
Bottom Line:
This is a classic pour of Stagg. Given how vehemently people clamor for every Stagg release, I can see people buying this set for just this bottle. And it loves up to the Stagg hype, this is really good bourbon.
That all said, you might want to pour this over a single big ice cube to calm it down a tad on the senses. It's warm to me, which might be HOT to you.
Spiritus Frumenti Whiskey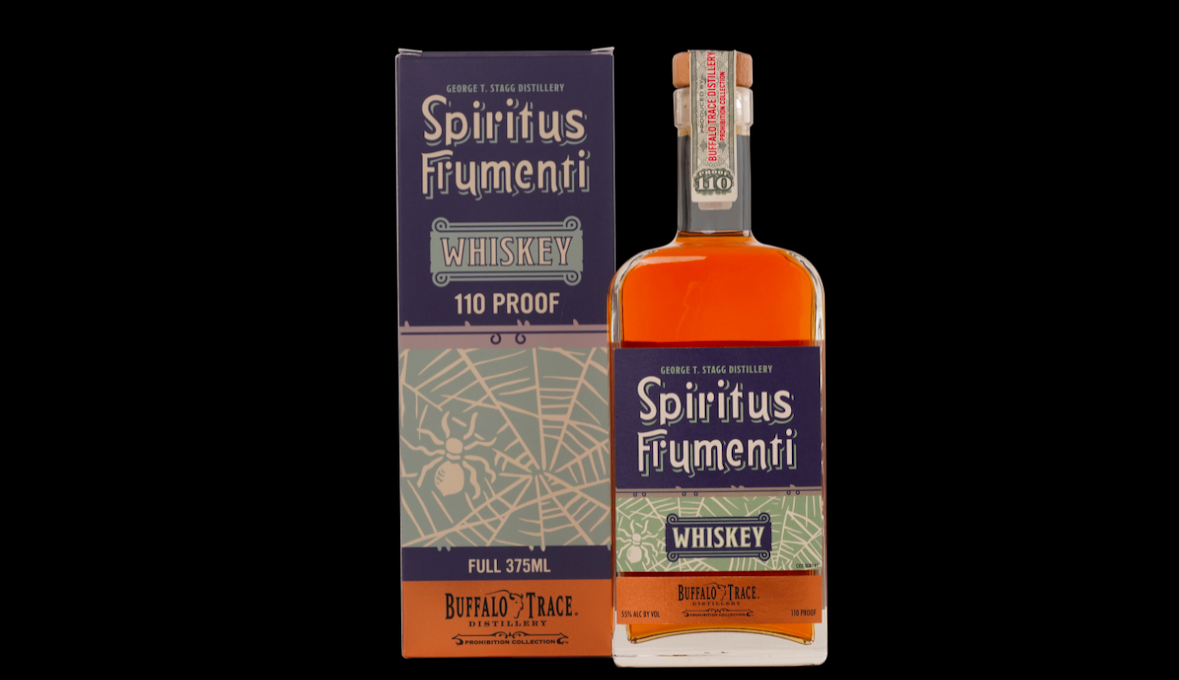 ABV: 55%
Price: $1,000 for the set
The Whiskey:
Spiritus Frumenti is the Latin name that doctors and pharmacists use when prescribing booze to patients. It simply means "Spirit of the Grain" in case you're wondering, and it's what whiskey was "prescribed" as during Prohibition. The actual whiskey in the bottle is a batch of Buffalo Trace straight bourbon.
Tasting Notes:
Nose: Heavy nostalgia notes of summer in the backyard — warm fir sap, old porch furniture, blooming orchard tree, dry grass — mingles with dark and salted caramel, cherry cola, raw sugar rock candy, and a whisper of pear brandy marzipan.
Palate: Apple blossom and orange oils drive the palate toward a deep vanilla buttercream next to toffee rolled in roasted almond and just dusted with dark chocolate before a hint of dry sweetgrass arrives.
Finish: That sweetgrass braids with cedar bark, smudging sage, and chocolate-orange tobacco on the finish as the rich vanilla buttercream creates a lush ending.
Bottom Line:
This is pretty delicious whiskey — and feels like the quintessential Buffalo Trace bourbon taken up to a notch. This is a must-try from the bunch (but more on that below).
Walnut Hill Whiskey
ABV: 45%
Price: $1,000 for the set
The Whiskey:
Walnut Hill is an outlier in this collection as it was only produced at George T. Stagg Distiller and bottled for another brand (contract distilling has been around for as long as the industry has). Today, the whiskey in the bottle is a batch of Buffalo Trace straight bourbons.
Tasting Notes:
Nose: The nose opens with a bright fruity sense that leads to minor keys of cornbread and dried chili pepper next to orange oils and old oak staves.
Palate: The cornbread takes on a molasses sweetness as peaches and cream drive the taste toward a rich and creamy vanilla cut with cinnamon and nutmeg, which almost leans the flavor toward eggnog.
Finish: The end takes on a dry barrel stave vibe with a hint of cinnamon tobacco and smudging sage over a soft vanilla foundation.
Bottom Line:
This is a very good standard Buffalo Trace bourbon. It feels like it's subtle enough to sip over rocks or make into a solid whiskey-forward cocktail.
Golden Wedding Brand Rye Whiskey
ABV: 54%
Price: $1,000 for the set
The Whiskey:
This brand goes beyond even the old George T. Stagg Distillery to the time Shenley Distilling owned the property and split the brand's production between the campuses in Pennsylvania and Kentucky. Eventually, Shenley moved the brand to Canada and turned it into a Canadian whisky before it was killed off in the late 20th century. Buffalo Trace decided to resurrect this brand with a signature batch of their straight rye whiskey to honor that long and varied history on and in the bottle.
Tasting Notes:
Nose: The nose opens with a deep sense of rye bread crust bespeckled with caraway next to dry smudging sage, roasting herbs, and cedar bark that gives way to a soft sense of dark fruity leather, soft vanilla creaminess, and a hint of mulled wine in an oak barrel.
Palate: Those roasting herbs drive the palate back toward the rye and caraway with a fleeting whisper of dried dill before circling the palate back around to dark dried berries, old vanilla pods, and a mild sense of eggnog.
Finish: The woody spice barks spike on the finish with a sense of smoldering smudging sage and old tobacco leaves stacked in an old cedar box and wrapped in worn leather before a sense of an old apple orchard on a rainy and cold fall day sets in.
Bottom Line:
Buffalo Trace knows how to make a great rye whiskey and this is a stellar example of that. It's complex, funky, and deeply flavored in all the right ways.
This is a great sipper neat, on the rocks, or in a killer Manhattan. Dealer's choice!
Final Thoughts on the Buffalo Trace Prohibition Collection Whiskeys:
As you can see, I didn't rank these whiskeys. They're just so different and unique that it felt a bit trite. Moreover, you can only buy them together. So you're getting all of them if you're getting one of them (more on that in a moment). Still, I had two clear favorites. The Golden Wedding Rye and Spiritus Frumenti were iconic Buffalo Trace products that felt fresh and original while still delivering a wonderful experience.
I also really dig the Stagg. It's a Stagg, what can I say? It's great whiskey that people love for a very good reason. It is the warmest of the bunch and I still highly recommend pouring it over ice to maximize the experience.
Lastly, the Walnut Hill and Three Feathers felt like the standard pours of the pack. They were both perfectly fine sippers but felt more suited to mixing up a solid cocktail with a little pizzaz than as true-blue sippers.
So how do you get this set of whiskeys? Well, you can score a box for $1,000 if you're lucky (assuming your local liquor store even got one). Otherwise, you're going to be looking at a secondary market with greatly inflated prices — this is a Buffalo Trace release after all. Still, if you do come across this one and you are an avid fan of Buffalo Trace or even just Stagg, this is a no-brainer buy to add to your collection.