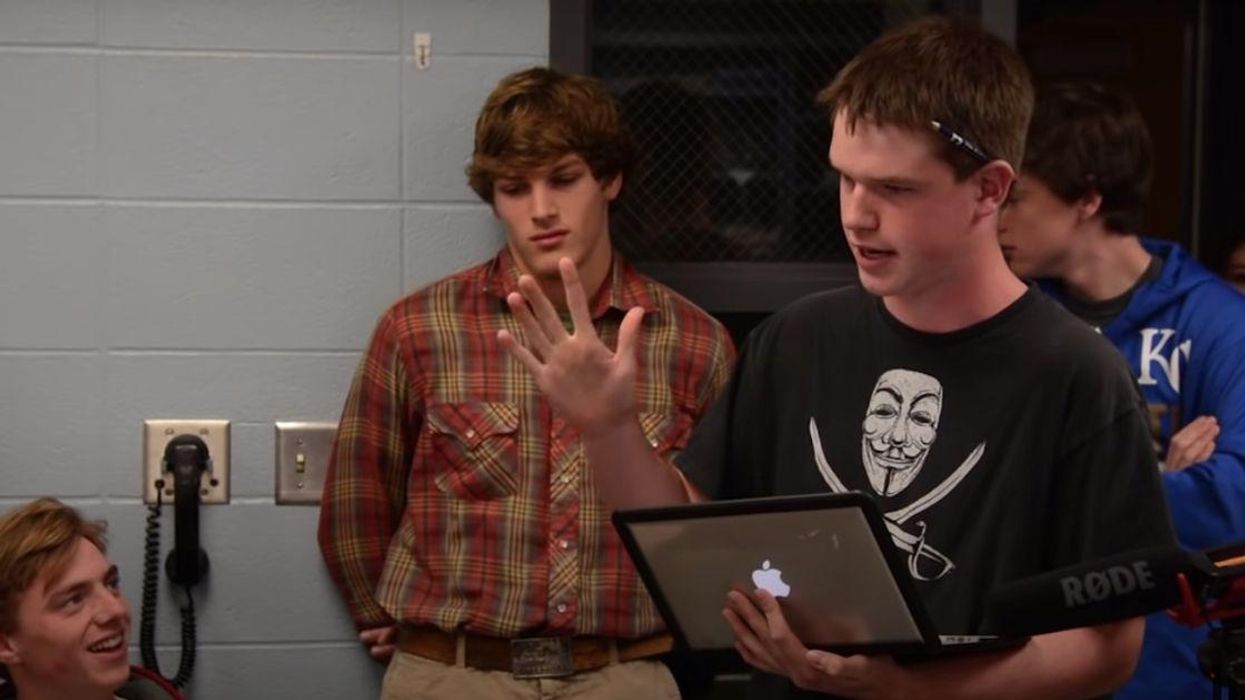 Six years ago, a high school student named Christopher Justice eloquently explained the multiple problems with flying the Confederate flag. A video clip of Justice's truth bomb has made the viral rounds a few times since then, and here it is once again getting the attention it deserves.
Justice doesn't just explain why the flag is seen as a symbol of racism. He also explains the history of when the flag originated and why flying a Confederate flag makes no sense for people who claim to be loyal Americans.
This high school student, Christopher Justice, does a great job at explaining the Confederate flag and its problems.pic.twitter.com/CcOXHCB8GQ

— ud835udc0bud835udc1aud835udc27ud835udc1cud835udc1e ud83cudff3ufe0fu200dud83cudf08 (@ud835udc0bud835udc1aud835udc27ud835udc1cud835udc1e ud83cudff3ufe0fu200dud83cudf08)
1628088843
But that clip, as great as it is, is a small part of the whole story. Knowing how the discussion came about and seeing the full debate in context is even more impressive.
---
In 2015, a student at Shawnee Mission East High School outside of Kansas City came up with the idea to have student journalists document students engaging in open discussions about various topics. In support of this idea, history teacher David Muhammad helped arrange a debate about the use of the Confederate flag in American society in his classroom.
According to the Shawnee Mission Post, Muhammad had prepared a basic outline and some basic guiding questions for the discussion, but mainly let the students debate freely. And the result was one of the most interesting debates about the Confederate flag you'll ever see—one that both reflects the perspectives in American society at large and serves as an example of how to hold a respectful conversation on a controversial topic.
The full discussion is definitely worth a watch. Justice had quite a few Confederacy defenders to contend with, and he skillfully responded to each point with facts and logic. Other students also chimed in, and the discussion is wildly familiar to anyone who has engaged in debate on this topic. For his part, Mr. Muhammad did an excellent job of guiding the students through the debate.
"I had Chris in class, so I knew he was super intelligent and that he read a lot," Muhammad told the Shawnee Mission Post in 2018. "But that really came out of left-field. He was never out there very much socially, so I didn't expect for him to want to speak in front of a crowd like that."
(In case you're wondering, according to LinkedIn, Christopher Justice is now studying political science at Wichita State University after switching his major from sports management. David Muhammad is now Dean of Students at Pembroke Middle School and also serves as a Diversity Consultant.)
Thanks, SM East, for documenting and sharing such a great discussion.
This article originally appeared on 08.05.21