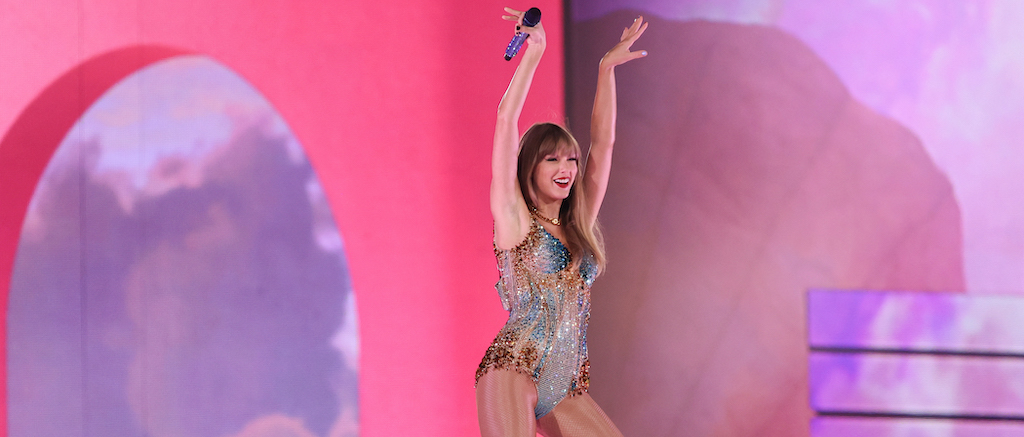 For those who've had the chance to catch Taylor Swift's The Eras Tour concert film in theaters, there's a high chance you've focused on at least one of her backup dancers. One in particular has gone viral after fans spotted his resemblance to actor Oscar Isaac. There are also others who play major roles in her elaborate dance numbers.
Given Swift is returning to the next leg of her tour on November 9, there's time for fans who are going to an upcoming Eras show to get familiar with the rest of the crew.
In total, Swift has many backup dancers on this tour. Here's what to know.
Raphael Thomas
Fans might recognize Thomas as the male love interest during Swift's "Tolerate It" performance. He is originally from Jamaica and moved to the US to train at several dance schools.
Natalie Reid
Another key figure on the tour, Reid plays the part of Rebekah in the blue dress during the choreography for "The Last Great American Dynasty." She has performed at the Emmys and other television shows.
Tori Evans
Evans is one of The Eras Tour backup dancers. According to Screen Rant, she studied at the University of Arizona in Tucson and has previously performed with artists like Cardi B and Beyoncé.
Jan Ravnik
Ravnik won the title of Best Dancer in Slovenia. He has previously worked with Bruno Mars, Mariah Carey, and more. Oh, and he's the one that fans keep mistaking for Oscar Isaac on the internet.
Tamiya Lewis
At just 20, Lewis is a pro dancer with the Velocity Dance Convention and teaches classes for other performers.
Whyley Keolaokalani Yoshimura
One of Swift's new dancers on this tour, Yoshimura has previously worked with Christina Aguilera, Rihanna, and other major pop stars — giving him an impressive resume.
Taylor Banks
Like others on this list, Banks has some well-known past work. She has danced for Dua Lipa, Jennifer Lopez, Billie Eilish, and many more.
Natalie Peterson
Peterson's past work prior to the tour included performing at the Billboard Awards in 2021 and backing Karol G for her "Location" music video.
Kameron Saunders
Saunders previously worked with the Saint Louis Ballet and other companies for dance. He is also set to appear in The Color Purple movie.
Kevin Scheitzbach
Outside of Swift's tour, Scheitzbach regularly works as a dance duo with his brother, Michael. They are known under the name FlowXS.
Sydney Moss
Moss is another former dancer for Lopez and has also previously performed with Janet Jackson.
Sam McWilliams
McWilliams is one of the younger performers at just 19. He has already worked with Bebe Rexha and appeared on the American Music Awards.
Audrey Douglass
Douglass' past experience is primarily in television and film. She has danced in Glee and La La Land. She is also a former New York City Rockette.
Karen Chuang
Chuang closes out the list with an impressive past list of work. She has been a backup dancer for Nicki Minaj, Khalid, and many more.
Some artists covered here are Warner Music artists. Uproxx is an independent subsidiary of Warner Music Group.