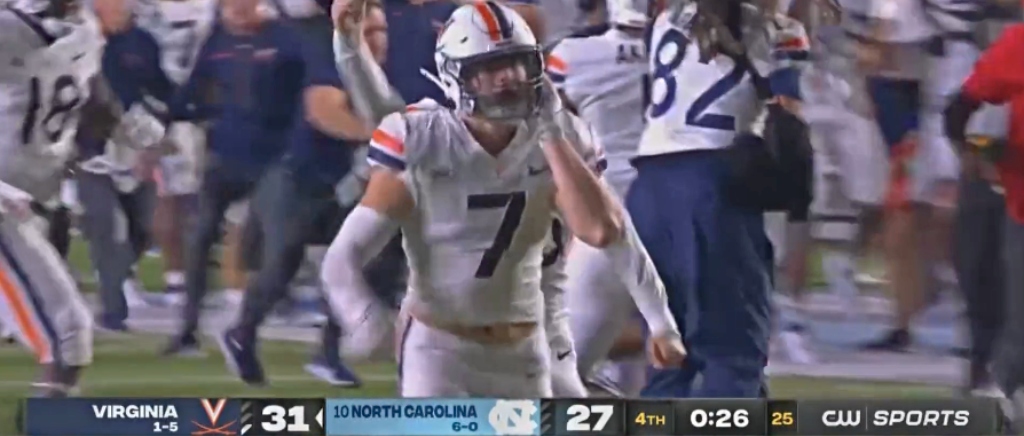 All week long, Mack Brown warned his No. 10 North Carolina team against eating "the poisonous cheese" in the veritable rat trap, so to speak. He knew a 1-win Virginia team coming to town might have his team feeling overly confident.
The warnings didn't work, and whatever cheese the Tar Heels collectively bit into before the Virginia game was indeed poison of some kind as they fell 31-27 to the Cavaliers at home.
The game was sealed on a Drake Maye interception in the game's final moments with the Heels trying to find a game-winning miracle, but it felt over long before that. UNC's defense came into this game ranked 55th nationally in total defense, but played more like last year's unit that ranked as one of the nation's worst.
The Tar Heels have been known in the second Mack Brown era as a team with a really good offense but a struggling defense, a quarterback under center in Sam Howell and Drake Maye that seems destined to play on Sundays but can't always be enough of a hero to outscore what the defense allows.
UNC and Maye scored on six of its first 10 drives, but the five punts were more than normal. After a field goal with 12:08 to go, though, UNC would not score again in its final three drives.
Virginia's final go-ahead touchdown came with more than eight minutes to go, plenty of time for UNC to muster up a score. But the one time UNC got a break on a Virginia goal line fumble with 4:50 remaining, it couldn't cash it in.
The drive started promisingly with plays of 33 and 29 yards to reach the Virginia 18-yard line. But facing 4th and 12 on the 20, UNC elected to go for it with 3:12 to go rather than cut the lead to 1 point and did not convert.
Virginia had to have a stop, and it did get it, getting the ball back with 1:12 to go. But the Tar Heels were not able to stop the clock as often as they'd have liked and after reaching Virginia's 48-yard line with less than a minute to go and no timeouts, Maye threw the pick with 26 seconds to go and that was it.
UNC's defense allowed Virginia to post a season high in yards against FBS opponents (436) and a season-high in rushing yards with 228. The Tar Heels had six penalties, but often at the worst possible moments, including a hold that wiped out a potential touchdown. UNC lost its starting punter to a season-ending injury a few weeks ago, and his replacement had a 16-yard punt. Virginia dominated special teams.
The Tar Heels held the ball nearly 15 minutes longer than Virginia and ran seven more plays, but it didn't matter. Virginia's offensive line had been bad entering the game, but it allowed UNC to sack quarterback Tony Muskett just twice and paved the way for a physical running game that UNC struggled to stop.
Now, the Tar Heels' undefeated season and any hope, albeit slim, at a College Football Playoff berth are gone. And it happened at home, against a team that had not beaten an FBS opponent in over a year.