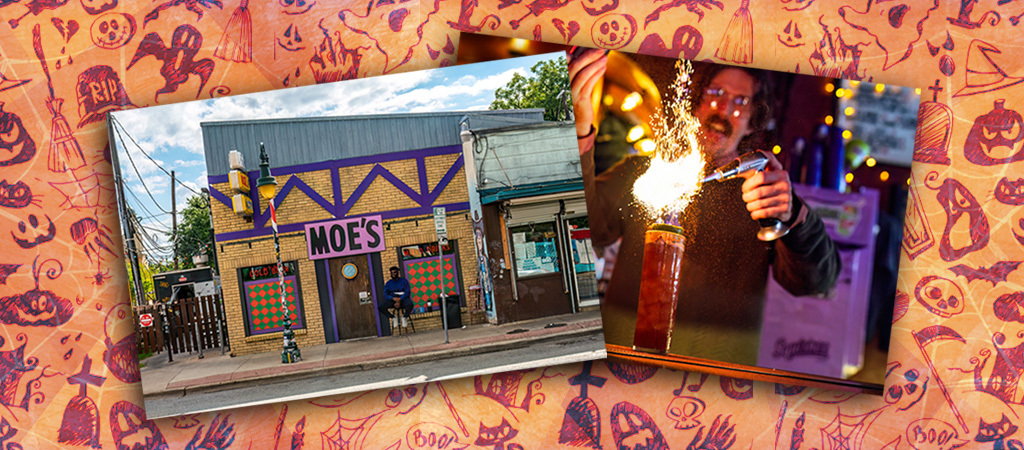 They say there's truth in comedy. I don't know who "they" is, but they don't sound very funny. They make a good point, though. I used to joke that I owe an admittedly alarming amount of my happiness to whoever (I'll call them, let's say, "Moe") decided The Simpsons reruns should air at 6 and 6:30 p.m. on my local Fox affiliate growing up. Watching back-to-back episodes while my mom and I ate dinner, basking in television's warm glowing warming glow (shout out to the old-school Uproxx fans), are how I became obsessed with TV, and The Simpsons in particular. If it wasn't for "Moe," I might have had a different career, and I definitely wouldn't have ended up at my favorite real-life bar recreated to look like my favorite fictional bar from my favorite TV show last week.
If you're ever in Austin, Texas, make sure to visit Nickel City. Especially in October, when the dank-free bar is turned into Moe's Tavern for the Halloween season. The attention to detail this year is Universal Studios-level. Some of my favorite deep cuts included: a Mr. Sparkle neon sign; boxes of Krusty's Non Narkotik Kough Syrup throughout the bar; an Absolut Krusty bottle; a jar of pickled eggs by the bartenders; a door marked "NOT Killer Whales storage"; and a Nuke the Whales poster. Gotta nuke something.
The extensive food and drink menu did the thing more themed restaurants should do, which is that every item was a Simpsons reference. There was no lazy "Homer's burger." Nickel City was making Malk Punch and the Flaming Moe (no Flaming Homer, sadly), while the outdoor food truck Delray Cafe was serving the Frying Dutchman and the Clogger.
There were also cardboard cutouts of various characters (the disco ball hanging above Disco Stu was a nice touch), Simpsons episodes playing on the TV, a Simpsons arcade (featuring that iconic Lisa quote: "Embrace nothingness"), a chalkboard gag, 40s turned into Duff Beer; and, at least last Thursday and Friday, an actual Simpsons writer.
Bill Oakley co-wrote some of the best episodes of the show, including "Lisa vs. Malibu Stacy" (which had a resurgence in popularity this year thanks to Barbie), "Sideshow Bob Roberts," and the two–part "Who Shot Mr. Burns" cliffhanger, along with Josh Weinstein. The pair — who would go on to create the cult favorite Mission Hill — were also the showrunners for seasons seven and eight, meaning they're the comedy geniuses who oversaw "Home Sweet Homediddly-Dum-Doodily," "22 Short Films About Springfield" (Oakley wrote the heavily memed "Steamed Hams" segment), and "You Only Move Twice."
There's a good chance that something he wrote has become part of your everyday vocabulary. Oakley was at Nickel City to talk to Simpsons fans, who patiently waited in line to have their posters signed or gush about how much The Simpsons (or Mission Hill, or the food-focused Steamed Hams Society) meant to them.
I was one of those neeeeerrrrdddsssss. I met up with Oakley the next day at Top Notch (as made famous by Dazed and Confused), fully intending to officially interview him. Instead, I turned into Chris Farley talking to Paul McCartney. "You remember when you wrote the episode where the Simpsons go to Australia? That was awesome." I pulled it together enough to ask what else he planned to do in Texas. Oakley replied he was going to see one of the world's largest collections of McDonald's merchandise. "The most amazing tour since my secret tour of Area 51!" he wrote on X following the visit. We all have our own obsessions that we geek out about. To the people at Nickel City, it was The Simpsons; to Oakley, it was Garfield Happy Meal toys.
I realize that not everyone will be able to visit this particular pop culture Halloween makeover, but if there's one near you, please go. They're a blast. I talked to multiple strangers, something I would normally actively avoid in a bar, because I knew we had something in common: a love of The Simpsons.
Bill Oakley is a big reason for that — him, and "Moe."