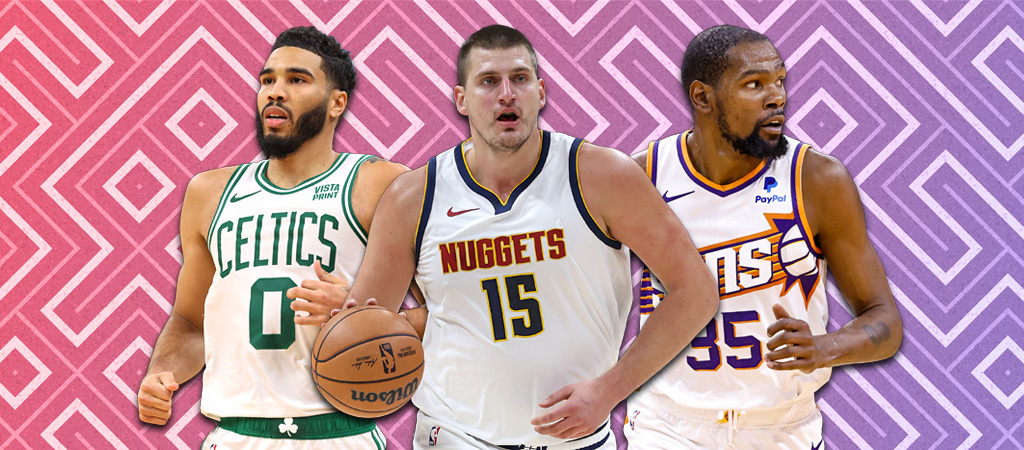 The 2023-24 NBA season is finally upon us after a summer that saw contenders loading up via some league-shaking trades (and non-trades) to take a crack at dethroning the Denver Nuggets. The expected list of contenders isn't all that different from last year, but the faces on those teams are. We saw the Bucks, Celtics, and Suns each add All-Star talent, while plenty of others bolstered their depth to try and make the next step into that contender tier.
Tuesday night brings the first two games of the season, with looks at four hopeful contenders in action from the West, including the defending champs. As always, we can anticipate what things will look like on paper, but [extreme Chris Berman voice] that's why they play the games. This year the Dime Power Rankings will be a little bit more volatile as I take them over for Brad, and I'll be concerned less with long-term outlooks than I will for what teams have done on the floor. That means these preseason rankings are bound to change pretty dramatically in the first few weeks, but I still wanted to lay out how I see the league coming into the year, with the knowledge some teams will be way too low (and others, way too high) once we start seeing them play real basketball.
1. Denver Nuggets
They're the defending champs and still have the best starting five in the NBA until proven otherwise. There is work to do to figure out their playoff rotation beyond that starting group and they're going to be more reliant on young players this year on the bench, but this is still the best roster with the most cohesion in the NBA.
2. Boston Celtics
The Celtics top-6 is crazy good and I love how they can go small or go big depending on matchups. It might take a little time to hit top speed for this team, but Jrue Holiday and Kristaps Porzingis make a ton of sense around the Jays and there should be a bit better balance on offense this season rather than leaning so much on Brown and Tatum.
3. Milwaukee Bucks
I don't expect it to happen immediately, but whenever Damian Lillard and Giannis Antetokounmpo build full trust in each other on the floor they're going to be damn near impossible to deal with. Depth is certainly the question in Milwaukee (as it is with pretty much every top team this year), but the starting five is tremendous and has great balance on both sides of the floor.
4. Los Angeles Lakers
The vibes around the Lakers seem to be the polar opposite from a year ago when they were in the midst of a long, drawn out breakup with Russell Westbrook. Now, they have some real continuity as much of their playoff rotation returns for a full season together, with some key additions like Gabe Vincent to bolster their depth. LeBron James and Anthony Davis being healthy at the right time is always the leading concern with this Lakers team, but they'll feel like they've put together a roster that will give them a chance at a second title if they're both on the floor for the playoffs.
5. Phoenix Suns
Do they need a point guard? Can they be good enough on defense? Those are the two questions for the Suns, but they have an incredible top-3 with Devin Booker, Kevin Durant, and Bradley Beal and I felt they did about as well as they could've building out depth given their financial situation this summer. Frank Vogel has his work cut out in designing a defense that works with this personnel, but as long as they can keep things flowing on offense (and healthy), they're not going to be fun to play (but very fun to watch).
6. Golden State Warriors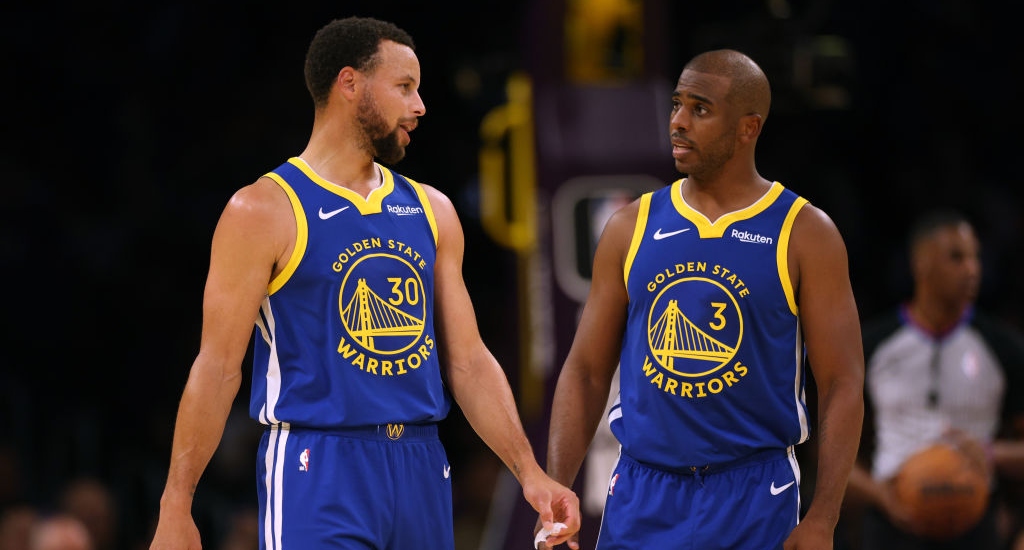 The Warriors had a weird year last season, but still were a second round team come playoff time. This year there's better vibes entering the season by virtue of not having one star punch another in camp (at least, that we know of), and the addition of Chris Paul brings some excitement and intrigue into what the veteran point guard can bring this team both playing alongside Steph Curry and running the bench unit. They are going to need their young wings, Jonathan Kuminga and Moses Moody, to be productive and, maybe most importantly, trusted if they're going to reach their peak, but this is certainly a team with a championship ceiling.
7. Cleveland Cavaliers
In the regular season, there aren't a lot of teams I think are better than the Cavaliers. Most of my questions about this roster will surface come playoff time, but their core four of Darius Garland, Donovan Mitchell, Evan Mobley, and Jarrett Allen is a really good quartet in the regular season. If their wing additions, Max Strus and Georges Niang, can be the upgrades they look like on paper and their young players keep growing, this should be a dangerous team in the East.
8. New York Knicks
I'm buying this Knicks team as a top-4 threat in the East this season. They have a deep roster with players that are really good in the regular season. I think Jalen Brunson gets a real look at his first All-Star selection this year, Julius Randle has proven he is a terrific 82-game player, and this is about as deep a roster as there is in the East on paper. The concerns, like in Cleveland, arrive in playoff time, particularly with getting something out of Randle. That will have to be answered later, but as we look ahead to the regular season, the Knicks should be in the mix for the 3-5 spots in the East.
9. Philadelphia 76ers
The Sixers are a mess, but they've always managed to be fairly competent amid the chaos so long as Joel Embiid is healthy. That's the case starting this season, and even with James Harden out I think they're a good team. The problem is, they're not a great team without Harden and probably won't be even if they trade him. They'll need another step forward from Tyrese Maxey as a playmaker if they're going to stay a threat in the East, because without Harden they don't have a guard who has proven playmaking skills to get others involved. That would make Embiid's life tougher, as he needs someone getting him the ball on time, on his spot. This is a bit of a punt on Philly, as I'm not really high on them as being a real contender, but I also think there's a floor to how bad they can be with the guys they have.
10. Miami Heat
If this were a ranking of teams I trust in the playoffs, the Heat would be higher than this. Jimmy Butler and Bam Adebayo have proven that if they're on the floor together in the playoffs, the Heat are dangerous. In the regular season, though, there are some depth concerns, particularly at guard given what they lost this summer with Vincent and Strus leaving and the lack of a high-end addition after striking out on Damian Lillard. They have to make it to the playoffs before they can tap into their strengths there, and last year they were just a few minutes away from falling out of the Play-In. We'll see if they can find that gear earlier this season, or if it's going to take another Play-In charge to get to the playoffs.
11. Minnesota Timberwolves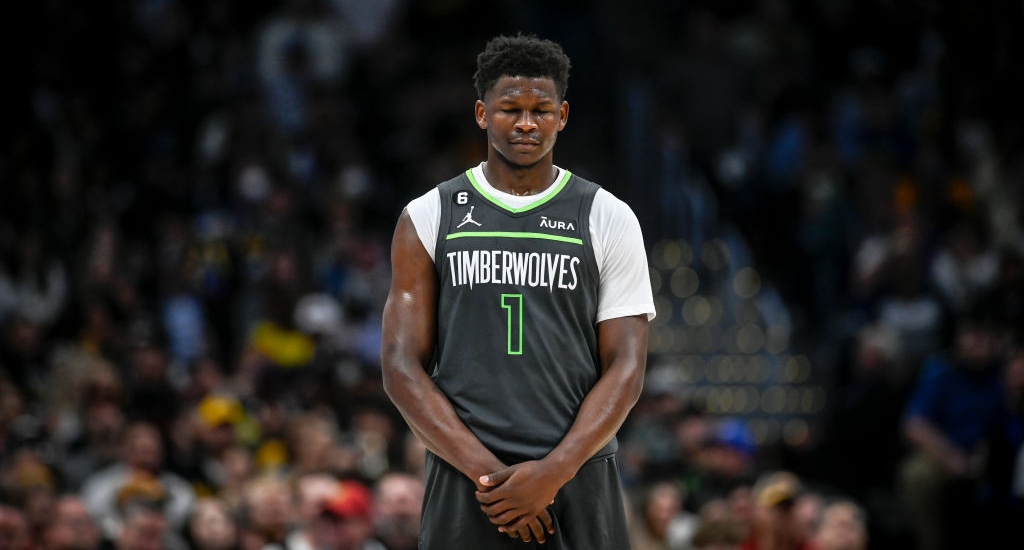 I really think the Wolves might see it click this year, and, yes, it does feel like Charlie Brown lining up for another field goal. Anthony Edwards is a star and I think he has his most consistent season yet. Mike Conley Jr. being around for a full season is an underrated storyline in Minnesota, as he brought out the best in Rudy Gobert after arriving from Utah, and of course you should get much more than 36 games from Karl-Anthony Towns — who is healthy and in good spirits entering the season for the first time in a few years. I still have my concerns about the Gobert-Towns pairing in terms of maximizing Towns' skills as an offensive player, but even so I think it can work and this team has a good chance at a top-6 spot to avoid the Play-In this year.
12. Los Angeles Clippers
This feels like the middle ground for the Clippers. They were the 5-seed last year and this would put them in the 6-spot in the West. We all know that their ceiling is much higher than this if they get 65 games out of both Kawhi Leonard and Paul George, but they've never combined for more than 108 games played in their four years together in L.A. Beyond the health concerns, point guard depth behind Russell Westbrook is a major question for this team, but they still have a lot of talent and two superstars that could make them a contender. We just need to see it for a full year.
13. Memphis Grizzlies
The loss of Steven Adams really hurts this team. The stability he brings to the frontcourt on defense, allowing Jaren Jackson Jr. to be at his best roaming and wreaking havoc, is going to be missed. On offense, his screen-setting and rebounding are going to be very difficult to replace. With Marcus Smart and Desmond Bane, I thought Memphis could navigate the 25 games without Ja Morant to start the season, but they'll face an uphill battle to maintain a top-6 spot in the West with Adams out for the year on top of that. That's not to say they can't make it happen, as they've proven to be a really good regular season team and have managed through injuries in the past, it's just the West feels a little more difficult to navigate in that same way this year.
14. Sacramento Kings
I don't think the Kings are going to take a big step back or anything, I just think the rest of the West is going to be better and that stagnation from Sacramento would drop them down the pecking order. I'd love to be wrong here and see a leap from Keegan Murray to give them a wing playmaker alongside the De'Aaron Fox-Domantas Sabonis two-man game that was unstoppable last season. Maybe a second year with Mike Brown's system will bring more familiarity and raise their defensive level. There's certainly a world where the Kings are once again in a guaranteed playoff spot, but I do want to see them validate last season's performance.
15. Atlanta Hawks
The Hawks are really banking on internal development and a coaching upgrade unlocking the next level for them. Quin Snyder has had a full offseason to install his system, which will be asking the Hawks to take a lot more threes, as they were near the bottom of the league in attempts from deep last season. That means young guys like AJ Griffin, Saddiq Bey, and De'Andre Hunter will shoulder big floor-spacing responsibilities (along with vets like Bogdan Bogdanovic), and Trae Young and Dejounte Murray will need to apply paint pressure to collapse the defense and free up those looks. Depth is not the concern in Atlanta, but they do need someone to step up alongside their star backcourt duo to be a consistent, reliable threat to take some of the pressure off of them to create so much of the offense.
16. Dallas Mavericks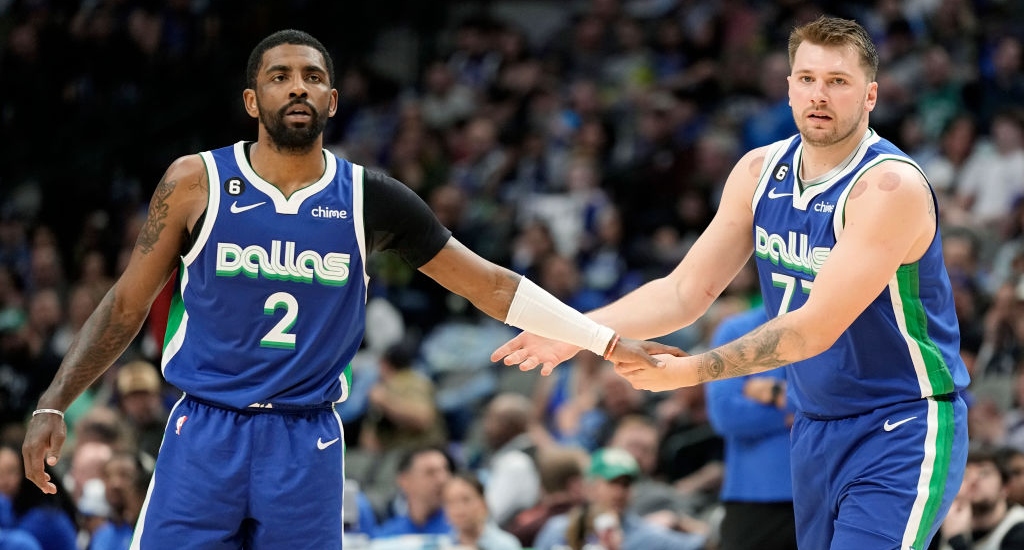 We've reached the spot in the rankings where I'm not really sure what to do with a lot of these teams. I know the Mavs bottomed out last year, but it's really hard for me to believe they'll be that bad again with Luka Doncic and Kyrie Irving starting the season together and what appears to be a much better supporting cast on paper. I'm probably higher on Dereck Lively II than most, but I think he could have a Walker Kessler type rookie year as an immediate above average rim protector, which the Mavs desperately need.
17. Oklahoma City Thunder
Shai Gilgeous-Alexander is a superstar, full stop. Jalen Williams was one of the most impressive rookies last year and could take another step forward this year. Chet Holmgren is the exact kind of player this roster was missing a year ago. I really, really like this Thunder roster, I promise I do. I also just know how hard it is to crack that next level as a young team. They absolutely could do it, but there's also a good chance they're a better team than a year ago but have mostly the same results in the win-loss column because the West is just that good.
18. New Orleans Pelicans
If they can get healthy and stay healthy, this is probably 10 spots too low. However, it's really hard to believe that will happen based on [gestures at the last three years]. I really, really hope we get a full season of Zion Williamson, because he is truly a special player, and they are going to need Trey Murphy III to get back from his knee injury if they're going to make noise in the West because what he brings them on the wing is something they cannot replace.
19. Chicago Bulls
I'll be honest, I can't quit this Bulls team. I see the flaws, but also see all the veteran talent and can't help but believe they can put it all together. Between DeMar DeRozan, Zach LaVine, and Nikola Vucevic, there should be more offensive firepower in this lineup than they've showed, and they clearly miss the presence of Lonzo Ball running the show. That said, I liked their offseason additions, namely Jevon Carter as the backup point guard, and for whatever reason, while the offense stagnates, Billy Donovan is able to coax the most out of this group defensively — thanks to the presence of guys like Alex Caruso. The ever-present question in Chicago is whether Patrick Williams can finally make the leap, which would open up an entirely new world of possibilities for the Bulls.
20. Indiana Pacers
There's a lot of excitement around the Pacers, who hope to get a full season of All-Star guard Tyrese Haliburton running the show, and added a dynamic defender in Bruce Brown to the roster to help try and raise their level on that end of the floor this season. There's a world where it all clicks for Indiana this season, with young players taking a collective step up alongside some quality veterans like Brown, Myles Turner, and Buddy Hield (for however long he remains there). However, the reliance on young players like Bennedict Mathurin, Andrew Nembhard, and Obi Toppin does give me a bit of pause that the Pacers are ready this year to be a playoff contender in the East. I like this roster's long-term prospects, but I'm not totally sold the leap is coming this year.
21. Brooklyn Nets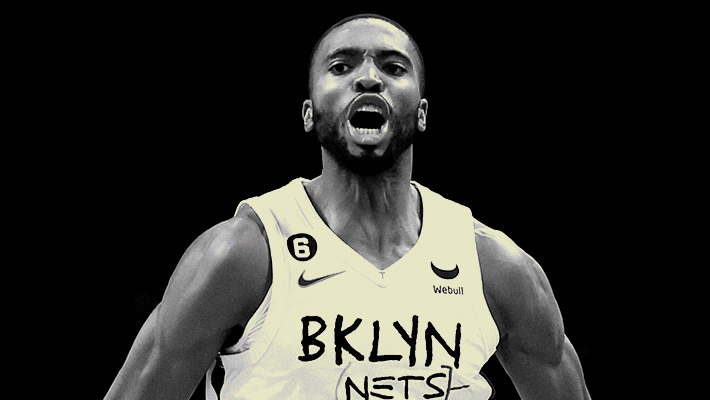 The Nets, like a lot of teams in this general tier, have some legitimate high-end talent, but some of their players are now being asked to step up into fairly unfamiliar roles. Most notably, Mikal Bridges and Cam Johnson have gone from role players in Phoenix to focal points in Brooklyn, and how they adjust to heightened responsibility will determine how successful the Nets are this season. Nic Claxton has solidified himself as a quality starting center in the NBA, but the depth behind him is questionable at best. And then there's the ever-present question of what version of Ben Simmons will they get this season. If Simmons can be something close to his former self, the Nets could be a very competitive team in the East, threatening that top-6 realm. However, that is a massive "if" and I'd like to see it before I buy in on the full potential of this Brooklyn side.
22. Toronto Raptors
Well, the Raptors are running it back. Again. Pascal Siakam, OG Anunoby, Scottie Barnes, Gary Trent Jr. and Jakob Poeltl are all back, with the biggest change being Dennis Schroder taking over for Fred VanVleet, who bolted for Houston this summer. There is undeniably talent on this Raptors roster and they should be a Play-In threat, but we have a few years of evidence showing it doesn't fit together particularly well in terms of maximizing that talent and I find it hard to buy in on there being a lot of upside in Toronto with this group.
23. Orlando Magic
The Magic are a super trendy pick to crash the Play-In party in the East, and for good reason. They have a tremendous frontcourt, where Franz Wagner is a breakout candidate, Paolo Banchero is looking to build off a ROY season, Wendell Carter Jr. has emerged as a more than solid two-way center, and Jonathan Isaac is back (albeit, it remains to be seen at what capacity). What Orlando has to figure out is what their optimal backcourt rotation looks like around that frontcourt, with Markelle Fultz, Cole Anthony, Jalen Suggs, and Gary Harris all back for another season. Getting a step forward from the guards should unlock that next level for Orlando, but that next step into the playoff conversation is one of the hardest to take.
24. Utah Jazz
The Jazz were one of the most pleasant surprises of the 2022-23 NBA season, but after moving off a number of veterans at the deadline, they coasted into the lottery in the back half of the year. The strength of this year's squad is once again in the frontcourt, where Lauri Markkanen looks to backup his breakout season, Walker Kessler is coming off of a strong rookie campaign, and their big new addition John Collins is trying to bounce back after looking a bit lost in the shuffle in Atlanta a year ago. The questions lie in the backcourt, where Jordan Clarkson is back, as is Collin Sexton, and the Jazz will be looking to evaluate what they have at the guard positions for the long-term. Last year proved they won't have to start their rebuild from scratch, but patience remains the optimal word in Salt Lake heading into this season.
25. Houston Rockets
I like a lot of pieces on this Houston roster, it's just a matter of how it all comes together. So much of their success this season is going to hinge on Alperen Sengun taking another stride at center, because that's the one position where there just isn't as much overlap. This year's roster is much better than last year's and Ime Udoka should be an upgrade at head coach, and this ranking might end up being way too low if a few of the young guys pop.
26. Charlotte Hornets
LaMelo Ball staying healthy is the top priority for Charlotte, but when he's out there this is usually a competitive team. We'll see how quickly Brandon Miller can get up to speed, because his skillset is something they really need out of their frontcourt to complement Ball in the backcourt. Also, he's their best chance to inject some new life into a roster that, despite Ball's lively presence, feels a bit stagnant and just needs some more juice.
27. San Antonio Spurs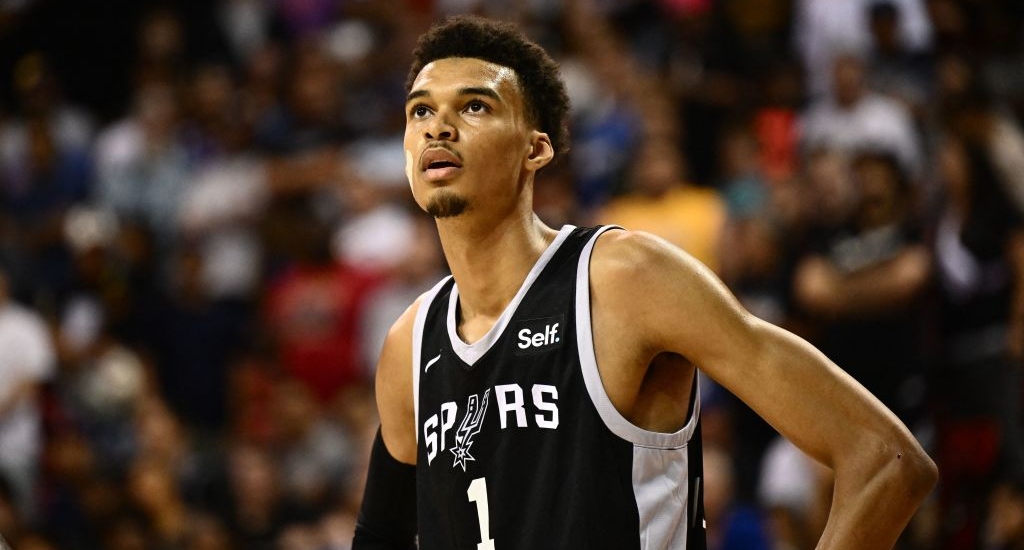 The Spurs probably won't win a ton of games this year, but as long as Victor Wembanyama is playing, they're going to be one of the teams everyone will want to watch. He's done stuff in the preseason that's made fans, teammates, and opponents all go "what the hell was that?!" and I'm very excited for that to continue in the regular season. How the rest of the roster performs around him will determine whether they can take a real step forward as a team, and there is talent there with Devin Vassell, Keldon Johnson, and Jeremy Sochan. However, putting that talent together into playing winning basketball often takes time, and the Spurs will be happy to take a patient approach to building around their new superstar.
28. Detroit Pistons
Cade Cunningham is back, thankfully, and hopefully his presence (and Monty Williams on the bench) can bring some order to a young Detroit team. There's definitely talent here, but as is the case with a lot of young teams that have just been in the talent acquisition phase, the roster has a lot of overlap to be figured out. I'm excited for Cade and Jaden Ivey together, but they really need to get some clarity in their jumbled frontcourt before they can take a step forward.
29. Portland Trail Blazers
The rebuild is officially on in Portland and I'm fascinated by this roster. They have a trio of talented young guards, two good centers in Deandre Ayton and Robert Williams III, and basically one established NBA wing in Jerami Grant. I have no idea how Chauncey Billups handles the rotation this year, but they're going to play some really funky lineups that can range from really small to really big and I am kind of excited to see what works and what doesn't in Portland.
30. Washington Wizards
I'm not sure the Wizards will end up as the worst team in the league this year. I don't even think right now they have the worst roster in the league. But I do think they're the team that has the least obvious plan or path to build for the future. I expect the tear down to continue as this year goes along, as they look to identify who is going to be part of the long-term core. Jordan Poole erupting for big scoring nights figures to be the most fun part of this Washington season, and we'll just have to see if anyone else can pop for them.