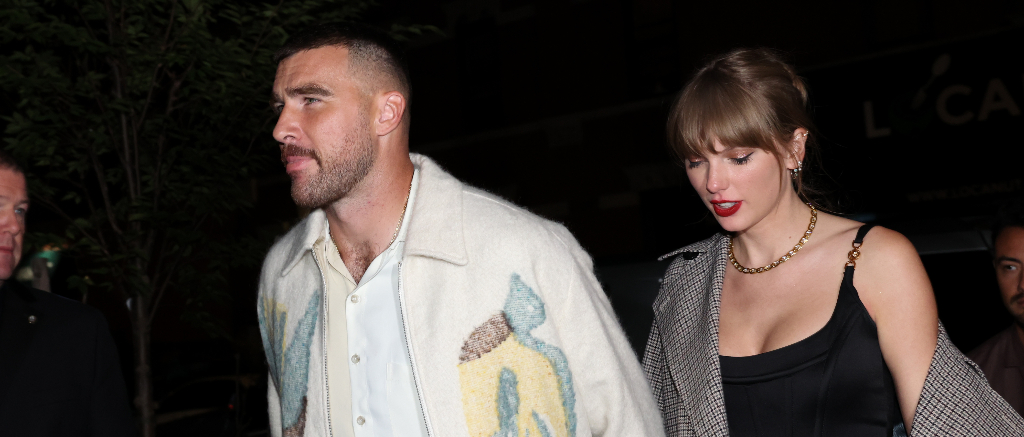 Are Taylor Swift and Travis Kelce dating? Probably! Neither of them have come out and said outright that they're in a relationship with each other, but they sure have been doing a lot of relationship-y things lately. Swift's been going to a lot of Kansas City Chiefs games, the two had a date night that included surprise Saturday Night Live appearances, and now, we have a confirmed kiss.
After the Chiefs beat the Los Angeles Chargers this past Sunday, Swift and Kelce spent some time with Kelce's teammate Mecole Hardman Jr. and his girlfriend Chariah Gordon. Gordon shared some photos of the encounter on Instagram yesterday, and in one of them, Swift has her hand on Kelce's chest as she kisses his cheek and he smiles for the camera.
Naturally, people have thoughts about this. The New York Post even put it on their cover.
Some fans couldn't help but reference a lyric from Swift's 1989 song "How You Get The Girl," when she sings, "With pictures in frames of kisses on cheeks."
Speaking of 1989, 1989 (Taylor's Version) is now just a few days away from release this Friday. It's actually Lover that's in the spotlight right now, though, as "Cruel Summer" just rose to No. 1 on the latest Billboard Hot 100 chart.